In this guide, we're pitting two giants in the world of high-end home exercise bikes head to head. The Peloton cycle and the Nordic Track bike – the 22si to be precise. Occupying a seemingly similar position in the market place, which one is really worth the money?
Peloton vs. NordicTrack Bikes – head-to-head
Peloton and NordicTrack are two of the most well-known names among exercise bike aficionados, for good reason. Both make exceptional, ultra-high quality exercise machines that beat almost anything else out there right now.
NordicTrack are the old hands, having been in business for almost the last 50 years, whereas Peloton are the scrappy newcomer, launching in 2013 and carving out a share of the business through smart marketing and an amazing product.
But which one is actually better, and which one should you buy? Lets deep dive and find out.
The Peloton Bike
While our Nordic friends have a whopping collection of home exercise gear – from treadmills to different kinds of bikes, Peloton are known for one thing only: their bikes. With this focus, we're not going to beat around the bush about whether they're good or not. Clearly, the Peloton is a fantastic product.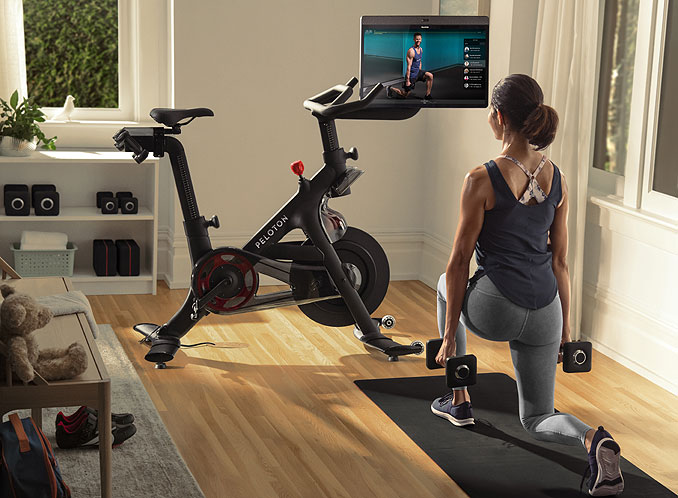 What Peloton have on offer is fantastic. If a little limited.
Peloton has two bikes available, the creatively named 'Bike' and 'Bike+.' Both are built around the same frame, with the same impressive performance across the board and exceptional construction.
What's the difference between the Peloton Bike and Bike+?
Where they differ is the multimedia system and extras. The Plus has a larger screen, a hugely improved sound system, the touchscreen can rotate, and it links into the Live class feature so your instructor controls your resistance levels.
The Bike Plus can also be linked to Apple fitness through your Apple watch, a nice feature, if a little specific.
---
The NordicTrack S22i
NordicTrack's' range of products is huge, with 11 total bikes ranging from budget options up to commercial level fitness systems.
Today, we're comparing the Commercial S22i Studio, which is NordicTrack's top of the line model, and roughly equivalent in price and features to the Peloton.
The S22i has everything NordicTrack offers built into its frame. 24 levels of resistance, a full 20-degree incline and decline system, fantastic multimedia, and a whole range of other smart systems built in.
---
Quick glance comparison table
Let's kick this battle off by comparing the specs of each machine:
| | | |
| --- | --- | --- |
| | | |
| | | |
| | | |
| | | |
| | | |
| | | |
| | | |
| Instructor-controlled resistance? | | |
| | | |
| | | |
| | | |
| | | |
| | 12-Month Limited Warranty | 2 Years parts and labour; 5 year frame guarantee upon warranty registration within 28 days of purchase. |
| | | |
| | | |
---
Direct comparisons
Construction and Size
The bikes share a strong, solid steel frame construction that's basically bulletproof. Under no circumstances should normal use ever cause issues or damage to either bike.
In terms of footprint, both bikes share a rough footprint size. The NordicTrack is slightly longer, and the Peloton is slightly wider, but overall square footage is basically identical.
A big difference between both bikes is the pedals. Peloton bikes come with specifically made pedals that lock into the Peloton shoes. This increases your stability on the bike, but it does mean that you have to buy a set of Peloton training shoes to use it correctly.
NordicTrack on the other hand comes with standard bike pedals, so you can use it with any kind of footwear. But the pedals are interchangeable, so if you want locking pedals like the Peloton, you can buy aftermarket.
Winner: They're basically identical
---
Resistance, Incline and Decline
Both bikes share the same magnetic resistance system to add resistance to their workouts. Magnetic resistance is much better than traditional physical method, and uses magnetic braking to resist the motion of the wheel.
Where they differ is the controls. The S22i uses a 24 step, digitally controlled system that's mounted on the handlebars and incredibly easy to use. Peloton bikes instead have a continuous resistance system that's adjusted with a knob, that lets you adjust it to precisely the level you choose. Both are simple to understand, and the differences are basically irrelevant.
A big difference between both bikes is that fact that the S22i has built-in, fully powered incline and decline systems, up to a maximum of 20 degrees of incline and 10 degrees of decline. Both Peloton bikes have nothing like this, and that's a huge shame on bikes of this calibre.
Winner: NordicTrack S22i
---
Multimedia Systems
In terms of screen, the Peloton Bike and S22i share a 22 inch HD touchscreen, with the Peloton Plus having a slightly larger 24 inch screen.
All the screens are ultra-high clarity HD, so there's going to be no issues seeing the workouts play out in front of you.
In terms of the sound system, the Peloton Bike has a very simple twin speaker system. The S22i also has two speakers, but they're digitally boosted.
The Peloton Plus has a boosted sound system, with 4 channel audio, two tweeters and two subwoofers, that are set front and rear-facing for a surround sound effect.
---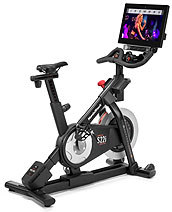 NordicTrack's s22i comes loaded with a month's free membership to iFit and a huge, high-quality HD screen. This is the best home exercise bike on the market in 2023.
Rotating consoles
The Peloton bike has a fixed screen, that can't be moved.
The S22i and Peloton Plus have rotating consoles that can be turned away from the bike, which gives you increased flexibility when it comes to working out off of the bike, which is a big help when it comes to live classes.
Winner: The Peleton Plus
---
Related Reviews & Guides
---
Live Classes
Both manufacturers have their own bespoke on-demand fitness classes, delivered via streaming directly to your exercise bike.
NordicTrack's iFit service is a full online streaming service that offers hundreds of different classes across a wide range of fitness activities.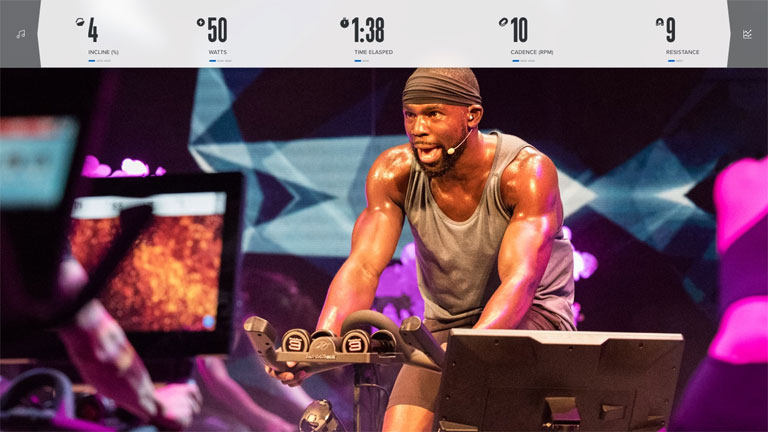 iFit trainers are world-class, and were handpicked for their skills. You can train alongside them in live classes, or choose from the library of hundreds of past classes.
Peloton's fitness service is simply called the Peloton App, and features thousands of on-demand streamed classes across 10 different workout types.
All data is automatically logged, and shared with your other devices, including your Apple watch if you link it in.
So far, so similar. One difference is that the iFit service also includes a Google Maps led route planning app, where you design a training route using geographic data, and the bike creates a workout based around that, automatically increasing and decreasing resistance, incline and decline to match the landscape.
This gives you a near-infinite variation in workouts and lets you train all over the world, from inside your own home. The Peloton bikes have nothing like this, which is a shame.
In terms of pricing, iFit membership is currently £129 per year, with a family membership for up to 5 users sitting at £349. In contrast, Peloton's fitness membership is free if you have a bike, and also has the option for 30 days free to see if you like it.
Winner: NordicTrack on features, Peloton on pricing
Check The Latest Price At NordicTrack
Pelaton VS NordicTrack Cycles: So who wins?
After reading our comparison, one question is left to answer. Which bike is actually best, and which one should you buy?
Honestly, it's a hard comparison, because both bikes are so similar. In terms of performance, multimedia systems, overall build quality, they're both absolutely fantastic.
In our opinion, the S22i edges out, almost purely because of the incline and decline options built into it. Having an automatic incline on your bike gives you so much more variation in workouts, and lets you hit muscles that otherwise wouldn't be touched, and work harder than ever.
Some people might also be swayed by the difference in price, as the Peloton Plus is a couple hundred more than the S2i, but once you factor in the price of iFit membership, that disappears pretty fast.
But realistically, anyone buying either of these bikes isn't going to be disappointed. They're both amazing, and there's a reason the exercise bike industry is dominated by these two titans.
---
Final thoughts
Given the choice, we'd always go for the S22i, but the Peloton bikes come a close second. If this was a race, we'd demand a digital photo finish, it's that close.
Thanks for reading. Hopefully, we've helped you make an informed decision about which bike you want. If you've had experience with either of these bikes, remember to share it in the comments. Every opinion matters, and we love to hear from you!
Check The Latest Price At NordicTrack
---
References and further reading