Welcome to this guide. Today we're taking a look at another indoor cycle in our JLL IC200 Pro review. This is a relatively cheap bike so we were interested to see how it stood up to the other machines on offer. We'll cover the good, the bad and give our opinion on if it's any good.
What is the JLL IC200 Pro?
The JLL IC200 Pro is a budget-priced entry-level stationary exercise bike. You're getting a 7kg flywheel which also uses magnetic resistance with 8 levels you can adjust. It's made using a standard stainless steel frame and is best suited for low to moderate exercise requirements.
It's the next model down from the IC400 Pro, which we've featured previously.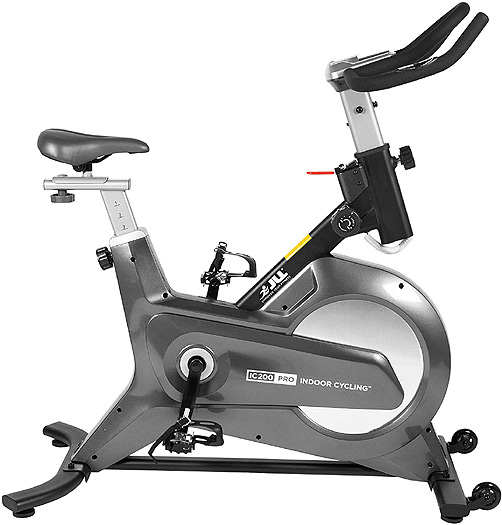 The IC200 is compact and lightweight and weighs around 31kgs, making it a handy if it's not going to have a permanent spot in your home. You're looking at a footprint of 122.5 x 55.5 x 122.5 cm.
The flywheel is belt-driven by a high-density rubber belt which gives it a smooth cycling action and low noise operation.
The basic six function display allows users to keep track of the following stats:
Time
Distance
Speed
Calories
Pulse
And Scan mode – which cycles between them.
As with just about every other bike, this one uses simple silver plate sensors on the handrails to take your pulse. While not the most accurate, it will give you an approximation of your heart rate while you're training.
---
JLL IC200 Pro Features at a Glance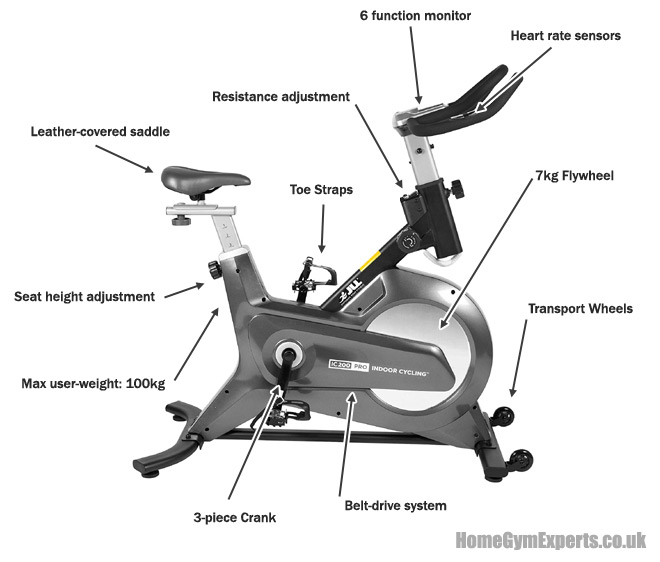 7 kg Flywheel
Belt driven riding mechanism
8 Magnetic resistance levels
Heart rate sensors on the handrails
3 piece crank
Easy to transport with built-in wheels
Adjustable handlebar height, foot straps, and seat height
Maximum user weight 100 kgs
Tablet stand
Dimensions 122.5 x 55.5 x 122.5 cm
Weight 30 Kilograms
Simple emergency stop lever
Check Current Amazon UK Price
---
How's it compare to the other JLL IC family?
This bike isn't JLL's only stake in the home cycling ground. It's a group of bikes that currently comprises of the following models:
| | | | | | | |
| --- | --- | --- | --- | --- | --- | --- |
| | | | | | | |
| | Magnetic: Fully Manual Dial | | | Magnetic: Fully Manual Dial | | Magnetic: Fully Manual Dial |
| | | | | | | |
| | | | | | | |
| | | | | | | |
| | | | | | | |
| | | | | | | |
What will you get training with the IC200?
Great Calorie Burning for Weight Loss 
| Stationary Bike Activity: Calories Per Hour | 125lb / 57kg person | 155lb / 70kg person | 185lb / 84kg Person |
| --- | --- | --- | --- |
| | 310 calories | 632 calories | 734 calories |
Harvard Health lists stationary bike exercises as top calorie burners in their calorie consumption in the exercise range. They state that stationary bike exercise can burn up to 744 calories an hour for a 185lbs user, one of the highest calorie burns on Harvard Health's exercise breakdown.
Stationary bikes such as the JLL IC200 are a popular home option for anyone looking to lose weight.
Improve Your Health
The benefits of cardiovascular workouts, such as stationary bike riding, are an excellent way to improve your health. With increased circulation, cycling strengthens your heart and lungs and lowers your bad cholesterol in your blood. Stationary cycling also reduces the likelihood of heart disease and blood sugar conditions and improves mood and cognition.
Strengthens and Tones Your Muscles
Stationary bikes such as the JLL IC200 pro are a great way to shape and strengthen not only your lower body but your glutes, back, and core muscles too. By incorporating weight training for your upper body, you can achieve a full-body workout without leaving your home.
Portable and Adjustable
The lightweight JLL IC200 is portable while still built to last with its durable stainless steel frame. The JLL suits multi-occupant homes due to the easy-adjust features of the handlebars, seat, and foot straps. The bike's neat dimensions mean that it can fit easily into your household without taking up too much space.
Who will love this bike?
The JLL IC200 Pro is perfect for those seeking an entry-level home exercise machine with great calorie-burning potential. With a stationary bike at home, you can save on costly gym memberships and have your exercise equipment on hand 24/7.
Stationary cycling is an effective low impact exercise that does not place strain on your joints and knees, Treadmills and running, in general, may affect your knees and joints over time due to repetitive impact stress. Users can cycle on the JLL IC200 while protecting their limbs while still achieving maximum calorie burning intensity.
Good for sharing!
The JLL IC200 is easily adjustable between users, making it perfect for those who share their living space with other occupants. Due to the manual magnetic resistance features, the JLL suits a variety of fitness levels and requirements.
The compact nature of the bike means that it does not suit users over the weight of 100kgs. The JLL suits those seeking low to moderate low impact exercise because the flywheel is 7kgs. Those seeking maximum intensity training should ideally seek a bike with a heavier flywheel.
Check Current Amazon UK Price
---
Setup and manual
The manual that comes with the IC200 is the standard fair, listing the parts and how to put it together. The good news is that the bike doesn't actually need that much assembly. It comes almost completely built and it's been factory-tested (apparently), which should mean yours arrives OK. The only bits you have to put on are the pedals, seat, handlebars and adding the stands.
The manual is short but gets the job done. There are a few interesting snippets that make it worth reading, including some basic notes on maintenance. You'll also want to have a look at the tips on getting the balance right.
The only bit that's a bit of a pain in the butt is connecting the monitor. This involves threading a wire down the handlebar column and can be a bit of a challenge in dexterity. Not a big issue though.
---
What We Liked About the JLL IC200 Pro
Good customer support
I'd read other people have had good experiences getting replacement parts or help with issues but was pleasantly surprised when my question was answered within the hour. I got an email back from JLL about the IC200 Pro and it answered my question and was extremely polite.
Compact and Easy to Assemble
As mentioned above, The JLL is easy to assemble, with the bulk of the bike mostly put together. Depending on how good you are at this kind of thing, you can budget on a fair bit less than an hour assembly time. The package itself is around 35kg so it's not too hard to move on your own, or carry upstairs.
Sturdy Stainless Steel Build
So, what's the build quality like on this machine? Expectations were lowered due to the price, but these were proven to be unfounded. The frame is made from chunky tubular steel and is a lot broader than you normally find on budget bikes. Despite the 30kg-ish weight of the bike, it's got a good sturdy base.
Once it was up and running, the JLL feels stable and surprisingly solid for its weight. When cycling on high resistance, the bike has few shakes and rattles that one usually finds on entry-level stationary bikes.
Is the bike good for taller people? You should be fine up to around 6′ 4″ – but check the weight limit. The bike is perfectly stable however and definitely better stability than you'd expect for the price.
Good Moderate Intensity Training
At the higher resistance levels, the bike is powerful enough to make you feel the burn. With a 7kg flywheel, I wouldn't say that the bike would suit those seeking high-intensity training, but it delivers a solid mid-range intensity workout.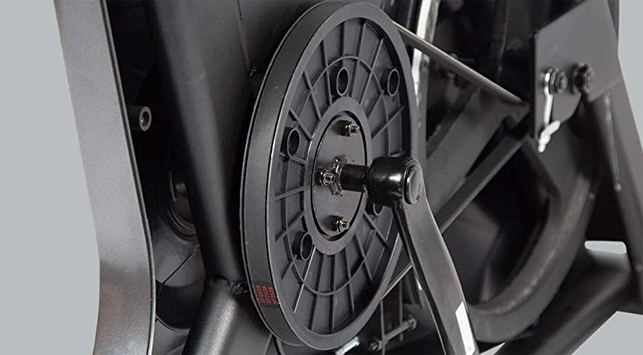 Good Adjustability
The JLL IC200 has a fair amount of leeway to use between users of differing dimensions. The handlebars and set adjust relatively easily between users. Often stationary bikes, particularly entry-level ones, lack the adjustability necessary for multiple users, but we found that the JLL great in this respect.
The seat height adjusts from 68cm-88cm from the pedals, and the seat distance to the handlebars adjusts 45cm-51cm. There's nothing fiddly here. It's those large chunky dials that are simple to grab and twist. Even if someone of a different size was on it before you, it's simple to get it set up for your workout.
Decent quality pedals and 3-piece crank
The CLL is reliable for its price class with the three-piece crank system and the sturdy stainless steel frame. Pedals have a good amount of grip and the toe straps aren't the flimsy plastic variety. If you have your own spd pedals, they will fit here as it's a standard thread.
The default seat is comfy enough
One thing that can often trip you up with a new bike is when you get 'one of those' seats. The IC200 has a pretty comfy seat actually, even for bottoms that aren't accustomed to the rigours of cycling. It's a leathery, padded affair and even those new to indoor cycling should find it easy going on your bum.
Check Current Amazon UK Price
---
What Could Have Been Better
The Resistance Levels Are Only Moderate
The JLL suits those who are not expecting professional level resistance training on a stationary bike. However, the highest resistance levels are challenging for those new to bike exercise or those seeking a more moderate exercise output.
The monitor is basic
The main concessions in price here have been with the display. It is the standard LCD affair you'd expect on a budget-priced bike and definitely not an all-singing, all-dancing multimedia affair. Not a massive issue as most people will just want to follow a spin class on youtube or do their own thing. But be prepared; it's not the most impressive of displays.
No water bottle holder
This is kind of a weird oversight and one that's hard to get past. There's nowhere to put your drink on this machine and, on something where you're going to need a drink, it really needs to have one. Users will likely find their own solution or third party bottle holders, but this could have easily been included.
---
Conclusion: Is the IC200 Worth a Buy?
The JLL IC200 does not have the bells and whistles of the more upscale stationary bikes on the market, but it still is a solid kit. If you're looking for a simple, cheap and effective way to get in shape or lose some weight on a budget, you'll likely love this bike!
The JLL has all you need to start your home exercise and improve your fitness and health at a fraction of other stationary bikes' cost in its class.
The JLL IC200 is an excellent choice for those seeking low impact, moderate-intensity training in their homes.
Check Current Amazon UK Price
IC200 Full Specs
Resistance
Flywheel and magnetic resistance system
Flywheel
7kg flywheel
Drive
Belt drive system
Data tracked
Time
Distance
Speed
Calories
RPM
Watt and Scan
Heart Rate Training
Yes, sensors on handlebars
# Resistance levels
8
Seat Adjustment
Vertically and horizontally
# Programs
5
Handlebar adjustments
Vertically
Handlebar grips
Multi-position handle bars, sit up right or lean forwards
Crank
3-Piece crank
Transport Wheels
Yes
Dimensions
122.5cm x 55.5cm x 122.5 cm
Fly-wheel
2-way
Maximum User Weight
100kg
Machine Weight
30kg
Warranty
12 month
Tablet holder
Yes
Resources and further reading