Welcome to this Topiom Rowing Machine review. If you're wondering how this rower compares to the similar (and more expensive) WaterRower, or are just wanting to know if this is a decent bit of kit, then you're in the right place. I'll cover exactly what you're getting for your cash and give my opinion on why it's awesome, and where it falls short.
Let's dive in!
What is the Topiom Rowing Machine?
The Topiom Rowing machine is sleek (and sexy) rowing machine that comes in a light or darker finish. The pics don't really do it justice as, like a good guitar or antique cabinet, the wood grain is lovely.
It behaves a bit like conventional Concept 2 style rowers in that you sit on a seat and pull a bar towards you. But where the C2 uses air, or others use magnetic resistance, the Topiom uses a plastic tank semi-filled with water and a propeller to generate resistance.
The weight of the rower comes in at just over 26 kg which will go up a fair bit depending on how much water you put in the tank.
These core differences aside, you're working the same muscles as any good rowing machine – ie most of them – along with core and even your abs.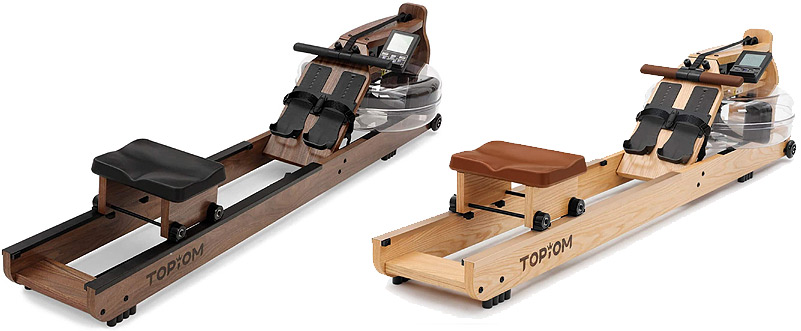 Because wooden rowers don't rely on chains (it uses a belt) or noisy fans, they make for pleasant aural sensations when rowing. The Topiom also has a very different feel to air or other forms of resistance.
On the performance monitor side, you've got Topioms own V2 console that's a standard LCD affair that does come with Bluetooth.  Whether or not you want to hook it up to a fitness app, you can see your distance, strokes per minute, time, and calories at the same time.
The kit comes 80% assembled and can be put together under an hour on your own or, if you've got someone who loves putting stuff together, get them round and put your feet up.
Like the WaterRowers, the Topiom rowers can be stored vertically on its secure stand to preserve space. And, like their more expensive counterparts, they look pretty good vertical or left on the floor.
Getting it all together
Unlike a lot of gym gear, the Topiom comes in a couple of neat, compact boxes that anyone should be able to move around easily.
If you're wondering what comes in the box, or how to put it together, there's a really good (and easy-to-follow) video guide that does a better job of explaining the process below. In short, this is really easy to put together due to most of the work having been completed at the factory.
Check Current Amazon UK Price
---
 Topiom Rowing Machine Features
In this section, I'll cover the meat and potatoes of the Topiom Rower and what the different bits do.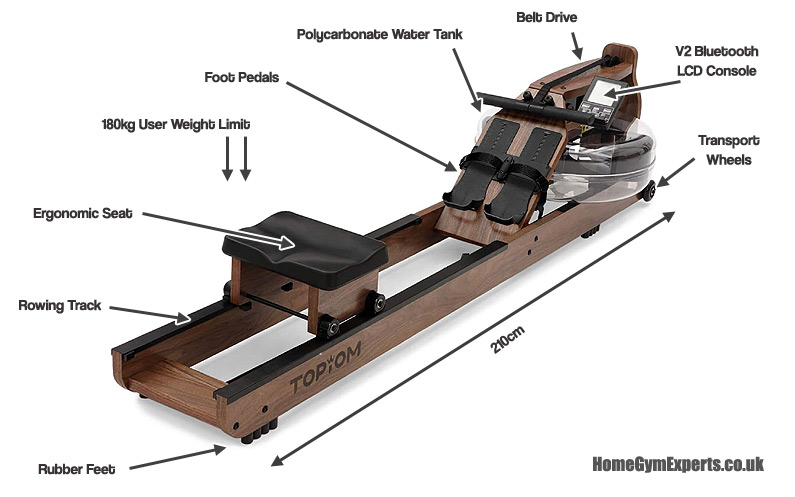 Aviation-grade water tank
Whisper quiet variable water resistance
Choice of ash or walnut wood frame
Suitable for users up to 145kg
Transport wheels
Comfortable ergonomic seat
Adjustable foot straps
Can be stored upright
Great simulation of actual rowing
Large LCD Console display: time, strokes per minute, distance, calories
Weight 58.5lbs / 26.5kg
Dimensions 82 L x 22 W x 20 H inches.
Max use Height: 38''/97cm inseam or around 2m tall
Thick rubber feet (although we always recommend a mat to protect your floors)
Comes with tool to put it together
Spare bolts, nuts included!
---
Benefits to training with a water resistance rower like the Topiom
I think I'd need a week off after an hour rowing on one of these.
Calorie Burning Home Exercise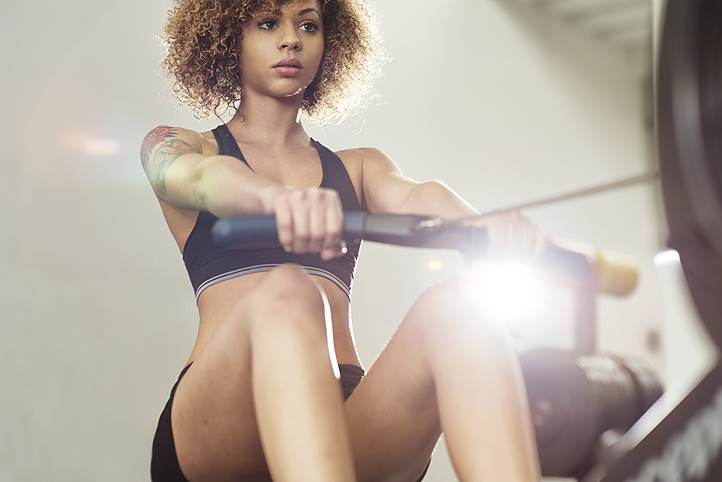 Harvard Health reports that stationary rowing can burn up to 744 calories an hour, making it one of the highest calorie burns on their exercise breakdown list. That all sounds great of course, but I think I'd need a week off after an hour rowing on one of these.
If you're new to rowing machines, and this is your first one, it's an absolutely brilliant way to exercise. They're super-easy to get started. (Although you'll want to spend a few minutes learning proper 'form')
Using the natural resistance of rowing on water, the Topiom delivers resistance according to your pull's strength. If you're looking to lose weight and then a rowing machine like this is a really good way to do it.
Full Body Exercise
Unlike stationary bicycles, ellipticals, and treadmills, the Topiom rowing machine gives a full-body workout without supplementary exercise. The rowing action incorporates both the pulling and pushing actions for enhanced muscle response.
The muscles targeted by rowing include the upper back, pecs, arms, and abdominals, as well as your lower muscle groups such as glutes, quads, and calves. You'll also work your core using a rower, along with abdominal muscles.
Low Impact Exercise
Rowers such as the Topiom provide a top form of cardiovascular exercise – without repetitive impact injuries associated with treadmills and outdoor running. Raising and lowering difficulty on the Topiom can be done in a number of ways:
Adding or reducing the water in the tank
Training for longer
Pulling back harder on your stroke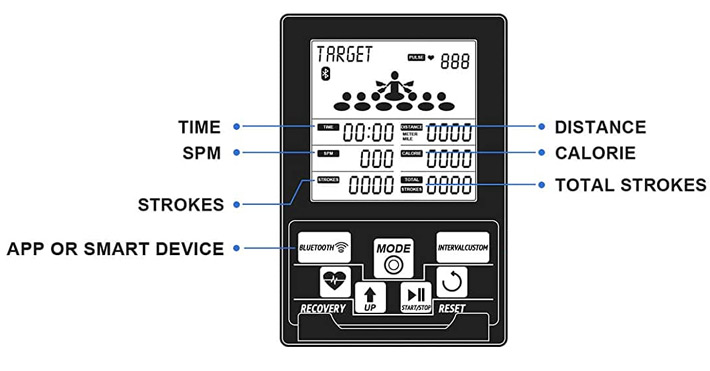 Check Current Amazon UK Price
---
Who Is the Topiom Rowling Machine Aimed At?
Families or couples looking to share
Aside from adjusting the Topiom's foot pedals, there's not exactly much to customize when hopping on after another family member has been rowing. You don't have to muck about changing seat height, resistance levels or things like that.
So, if there's more than one person looking to get in shape at home, a decent wooden rower like these might be the way to go. It's also fine for the lower stature user right up to you 2m+ folks.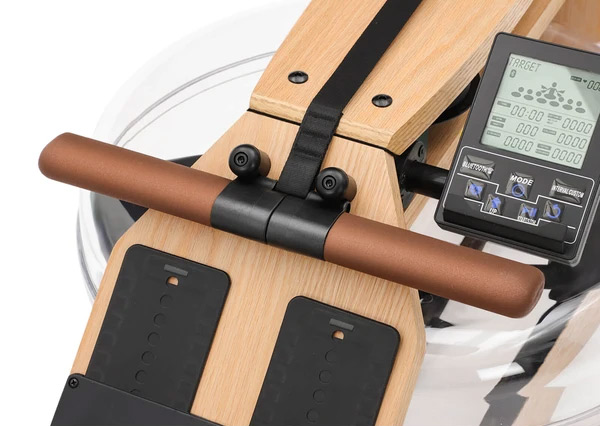 Let's get physical
Rowing is definitely one of my favourite ways to get a sweat on and get calories under control. It's not exactly difficult to have a good row for 10 minutes. Anyone looking for some safe indoor cardio and calorie-torching will find having a machine like this invaluable.
Anyone short on space
There's something interesting with water rowing machine. Whereas other rowers make a fuss about how small they fold up into, so you can wheel them out of the way and hide them in a spare room, you'll likely want to show off your rower when it's stashed. All you do with is up-end the Topiom and it will sit quite happily in a living room corner without that ugly kind of look a lot of gym gear has.
Any age group or experience level can use this
Rowers, in general, are a good way for anyone looking to start a fitness journey to get in shape. Start off slow, try a few light, easy-going strokes and the easy-going water feel will likely win you over. On the other hand, gym buffs will find the Topiom fights back hard if you give that handle a good pull.
The Topiom rower suits those with low to moderate-intensity training needs and those seeking a low impact, high calorie burning home exercise.
Who should avoid this machine?
The Topiom is not suited to users over 397lbs (180kgs) due to the manufacturer's specifications, but this limit is substantially higher than many rowers in its class.
---
Review: What's good about the Topiom Rowing machine?
Really strong build
Not only does wood look a bit cooler than a clunky metal frame, it also offers some serious stability. I've seen videos of people jumping up and down on their Topiom, but I wouldn't go that far! But if you're upgrading from a metal frame rower, you'll likely appreciate how robust these things are. It's all super-thick wood, chunky bolts and just feels so well-made.
£hundreds cheaper than the WaterRower
People say I'm tight. But really I'm just ,erm, thrifty! As such I appreciate a good saving as much as anyone. And the Topiom is a lot cheaper than the official WaterRower. And unless you really know what to look for (more on that below) there's very little difference between the two.
This definitely looks the same and the feel of the water stroke is also incredibly close. While it's by no means a budget machine, when compared to the official WaterRowers, it's a great deal.
Lightweight and Easy to Assemble
I was so pleased to find a home exercise machine that I could lift and assemble on my own. The rower arrives 80% assembled, with some simple stuff like putting the wheels on left for you to do. Even if you loath DIY (join the queue with me on that one) you won't struggle with this.
Having experienced the best and worst of instruction manuals in the fitness world, the one on offer here is very simple, in actual real English, and has simple diagrams that are easy to follow. There's also some tips on rowing, and some basic info on how to connect and use Fitshow – the app Topiom recommend you use.
Customer service are really helpful
I had to contact Topiom about a minor issue and, even during a UK lockdown, I was able to get a reply same day. They were extremely helpful and solved the problem I had.
Sleek and Beautiful Design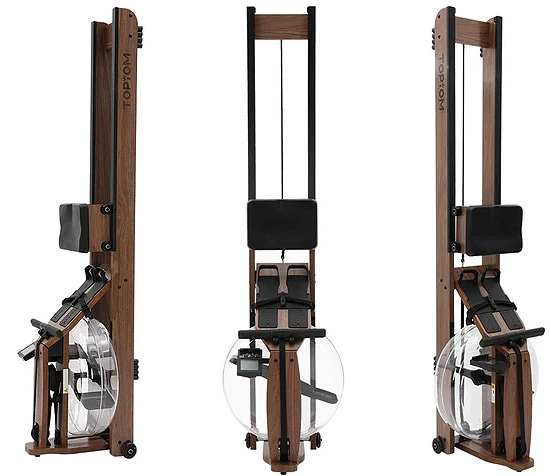 While there's some people who are never going to be into water-based machines, I'm definitely not one of them. I loved the first WaterRowers when I first saw them and that feeling is still there with the Topiom range. The design is very similar to the more expensive competitors and retains all that natural beauty goodness.
I love the fact it's also 100% sustainable ash and walnut wood they use for the frame. The grain is awesome and each rower will be slightly different. Components-wise, you can't complain about the quality either. Everything from the stubby little wheels to the handle and footplates
Quiet and Powerful
I loved the natural rowing action of the water-resistance based Topiom rower. With today's energy crisis, it seems a real boon to working out more naturally without using an engine or motor. The water's sound is almost meditative and is quiet enough to ensure that you don't disturb your significant others when you work out.
Accommodates a Variety of Body Shapes and Dimensions
It is such a pleasure to use a machine where you don't have to fiddle with seat posts or handle heights to enjoy your exercise. The Topiom has a wide length that naturally accommodates all user leg length without any annoying adjustments.
Full Body Workout
Being someone who loves my treadmill, just 20 minutes of rowing really showed me what I was missing. You can feel the rowing engaging both your upper and lower body in a meaningful way. I usually add upper body training with weights to my treadmill exercise regime, but it would be entirely unnecessary with the Topiom.
Quiet running
Having spent far too long using Concept 2's over the years, the noise level on this, by comparison, is minimal. You don't realize how loud an air rower is until you listen to music while using a water rowing machine. Not exactly silent but just a pleasant, background whirr of water.
Check Current Amazon UK Price
---
What Could Have Been Better?
So far we've looked at what's awesome with this machine. But what's not so good? As with any fitness gear, the Topiom isn't perfect. So let's see where it falls short:
The LCD Screen is a Bit Old Fashioned
For the price range and the gorgeous design, one would have hoped that Topium provided a smarter console option. The Console is placed on the right-hand side of the rower, which I felt was annoying as I prefer a central focus in my workouts.
No Designated iPad Holder
Although your iPad may fit over the console if you wish, I would have liked a secure designated iPad holder. With most people using fitness apps these days, it would have been nice to integrate my own device onto the rower securely. Even if you're not planning on using Fitshow, having a good tablet holder is essential for some serious Netflix action in my opinion.
Doesn't measure strokes with as much accuracy as the WaterRower
This is a problem you might not notice unless you're really into your rowing but it's to do with how the Topiom measures your strokes on the console. With the WaterRower, you can measure smaller increments of 1m, 2m and so on. Whereas the Topiom is locked at 6m. Do a light stroke? 6m. Do a heavy stroke? 6m. Again, likely not a problem for most folks, but something to be aware of if you need that accuracy.
The Fitshow app is basic
It's great to see more performance monitors having Bluetooth and being able to connect to apps but the Fitshow app used here isn't the most exciting. While it's not fair to compare it to something like the awesome iFit, Fitshow is not the most popular fitness app out there, with a non-too-hot score on the Play Store. It should be mentioned that Fitshow is constantly updating the app, so it could improve!
---
Conclusion: Is the Topiom worth a buy?
The Topiom water rowing machine makes a great first impression, with its natural WaterRower-like wood design. It's incredibly-strong too and it's hard to imagine anyone getting one of these and not being really happy with it.
If you're a seasoned rower and you need that 1m level of tracking detail, then you'll have to plump down the extra cash for the WaterRower, but for everyone else, this is an easy recommendation. The Topiom is great to look at and offers a superb rowing experience whatever your level.
The Topiom is a solidly built and low maintenance alternative that delivers great exercise while fitting into your home decor beautifully.
Highly Recommended
---
Topiom Rower: Full Specs
| Brand | Topiom |
| --- | --- |
| Machine type | Wooden water rower |
| Resistance type | Water-filled tank |
| Monitor | V" bluetooth monitor |
| Max user weight | 145kg |
| Storage | Flip and stand on end design |
| Transport wheels | yes |
| Materials | Ash Wood or Walnut |
| Max user height | 2 metres |
| Foot platest | Adjustable |
| Standing foot print | 60cm x 50cm |
| Compatible apps | Kinomap and Fitshow |
| Suitable for beginner? | Yes |
| Dimensions | 208cm x 51cm |
| Change water | Every 3 - 6 months |
| Noise levels | Below 65db |
---
References & Further Reading