What is the NordicTrack RX800
It's hard to go wrong with rowing, and it's hard to make a bad rower, especially when you're a brand like NordicTrack.
Aimed closer to the entry-level, the RX800 is a rower that fitness enthusiasts, and people who are setting up a fully specced home gym, are going to want to look at.
Just because it's the baby in NordicTrack's rower range doesn't mean the RX800 isn't a sleek, impressive looking piece of kit.
Boasting the same level of quality that we've come to expect from the name, as well as a couple of things that are surprising in their omission, the RX800 sits in a strange place compared to some of the other rowers NordicTrack offers.
But is it any good, and should you buy it? This guide answers that question. Let's dig in.
What can you get from training with the NordicTrack RX800
Rowing is an amazing exercise that hits literally every important muscle group in your body and can be scaled to any level of health and fitness.
Whether you're looking for long, intensive cardio sessions, a hard, intense burn to strip calories or build back and leg muscles, or just a slow, meditative jaunt to keep the body moving and the joints oiled, a rower is a great way to do that.
Back that up with the fact that rowing machines are great for people with injuries, tend to have generous weight limits and are simple enough for anyone to just jump on and get started with, and you've got a recipe for an excellent piece of kit.
Who is this best suited for?
The RX800 is the smallest, cheapest rower in NordicTrack's range. We won't lie, the design is showing its age a little at this point, but the core of the rower is still incredibly impressive, boasting excellent resistance and performance.
This rower is recommended for people who use rowing as a supplement for their exercise plans or are looking for a system that offers a good level of resistance for a relatively budget rowing machine.
NordicTrack RX800 Key features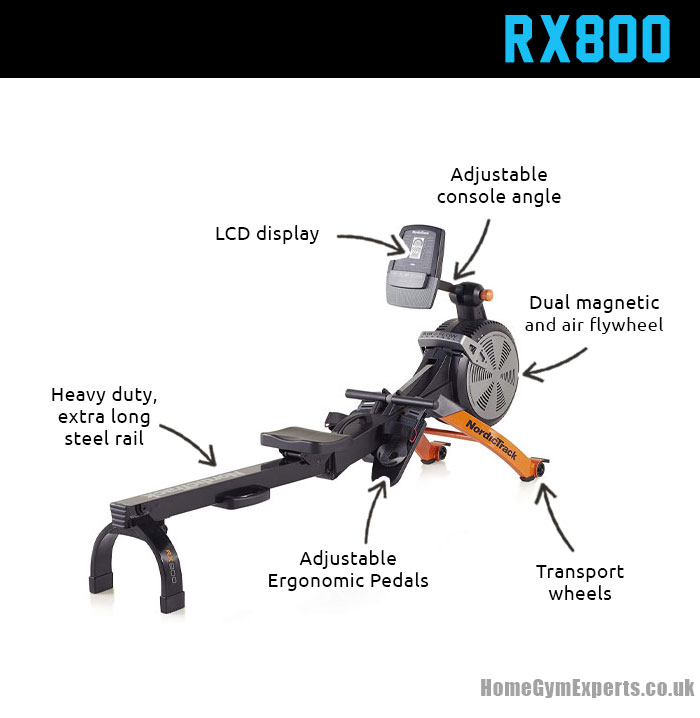 Dual magnetic and air flywheel
Heavy duty, extra long steel rail
20 workout programs
LCD display
125kg (275lb) max user weight
5 year NordicTrack warranty
---
What we like about the NordicTrack RX800
Fantastic NordicTrack Quality
All NordicTrack gear is quality. It's the thing we love most about them. No matter what you're looking at, you know that it's going to be built like a tank, with thoughtful design choices where they matter.
The RX800 is no exception. It's built around an oversize steel rail that's tough enough to take 275lbs of weight, and long enough to take taller rowers. Everything you're in contact with feels great too, including the big, adjustable pedals, the soft, easy to hold the handle, and the generously proportioned seat that's comfortable even after long sessions.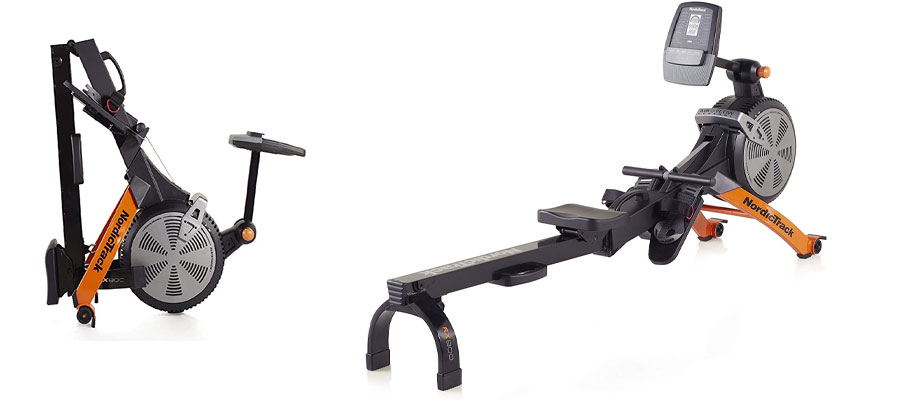 And like most good rowers, the RX800 also folds up. The space-saving design literally folds in half, cutting the room needed to store this to just over a meter, which means it's great for flats and garage gyms that might be limited on space.
Finally, all of this is backed up with NordicTrack's industry-leading warranty. 2 years on parts and labour, and 5 years on frame.
The decent flywheel
Like all NordicTrack systems, the heart of the RX800, the flywheel, is powerful, well made and dependable.
It runs on a dual resistance system, using silent magnetic resistance (SMR) to provide the majority, with subsidiary air resistance that fights against you, working harder as you do and giving you control over exactly how hard you go.
A reasonable range of workouts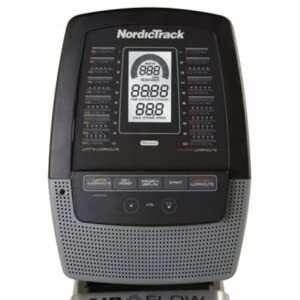 The old-style LCD display console on the RX800 offers a decent chunk of workout options, spread across 20 workouts, divided between calorie focused and watts focused.
The controls are easy to understand, with a good spread of stats including calories burned, time exercising, strokes per minute and total strokes, and watts generated.
This is probably the best thing about the RX800. Combining the range of workouts, the ease of use, the fact that it can accommodate most people, means that no matter who you are, you're going to be able to find a way to use this rower to hit your goals.
---
What we don't like about the NordicTrack RX800
Archaic console
We already mentioned the positives for the console on the RX800, but it's not all good. It uses an LCD display, which is small and old-looking. The controls are simple and intuitive but don't use NordicTrack's usual OneTouch control system. Lastly, and worst of all, there's no option to link a device to this to use as a touchscreen. At all.
That means no tablet or phone controls, and most importantly, no iFit. More on the importance of this in a second.
The two 2 inch speakers are of decent quality, as you'd expect, but you have to link them to your phone using an aux port instead of Bluetooth. In 2021! Who does this!
This is just another sign that the RX800 is an old design that we expect to be slowly phased out over the coming few months.
No access to iFit
The single biggest nail in the coffin for the RX800 though is this. It can't access iFit.
Consider that iFit is one of the biggest reasons to buy a NordicTrack exercise system, with its massive range of world-class workouts and constantly updating library. Plus the fact that every other entry-level machine in their range has access (even the exercise bikes, which cost half the price of this.) It seems almost inexcusable that the RX800 wouldn't have been updated with Bluetooth to link to a phone or tablet.
---
Final thoughts
The RX800 might just be the first piece of NordicTrack equipment that we've reviewed that we don't love, which is a bold statement, considering the impressive range of products they have, and the fact that literally, everything else they offer is fantastic.
It suffers in multiple ways. The old, out of date feeling console and display, the lack of fitness options, and most importantly, the complete inability to link to iFit in any way, shape or form.
The biggest issue is just that the RX800 doesn't offer enough for that high price tag. For the same price, you can pick up a mid-range rower from another manufacturer like JTX, or a decent quality water rower.
For just a little more, you could also step up to the RW600, which is brand new for 2021 and packs all of the latest advances and tech into its frame, making it a much better option all around.
And for our list of rowers that we'd recommend instead of the RX800, click here to check out the range.