Review Summary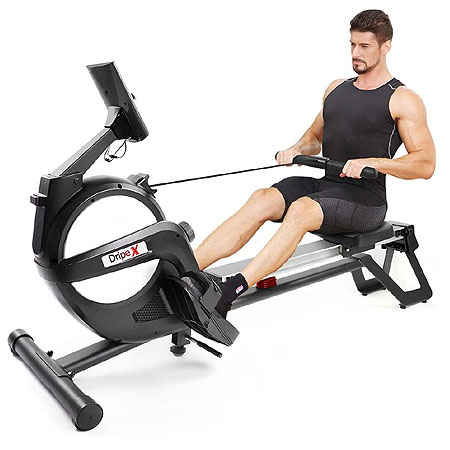 Dripex Rowing Machine
Super-cheap
Built to last
Quiet & smooth
Fine for taller users
Basic LCD display
"For a cheaper home rower, there's a lot to like about Dripex's machine. It's sturdy, quiet and smooth. The display lets it down but otherwise a good buy."

Welcome to this Dripex rowing machine review. In this guide we'll take a deep-dive into this budget-ish machine and help you decide if it's worth it's time. We'll go over everything this rower does, and whether or not it's worth your time.
What is the Dripex Magnetic Rowing Machine?
The Dipex rowing machine is a budget-priced home rowing machine. It uses magnetic resistance which can be set to any one of 15 levels. The machine can be up-ended and stored vertically (like the wooden water rowing machines).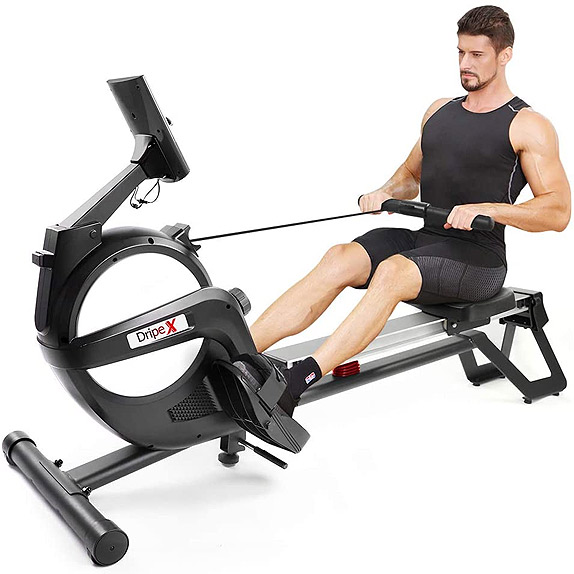 The Dipex rower has a 3kg flywheel, making it great for home cardio fitness and strength training. You can adjust it to fit any user up to around 6′ 2″ and it comes with easy-adjust foot straps and nonslip footpads.
The built-in LCD display console is adjustable to different angles and shows stats such as time, distance, and how many calories you've blasted so far.
Construction-wise, it's an aluminium and steel frame with an aluminium double rail for the rowing track. The PU seat is made for comfort and conforms to individual body shape.
---
Dripex Rowing Machine Features at-a-glance
15 levels of magnetic resistance
3kg (6.6 lbs) flywheel
Ergonomic and sleek design
3D seat cushioning for comfort
Adjustable foot straps with anti-slip foot pads
LCD monitor with calories, time, distance, count, and total count
42.13-inch Double aluminium sliding rail for smooth action
Aluminium and steel construction
72.47 x 20.81 x 30.04 inch dimensions
Weight 72.75lbs (40kgs)
Nonslip handlebars
Shock absorbing technology
Robust rear stabilizer
Wheels for moving
Max user weight 265lbs (120 kgs)
Sores upright to save space.
---
What will you get from training with this rower?
Burn calories and Lose Weight
Havard Health lists vigorous rowing as one of the top five exercises to burn calories, with calorie consumption reaching up to 754 per hour. This fact makes a home rower one of the best ways to burn off extra weight and lose weight from home.
The Dripex is an excellent means to shed those extra 'lockdown' kilograms from the safety of your home for a fraction of annual gym membership costs.
Improve Your Fitness and Health
Rowing is an excellent cardiovascular exercise option, with benefits to your heart and overall health levels. Rowing exercise lowers bad blood cholesterol and increases circulation, protecting you from heart problems and boosting your body's immunity.
Exercise such as indoor rowing can even improve your mood and help you sleep better at night.
Low Impact, Full-body Exercise
The beauty of rowers such as the Dripex is that the physical activity of rowing is low impact, meaning that it does not cause stress on your joints. Treadmills and outdoor running can place high stress on joints and knees, so rowing is a safer alternative for your body while still delivering a full-body workout.
Check Current Amazon UK Price
---
Who is the Dripex Rowing Machine Aimed At?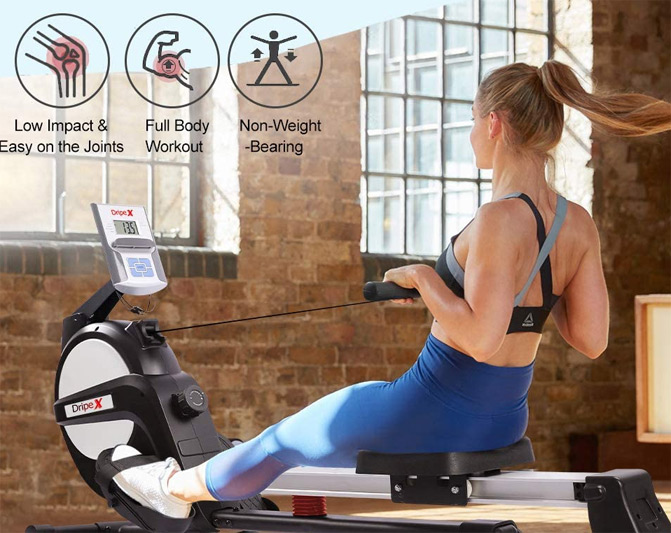 The Dripex rower offers excellent moderate-intensity exercise that targets the whole body. Many home exercise alternatives like stationary bikes and treadmills target the lower body and force users to do supplementary exercises to keep their bodies toned. The Dripex rower offers a full upper and lower body workout on one machine, including:
Chest
Shoulders
Core
Obliques
Back
Glutes
Quads
Calves
The Dripex is perfect for those recovering from sports injuries or who wish to protect their joints from harm. The rowing exercise burns calories while keeping the body safe from repetitive impact injuries often found in running activity.
Who might not like this machine?
Because the Dripex flywheel is only 3kgs, the machine will not suit users who seek high-intensity training from home. The rower is perfect for those beginning their exercise journey or those who wish to firm their bodies and lose weight with moderate-intensity training.
Because the Dripex is portable and lightweight, it will not suit users over the weight of 256lbs (120kgs)
---
Opinion: The best things about Dripex's rower
Budget price
At a time where fitness gear is rocketing up in price, Dripex's machine is a welcome sight. Apart from the basic-looking display (more on that in a bit) this machine does look like a more expensive product. You can check the latest price on Amazon here – and you might be pleasantly surprised. This is a good, solid machine for this price. So if you're not looking to splash out a grand for a rower, the Dripex will likely put a smile on your face.
High-quality Construction and Frame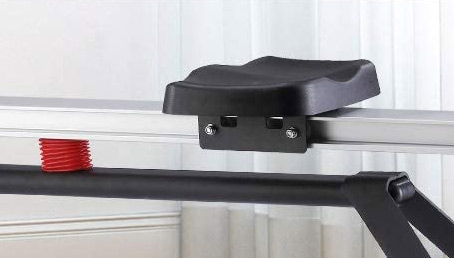 We were immediately struck by the sturdiness and construction of the Dripex, with high-quality welds and materials. Often rowers may appear flimsy or have too much plastic, which makes you worry about how long they last. But the Dripex is sturdy and well made for its relatively lightweight.
Portable and Fits Easily into Your Space
My colleague and I often laugh when machines such as rowers are sold with the label 'potable' and end up weighing a ton. The Dripex is lightweight, and whatever your current physical level, you should have zero problems moving this around your home.
The machine stores easily upright and takes up a small footprint of space, making it excellent for those in smaller, city apartments.
Quiet and Smooth Action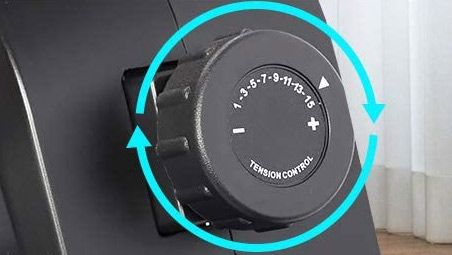 We liked the aluminum dual-rail, which offers a smooth slide that is relatively noise-free. Although not technically 'whisper-quiet,' the machine has a low noise action and would suit those who share their living space with others.
Easy To Adjust Between Users
The dual-rail length is generous and fitted both myself and my 6ft colleague comfortably. The foot straps adjust easily between users, and there is none of the fuss of changing multiple heights that we find in stationary bikes.
Stylish and Comfortable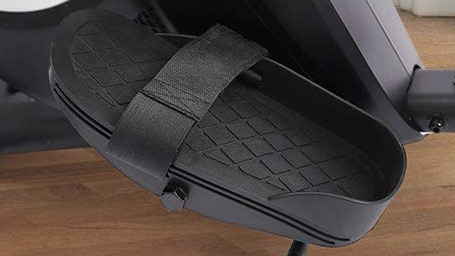 We liked the organically shaped Dripex, which has a unique profile that is sleek and elegant. The seat is comfortable and ergonomic, and the handlebars are soft yet retain their grip when using higher levels of resistance.
Check Current Amazon UK Price
---
Where does the Dripex rower fall short?
The LCD is Poor
The LCD is small and somewhat retro, and we hoped that the Dripex could have supplied a better alternative. It serves its functions, though, and delivers visible stats, so it not a deal-breaker. We noticed that the Dripex does not offer heart-rated monitoring features even at an additional cost, which may put some buyers off.
---
Conclusion: Should you buy this rowing machine?
The Dripex is a high-quality rower that is durable and well designed with surprisingly strong resistance for the flywheel weight of 3kg. The Dripex would make a great entry-level home exercise option with few add ons but serves its function very well.
The operation is smooth and quiet, making the Dripex an excellent alternative for those seeking a full-body home workout.
For the price, this thing is definitely impressive and anyone on a budget will likely love what's on offer here.
Check Current Amazon UK Price
---
Dripex Rower – Full Specs
| Brand | Dripex UK |
| --- | --- |
| Machine type | Rowing machine |
| Resistance type | Magnetic |
| Rail | Double Aluminum Sliding Rail |
| Monitor | LCD Monitor |
| Max user weight | 120kg |
| Storage | Upright storage |
| Resistance levels | 15 |
| Comfort | Shock-absorber on rowing track |
| Transport wheels | Yes |
| Muscles trained | chest, core, abs, glutes, upper body, and lower body |
| Max user height | 6' 2" |
| Flywheel weight | 6.6 lbs/3 kg |
| Materials | Steel & Aluminum & PU feather |
| Handlebar | Non-slip Handlebar |
| Tablet holder | Yes, adjustable |
| Noise levels | Near silent operation |
---
References & Further Reading