Welcome to our JTX Freedom Air Review. If you're wondering if this machine is worth buying hopefully I'll be able to help you decide if it's right for you and how well it stacks up against more pricey beasts such as the industry-standard C2. I'll cover what this one gets right and also where it falls short.
Known for its sturdy, well-built fitness gear, JTX Fitness are a relatively new UK brand that's making waves in the fitness world by creating reliable gym gear people want to use.
We've reviewed a lot of JTX equipment in recent years, and across the board, we've found that everything is dependable and well built, with a focus on things that gym-goers will love. Hopefully, the JTX Freedom Air continues that trend.
What is the JTX Freedom Air?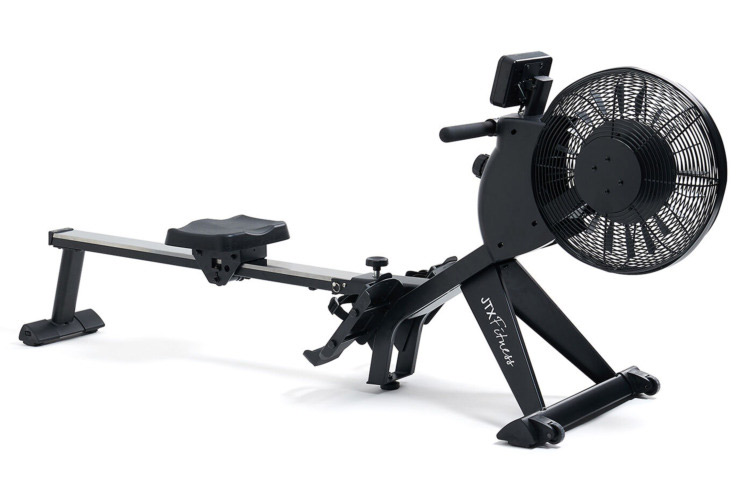 This is a mid-range magnetic rowing machine similar to the ones you'll find in commercial gyms and health clubs. It offers a challenging workout that anyone can do and you'll enjoy an almost full-body workout. There's a performance monitor to help you hit your fitness goals and workout targets.
Despite being JTX Fitness's lowest level rower, Freedom Air is priced in the middle of the market. Combining air and magnetic resistance on a chassis that's rock-solid, it's a workhorse machine, and at first, glance clearly compares well with equivalent models out there.
What can you get from training on the JTX Freedom Air Magnetic Rowing Machine?
There's a reason a lot of people turn to row for their cardio. The combination of highly efficient workouts, high-calorie burn, rhythmic, almost meditative exercise profile and low impact on your body makes rowing suitable for basically anyone.
Great for cardio fitness – If you're looking to increase cardiovascular health, rowing is a proven way do that. I'll be rowing after I've finished this and although I love it, it's a tough workout if you go for it. Really effective for overall cardio.
Fun! If I'm not sure where to start my workouts, I'll normally go for a rower. They're easy to jump on, offer a smooth rowing experience and are easy to use. It's relatively hard to injure yourself from what I've learned. Using an indoor rowing machine is repetitive but you'll likely not be doing it in great long sections. I find it fun and I'm sure you will enjoy using the Freedom Air rower too.
An easy choice for calories – You can do all sorts of fancy-pants workouts with rowers like the JTX one these days. Indeed there are workout programs here to keep you busy for a long time. But I like to whack my tunes on and just row X calories. I can blast about100 calories in under 15 minutes without too much strain and it's easy to do. I then repeat that a number of times. Whatever your current fitness levels are, rowing is a calorie destroying monster.
Smooth rowing motion that trains 85% of your body – Do you want to get fitter and burn calories without ruining your knees? Rowing is a great choice. Do you want a source of cardio that works your whole body, and can be scaled in intensity to work in some muscle growth? Choose a rower.
Check JTX Freedom Air Latest Price
Who will love this rowing machine?
JTX tend to aim their exercise gear at people who are committed to their fitness, with a focus on effectiveness, high levels of resistance, and overall good workouts.
That makes Freedom Air rower a good choice if you've already got a base level of fitness, and you're experienced with rowing machines and already use them in your fitness plan.
But the things that make this an excellent rower for athletes and other fitness pros also make it a great choice for literally anyone looking for efficient workouts and ease of use. It's strong, tough, and guaranteed to do what you need it to do.
Anyone sick of budget machines that break after a year – There are actually some reallydecent budget rowing machinesaround but if you're looking for something with a bit higher quality and don't mind an equally increased budget, the Freedom Air rower really is a jump up in terms of build quality, feel and it's ergonomic design.
Anyone looking to get in shape without too much time – This is a great machine to hop on, get your work done and then jump in the shower and be done. There's no need to while away hours on this and it's deal for those short, intensive workouts. I don't like spending hours workout out – stuff to do! So It's ideal for me.
Couples or families – JTX gear is somewhere between a home rower and a gym one like the C2. It's easy to adjust and would be a great one to share with other family members.
If you have rowed before – I think a lot of people end up buying a rowing machine and not using it because they don't like this style of exercise. The Freedom Air rower should last a long time and it's a decent chunk of cash but will appeal to anyone looking for a proper rower.
---
Get to know the Freedom Air Rower
Before pressing on to the review, here's a quick overview of what everything does. The website does a better job at explaining all the details (and also has some good customer reviews too) but here's a very brief rundown of the Air's features.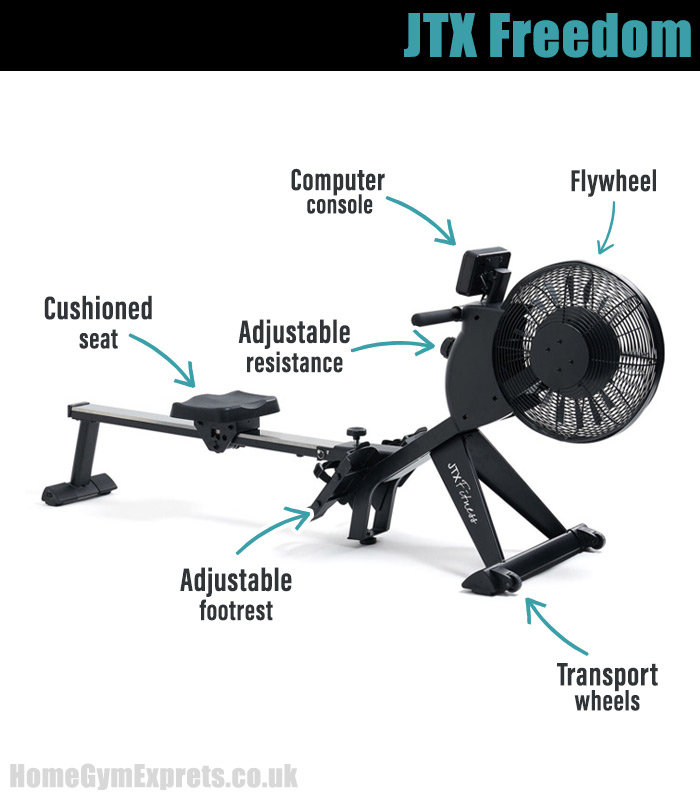 Combination of air and magnetic resistance
8 resistance levels
Exercise the entire body
135kg user maximum user weight
40kg unit weight
Foldable design
Transport wheels
2-year repair warranty
---
Review: What I like about the JTX Freedom Air Rowing Machine
A solid, effective flywheel
The Freedom Air rowermakes a choice that you're seeing more and more on mid-level machines, using dual air and magnetic resistance on its flywheel.
The main advantage here is giving you the best of both worlds. The smooth action, stability and reliaby even pull of magnetic resistance, with the bonus of increasing resistance the harder you work, as you fight against airflow using air resistance.
tough as hellif you're up for the challenge…
Manual levels go from 1 to 8, easily adjustable via the console, and even though it seems low, at the highest level, 8, the force applied is high enough to give accomplished rowers a good workout.
Overall, the flywheel does absolutely everything you need it to, and it's very high quality for the asking price.
Dependable construction
One thing JTX Fitness is known for is the quality of its builds. Rowers by their nature are pretty stable pieces of gear because they sit low and they're built around a big, heavy rail, but you can sometimes get a little wobble, or feel a floatiness in the pull.
You'll be glad to hear there's absolutely none of that here. The 120cm iron rail is rock solid, as is the iron and stainless steel frame construction built around it. User weight is a respectable 135kg (300lbs;) good for a rower.
The fittings are just as high quality, with large 7 point adjustable pedals and a padded seat that's comfortable, running evenly backwards and forwards over a gym-style roller system, which you'll appreciate after half an hour on the thing.
Finally, this is all backed up with a solid 2-year in-home warranty. This means if this can be fixed in your gym, on the day, it will be.
The workout computer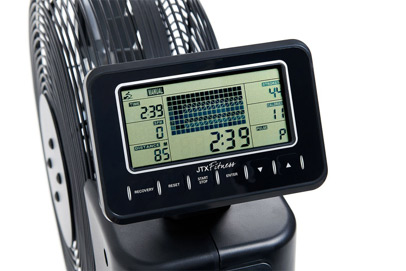 The onboard workout computer on the JTX Freedom Air is decent, if uninspired. Put simply, it's going to do what you want it to do. The display is basic, with an LCD screen and a small number of buttons to handle settings.
On the upside, all controls are electronic, meaning there's no old-style dial for the resistance. This adds a much needed modern touch, and makes the entire thing incredibly easy to use and simple to understand, even for beginners. It also measures everything you need it to, with tracked metrics including:
Time
Distance
500m split time
Strokes per minute
Total strokes
Watts
Calories
If you want to go deeper into monitoring your workout and track your target heart rate easily, the JTX Air can do this. To get set up for heart rate training on this piece of equipment you'll need a polar compatible heart rate strap (which you can also pick up from JTX).
The performance monitor will work in conjunction with this and give a far more detailed workout picture while you're rowing.
While it would have been nice to see the options for interactive fitness built-in, there is a tablet/phone holder above the screen. And, realistically, this does everything you need it to do, with no fuss or muss. Like everything else about this rower, the controls are reliable and well made. Simple as.
Mobile and easy to move
Despite being solidly made, with a rock hard iron & stainless steel frame and a reasonably dense 40kg weight, the JTX Freedom air rower is surprisingly simple to store.
This is because, like a lot of higher quality indoor rowers, it has a folding midsection that cuts the size in half, and a set of moving wheels on the frame. While it's still a reasonably sized package, it's conceivably small enough that you could fit it in an under stair cupboard, or tuck it away in the corner of the room to use more space.
Self-power
A lot of people struggle to fit everything into their home gym already, without having to think carefully about where to place a bit of fitness equipment dues to it having a cable that needs an outlet.
A self-powered system like this one is a huge help on that end. You can put it wherever it needs to be, fold it up and move it around with absolutely no issues. It's a small thing, but something you'll appreciate.
---
What we don't like about the JTX Freedom Air Magnetic Rowing Machine
Simple design
The main criticism we have about the JTX Freedom Air rower is just the lack of flair. The overall design is boring, with nothing that makes it stand out, visually.
Of course, this really doesn't matter if it's effective. And, as this review has shown, the JTX Freedom Air is a solid, impressive piece of kit, through and through.
Lack of interactive fitness
As we've already touched on, the lack of streaming fitness options is a shame. But again, it's not really a strike against the indoor rower.
This is because adding interactive fitness would spike the cost upwards by several hundred pounds, and this is clearly designed to be aimed at people who already know what they're doing.
---
Verdict: Should you buy the Freedom Air?
If you're not looking to plonk a grand down for the Model D just yet, this is a darn fine alternative.
There's a lot to like about the JTX Freedom mag-rower. It's well designed and well made, with a seriously strong, reliable construction. Of course, it's always going to fall short compared to the Concept 2 Model D but it's around half the price at the same time.
This is definitely not a cheap rowing machine but it trumps the lower-quality budget priced machines by a mile. The smooth rowing action and padded seat make it one of the more comfortable rowing workouts we've seen and it's suitable for all age groups.
That's balanced out by a decent price tag and enough adjustable resistance to give the vast majority of people a solid, effective workout. At the end of the day, that's what you're going to buy this for, and it's going to be able to perform.
If you pick up the polar-compatible heart rate monitor, you'll get access to some excellent heart rate options and be able to track your workout like a pro.
This is a fantastic air and magnetic rowing machine that's both well assembled and offers a lot of value for money. If you're not looking to plonk a grand down for the Model D just yet, this is a darn fine alternative.
---
JTX Freedom Air Full Specs
Brand
JTX Fitness
Model
Freedom
Resistance mechanism
Air & Magnetic
Computer Console
Displays time, distance,
500m split time,
strokes/minute,
total strokes,
watts and calories
Adjustable Footrest
7 point adjustable pedals
Monorail Length
120cm (47")
Dimensions
230cm(l) x 55cm(w) x 88cm(h)
Storage Method
Folding
Item weight
40kg
Max. User Weight
135kg (21.3 stone) (298 lbs)
Material
Iron monorail.
Iron & stainless steel frame.
Power source
Self Powered
Frame material
Iron & stainless steel
Transport Wheels
Yes
Boxed Dimensions
125cm(l) x 32cm(w) x 62cm(h)