There's a reason so many people are turning to row in droves. It's one of the best types of cardio available, good for health and fitness, safe for your body, and fun to do.
Today, we're comparing two of the best rowers on the market, examining what makes them stand out, and which one is right for you.
What exactly are we comparing and why?
This guide is comparing two very popular rowing machines, JTX's Ignite Air machine side by side with Concept 2's ever-popular Model D machine. If you've been to any commercial gym in the past 10 years, the Model D is likely the one you've used or seen there.
So why compare these two? It takes only a glance to see that these machines at least look very similar. But, if you're wondering if you can save some money and get the Ignite air, or are wondering if the Model D is a superior machine, that's what we were curious about.
In the guide below, we'll compare both rowers and give a 'winner' to each section to help you decide which one is right for you.
What is the Concept 2 Model D?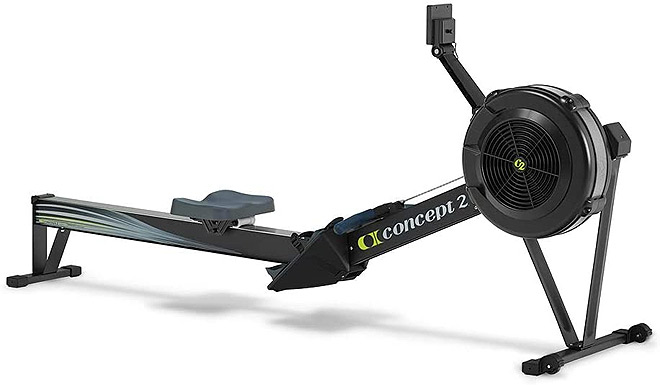 Anyone who knows rowing knows the Concept2. Their rowers are the benchmark in home rowing systems, and they're used and trusted, by Olympians, other athletes, and home fitness enthusiasts worldwide.
Today, we're examining their flagship rower, the RowErg, and directly comparing it to a rower that's starting to become known as a serious competitor. The JTX Ignite Air.
What is the JTX Ignite Air?
Made by homegrown British company JTX Fitness, the Ignite Air is specifically lauded as a competitor to Concept2. It's a significant chunk of change cheaper, but built to similarly excellent general standards, as well as being built around a smart dynamic air resistance system that increases in resistance the harder you exercise, matching the feeling of water, because the harder you row, the harder it resists.
See our full JTX Ignite Air review here.
---
Related Guides
---
Concept2 VS JTX Ignite Air
Build quality
One thing Concept2 is known for is its ironclad build quality. The things are damn near indestructible, at least under normal circumstances, and everything about the design is well thought out and overall very well made. But of course, this isn't something only available to Concept2. The Ignite Air is similarly incredibly high quality throughout, easily matching or exceeding what we'd call 'commercial class' build quality, i.e., what you'd see in a high-class gym.
On Concept2, the frame and guiding rail is stainless steel, with front legs instead made from aluminium to help reduce weight. However, the entirety of the Ignite Air is made from reinforced aluminium, including the top rail. This puts the Concept2 at a slightly lighter weight than the Ignite Air, at 26kg instead of 38kg, increasing overall manoeuvrability without cutting down on stability or strength.

Both share the same maximum weight limit, a hefty 135kg (300lbs,) and also have identical rail lengths, at 137cm. What this means for you is that either of these rowers will easily accommodate big and large users, up to around 6'6 tested, comfortably and without issue.
Both also share a number of other similarities, including tough, corrosion-resistant nickel-plated steel chains, and the ability to take the system down into two main components for storage and transport.
Winner: A draw
Comfort
Comfort on a rowing machine comes down to one main thing. Can you sit in a position that allows you to repeatedly go through a natural rowing motion, no matter your size and shape?
We're glad to say that both of these rowers offer that, in droves. We'd expect it from Concept2, as, after all, it's basically the gold standard in rowing machines. But the Ignite Air also offers a very comfortable, naturalistic rowing routine, with ergonomic handlebars that are comfortable on the hand, oversize footwells that have enough movement to flex correctly and a good position, and a small but comfortable seat.
In short, neither of these have any significant issues when it comes to comfort or your rowing position, which is as it should be.
Finally, in terms of feel, both systems are exceptional, meaning they're a pleasure to exercise with. The action of the cable is taut without being difficult, and the feel of each stroke is natural and easy, even on high resistances.
Winner: A draw
Workouts, metrics and on-board computer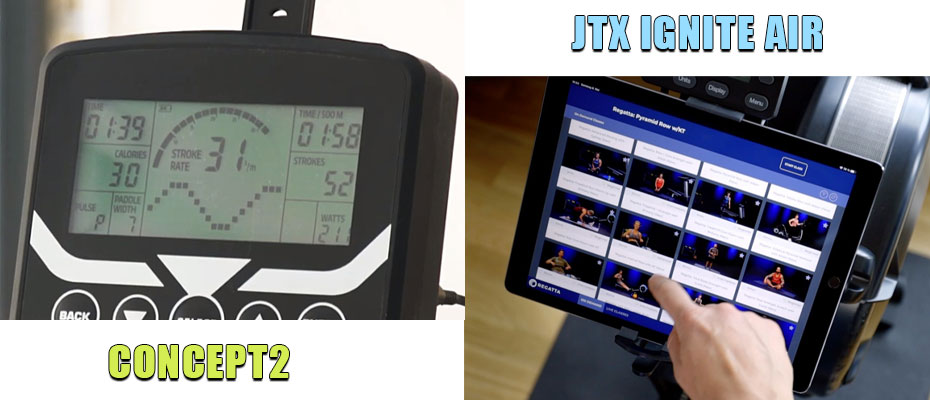 Neither of the tested rowers needs an external power source, with both onboard workout computers requiring batteries to run, but the displays needing almost no power.
The Concept2 has 6 built-in workout modes, and the Ignite Air has 8, but in terms of actual difference for the user, you, you'd struggle to find anything major.
Both measure a comprehensive set of metrics, including distance, speed, pace, calories, and watts, and both also have the option for dedicated heart rate training. (HR Training.)
However, Concept2 does come out ahead when it comes to comparing your numbers, as well as setting up your rower to perfectly match the conditions you regularly face outdoors. If you directly need to match race conditions, for example, or compare yourself to others in a team, Concept2 gives you the tools you need for that.
Winner: Concept2
Price
As of writing, the Ignite Air costs £699, whereas the Concept2 is more expensive, starting at £840, with options pushing this price past £1000.
If you're just looking for a good rowing machine based on price, the Ignite Air is the clear winner.
Winner: Ignite Air
Warranty
The Concept2 is supported by a limited 2 year and full 5-year warranty. Inversely, the Ignite Air has a full 3 year at home warranty, meaning maximum convenience and minimum downtime.
Winner: Ignite Air
---
Which one should you buy?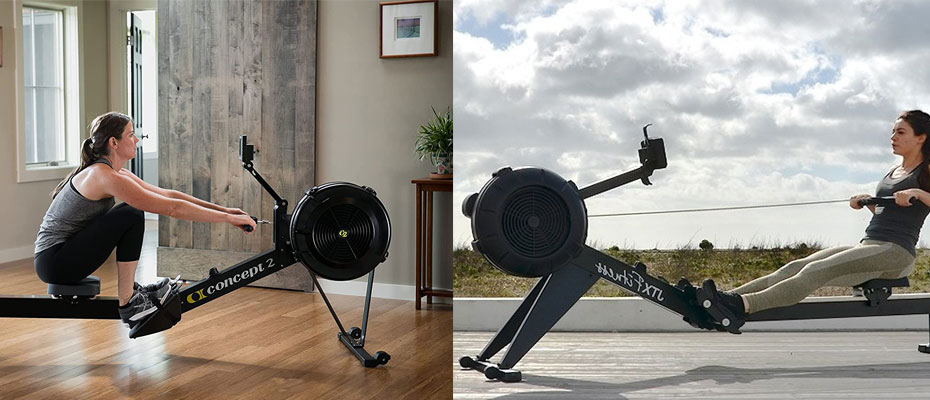 The distinction between Concept2 and the Ignite Air is actually a surprisingly easy one, as the raw statistics on the two systems are surprisingly similar.
Do you need a rower for competitions, or for other serious, dedicated rowing training, with absolutely precise metrics that you can directly compare with other rowers, and with your previous metrics from potentially months or years back?
If so, buy a Concept2
Do you, instead, need a gym quality rower that you can use at home, that will cope with whatever workouts you throw at it, as a general-use machine for part of your overall fitness plan, all of which comes for much less cost than a Concept2?
If that's the case, you should buy a JTX Ignite Air