Welcome to our guide on Concept 2 alternatives. Here we'll be taking a look at the different options out there for anyone who just doesn't want a C2, or isn't prepared to fork out the asking price. And, to be honest, there are plenty of machines out there that do as good a job, if not better.
The C2 isn't the only show in town!
The Concept2 Model D is widely seen as the gold standard in rowing machines. After all, there's a reason Concept2 rowers are trusted by Olympians and other elite athletes to spike their performance and keep them at the top of their game.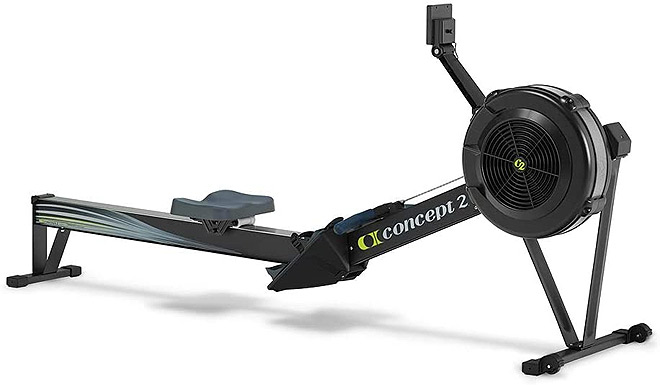 But right now, it's almost impossible to get your hands on one. Concept2 rowers already normally have a waiting list, and the events of 2020 have pushed this back even further. That's why we're seeing models go for two or three times the standard asking price.
So what do you do when you can't find the rower you want, but you need to keep your health and fitness in check?
Thankfully, there's a good selection of Concept 2 alternative machines available that do the same job, at a cheaper price – and are in stock. You find a close equivalent, and you buy another rowing machine that's just as good.
Check the latest price for the Concept 2 here, if you're curious. Right. Now let's see if we can find something just as good or even better, for a lower price.
Quick view: The Best Alt Rowers To the C2
"Costing less than half the price of the C2, the Freedom Air is a superb alternative and is extremely well made."

Sturdy & impressive quality

Comfortable rowing experience

"If you're not set on air-based resistance, the Topiom rower is a great alterantive to the Concept."

Uses natural water resitance

"Sportstech's RSX500 is seriously sturdy while managing to be fairly quiet too. It can connect to online races and can stream to your TV or tablet."

Excellent online capabilities

Dripex Magnetic Rowing Machine

"This is by far the best budget-priced rower around today. Puching way above it's weight, it's solid, suitable for tall people and is a great all-round machine for the price."

"A super-cheap alternative to the more expensive machine."

Excellent Concept 2 Alternative
What to look for when you're buying a C2 alternative
If you're specifically buying something equivalent to a Concept2, there are a few things that you need to be looking out for to match performance and ease of use.
Resistance
First off, Concept2 rowers use air resistance, which is far smoother and has a more even resistance level throughout the entirety of the exercise, compared to physical resistance used in cheaper models.
Other alternatives to air resistance are magnetic resistance and water resistance. Both of these are also much higher quality than physical resistance. Or you could go for something completely different. Water-resistance gives a totally different feel to the Concept 2, while magnetic resistance offers a smooth, quieter way to row.
Build Quality
There's an old adage when it comes to buying cardio equipment.
Buy nice, or buy twice.
There's nothing worse than spending a chunk of cash on a cardio set up, only for it to slowly start to break down a few months in.
Expensive rowing machines tend to be built like dreadnoughts, with solid frames and premium materials, and they also come with warranties to match. It's common to see 5-year warranties covering the working parts of higher quality rowers, and that's a level of security that can't be overstated.
Comfort and Usability
There are two parts to comfort and usability when it comes to rowers. The setup and tear down, and how it feels in use.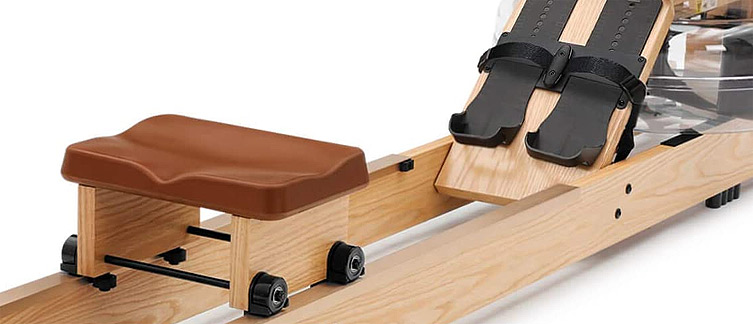 Comfort 2 models are simple to set up, with an intuitive resistance adjustment system that gives you full control, and a quick-release mechanism that makes moving it around incredibly simple. Both are things you should be looking for, especially if you're going to need to move your rower after use because they do take up a lot of floor space.
How a rower feels in use comes down to a couple of things. The quality of the flywheel, and how the footrests and handle are set up. Look for ergonomic footrests and handles that feel natural when held.
Multimedia
One thing the Concept 2 can be beaten is the multimedia system. The performance monitor on a Concept2, the PM5, is an LCD monitor that gives you a wide range of details about your full workouts and can be linked to Bluetooth, Wireless, and more.
They are also fully compatible with a wide range of heart rate monitors, online apps, and smartphones, so you can track everything on the go.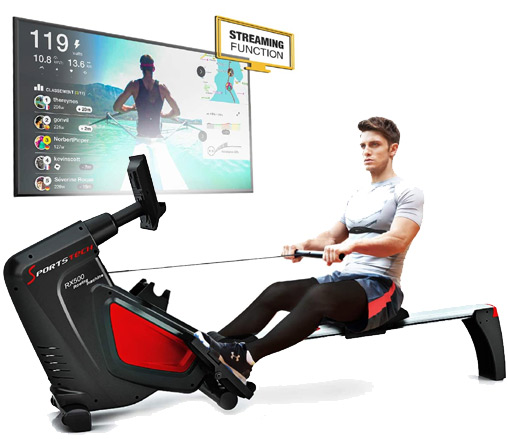 But Concept2 are relatively behind the times when it comes to interactive workouts and other live fitness options. Other rowers let you access programs like iFit, which gives you a huge variety of workouts and motivational options, keeping you working hard for longer.
---
What Are The Best Concept2 Alternatives in 2023?
Here are our recommendations for some rowing machines you can buy in the place of the Concept 2, that should be in stock today.
Best for resistance: TOPIOM Water Rowing Machine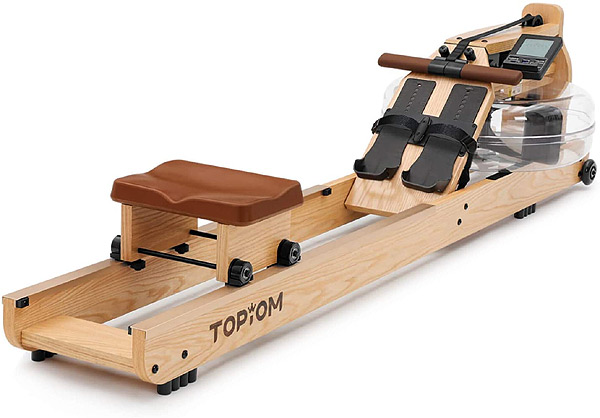 Water rowing machines have become much more popular in the last few years, due to the fact that they provide the smoothest and quietest workouts, while still offering a huge amount of resistance.
Trade the Concept 2's swoosh for a watery slosh
All of the resistance on a water-based rower is provided by you. A large, front-mounted tank is filled with water, and the handles and belt drive a set of paddles inside. That means the harder you work, the more resistance is provided, meaning that a rower like this has literally infinite levels of resistance available to you.
Water rowing machines like this are also fantastic for the range of workouts they can give you. Unlike standard rowers, a water machine has built-in options available for strength and endurance training. More water in the tank increases the amount of weight you're working with, and a full tank will act like strength training for even the fittest among us.
Hand made, this rower is gorgeous to look at because of the 90% wood design, and it's also surprisingly simple to use. The footrests are huge, and so is the handle, so everything is comfortable.
The sitting position might be slightly higher than you're used to, but everything slots together well, and construction throughout is fantastic. One downside of rowers like this is mobility. In all likelihood, you're not going to move this after it's put together, but on the upside, assembly is incredibly simple. It comes in two boxes and can be put together by one person in less than an hour.
There's a reason water rowing machines are trusted by the British rowing teams. They work, and they work well. Water-based rowers make for a worthy alternative to the Concept 2, in our book.
Check Current Amazon UK Price
---
Best for multimedia: Sportstech RSX500
We love Sportstech for exercise equipment. Everything they offer brings a solid list of features to the table, without absolutely breaking the bank.
The RSX500 is a powerful rower that works with dual resistance settings, using both magnetic and air from the large integrated flywheel, with 16 different settings.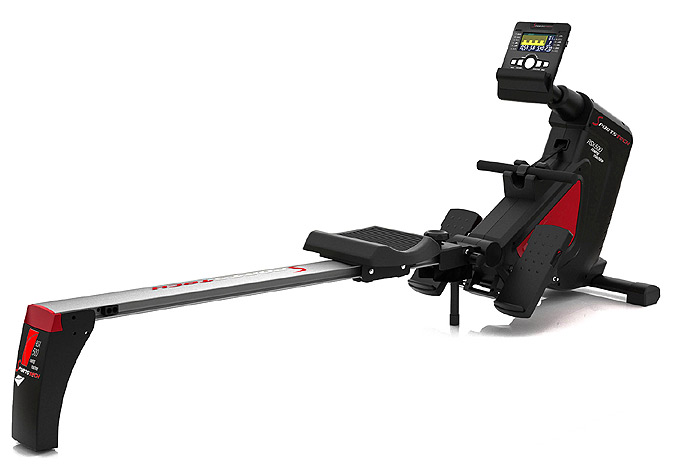 The machine itself is massive, almost two and a half meters long, but very well built, with a max user weight of 120KG (265lbs.)The seat is comfortable, ergonomic and smooth with a 4 ball bearing runner system and a 15-degree incline that feels incredibly natural in use.
But the reason we're recommending the RSX500 is the multimedia systems. It comes with a built-in 5.5 inch screen, and links to any tablet (which can be mounted on the included holder) phone, or smart TV, giving you access to the Sportstech app and letting you track your workouts from anywhere.
Even without the app, there are 16 workout programs on the console, and it can all be tracked using the included heart meter. It's also a much cheaper alternative to the Concept 2.
There is also more budget-friendly option in the RSX400, which doesn't have the air flywheel, or a lot of the comfort options, but does have all of the same multimedia options if that fits your wallet a little better.
If you want to see some amazing Multimedia rowing machines, you should also check out NordicTrack's range.
Check Current Amazon UK Price
---
Best budget alternative to the Concept 2: The V-Fit Tornado
Built around a large air resistance flywheel, the V-Fit Tornado is one of the cheapest ways to get club style, proportionate air resistance in a quality package. This is also a great rower for tall people.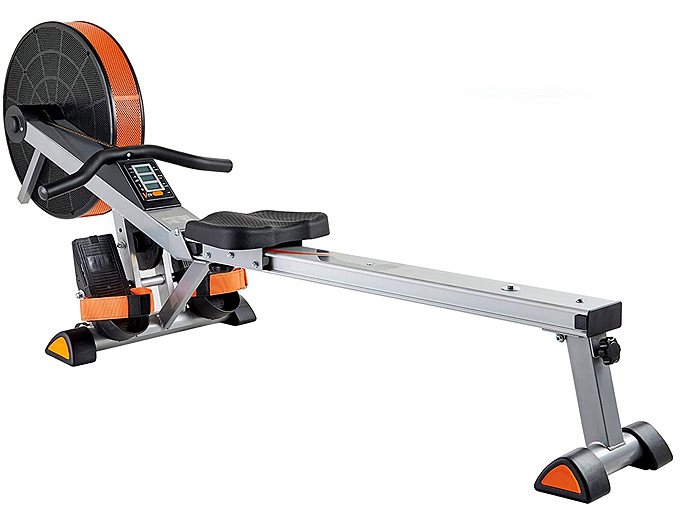 In use, it's very comfortable, as a lot of care has been taken on the layout. The seat is ergonomic and mounted on ball-bearing guide rollers for smooth and easy movement, and the handle is oversized and canted, meaning it feels natural and simple to hold.
Oversized footplates keep you locked in place, with two potential mounting positions and large Velcro footwraps, and the entire thing can take users up to 115kg (255lbs,) a solid weight limit for the price.
One downside is the console, which is limited in scope and pretty old fashioned, but does track a decent number of metrics and is really easy to use. The frame also folds on itself and has built-in roller wheels that let you store it more easily when your workout is done.
While it might not have the sheer range of functions or quality of our other choices, the Tornado packs a lot into its asking price, and in our opinion, it's one of the best rowers for what you're paying right now. If you want an effective workout and aren't concerned about all of the latest bells and whistles, this could be a perfect choice.
Check Current Amazon UK Price
---
Final thoughts
This is the best time to set up a home gym of some sort. And a rowing machine is simply one of the best ways to get in shape.
There are more Concept 2 alternatives available to you and me than have ever existed before, so no matter your budget and needs, you'll be able to find something that's suitable.
If you have the room, we'd always recommend a water rowing machine just for the sheer comfort and how good they feel in use, but if you don't have the space or the budget, there are so many good options on the market that you can easily find the right product for you. Hopefully, our guide has helped with that.
Thanks for reading, and remember, if you've got any advice, hints or tips we've missed, make sure to comment and let us know!
References & Further Reading