Today we're taking a deep dive into NordicTrack's rowing machines – a family of futuristic top-end rowers for home users. What do they get right, and where do they fall short? And, is there any reason to buy one of these machines instead of the competing Concept 2 or Water Rowers?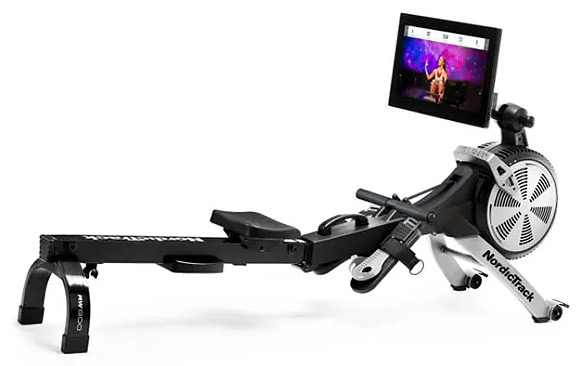 Comparison of NordicTrack's 2023 Rowers
| | | | |
| --- | --- | --- | --- |
| | | | |
| | Live interactive training | The RW600 comes with a 10" screen and iFit ready to use. The design and quality of the machine are excellent. | |
| | | A good budget option for anyone not looking for a rower with a built-in screen. It's powerful, portable and has all of NordicTrack's tech and quality at a lower price point. | |
| | Live interactive training | This is NordicTrack's top rowing machine and features a huge 22" colour screen - giving the best performance for iFit. | |
Who are NordicTrack?

NordicTrack are a long-running luxury exercise machine brand, known for pushing boundaries and advancing the idea of what technology can be used for when it comes to home exercise.
While anyone into treadmills will likely have heard of them, you'd be forgiven for not knowing Nordic have a line of rowers (and other gym gear) on the market.
Main 5 'things' NordicTrack brand get right
Quality
Futuristic tech (like iFit integration)
Good warranties & after-sales service
Smart engineering
Machines that look gorgeous (if you're a gym nerd)
They've been in business for over two generations now, and every year NordicTrack keep pushing the boundaries of personal fitness. In 2023, NordicTrack's rowers are at the forefront of home fitness. Their current family of rowing machines, the RW and RX models have both won numerous awards in 2023.
---
What is NordicTrack's 2023 Rower Series?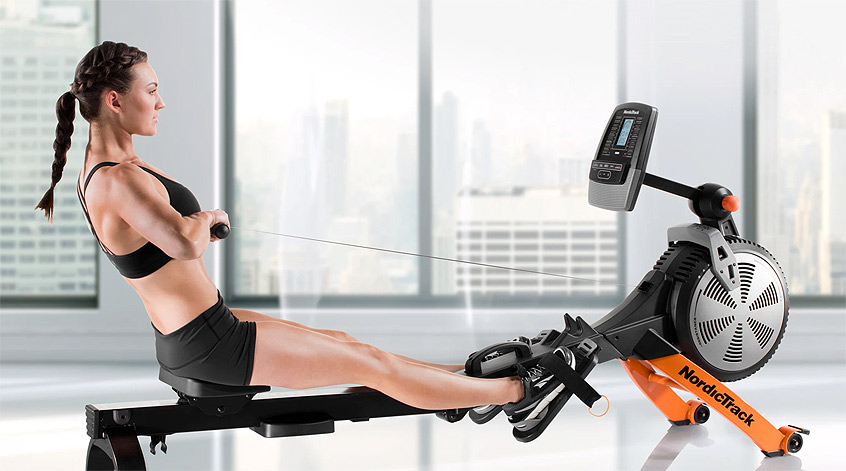 NordicTrack's current series of rowers (model numbers starting with RW and RX) are luxury home based rowers. With some of the models in the family offering integration with a screen to provide:
Online coaching
Rowing at famous locations around the world
Real-time classes you can attend
NordicTrack integrate cutting edge technology into their rowers, making each one a base for their iFit Live-home training schemes, giving you a massive library of workouts that can be performed on and off the rower, right in the comfort of your own home.
---
Let's talk screens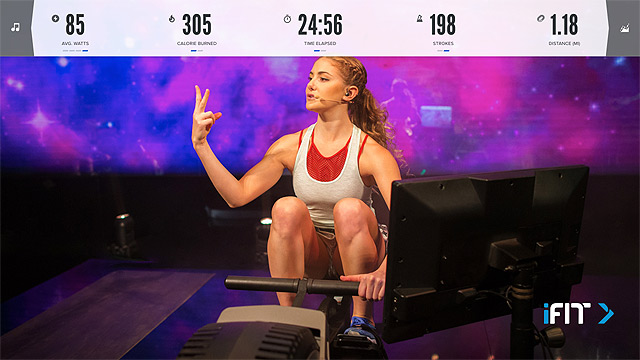 If you're looking into this line of rowing machines, then one of the big draws is going to be the iFit online stuff. A huge part of this is how you'll be watching and interacting with the service. You've got three options with the NordicTrack machines, which will heavily influence the price you'll pay:
Rower with a built-in screen – This is a really easy, and impressive-looking way to go. With a large touchscreen built into the machine.
Pros: Less set up, large screen
Cons: More expensive
Machines that come with a separate tablet – Another common one with NordicTrack is they'll provide a separate iPad style tablet, normally a 10″ one.
Pros: A bit cheaper, tablet can be positioned anywhere, such as the built-in holder
Cons: Smaller screen
Use your own! – Some of the NordicTrack machines don't have any form of a colour screen, although they are still 100% compatible with iFit.
Pros: save money, use any tablet you want
Cons: Pairing up the tablet, downloading app, smaller screen size than built in
---
What you'll get training with a NordicTrack Rower
If you're reading this, you'll likely already be a fan of rowing. Along with over 1.3 million people in the UK who own a rowing machine. If you've not rowed before, you're about to discover one of the best forms of exercise out there.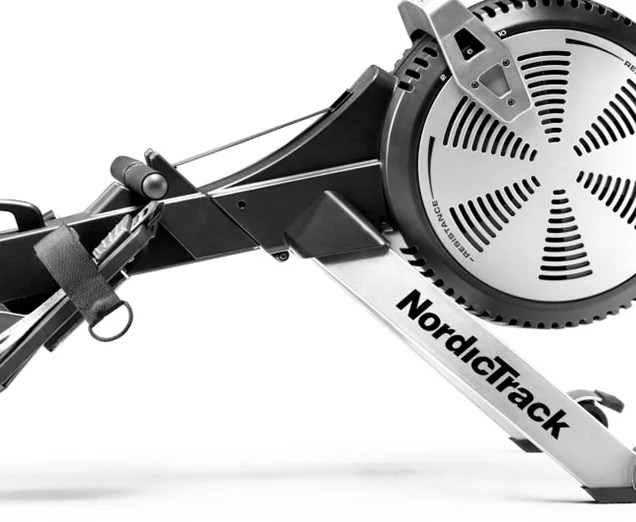 Rowing offers one of the best forms of cardio available. Unlike other machines, rowers are a full body workout, using over 85% of your muscles, targeting all the major ones including: legs, glutes, arms and back.
Rowers like the NordicTrack machines offer a lot of versatility; go for short HIIT bursts (as little as 10 seconds, all-out), or more traditional, longer sessions for endurance and fitness.
Work on:
Getting fitter
Building strength
Losing weight
Increasing your endurance
Low to medium resistance options are fantastic for cardio, and if you want a strength workout, you can push the resistance high and give it some.
Low impact = better for your body
Rowers are a brilliant option for your body and health too because they're a low impact form of exercise, especially compared to a bike or treadmill. Nordic's Rower series uses air and magnetic resistance, making it even better for your body and joints than conventional rowing machines. These machines could be a smart choice if you have joint pain or other issues.
NordicTrack rowers also provide constant feedback and monitoring of your workouts, so you can know precisely what you're doing at every moment, letting you adjust everything and fine tune your workouts for the best performance possible.
---
NordicTrack Rowers Vs Concept 2 and other machines
Why would you buy NordicTrack's machine over the other heavyweights in the rowing machine market?
Nordic Rowers – At a glance
Here's a quick run-down of the things these rowing machines are known for:
iFit integration – NordicTrack rowers are designed to be used with online service iFit
Build quality – While Nordic stuff isn't cheap by any stretch of the imagination, they go all-out on quality. These rowers are sturdy and designed to last a long time.
Comfortable – With a lot of rowers taking a tougher stance on comfort, the rowers in this family are generally a lot more comfortable.
Space-saving – Full-size machines with some clever tweaks to save on footprint.
Progress tracking – The Nordic rowers, and the other machine's of theirs we've seen, have some of the best displays and stats we've seen. In terms of the info you get and the accuracy of things like heart rate.
---
The Tech behind NordicTrack's 2023 rowers
In this section, we're looking under the hood of these rowing machines at some of the clever stuff Nordic Track are doing.
Inertia Enhanced Flywheel Technology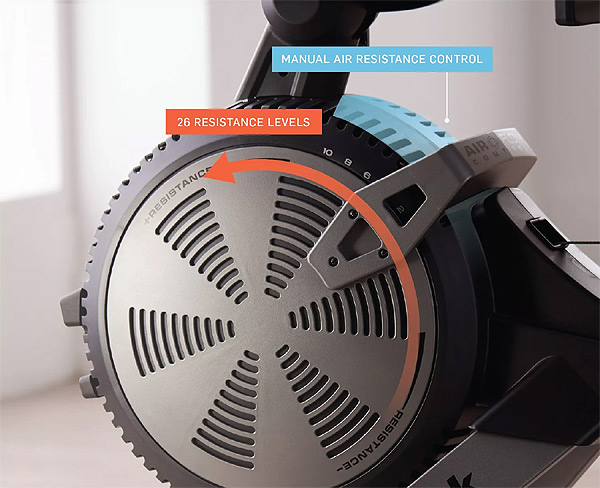 Each rower in the current NordicTrack series is built around a powerful inertia enhanced flywheel that uses silent magnetic resistance (SMR) technology to generate its resistance.
Magnetic resistance has two huge advantages over conventional mechanical resistance.
It's consistent and smooth – no matter what. Conventional flywheels use friction to provide their resistance. Over time, components wear away, and resistance levels change, so you could be getting less effective workouts, without even realizing it. Also, the fact that the resistance is mechanical puts feedback strain on your body, which can affect your joints over time.
It's far quieter – mechanical resistance is loud, whereas silent magnetic resistance is, as the name suggests, silent. The only noises you're going to get are the sounds of the rest of the moving parts, and your own music. This is great for focus, and it's something your family members, pets, and especially neighbours will love.
---
A good level of comfort
Lets face it, we've all spent an hour on an exercise machine, then finished our workout and instantly felt it. And some machines are harder than they need to be.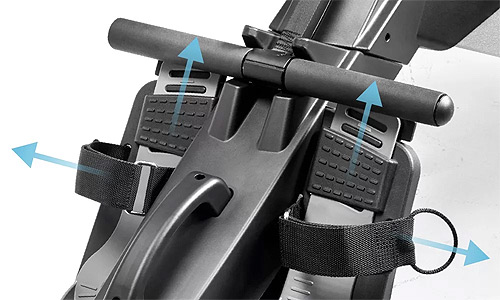 Poor alignment, cheap parts and low-quality materials can all contribute to this. But every single one of the rowers in this series is made to NordicTrack's exacting standards.
Their frames are made from solid steel, and basically invincible under normal use. The large, ergonomic seat is soft and comfortable even after a long session.
Handles and other active parts are all coated in a tough sort of foam, and the pedals are far larger than average, with easy to adjust foot straps that allow you to lock in fast, and give you the confidence to push hard and go fast.
---
iFit Live Training – good for making difficult workouts go faster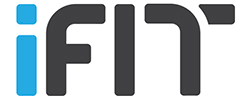 While technically only the RW900 and RW850 rowing machines have iFit access, it's such a major draw that we had to feature it here.
For the uninitiated, iFit is NordicTrack's bespoke home fitness streaming service. All of their high-level systems have iFit access, giving you the same amount of guidance and flexibility in your workouts that you would with an expensive personal trainer.
With new sessions every day, there's always something new with iFit, letting you mix up your workouts and keep it fresh. Live resistance settings link your machine to the trainer, so your system automatically changes resistance levels in line with the workout, keeping you working hard.
iFit workouts work you on and off the rower, with a range of full-body workouts available. And if you're not interested in one of the daily classes being led by NordicTrack's world-class trainers, you can pick from thousands more in their fitness library.
Be warned though: iFit isn't free
The iFit service does require a monthly subscription, but every machine comes with one month's access completely free, and once you realize the value, it's more than worth the cost. You get a full family pass to get your teeth into a month. After that, there are plans from around the £17 mark per month.
---
Space Saving Design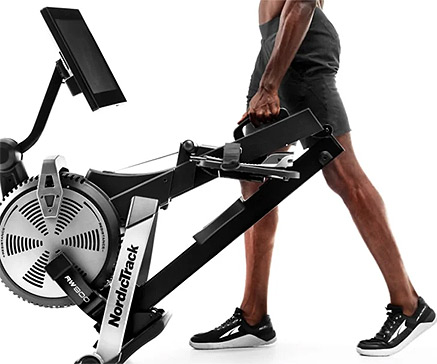 Rowing machines are long. Every single one of the rowers on this list are over two meters in length when fully extended. That's a lot of floor space, and even though they're narrow machines, the footprint is large and unwieldy.
While a lot of people will stick their rowing machine in the garage, spare room or living room, not everyone will be able to leave it on show. The NordicTrack rowers have a really good folding system that will let you get at least a bit of your room back.
All of them can fold up and lock in place, making storage much simpler, and the built in movement handles and wheels mean that even the heavier rowers can be moved by a single person.
---
Great Warranties
NordicTrack are known for good warranties, and every single one of their rowers comes with the same comprehensive coverage.
When you get your system, make sure to register it and you're covered for two years on all parts and labour, and a full five years on the frame. Their customer service is also well known and they score well on places like Amazon and Trust Pilot.
---
Which Nordic Rower Should You Buy?
There's a number of machines up for grabs in this range and it can be a bit confusing with all the models and options. Here's a quick overview to get you up to speed about which ones
NordicTrack RW900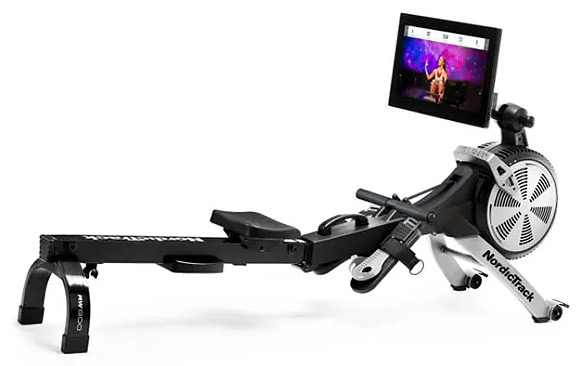 The NordicTrack RW900 is the premier model in NordicTrack's rower series, which is why it has everything you'd expect to see.
Awesome build quality – The build is exceptional, as we'd expect. A solid steel frame with soft and comfortable furniture. The front-mounted flywheel is huge and uses SMR technology for constant, steady resistance that's whisper quiet, even as you crank it up towards the highest of its 26 levels.
Live training & huge screen – Live training is provided through the large, clear 22 inch screen, which has a pair of amplified speakers, Wi-Fi for internet access so you can check your emails, or just plug your phone into the aux port and listen to your tunes.
Who is this suited for?
Delivering the best in multimedia performance, as well as a powerful and versatile piece of exercise equipment, the RW900 is the perfect choice for anyone looking for one of the best-in-class rowing machines on the market. Especially if they're buying it for multiple users.
---
NordicTrack RW850
Despite being the most expensive model in the range, the difference between the RW900 and the RW850 are relatively minor.
Both are built around the same general frame, with the same impressive resistance levels and powerful flywheel.
Includes a tablet rather than a fixed screen – The main difference is the multimedia system. Instead of a large fixed screen, the RW850 links into the provided i10 tablet, which can comfortably sit in the provided slot at the front of the system, or be taken out of its cradle and moved throughout your house, perfect if you've chosen a workout that takes you off of the machine itself.
Past this, the RW850 still has everything you'd expect to see on a top-level rower. 26 resistance levels, ergonomic seat and handles, large, easy to adjust pedals, a space-saving , folding design, the works.
Who is this suited for?
Compared to the RW900, the 850 is recommended more towards people who are looking to follow iFit workouts on and off of the machine. The mobility of the tablet makes moving around that much simpler, which you'll quickly come to appreciate.
NordicTrack RX800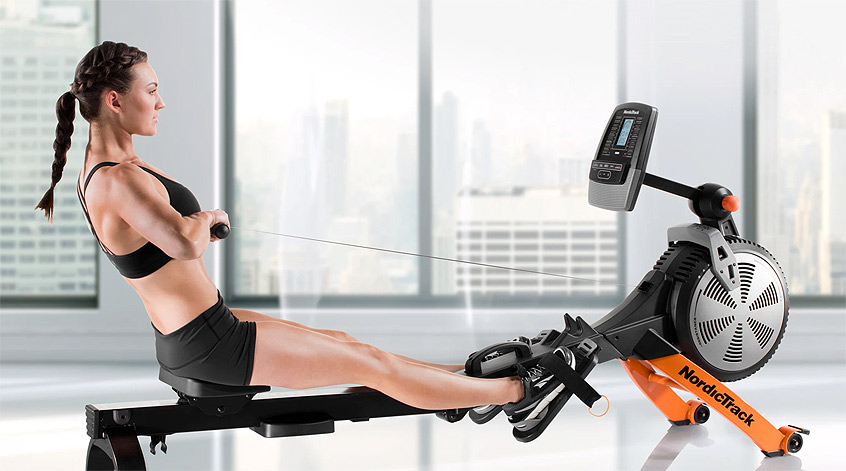 Built around the same inertia enhanced flywheel as the RW900 and 50, the RX800 is a fantastic entry-level flywheel that has fantastic performance, without all of the technological bells and whistles.
Engineered to the same exacting standard as the rest of the range, the RX800 feels great to use, with a powerful magnetic flywheel with boosted air resistance for a harder workout.
Controls are simple and easy to read, with a 5 inch backlit display and touch controls. Speakers link to the auxiliary port, giving you the option to link your phone and play your music through the machine.
The wattage readout gives you a second by second breakdown of your power output, letting you track your workouts, and adjust as you go, and 20 built-in workout programs give you options
Finally, this is also the smallest and lightest of the Rower range. If you're constrained on space, this could make all the difference.
Who is this suited for?
If you want the power and reliability of a NordicTrack rower and a magnetic flywheel, without having to worry about iFit or multimedia functions, the RX800 is literally the perfect choice.
---
Why are NordicTrack rowers more expensive than standard options?
It's simple. NordicTrack rowers are more expensive than standard rowers because they offer a superior level of quality and features.
It starts at construction quality. Rather than skimp on costs and deliver a product that's sub-par in some way, every single one of NordicTrack's machines is precision engineered and made from high-quality materials.
The benefits of magnetic resistance are hard to overstate, which is why every luxury fitness brand is shifting over, but magnetic flywheels are much more expensive than a mechanical flywheel.
Finally, the multimedia stations on the RW900 and RW850 models are exceptional, especially on the 900, which has a huge, crystal clear 22 inch touchscreen display.
Compared to basic, entry-level rowers, there's almost no comparison. A NordicTrack rower is a completely different animal.
---
Are there any downsides to NordicTrack rowers?
The Weight Capacity
Compared to other models on the market, the max weight of the Rower series is slightly lower than average, at around 280lbs, give or take 5lbs.
This is ample for most users, but it's worth pointing out that, if you're particularly tall or heavy, a NordicTrack Rower might not be suitable.
The Folding Point
We really like the fact that all of the rower series machines have space saving folding, but there's no denying that a hinge in the structure is weaker than a single bar of contiguous metal.
We have enough trust in NordicTrack's construction standards that this isn't going to be an issue, and the systems are all covered by a 5 year frame warranty, which this falls under. But we would still probably recommend being careful how you store your machine.
---
Are NordicTrack Rowers worth the money?
If these machines sit with your budget, then there's nothing quite like them on the market
If there's one thing NordicTrack aren't known for, it's super-cheap machines! With the top machine in this range over £1800, that's quite an investment in a bit of fitness gear. So are they worth it?
Absolutely. The combination of exceptional build quality, smart design decisions throughout, and powerful flywheels make them an excellent machine to work out on.
Combine that with fantastic multimedia options on the top of the range models, especially when you factor in the benefits of iFit, and it's obvious why so many people choose NordicTrack.
If you're looking for a serious machine that will get you in shape, from a reliable brand, then NordicTrack's rowers are a good choice. If these machines sit with your budget, then there's nothing quite like them on the market, especially if you like the sound of iFit.
---
Final thoughts
The last few years have seen a major revolution in workout equipment, and no one knows what the future could hold. But right now your options, and the choice you should make, are obvious.
If you want a rowing machine that has some of the best performance on the market and a host of impressive extras, the NordicTrack Rower range delivers every single time.
See The Full Range At NordicTrack
References and further reading