Welcome to our review of the Sportstech F75 (Available at Amazon UK),  a high-end full-scale treadmill. As you can imagine, we get to review a lot of different treadmills and while there's certainly some good ones, they're all a bit samey. The F75 offers something different with it's large built-in screen. We were eager to see how this machine performed.
In this guide we'll cover absolutely every aspect of Sportstech's running machine including what it does well, and where it falls short. We'll give you everything you need to know about this machine and help you decide if it's right for your home or gym.
Let's hop on and get started.
---
What is the Sportstech F75?
The Sportstech F75 is a large 'gym-style' treadmill designed and manufactured by Sportstech in Germany. This machine is built with a full-size running track, a motor that's more powerful than the cheaper machines and is suitable for new runners, or anyone who's seen their fair share of treadmills.
This machine has a large colour screen build into the dash, which is the primary display for your running stats, and also lets you watch streaming services like Netflix while you're training. (There's a number of other Android apps built in you can use too).
The F75 has an upward-folding deck and transport wheels. Despite it's 140kg weight, you can wheel it off to the side of your room if you need to. Although, as we find out later, this is definitely not the most compact machine we've seen.
---
Who are Sportstech and are their treadmills any good?

While not as well known as your NordicTracks, Reeboks or Marcys of the fitness world, Berlin-based Sportstech are a big sports brand and seem to have really increased their gym gear over recent years and make a name for themselves.
Sportstech have a wide range of fitness machines, to suit different budgets. And their treadmills, bikes and rowers are good quality, and they seem to be more focused on more futuristic tech like online connectivity, built in.
We've seen products from them such as rowing machines, exercise bikes and of course, treadmills. They tend to review well, have good customer service, and get around 4 – 5 star review, on average, on platforms such as Amazon.
Check Current Amazon UK Price
---
Sportstech F75 – At a Glance
Here's the key features you're getting with the F75. We'll be taking a look at these in greater depth, and weighing up if they're actually well implemented below.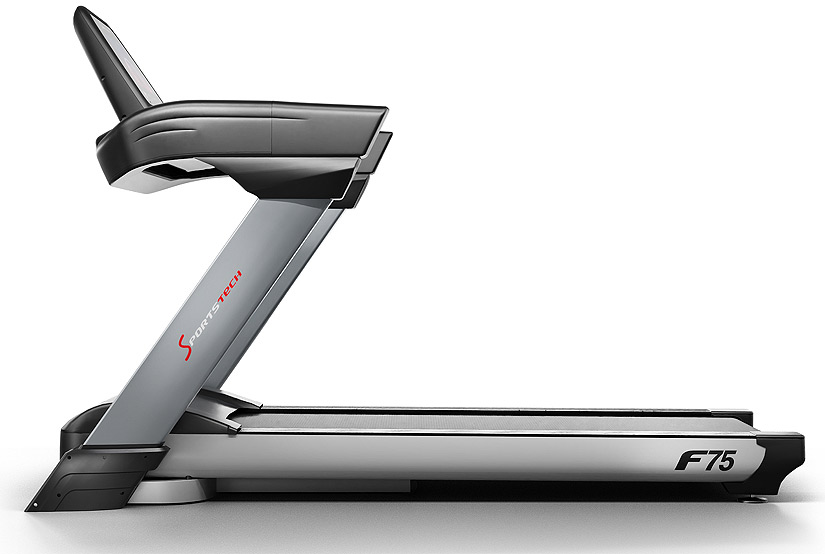 Large running surface – 158cm x 60cm
Android based 15.6″ touchscreen display
18% incline setting
Top speed: 20km/h
5HP motor
12 Preset programs
LCD Touch Screen
Quick-Fold System
Hand Pulse Sensors
Cushioning System
200kg max user weight
Stereo Speakers
Bottle and Tablet Holders
WiFi Connection
Folding design, with transport wheels
Check Current Amazon UK Price
---
Benefits of training on a treadmill like the F75
Some of the benefits of Sportstech F75 are:
Speed
Owing to the high-performance engines in this machine, the speed can reach up to 20 km/h. So, set yourself up for a challenge.
Powered incline
The running surface of the machine can reach an inclination of 18%. This can get difficult for athletes too.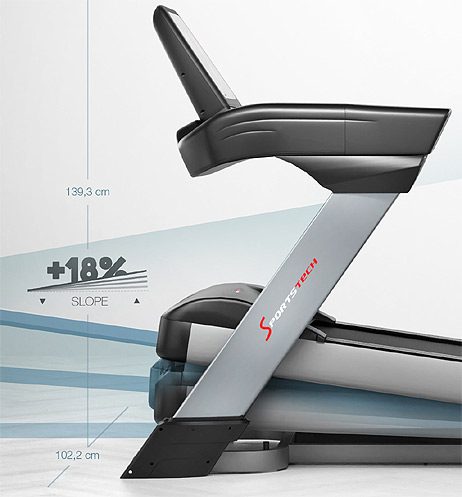 Running Surface
An absolutely massive part of getting any treadmill right, and something the cheaper machines normally fail dismally at, is the running track. That's the actual belt you'll be running on.
Bigger is normally better as you'll have more 'wiggle' room when you're running and won't have to concentrate on hitting the exact spot on the track over and over.
The running surface of the Sportstech F75 is a good-sized 158cm x 60cm, meaning that there's no real upper height limit on this machine.
Entertainment
The Sportstech F75 is provided with an Android-ready console. It has YouTube, Spotify music, and streaming service playback options. You connect the system to your home Wifi, like you would any device, and then you can start streaming Netflix and Amazon straight away.
Variety of Programs
One good thing with this treadmill is how you can create your personalized training program with your preferred speed, inclination, and duration. You can also choose one of the pre-programmed modes provided within the machine.
The F75 treadmill has your standard quick-start buttons to that let you just hop on and start exercising. There's quick buttons for speeds and incline. They start low enough for walking speed, so this machine is fine for new users!
Quick-Fold System
The Sportstech F75 is designed with a Quick-Fold system. It can help you fold the machine in no time and save maximum space.
Optional chest strap
it's worth splashing out £40 or so to get a good bluetooth chest strap as the hand-touch sensors are a guide at best.
There is an optional heartbeat belt for those who do not like to keep their hands on the hand pulse sensors. It is very comfortable and it gives you precise results.
In all fairness, if you're serious about taking your heart rate on any running machine, you're going to need to invest in a chest strap.
While it's over-kill for many home runners, it's worth splashing out £40 or so to get a good bluetooth chest strap as the hand-touch sensors are a guide at best.
Keeping Track of Your Heart Rate
The hand pulse sensors measure your heart rate and give you the heart rate range that is optimum for achieving your fitness goal.
---
Who is The Sportstech F75 Perfect For?
Anyone looking to step up to a 'proper' treadmill
Sportstech's F75 is a lot like the big, stable machines you'll get in any commercial gym. There's no flimsy parts here; just large, heavy and robust components. Everything from the track to the frame are thicker and stronger than the budget offerings.
Of course, this comes at a cost in terms of price and the Sportstech F75 is by no means a cheap running machine. This treadmill is for anyone serious about running, rather than those looking to test out having a machine at home.
If you need a machine with some oomph to it
The F75 has a respectably powerful 5HP motor, making this treadmill a good choice for those who want to step up the difficulty of their workout, or anyone into some serious training.
With a maximum speed of 20 km/h and an 18% inclination, it is a challenge for even the strongest athletes.
If you are looking for comfort, then the Sportstech F75 is your treadmill. It has an exceptionally wide running surface that lets you run with comfort and safety. There is enough room to run and move around without being afraid of stumbling or falling.
Anyone looking to be distracted while running
Unless you're a mindless hamster, happy trundling away on one of those wheels, running on a treadmill day-in, day-out can get repetitive, even for the most seasoned runner. If that sounds familiar, you'll probably like the F75 as there's a whopping colour screen built into the panel.
As well as tracking your stats and having practical uses, Sportstech's machine is pre-loaded with things like Netflix, Amazon Video, Youtube and a wealth of other popular apps. The screen is bigger than your average tablet (22″ no less) and integrates really well with the F75.
If you've got the space
The Sportstech F75 is very practical. You can easily fold it due to the Quick-Fold system. It can save you a lot of time and space and is optimal for a home workout.
Check Current Amazon UK Price
---
Who Might Not Like the Sportstech F75?
Anyone looking for a bargain runner
The Sportstech F75 is not for people on a budget. It is relatively expensive compared to other machines that provide similar functionality. The price might seem suitable for what it provides, but it can get too much to handle for a big portion of buyers.
If you're short on space
This treadmill definitely won't fall into the category of best-discreet-folding-treadmill. At a footprint of 1956 mm x 1022 mm x 1393 mm, it will require a substantial part of your home gym, office or spare room to operate, with plenty of space left behind the track for safety.
As with 99% of treadmills out there, this one uses a folding system – where the running track tilts upwards, freeing up a bit of your floor space. But don't expect to get too much space back. Raising up the running track of the Sportstech F75 will reduce it's footprint to around 1370 mm x 1020 mm x 1570 mm.
If you don't need the screen
Don't like the idea of having a treadmill with a screen? Got your own gym TV in there already? Then this is probably overkill. There's cheaper treadmills without the screen available. See the end of this guide for some recommendations.
If you're buying for walking
This is a fantastic machine for walking, jogging or crazy sprints, but it's probably over-the-top if you're looking for a machine that you'll only use for walking. It will do that, but the powerful motor will be way overkill and you could get a cheaper machine that will get the job done.
---
Review: Sportstech F75 Treadmill
If you have come across the Sportstech F75 and are not sure if this is the machine for you, or are wondering if it's actually any good, this is the part for you.
We have reviewed this treadmill and have found out some of the good features, while also keeping in mind the areas where they can improve.
Read on and find out what we like and didn't like with Sportstech's monster treadmill.
What we liked about the Sportstech F75
The F75 has one of the largest running areas when it comes to home treadmills.
Some of the treadmill features we absolutely loved are:
Screen is excellent
As both a way to keep entertained while running (a must after that initial spark dies out!) And as a way to monitor your stats (they're shown beneath the video you're watching) the F75's colour screen is fantastic.
While the operating system could be a little snappier, the overall quality of the screen is excellent and you can enjoy Netflix or even learn something on Youtube while you're training.
The motor on this treadmill also deserves special mention. It's pleasantly quiet and won't interfere with the audio from the stereo speakers.
The F75's motor has the power without the noise

For any treadmill, its performance matters the most. Sportstech F75 has a great performance due to its powerful motor.
The motor is not too heavy to increase the bulkiness of your treadmill and yet, is able to deliver a speed of 13 mph. Additionally, this motor is also a type of DC model and hence is noise-free too. So, you do not have to bear the disturbing noise of treadmills if you use this one.
An Expansive Running Area
Plenty of treadmills users wish to have an expansive running area to run freely without worrying about the space. Sportstech F75 offers exactly that to its users. The running surface is about 580 mm x 1600 mm. The F75 has one of the largest running areas when it comes to home treadmills.
This expansive running area helps in reducing the risk of any injuries due to minor slips. It also allows the users to step up their workout routine by allowing sprinting rather than just running or jogging. During any emergency, you can easily take a few wide steps and turn the machine off.
Allow Various Workout Options
Sticking to one type of workout plan can get extremely boring and ineffective. So, Sportstech F75  allows various workout options.
If you are a sprinter, you can go for sprinting. If you wish to lose some extra pounds through uphill running with up to an 18% inclination, you can also choose that option. It also supports other workout plans like endurance jogging, interval training, normal walking, or tempo runs.
You can set your own speed, duration, and gradient, to determine your workout. Additionally, we liked that there were some landscape modes available too to make the workout more effective and fun.
Makes Workout Fun and Energetic
For many treadmill users, working out without music is a tough job. So, Sportstech F75 has excellent stereo speakers that can allow you to listen to your favourite workout beats.
It consists of WiFi, USB, and AUX ports to connect your phone with the treadmill speakers. The Android console is great with built-in applications like Spotify and Amazon video. So, you can relax even while working out.
HRC – Heart Rate Controlled Feature
Another excellent thing Sportstech F75 offers is a heart rate controlled feature.
You may want to optimize your workout session as per your heart and pulse rate. This treadmill can assist you by connecting your heart rate with the treadmill's functioning.
This way, the treadmill will adjust the speed, gradient, and offer you comfort with additional benefits.
Check Current Amazon UK Price
---
What we didn't like about the F75 Treadmill
There are not a lot of areas where Sportstech F75 needs improvement. There are a few downsides to Sportstech's machine however:
The F75 is bulky and heavy
Due to its vast size and design, Sportstech F75 can get extremely heavy to carry.
You may need more than three to four people to carry the treadmill. It is also not a good idea to carry the treadmill upstairs without any additional support. As mentioned earlier, you'll also need to commit a substantial portion of a room to this machine.
It's not cheap
Sportstech F75 is more expensive compared to a lot of other treadmills. That's not to say it represents poor value for money. In fact what's on offer here is extremely good. But it's not a sub £500 machine. (Check out our guide to treadmills under £500 if you're on a budget and want to snag a bargain).
You can't run third party apps
When we saw this treadmill used an Android system, we assumed it would mean you can download any app and use that. Sadly, this isn't the case. It's literally an Android system but you can't install anything outside of the apps that come with the running machine.
That's a real shame as it would be awesome to get things like iFit installed on this machine.
---
Our Final Verdict: Is Sportstech F75 High-end Treadmill Worth the Money?
…there's serious power here for experienced runners
Sportstech F75 is a high-end treadmill that's extremely sturdy. It's heavy (in a good way) as long as you're not planning on carrying it upstairs. The quality of the running track, deck and frame are real highlights. And the colour screen will while away hours that would have otherwise been a grind.
We'd have liked to be able to install our own apps here, but the stats and optional bluetooth chest strap are a great way to track your progress. The F75 has some excellent features like an expansive walking area, android console, HRC feature, and versatility in workout options.
New runners will find this machine easy to hop on and start walking, or running, while there's serious power here for experienced runners.
In short, SportsTech's F75 is a great buy for anyone looking for a treadmill they won't have to replace for a long time, and for a wide range or uses. It will keep you entertained while it gets you in shape.
Highly Recommended
Check Current Amazon UK Price
Similar treadmills to the F75
If you're looking for an alternative to this running machine, or want to see some of the competing products in the same price bracket, here's some you might want to check out.
Full F75 Specs
Here's the more detailed version of the Sportstech running machine's specs.
Brand
SportsTech
Color
Dark gray / Silver / Orange
Treadmill weight
140kg
Model
F75
Motor
DC 5HP
Incline type
Automatic
# Preset programs
10
Incline level
Up to 18%
Display type
15.6 inch LCD touchscreen display
Console functions
Time
Speed
Distance
Calories
Scan Mode
Incline
Pulse sensors
Yes
Speed Range
Up to 20.8km/h
(12,4 mph)
Max user weight
200kg
Frame material
Steel
Deck cushioning
Padded layer running track
Running track size
158cm x 60cm
Warranty
30 day right of return
Frame material
Steel
Horsepower
5HP
Connectivity
WiFi
Bluetooth
AUX port
Integrated speakers
Yes
Bottle holders
2
Dimensions
1956 mm x 1022 mm x 1393 mm
Folded Dimensions
1370 mm x 1020 mm x 1570 mm
References and Further Reading