What is the ProForm Pro 9000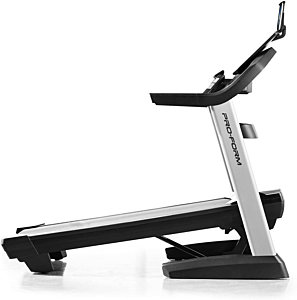 The most powerful and most expensive treadmill in the ProForm range, the Pro 9000 is a beast that's designed to sit at a competitive level with some of the biggest names on the market, whether that's the Peloton Tread or any of the NordicTrack range.
The NordicTrack comparison is an apt one, too, considering that the Pro 9000 is built to standards somewhere between their Commercial and S-Series of treadmills, both incredibly high-end and packed with features that you'd find in expensive commercial fitness classes, which makes sense when you realise that both companies are owned by the same parent company, Icon Fitness.
What do you get from training on the ProForm Pro 9000
As the flagship piece of equipment in ProForm's treadmill range, the Pro 9000 is a fully equipped workout system.
A powerful motor drives the large, comfortable running deck, which has a full powered incline function. Media is delivered through a big touchscreen panel, including iFit workouts that are designed for both on and off of the system.
Treadmills are without doubt the most popular form of cardio out there. Almost everyone can take a walk, no matter their level of health and fitness, and running is a natural and easy training method that can be adapted to hit any goals you might have, whether that's solid state cardio for distance, or short burn hill sprints and intervals.
Who is this best suited for?
If you're a serious runner, the ProForm Pro 9000 is equipped to deal with your training. The powerful block of a motor and high top speed, as well as effective powered incline, means that the Pro 9000 can provide effective workouts for marathon runners, trail runners, triathletes, and more.
But the price point and options on offer also makes the Pro 9000 a great option for anyone looking for a big, powerful running deck to work on general health and fitness. The same features that make this an effective training tool for experienced runners also make it great for anyone who just wants to take a jog three or four times a week, especially when backed up with off-treadmill bodyweight workouts, yoga, and other iFit staples.
ProForm Pro 9000 Key features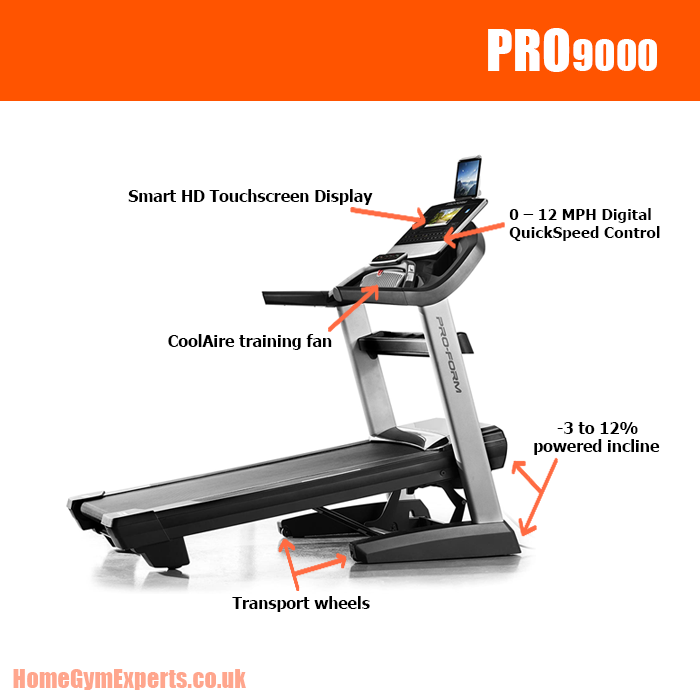 3.6 continuous horsepower (CHP) motor
12mph max speed
-3 to 12% powered incline
300lb max weight capacity
CoolAire training fan
Twin 2 inch Bluetooth speakers
Folding design
Transport wheels
10 year frame, 5 year motor, 2 year parts and labour warranty
What we like about the ProForm Pro 9000
Great build quality
Overall build quality on the ProForm Pro 9000 is across the board excellent. The frame is rock solid, with an impressive weight limit of 300lbs (135kg.) Everything is laid out well, with most of the controls built around the wide touchscreen panel.
Below the screen and the speed controls is the main control panel, including start/stop, fan controls, graduated speed and incline, and speaker volume. Sound is delivered through a pair of 2 inch speakers, and can be Bluetooth linked to any of your devices.
Cooling is provided from a single CoolAire fan, that's centre mounted, and can be adjusted on the go. There's also a safety switch, and the option for a heart rate sensor.
The running deck is really good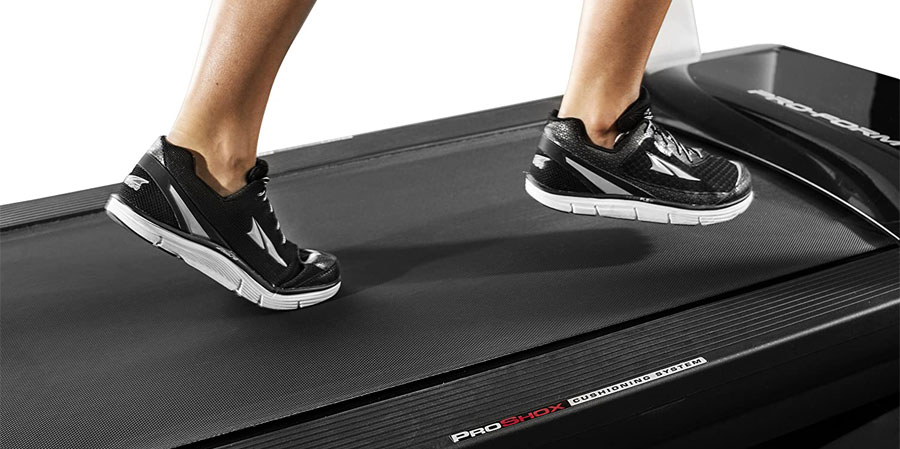 A lot of care and attention has obviously been lavished on the running deck of the Pro 9000, which is important, as it's the primary part you're interacting with.
Large, at 51 x 152cm, the deck has a lot of room both across, meaning it's comfortable for wider users, and forwards, important when you're pushing limits and need a long stride.
The entire deck is highly cushioned, with ProForm's ReBound Pro cushioning over 1.9 inch precious engineered rollers, which takes a lot of the impact out of your feet and lets you work harder without any of the long term issues you might get on a lower quality running deck.
Finally, the entire running deck has a powered incline and decline, from a -3 decline, up to a 12% positive incline grade, which massively changes your workouts. Even just a slight incline of 5%, less than half of what this is capable of, increases your calorie burn from walking alone by more than 20%.
The large, flat panel touchscreen
The Pro 9000 comes with a huge 22 inch, centre mounted touchscreen panel that the whole treadmill is build around.
Ultra high clarity HD, it makes setting up exercise programs and navigating menus simple, and has a full suite of speed and incline buttons that make adjusting the important settings on the fly as simple as it could possibly be.
One minor downside is that the screen doesn't rotate at all, which we would have liked to see on a treadmill at this level, and can make following workouts off the equipment harder than it has to be. But if that's something you regularly do, you can easily link iFit to another device, like a tablet or phone, and work from that.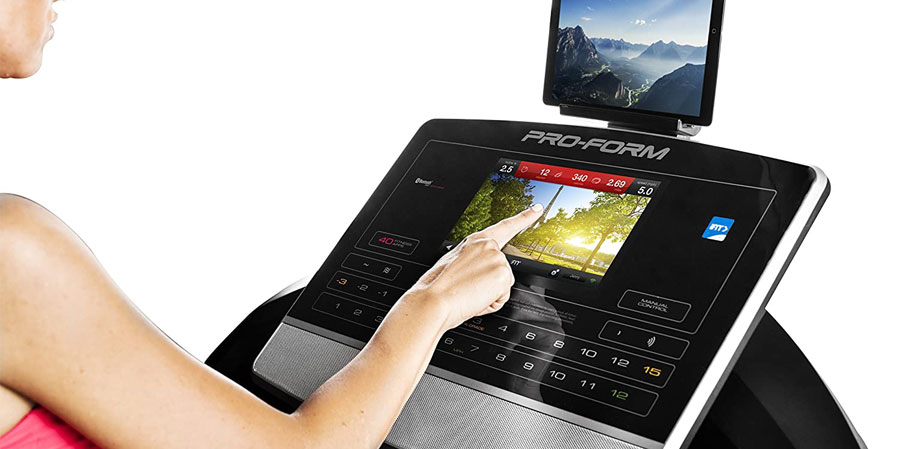 Our prediction is that, over the next 10 years, the fitness industry is going to shift heavily from commercial gyms and classes packed full of dozens of people, to classes delivered through streaming services directly into our homes.
iFit is leading the charge in home gym streaming services. With your choice of daily live classes, backed up by a library of literally thousands of workouts, there is a near infinite variation in the exercises you choose.
Workouts range from 15 minute starter fitness classes, up to full, hour long monster trail runs, as well as off-equipment workouts like stretching, bodyweight sets, dumbbell work and more. The whole family can also log in, with four different profiles and trackable exercise stats, giving you absolute control over your own health and fitness.
Every single purchase of a ProForm treadmill comes with 12 months of iFit entirely free; hundreds of pounds in value, which lets you test it out and understand just how much a streaming fitness service can revolutionise your health.
The exceptional warranty
The warranty on the Pro 9000 is equivalent or superior to almost anything else on the market. 2 years on parts and labour, 5 years on the big, powerful motor, and a full lifetime warranty on the frame covers the entire system against anything that might happen.
What we don't like about the ProForm Pro 9000
The fan isn't great
One of the biggest complains about the Pro 9000 is that the inbuilt fan isn't great, especially compared to models at an equivalent price and level.
Even on maximum, it doesn't blow much air, and doesn't offer a lot of cooling. While this might not seem like a major issue, comfort is a big thing when you're exercising.
Final thoughts
The Pro 9000 might just be the step ProForm needs to push itself into the big leagues. The monstrously powerful motor gives it incredibly performance across the board, equivalent to running machines that are 50% more expensive, and the big 22 inch panel is fantastic, especially for the price.
While there are a couple of tiny little issues with polish compared to luxury treadmills, everything the Pro 9000 does, it does exceptionally well, and we think it's sure to be a serious competitor on best-of lists for 2021
ProForm Pro 9000 Full Specs
| Brand | ProForm |
| --- | --- |
| Model | Pro 9000 |
| Color | ‎Multi-coloured |
| Size | One Size |
| Height | 16.7 inches |
| Weight | 145.15 Kilograms |
| Batteries included? | No |
| Maximum weight | 300 Pounds |