Review Summary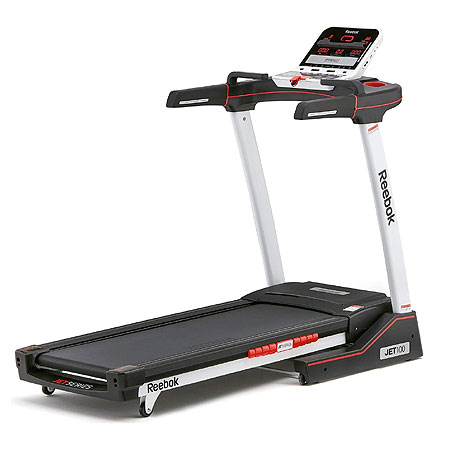 Jet 100
Solid and well-made
Great-looking 'old-school' panel
Powerful motor
Solid, weighty frame
It's really heavy!
"A solid mid-price home treadmill from a good brand. Reebok's machine offers an impressive level of power and performance. It's also is easy to assemble and use."
Welcome to our Reebok Jet 100 Review (up for grabs on Amazon UK) – a look at one of Reebok's family of treadmills. This sub-£500 running machine promises a lot for a reasonably budget price tag, but how does it stack up, and what does it get wrong?
In our review, we'll cover every detail of this machine and whether or not it's worth your time and money. What Reebok's machine gets right, where it goes wrong, and who this machine is best suited to.
Let's go!
What is the Reebok Jet 100 treadmill?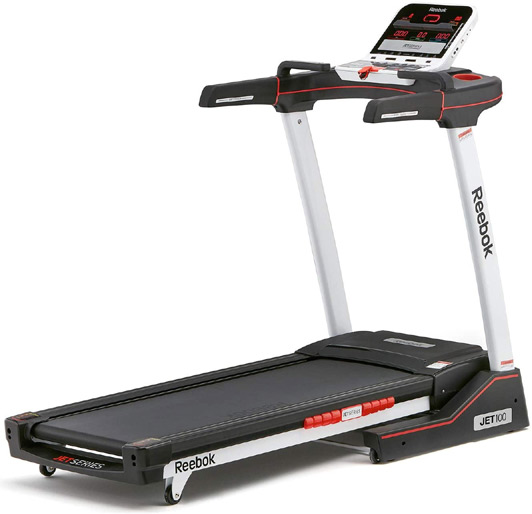 The Jet 100 treadmill is a high-quality machine released with advanced cushioning air pods. Air pods aim to transfer the air to adapt to the strike of the runner's foot. It is powered with a 2HP-drive motor and the maximum speed can reach a limit of 16kph. It has 12 levels of inclination for an uphill workout.
Reebok Jet 100 runner comes with integrated speakers to let you play your favourite music straight from the treadmill itself while running. The machine is easy to assemble and ready for use in no time.
Reebok Jet 100 Treadmill – At a Glance Features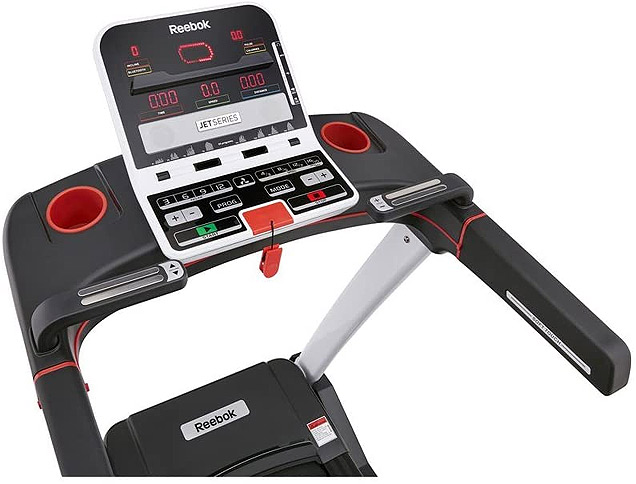 Adjustable speed with a limit of 16kph
2 HP motor
Cushioning Air Pods
Sensors for Hand Pulse
6 Window LED Console
12 incline levels
24 different workout programs
MP3-compatible speakers.
Adjustable Cooling Fan
Soft Drop Hydraulic Folding for storage
Auto-Stop Safety System
Heart rate tracking
See this treadmill in action in this youtube video
What are the main benefits of the Jet 100?
Powered auto-incline – The machine comes with 12 different incline levels that will increase the challenge and the difficulty of your workout.
Speed – The maximum speed of the Jet 100 is 16kph, which is a challenge for even the fittest people. Speed can be easily adjusted with a press of a button.
Smooth moves – The transition between different speeds and incline levels during running is very smooth on this machine.
Variety of running programs – The Jet 100 provides you with 24 different programs. Each program aims to help you reach your target goal of fat burn and stamina training.
Dimensions – With all the functions it provides, it is not as large as other machines that are of similar types.
Safety – The machine comes with an auto-stop safety system. The system is programmed to cut the power off completely if the magnetic cord gets removed.
Comfort – The machine provides great comfort through its design and in-built technologies.
Pulse sensors – The hand pulse sensors provided with the machine help you keep track of your heart rate throughout the workout.
Check Current Amazon UK Price
---
Who will love this treadmill?
The Jet 100 is designed for just about everyone. Runners with different levels of fitness and stamina can enjoy the product and should find plenty of hard work here to help get in shape, lose weight, or build on their existing fitness.
It is optimal for people with a low budget, as it's not the most expensive machine out there. You can check the current price here on Amazon. It sits somewhere between a budget machine and a more high end pricing.
Short on space?
It is a good choice for people with a small room for a treadmill. It has a relatively small size compared to other machines. It also comes with a Soft Drop Hydraulic Folding System, which makes it easy to store it anywhere around the house.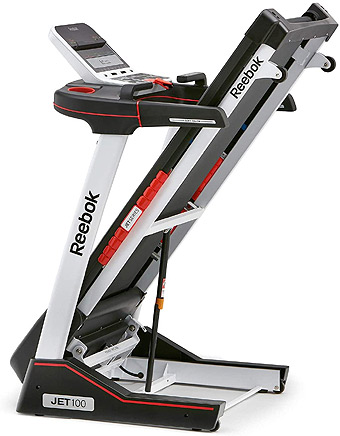 The Jet 100 comes with advanced Air Motion Technology. Here, the cushioning air pods transfer air to adapt to the strike of the runner's feet. This reduces the joint impact on the machine, which makes it perfect for people with arthritis and related problems.
Moreover, it is well-designed for people with specific targeted fitness goals because it helps you keep track of your heart rate and fat burn on the console screen. It comes with 24 different well-designed programs that you can follow.
It is great for people who would like to stay hydrated while running. It comes with two bottle holders that are well-compatible with bottles of different sizes.
---
Related Guides
---
Who Might
Not

Like the Jet 100?

If you cannot stand the heat and the long, sweaty workout then this treadmill might not be for you. The treadmill's fan is not reliable and the cooling is minimal.

This machine can handle weights of up to 242 lbs. If the weight is over that amount, it gets shaky and unbalanced. You may also start to hear loud noises. So if you are over-242 lbs, the Jet 100 is not for you.
The Reebok Jet 100 may not have enough speed for experienced runners
The motor in this compact machine is a 2HP, which is capable of speeds up to 10mph / 16kph. If you're into fast sprints or are already really advanced with running you might need to look for something with a bit more power. We recommend the Branx Cardio Pro, if you're after a real challenge.
---
Review: What we liked about the Reebok Jet 100
There's nothing worse than taking delivery of your new treadmill, ready to hop and and have at it, only to be greeted by a pile of Meccano pieces.
It's a known brand
If the fact that Reebok made gym equipment was news to you, it was to us too. And while having a proper brand behind your running machine doesn't automatically make it 'good', it's still a bit of added reassurance. Especially with the deluge of no-brand-name type machines available online.
This is the second of the Reebok machines we've had a chance to give the once-over and like the Reebok ZR8, the Jet 100 offers a good level of quality. It's sturdy, professional and seems like it's tough enough to last a long time, even if the whole family want to use it.
Decent display… if old-school
The Jet 100's panel has an 80's speak-and-spell vibe to it, opting for large bright red LED characters rather than LCD. At the sub-£500 price point, this is not unexpected but it's a well-made and well-thought-out panel. The digits are really large, easy to read and uncluttered.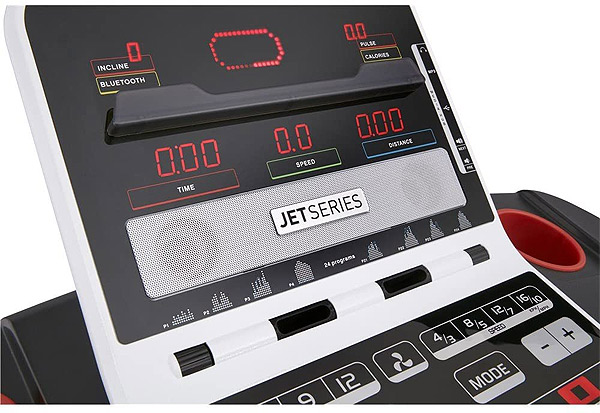 Time, speed and distance get the lion's share of the panel and it's good that Reebok hasn't fallen into the trap that a lot of treadmills have and cover 50% of the surface with annoying warning messages.
There's also a fun, if not entirely useful, lap timer which shows a track with a red dot shifting around it. If anything, it was a nice bit of nostalgia.
Controls wise, the usual quick jump buttons are all within easy reach and large enough you can hit them when running. Overall, although it's nothing flashy, the Jet 100's panel is clean, attractive and gets the job done.
Power and performance are good for this price
One major factor we look at in any treadmill review is how much raw power the machine can put out. The Jet 100's two horsepower motor pushes out enough power for running speeds up to 10phm without struggling.
It's hard to say on an individual basis if that will be enough for you. It's certainly fine for new users or anyone looking to get in shape. For the very experienced runners, you'll likely know if this is going to push you enough.
A powered, automatic incline adds to the work you'll need to do here and can be set to any one of 12 levels. The console will change this incline throughout the program, giving you a good variation from one run to the next.
Reebok Jet 100 Treadmill gives you 24 different workout programs to ramp up your workout experience.
You can choose one and challenge yourself to work harder. It's the standard fare you'll have seen on many treadmills: hill climbs, interval training and 'fat burners'. Programs can definitely keep things from getting stale, so it's good to see 24 decent ones.
You can also download the Reebok Fitness App and connect your phone with the treadmill. This app helps in planning, customising, tracking, and analysing the user's workout plan. This is interesting because it lets you run virtually anywhere in the world, with the Jet 100 adjusting the incline based on where you are in the route.
Good comfort options
The Jet 100 has a Fairly bouncy running track
Reebok treadmills, including the Jet 100, use an air cushioning technology, a bit like what you'll get in some running shoes. As fun as going for a jog outdoors is, as long as we've got the weather, there's not much bounce to each step you make.
One of the pros of a treadmill is that it can have a fair bit of suspension built into the running track (although not all machines do a good job at this!)
Those coloured strips on the side of the Jet 100 aren't just to make it look cool; they're the shock-absorbing part of the machine that will take at least some impact off your joints. While it's subtle, it's a big change from say a foot strike on concrete.
The Reebok100 Treadmills' cushioning technology is effective and helps in reducing the sudden impact while working out.
Handlebars, on a running machine?!
Upon first glance at the Jet 100's unusual handlebars at the front of the machine, you might think they're a strange addition. If you've not seen this design, Reebok opted to put the pulse sensors for this runner on two handlebars, rather than the normal side rails.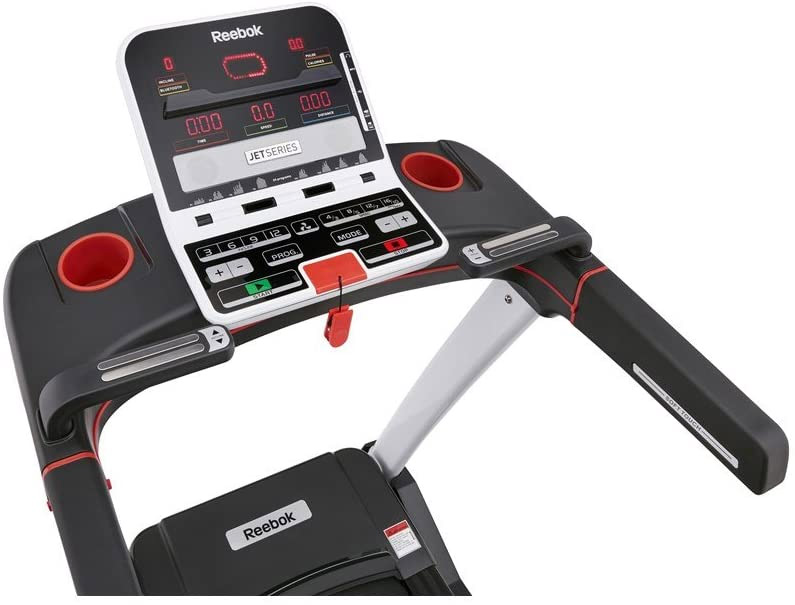 It's actually a good design choice and it's good to be able to just reach forwards, grab your balance and check your pulse.
These pulse sensors are never going to be that accurate, and the Jet 100's are the same as any machine – take them as a guide. For a proper readout, you'd need something like a fit bit, or another fitness band.
Overall, especially for a machine under £500, this treadmill will take some of the strain when it comes to running.
Compact size
The Reebok Jet 100 might look like a full-size machine (it's certainly heavy enough) but it's been given a compact design that takes up less space than you might think. There's a small hit on the running surface, but it still boasts a respectable 130 x 43 cm running area.
The max user weight is around the 110kg mark (around 17 stones) so you'll have to literally weigh up this situation and decide if this is for you.
Extremely Easy to Assemble
There's nothing worse than taking delivery of your new treadmill, ready to hop and and have at it, only to be greeted by a pile of Meccano pieces. The dull realisation seeping in that you've got a gruelling build process ahead.
Thankfully, the Reebok Jet 100 Treadmill is extremely simple and easy to assemble. Mostly because  it arrives with around 80% to 90% of the hard work done for you.The remaining parts are easy to assemble even for those who normally hate DIY.
Worst case, you're looking at about half an hour or maximum, perhaps an hour to fit all the parts.
It looks good… for a treadmill
While there's nothing particularly sexy about how a treadmill looks, the Reebok machines, in general, have gone for a clean, modern and bright look. At least a bit of thought gone has into the Jet 100's design and it definitely looks the part – with black, silver and orange trim.
The Jet 100's warranty offers a longer period than most treadmills

Reebok's Jet 100 machine comes with a warranty period of two years in case anything goes wrong. The motor comes with a warranty period of ten years, which shows these things must run a long time without problems!
Check Current Amazon UK Price
---
The bad: What could make you want to jog on with the Reebok Jet?
There are no major issues with the Reebok Jet 100, but no running machine is perfect. There are a few issues we found with this bit of kit – a few things that could be better.
It's compact but extremely heavy
Even though the treadmill is of relatively lesser height and width, the Jet 100 is extremely heavy to carry. It weighs 108kg / 240lbs and requires two people to carry it. It might be an issue for anyone living in apartments. You'll need a friend or family member with a strong back!
Not Suitable for People Above Certain Weight
One major limitation of the Reebok Jet 100 Treadmill is it is not suitable for people above a certain weight. This treadmill can easily handle weights up to 110kg. Anything over that isn't recommended and you'll need to hunt out a machine with a larger weight limit.
The fan doesn't do much
This criticism could be aimed at pretty much every machine we've seen out there that has a built in fan. They never seem to do much. You're running along, sweating bullets and can barely feel the draft. Perhaps a nit-pick but don't expect the Jet 100's fan to keep you cool as a cucumber during those long, sweaty runs.
Final Verdict: Is The Reebok Jet 100 Worth the Money?
Reebok's budget-friendly Jet 100 Treadmill does a good job at standing out from the wealth of competition in the running machine market, especially at this price range.
This is a genuinely excellent running machine for beginners as well as more experienced runners.
The machine itself has plenty of power and is stable (if heavy to move around).
The design looks sleek and modern and the additional cushioning technology gives the belt a lighter, bouncy feel to that of running outdoors.
The only limitations are bulkiness, weight limitations, or inefficiency of the fan. These can be solved easily. If the users are within the weight range, Reebok Jet 100 is a well-suited treadmill for them and worth the money.
Highly recommended
Check Current Amazon UK Price
---
Jet 100 Full Specs
Brand
Reebok
Color
Dark gray / Silver / Orange
Treadmill weight
76kg
Model
Cardio Pro
Fitnes app
Reebok Fitness app
- Track progress
- Try real-world running routes
- Controls treadmill incline
Incline type
Automatic
# Preset programs
24
# Incline levels
12
Display type
LED digits
Console functions
Time
Speed
Distance
Calories
Scan Mode
Pulse sensors
Yes
Speed Range
Up to 16km/h
(10 mph)
Max user weight
110kg
Frame material
Steel
Deck cushioning
Air Motion system
Running track size
130cm x 43cm
Warranty
2 years parts & labour
10 year motor
Frame material
Steel
Horsepower
2HP
Max user weight
110kg
Integrated speakers
Yes
Cooling fan
Yes
Accessories
Cup holders, bluetooth speakers
Model number
RVJF-10121BKBT
References and Further Reading