Welcome to our review of the Reebox ZR8 treadmill (available on Amazon UK).  The ZR8 sits comfortably at the mid end of Reebok's running machine range, but it's far from a budget model by any means. It's also one of the more popular machines, often being notoriously difficult to find in stock some days.
Be warned: in this review we're going to cover the good and the bad. Is the ZR8 the right running machine for you? Lets dive in and find out.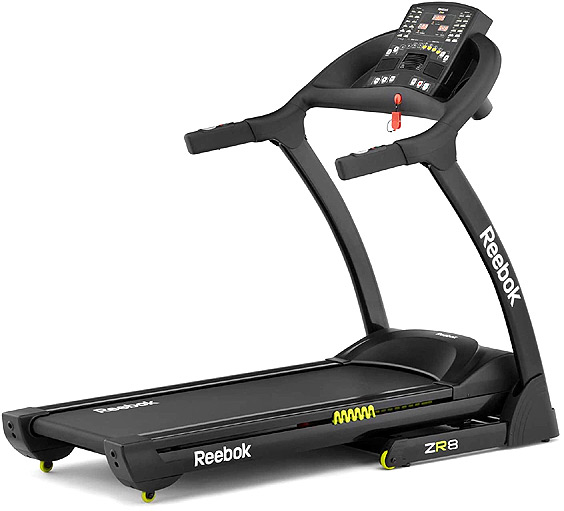 What is the Reebok ZR8 Treadmill?
The Reebok ZR8 is motorized mid-level treadmill. It's a definite step up from entry level models that cost a few hundred pounds, with a much better running deck, and a greater stability than those machines, and a whole lot of other benefits we'll cover below.
This machine is suitable for both new and practiced runners, offering a good quality machine, rather than people looking to pick up the cheapest option for their home gym.
The ZR8 has a lot of the features you get from a commercial gym, such as incline levels, a number of adjustable programs and has a fold up design that will save a bit of floor space when not in use.
There are other products in Reebok's ZR8 range:
The brand have a number of running machines out to suite a range of budgets and sizes. We just got done reviewing the Reebok Jet 100 too.
---
What you get from training on the Reebok ZR8 Treadmill
We love treadmills at Home Gym Experts. They're one of the most popular pieces of home training equipment, only really rivaled by stationary exercise bikes, and there's a good reason for that.
Running machines such as Reebok's ZR8 can be used by pretty much anyone. As long as you can get up and walk for a few minutes, you can benefit from regular treadmill use. Whether you're just starting out, or you're looking to add more steady-state cardio to your routine, a good running machine is one of the best ways to improve your fitness.
Treadmills are also simple to use, and don't have any of the barriers to entry other cardio options might have. They're predictable, normally programmable, and can be a whole lot healthier on you joints when compared against regular running on roads or concrete.
Plus, because you control the entire routine from the console, you can fine tune your workout to the minute.
Who is this best suited for?
The Reebok ZR8 is a relatively affordable home fitness solution. As we've already mentioned, it's a step above the entry-level options, with solid performance and a decent amount of tech built in.
It's not expensive, by any means, especially when you compare it with some of the higher level models, but what you get is excellent, with some really smart design choices built into it.
Overall, the ZR8 is great for beginners, and just as good for intermediate runners. It might not be suitable for higher level runners or people looking to train for professional events.
Key features
2.0HP motor
Variable speeds, from 1-16kph
12 incline levels, with powered adjustment
Easy fold soft drop system
Handlebar controls for speed and incline
The Reebok ZR8 uses hand pulse measurements
MP3 audio with built in speakers
24 preset running programs
3 user defined programs
110kg maximum weight
Safety key
Lifetime frame warranty
10 year motor warranty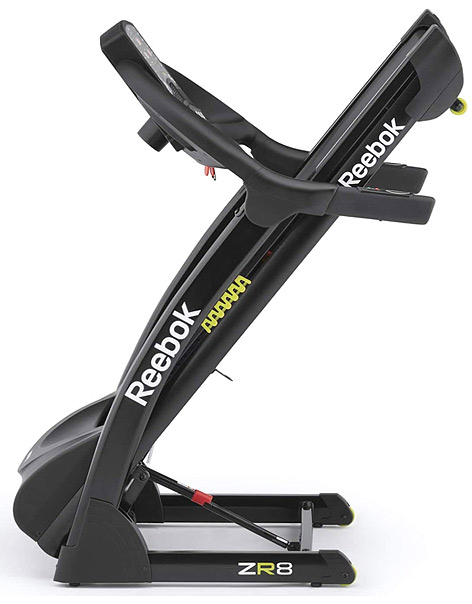 Check Current Amazon UK Price
What we liked about the Reebok ZR8 Treadmill
Great Settings
The first thing you'll notice about the ZR8 is the decent variety of settings. You're not just getting a basic treadmill, and it's realistically got more settings than most users would ever need.
It runs from 1 to 16 kph, which is a good variety of speed settings for anyone who's not a sprinter. To make it harder, you have a choice of 12 incline settings, up to 10 degrees. Unlike cheaper treadmills which only have manual adjustment, the incline system is powered, so it can rise and fall while you're running on it.
Because of the wide range of options, beginner and intermediate runners will find everything they need here.
Simple and Easy Controls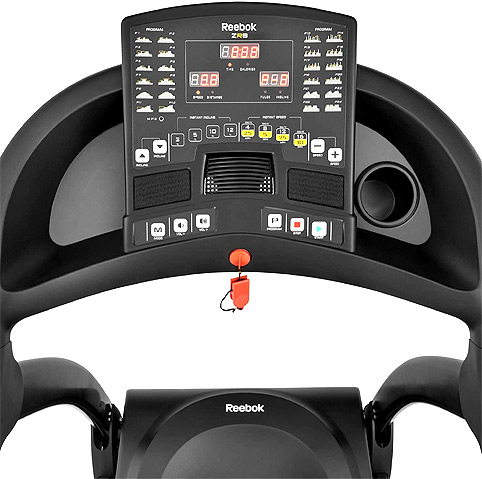 Once you're on the running deck, everything is laid out in a really good way. The controls are responsive, really easy to access, and work well. Settings change fast, including speed and incline, and the onboard computer could be used by an absolute beginner without problems.
When you're ready to jump from simply running on your treadmill, you can dive in and try one of the 24 preset programs. These preset workouts offer a decent variety, with the usual interval, hills, calorie burners and more. It's a quick (one-press) route to a different workout each time.
The electronics are okay, offering exactly what you'd expect from a model priced like this. The speakers are fine. They're not super powerful and don't give you deep bass or high-end performance, but they're good enough for the price.
One small downside is the fact that you have to connect your phone or device with an audio cable, because there's no Bluetooth, which is a shame.
Running Deck and Cushioning
The running deck is excellent quality, which is obviously a huge plus, considering it's the thing you're going to actually be running on. The deck is reasonably sized 126x41cm, which is impressive considering that the treadmill itself is reasonably small for its power.
It's a smooth ride and runs really easily, even at the highest speeds and inclines. This is partly due to the solid motor and good materials it's built out of (more on this in a second) and partly because of the ZigTech deck cushioning that takes the force out of your foot strikes.
All of this adds up to a treadmill that's surprisingly quiet in use. It's not silent, but you're going to feel much better about using this in the twilight hours, or when your neighbours live close by.
Build Quality
The whole treadmill is really well built throughout. Compact but sturdy, the system is a reasonably heavy 67kg in total, with a large running surface for the size.
The motor is a reasonable 2HP, and we've already mentioned that the variety of running speeds is adequate, but not particularly impressive. But the motor never feels laboured, and even when it's running at top speed and high incline, the machine feels like it could give more.
Despite the bulk, it's really easy to assemble, too. It arrives ready boxed in sections that just slot together. Once it's been delivered, you can just open the boxes, connect the pins and put it together in seconds. It's simple enough to do solo, but because of the weight, we'd recommend having a second person around.
Generous Weight Allowance
The solid build quality and strong materials used means this treadmill has a decent weight limit of 110kg, (242lbs, 17 stone.) Cheaper models generally only have a weight limit of 100kg, and that extra 10 kilos adds up.
On top of this, the good build quality means that you could probably still comfortably use this if you exceed the weight capacity by a small amount, as long as you're only walking. But be careful.
Good value for money
if it wasn't a 'Reebok' machine, the build quality and robust feel make for decent value for money here.
Looking down the wide feature list and excellent build quality suggest that that this treadmill should be more expensive than it actually is. It's not a case of paying for a brand name with this treadmill – even if it wasn't a 'Reebok' machine, the build quality and robust feel make for decent value for money here.
Simple but straight forward manual
Although the manual is brief, it's well written, and has clear illustrations showing what each of the buttons and features on the console does.
While most people will be instantly familiar with buttons such as the incline, speed and program select, it's still worth a quick once over to make sure you're not missing out on anything the ZR8 can do.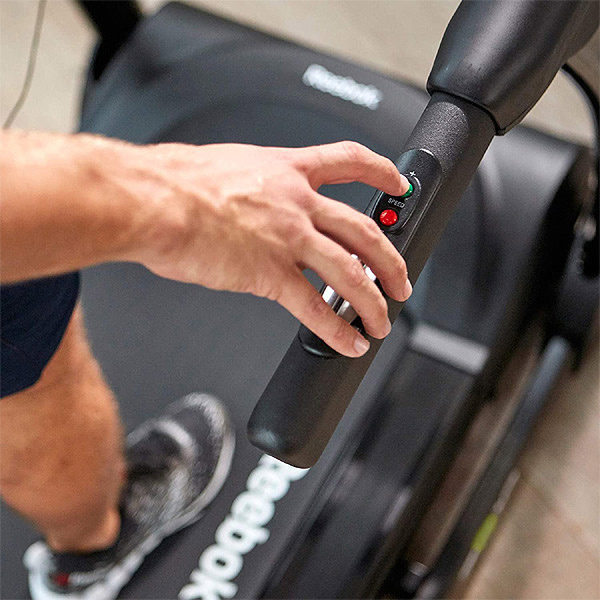 Good, if not exceptional console
Reebok's ZR8 running machine has an attractive and functional display console. Rather than one larger screen, there's several smaller LCD windows for the usual suspects:
Time and calories
Speed and distance
Pulse and incline
Obviously at this price point, there's no touch-screen colour display, but what's here is informative and gets the job done a lot better than many other machines in this price range. The stats are large and easy to read, with old school, ultra-bright RED led digits!
On the sides are extremely handy references to the different programs so you can pick one that suits your goal that day, and keep training fresh. Large buttons, that are easy to jab at while you're in the midst of a sweaty workout are positioned easily along the bottom of the console.
Extended warranty for peace of mind
It's worth talking about the Reebok ZR8's warranties – even though it's not the most exciting part of this treadmill! The lifetime warranty on the frame is good, but we've yet to see a treadmill where the frame dropped to bits, even with insane amounts of use.
Where this treadmill pulls ahead on the warranty is the 10 year motor warranty, something that treadmills can trip up on. And there's also a two year parts and labour warranty. While we'd be surprised if your treadmill does have any issues, it's a nice bit of added security to have.
Check Current Amazon UK Price
---
Things that could be better on the Reebok ZR8 Treadmill
Size
The treadmill frame itself is actually relatively narrow, but it feels larger. Most of that is running deck, and the bulk of the steel frame means that it takes up a surprising amount of real-estate.
This sadly also counts when it's folded up, too. Even though it's simple to fold up and move around, the wide, stable, solid build still takes up a good chunk of floor space. Like the majority of 'folding' treadmills, you get a few extra feet when it's flipped up.
Power
The 2 HP motor is a good standard for the motor on this treadmill, and as we've mentioned, it never seems to struggle, no matter how hard you push it. But the max running speed of 16kph isn't the highest we've seen.
It might be good for beginners, but more advanced runners might not find it gives them enough options for high-level sprints and other, faster training methods.
Metrics
The onboard computer is good with all of the preset settings, but it might be a little out when it comes to your personalised figures.
For a start, the calorie counter probably shouldn't be relied on. It doesn't ask for any of your statistics, and if you know anything about fitness, you know that a larger person burns more calories than a smaller person when running, so that's kind of a red flag.
It's also been noted that the incline doesn't feel correct. This doesn't mean that the incline system isn't working. Only that the degree counter on the onboard computer might not be in line with reality.
Conclusion
The Reebok ZR8 is a great choice for beginner and intermediate runners. It's significantly better than entry level treadmills, with a great build quality and good range of settings that are perfect if you're getting into running or looking to lose some weight.
Because of all this, it's a capable home treadmill, and the cons aren't anything that would affect 90% of people. The only time you should consider the issues we've put forward is if you're a serious, long term runner and you're looking for a high-power machine for intensive training.
Other than that, there's a whole lot to recommend if you're looking for a reliable workhorse running machine for your home.
Check Current Amazon UK Price
Reebok ZR8 Reading and resources