This is a 2023 review of JLL's S400 treadmill – a mid-priced, folding treadmill available in the UK. As always, be prepared for the good and the bad in this review!
We'll cover everything you need to know about this machine,  along with a bunch of nerdy stuff you probably don't want to know. We'll dive into what to look out for, what's good about it and who this running machine is and definitely isn't best suited to.
---
What is the JLL S400 Folding Treadmill
Fitness company JLL make super high quality exercise equipment; they're actually one of the top brands for running machines in the UK. So we were eagre to see if the S400 lived up to some of their other running machines and gym gear.
The JLL S400 (available on Amazon UK) is the upgraded model to the popular JLL S300, one of the best selling treadmills in the last few years. The base functions remain the same, which is good to see as the S300 is a solid enough running machine. So is the S400 a substantial upgrade?
Among the differences between the S400 and it's cheaper sibling are a larger running deck, offering a more generous running surface, and smaller tweaks like the integrated Bluetooth speakers, rather than a cheaper, lower fidelity sound system found on the older model.
All of this combines to create a solid and dependable treadmill that's suitable for almost anyone, whether they're brand new to fitness or a long time runner.
---
What you'll get from training on the JLL S400 Folding Treadmill
A treadmill, such as the S400, is a proven way to lose weight (through burning calories), and increase your strength, fitness and stamina.
Whether you're looking to just take a light walk, or get into a seriously sweaty running regime, treadmills are a safe, reliable way to hit your fitness goals.
Don't fear the treadmill
Even the least fit person can walk for a few minutes on a treadmill, and as you get fitter and healthier the option for more speeds and higher inclines lets you increase the resistance slowly, and simply.
Even if you've never run or a treadmill before, or think you're 'too old' – machines like the JLL S400 shouldn't be ruled out. This machine actually has one of the slowest start speeds, so it's ideal for anyone looking to start treadmill training at home.
Is this any good for those already into running?
But treadmills can also have impressive benefits for experienced runners, especially if they have powerful motors and high inclines, and the S400 has both, as well as a whole suite of programs to work through.
In short, running from your own home is awesome.
---
Who is the S400 runner machine best suited for?
The JLL S400 is an intermediate level treadmill. Because of its wide range of features and reliable design, it's a good choice for people new to fitness. It has the speed and features to grow with you, developing your fitness in a natural way.
It's also built like a battleship, so it should last for years if looked after.
On the other hand, the S400 packs a decent punch too, with a meaty top speed and heavy incline, which actually makes this a good model for people at the upper end of the fitness and training spectrum.
As a folding treadmill, it also takes up less space, and as we'll talk about later, there are some great little touches that make this good for smaller houses and apartments.
Key features
2.5HP (4.5HP max) motor
0.3kph to 16kph running speeds
20 levels of incline
16 point cushioned deck absorption system
Powered auto-incline up to 12%, with 20 settings
5.5 inch LCD screen with blue backlight
15 running programs, 3 customisable options
High-quality speakers
Bluetooth or USB connectivity for your phone or other devices
Monitors speed, time, distance, heart rate, calories burned and incline
Lifetime warranty, 5 years on motor, 2 years on parts and wear
Check Current Amazon UK Price
What we liked about the JLL S400 Folding Treadmill
Powerful motor and decent speeds
As a premium treadmill, the motor of the S400 is a decent 2.5HP motor that kicks out 1800W of power. It also has the option to boost to a 4.5 HP peak for high inclines and faster speeds.
That's a good level of power, up to twice as powerful as some comparable options.
Speeds run from 0.3kmh to 16kph, and the inbuilt digital controller technology makes changes of speed smoother and more responsive. That doesn't sound like much, but when you're running intervals, you'll soon grow to love it.
Power Incline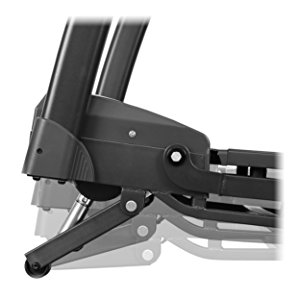 With 20 levels of powered incline – up to a maximum of 12% angle, there's a lot of resistance options available. Even just walking up a 12% incline can burn up to 4 times as many calories as walking on a flat plane.
Just like the speed settings, the fact that the S400 has a high powered motor means that incline transitions are smooth, with none of the choppiness like you might find on cheaper models.
Very Quiet
Compared to a lot of treadmills, the S400 is surprisingly quiet. That's because of the built-in shock absorption provided by the 16 point cushion system, which compresses to take the force of your running, so reduces the sound of foot strikes.
The little orange 'springs' you can see in the photos are what give the s400 it's shock absorption. While running is never going to be impact-free by any means, JLL's machine definitely does a good job at making your run less jolty.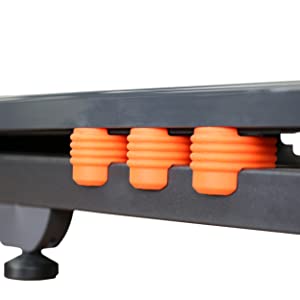 And it's way better than some of the budget machines we've subjected out poor review knees to.
The cushioning system also works like a shock absorber, helping reduce impact on your joints and preventing long term aches and pains.
The Computer, Programs and Sound System
Considering that the electronics are one of the major things the S400 improves over its predecessor, they're just as excellent as you might expect. The monitor is easy to use, with well laid out controls that are simple to understand and adjust, because they're always within arms reach even when running at high speeds.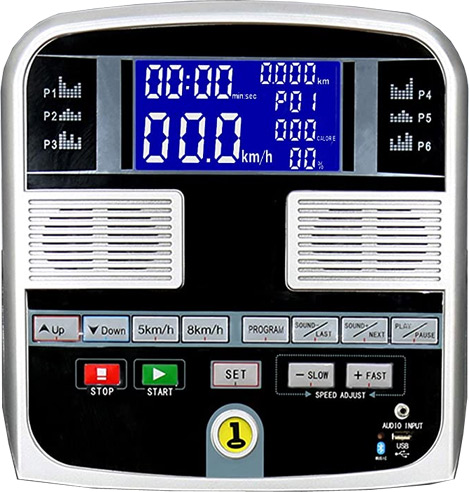 There are 15 preset programs that give you a solid range of workouts, including intervals and hill runs. If you want a little more control, there are also 3 programmable options so you can set your own workouts.
Finally, the sound system is great. On mid-level systems you normally see things like the sound system being lower quality, because it saves money. But the speakers on this are really high quality, and it has both Bluetooth and USB connectivity for your devices.
Exceptional Build
Throughout the entire treadmill, build quality is exceptional. It's built around a solid steel frame that's tough, robust, resistant to damage and also helps limit frame vibration at high speeds. This is something we've seen in JLL's other gym gear and the S400 has it in spades.
The running deck is high quality, with a generously sized 135cm x 45cm running surface, and the whole thing itself is a reasonable 170cm x 70cm.
One quick note on delivery: When it's delivered, it will only be carried to your choice of a ground floor location. The boxes are very heavy, and probably can't be moved on your own. It's going to be much easier to assemble with two people, so make sure someone else is at your home the day of delivery
High Maximum Weight Capacity
To go along with the solid build quality, the maximum weight on the JLL S400 is a generous 120kg (264lbs or just under 19 stone.) This is 10 to 20 kilos higher than most entry and mid level treadmills, and gives you a lot more weight to work with. If you're a little taller or larger than most, the JLL S400 is an excellent choice.
The folding is… actually not bad!
If you've read any of our other reviews here on Home Gym Experts, you'll know we always raise a suspicious eye brow when a bit of gym gear claims it 'folds'.  A lot of treadmills in particular don't fold all that much.
The S400 uses the same system we've seen on a lot of treadmills where the running track pivots up not-quite-vertically to free up some floor space. It's also got the gentle 'soft drop' these machines typically feature.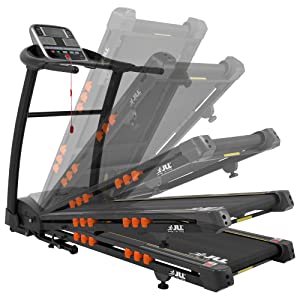 While you're not going to get back a vast amount of space when it's flipped up, the JLL S400 does a respectable job of at least freeing up some precious room. And when you consider this is a full-on large treadmill, it's folded footprint isn't bad at all.
The manual is seriously good
OK before anyone starts saying we've lost the plot, we've seen manuals you wouldn't believe. Some comprised of a few scant pages of hastily written, poorly illustrated giberish. Grammar your 6 year old would sniff at. Yes, there's some truly horrific treadmill manuals around.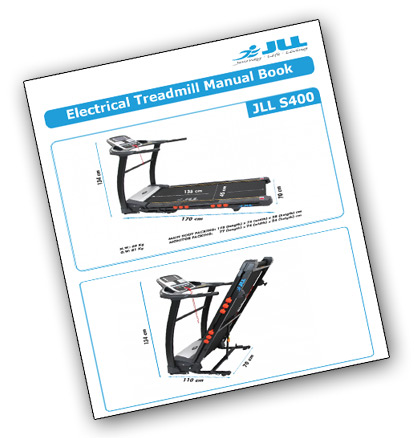 JLL's S400 comes with a surprisingly excellent manual (one you can also download – links at the end of this review…) It's long (in a good way), simple, and clearly illustrated. It's super-easy to follow and is packed with extra info to help you get more from your running sessions. Good job JLL.
Check Current Amazon UK Price
---
Things that could be better on the JLL S400 Folding Treadmill
So we've covered the good parts of the JLL S400. In this section we'll cover things that aren't so hot and that could use improving.
The heart rate monitor could be more precise
Unlike the rest of the onboard monitors, the heart rate monitor isn't the best. For one, it's surprisingly hard to hold when running at high speed, and it's not always accurate even if you manage to keep your hands in the right areas.
This fault could be aimed at a lot of treadmills in this price point, or with pulse pads on the side of the frame.
You can't connect your bluetooth heart rate monitor
Usually after berating the built in pulse sensors on a running machine, we normally point out you can get a bluetooth heart rate monitor to compensate for this.
Sadly, the S400 doesn't allow for this so you'll have to rely on your Fitbit, or other 3rd party device to get detailed and accurate heart rate info.
Cup holders are not well implemented
The built in drinks holders leave a lot to be desired. They're at a strange angle, and barely deep enough to hold the tiniest bottles. A lot of treadmills do follow this design and while those cavities are great for chucking your car keys in, they're less than desirable for keeping your water bottle secured.
Some of the trim could be tougher
On less impressive machines, these things would probably fade into the background, but there's so little actually wrong with the JLL S400 that it's hard to find things that are actually wrong with it.
No tablet / phone holder
An other sad, but often overlooked feature us a tablet holder. There's plenty of space on the JLL S400's console for a simple shelf for your tablet, but there's not one included on the model we saw.
Sure, you can use third party products to do this but it's something that could have been included in the design here.
---
Conclusion
The JLL S400 is a solid work horse of a machine at a good price
For anyone looking for a treadmill that's way above the quality of a budget machine, but doesn't cost £1000+, the S400 is definitely worth the money. You're getting a well built machine here that's good for new or experienced runners.
Some minor niggles, such as cup holders aside, we really like this treadmill.
The JLL S400 only improves on the S300's winning formula, adding a few bonuses and extras, ending up with a fantastic mid-range treadmill that's suitable for literally everyone, whether they're an absolute beginner or a veteran runner.
If you're looking for a treadmill that's fantastic across the board, and has the capacity to grow with you as you become a better, fitter, healthier runner, give the S400 some serious thought.
Check Current Amazon UK Price
Full specs on the JLL S400
Brand
JLL
Motor
4.5 HP
Running track size
Length: 135cm
Width: 45 cm
Top speed
16km / hour
(10 mph)
Powered Incline?
Yes
# Incline levels
20
# programs
15
Speakers?
Powered bluetooth speakers
Shock absorbtion
16-point cushioning
Noise level
Low
Monitor display
Time
Speed
Distance
Pulse
Calories
Max user weight
120kg
Tablet holder?
No
Dimensions
184cm x 103cm x 202cm
Warranty
2 years parts and labour
5 years motor
Lifetime frame
Resources and further reading