For the last couple of years, fitness brands have been busily pushing out newer, smarter, cheaper treadmills, to keep up with the massive demand of people shifting to home exercise instead of gyms.
What is the Proform Pro 2000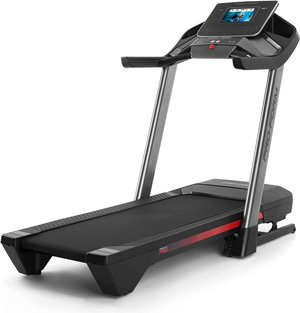 The baby in Proform's commercial treadmill range, the Pro 2000 is aimed at the high end of the home fitness sphere. So how does it intend to compete?
By packing tons of smart tech into a rock-solid frame and focusing on performance, while saving on the things that don't matter so much, like having a gigantic touchscreen.
This lets the Pro 2000 sneak into the market at a surprisingly reasonable price point. For something that puts out these numbers, with a big motor that has a high top speed and powered incline, Proform have managed to create a treadmill that costs up to a grand less than equivalents, like the Peloton Tread.
But is this a feasible approach, and is the Pro 2000 worth your time and money? This guide digs into the details.
What can you get from training on the Proform Pro 2000
There's a reason everyone defaults to treadmills for most of their cardio. It's simple. Everyone can do it. And it works.
But gone are the days where running on a treadmill meant hours of mind-numbing jogging to burn your calories. A combination of trainer-led workouts, high impact fitness plans like HIIT, and smarter tech, mean that a treadmill like the Pro 2000 is one of the best ways to hit your fitness goals.
Who is this best suited for?
The Pro 2000 is a commercial level machine, with a commercial level price tag. It's not your standard home treadmill, and shouldn't be treated like it is.
There are two types of people who want this.
The first is people who are outfitting their home gym and looking for a high-quality treadmill that matches the experience you'd find in a health club or high-end gym.
The second are those who already have a decent base of fitness, and want a treadmill with a big motor, great cushioning and powered incline.
---
Proform Pro 2000 Key features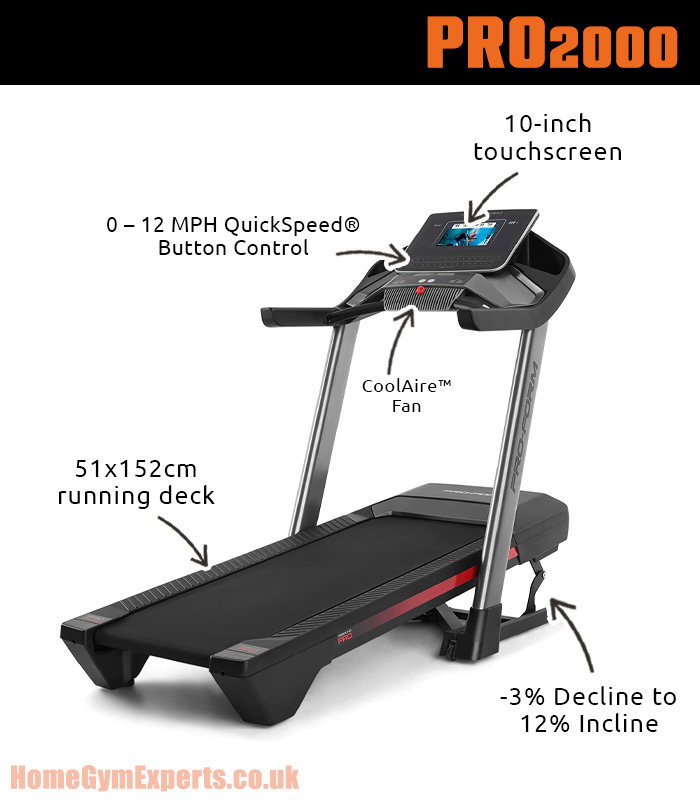 51x152cm running deck
ReBound pro belt cushioning
12mph (22kph) max speed
12 degrees powered incline and -3 decline
3.25 continuous horsepower (CHP) motor
300lb (136kg) max user weight
10-inch touchscreen
30-day iFit membership
Long term Proform warranty
---
What we like about the Proform Pro 2000
Fantastic build
The Proform Pro 2000 is undoubtedly a commercial level piece of kit, and that comes with certain expectations. Needless to say, this thing is built like a tank, and probably meets, if not outperforms the treadmills you'd see in your local high-end gym.
First off, the treadmill just looks amazing. It's sleek, with clean lines and just enough flair to stand out. But the important thing is that the looks are backed up by impressive performance, and the Pro 2000 delivers.
From the moment you step on, everything feels great. It's all solid and stable, with a fantastic running deck, which we break down a little lower down, and everything else that you'd expect to see on a piece of gear of this calibre. The motor is a weighty 3.25 continuous horsepower lump that drives the running deck, as well as performing a dual-duty for powered incline, strong enough to take whatever you throw at it.
One puzzling decision is the fact that Proform decided to build a powered folding system into this beast. Now, normally, a folding treadmill is a good thing. It saves space and makes it much easier to store your treadmill once you're done. But the Proform Pro 2000 is pretty big and weighs in at a hefty 260lbs. Realistically, we'd recommend finding a place for this and leaving it there. But it's still nice to have.
Finally, the whole thing is covered by a solid warranty, with 2 years on parts and labour, 5 years on the motor, and a lifetime on the frame.
The massive, comfortable running deck
Building on the overall quality of the treadmill, the running deck is, simply put, incredible.
A huge 152 x 51cm gives you a whole lot of space to work with, and the generous weight capacity of 300lbs is impressive, especially considering the speeds and incline this can hit. (More on this in a second.)
But probably the biggest thing you'll notice when you step on this is how good it feels. The deck is supported by Proform's ReBound Pro cushioning and sits on precision-balanced rollers that are comfortable and responsive.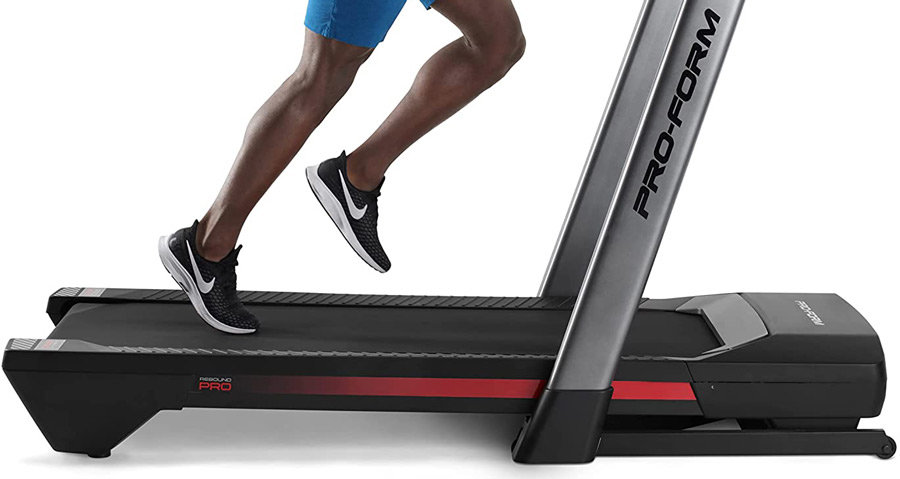 All of this adds up to a deck that's springy, with great bounce and fantastic shock absorption, even when you're hammering high-speed sprints. On top of just being comfortable to run on, this cuts down on aches and pains as well as long term joint issues and other problems that running a lot can lead to.
The top speed is a decent 12mph, which is just below (0.5mph) the numbers put out by the 'premium' treadmills that cost significantly more than this. The entire deck also has a powered incline, up to 12 degrees, and powered decline down to -3, which adds a whole extra dimension to your workouts, hitting muscles that other treadmills literally cannot touch.
The great control suite
Like everything else on the Pro 2000, the controls are smartly designed, slick and simple to use. At first glance, there's a dizzying amount of buttons on the console, but you're not going to use the majority of them. You can start a manual workout just by stepping on board and hitting the start button.
Laid out across the lower half of the console are a bunch of responsive, single touch buttons that let you shift between incline and speed settings without having to spend half a minute scrolling backwards and forwards, as well as buttons for the fan and other functions.
But the heart of the controls is the touchscreen. Sitting in the centre of the console, the 10 inch HD screen is crystal clear and responsive to the touch. Once it's connected to your home internet via WiFi, it gives you access to a huge array of workouts, lives and recorded, through the iFit app.
iFit
These days, it seems that no quality workout equipment is complete without an interactive exercise app. About the only good thing that came out of the great plague of 2020 was that we realised that working out from home could be more comfortable, and just as effective, as anything you could ever get in a gym.
So it's a big positive that every Proform system comes complete with access to the iFit fitness app. iFit is NordicTrack's proprietary fitness app. Our full guide can be found here but put simply, it's one of the best, if not the best fitness app on the market for home exercise equipment.
Constant updates, daily live workouts, extra sessions for strength, mobility, yoga and more; whatever you're looking for, iFit will deliver.
iFit is a paid service, the Pro 2000 comes with a 30 day free trial for your whole family, so you can try it before you buy, and costs far less than an equivalent gym membership or personal training.
---
What we don't like about the Proform Pro 2000
The touchscreen could be bigger
Considering the quality of the touchscreen and how easy it is to see, it almost feels like nitpicking to point out that a bigger screen would be nice. But right now some treadmills have bigger screens at around the same price.
This, like everything else, comes at a cost. The Pro 2000 has a features list that makes most other treadmills blush, and in actual performance, beats anything else at equivalent cost. But if you're more interested in watching Netflix rather than running, you could find something that has those few vital extra inches.
Final thoughts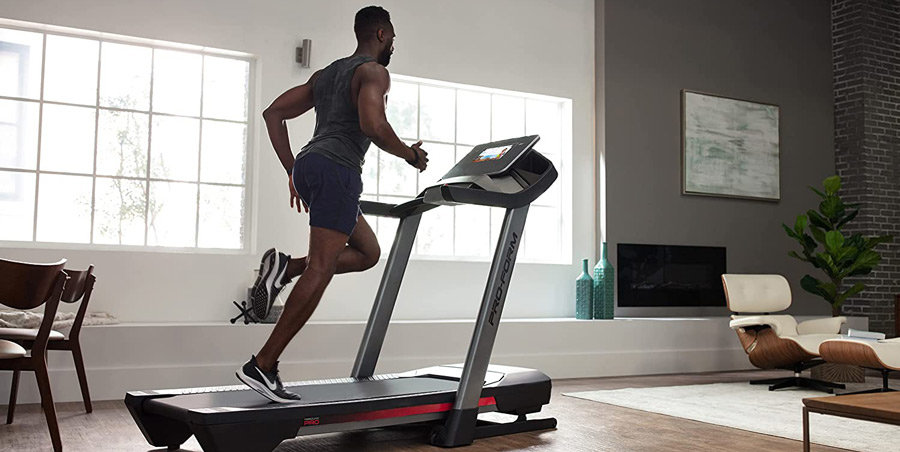 Is the Proform Pro 2000 a good treadmill?
Yes. The answer is as simple as that.
Taken on its own merits, it's clear that the Proform Pro 2000 is an impressive piece of kit, but where it comes into its own is when you compare it with the competition. The fact that you're getting near-equivalent performance to gear by names like Peloton, for almost half the asking price, is a seriously impressive deal.
Factor in iFit and the Pro 2000 starts to look like a serious competitor. The single downside is that slightly smaller touchscreen, which is about the size of a tablet. But that's academic when you're saving a few hundred quid.
If you're serious about your cardio and you're in the market for a high-end treadmill that has some of the best interactive workout plans, straight out of the box, then you should seriously be considering the Proform Pro 2000.
---
ProForm Pro 2000 Full Specs
| Brand | ProForm |
| --- | --- |
| Model | Pro 2000 |
| Material | Alloy Steel |
| Item Dimensions LxWxH | 77.3 x 35.3 x 59.6 inches |
| Item Weight | 260 Pounds |
| Maximum Weight | 300 Pounds |
| Speed Rating | 12 miles_per_hour |
| Maximum Incline % | 12 |
| Deck Length | 60 Inches |
| Screen Size | 10 Inches |
| Warranty Description | ‎10-Year Frame, 2-Year Parts, 1-Year Labor |