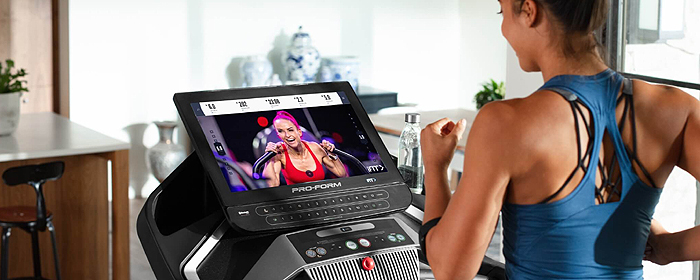 If you're wondering where the best place to buy your new Proform treadmill is, we've got you covered. This quick guide will go over where to get your new machine at the best price, as well as some info about delivery and other helpful hints about buying.
The Quick answer: Where can you buy Proform treadmills?
The best place to buy Proform treadmills (new at least) is direct from the ProformFitness website. It has the lowest price and no end-of-line models. Delivery is slower than Amazon but you can get the full range on this site.
Who are Proform Fitness?
ProForm has a 30-year heritage in making some of the most well-regarded exercise systems on the market.
They're a subsidiary of ICON health and fitness; a US-based company and the biggest fitness manufacturer in the world.
Icon has been operating since 1977, and also own some of the other biggest names out there, including NordicTrack, Gold's Gym, and the interactive fitness app iFit.
The 'official' website for Proform is ProformFitness.co.uk
Where's the best place to buy Proform treadmills online in the UK?
You can buy the Proform brand of running machines at a number of online stores today.
You can buy direct from Proform at their official website and get the latest models for the best prices. There are often pretty substantial sales on running machines at this outlet and you can chat live if you have questions before buying.
Check out the latest prices and deals on their treadmill page
The online retailer has a selection of Proform's treadmills, including the ProForm Power series. Amazon is a good place to pick up your treadmill as they've got their chat support and next day delivery on a lot of machines. There are also a lot of reviews from users which can help you pick the right model.
However, Amazon doesn't carry the full range of Proform treadmills. Although delivery time will be quicker, the limited selection will put some people off.
See which Proform machines are in stock at Amazon
How much does Proform charge for delivery?
If you choose to buy your treadmill direct from Proform, there's a £49 delivery charge.
How fast is the delivery time on Proform treadmills
If you buy your treadmill from Amazon, and you have Prime, delivery could be the next day.
The Proform Fitness website will normally get your running machine delivered within about 5 – 10 days. They also contact you two working days prior to delivery, by text and email to keep you in the loop as to when your treadmill will arrive.
Obviously, this type of gym gear is one of the biggest and heaviest you can get so a two-man team will deliver the machine to any ground floor.
Proform running machines and stock level issues
Like all retailers, Proform Fitness was hit hard during the 2020 Pandemic and it was hard to buy treadmills during that time. Gyms closed down and the demand for treadmills at home went through the roof.
Things are a lot better now, however, and the treadmill section of their website reads mostly 'in stock' with the odd machine not available.
Can you buy Proform treadmills in a high street shop?
Making a big purchase like a treadmill online can be daunting, not to mention an expensive job. It's the kind of thing that's good to at least have a look at before you pull the trigger.
So are there any places in the UK that sell Proform machines in-store?
Although Proform doesn't have its own physical presence on the UK high street, you might be able to find its running machines on show in one of the following shops:
Fitness Superstore – This retailer has stores across the country and often has a good selection of Proform machines. Phone up in advance because the stock can vary between stores.
Gym Equipment Superstore – A huge retailer with branches dotted around the UK. Usually keeps a good selection of Proform running machines in stock.
Powerhouse Fitness – Normally carries the full range of Pro-form treadmills.
John Lewis – You can buy and try out Proform machines at the popular high street chain, John Lewis too. Not all branches have their treadmills in stock, so check before your visit.
Costco – If there's one of these stores near you, it's worth checking out as they often have a range of Proform's products, including their treadmills.
And, although it's a catalogue shop and you can't get your hands on the products before buying, Argos has been known to stock NordicTrack and Proform products but the range tends to be limited.
Where does Proform make their treadmills?
Proform treadmills are designed in the US but, as with just about every running machine we've seen, they're manufactured in China. Your machine will be shipped from Proform's UK warehouse direct to you, however.
Discount codes and sales
It's worth checking Profrorms' treadmill page as some of the treadmills are regularly discounted. With the price of some of the machines being over £1000, you can often save £200 or more in a sale.
How much are Proform treadmills to buy?
These machines sit in the mid-to-high price range in the home treadmill market. Like Nordictrack's machines, they're made from better materials to a completely different spec to the budget ones you'll find for sale.
Prices start at around £800 for the cheapest models, rising to just under £2000 for the top models. Differences being down to things like the size and quality of the built-in screen, the size of the running deck and how powerful the motor is.
What if I want to return a Proform treadmill after buying it?
Aside from the warranty you get with any Proform treadmill (2 Year parts and labour, 5-year motor, Lifetime frame guarantee) if you're wondering what to do if you want to return your treadmill for a refund, you can send it back within 30 days of purchase for a full refund.
References and Further Reading