Review Summary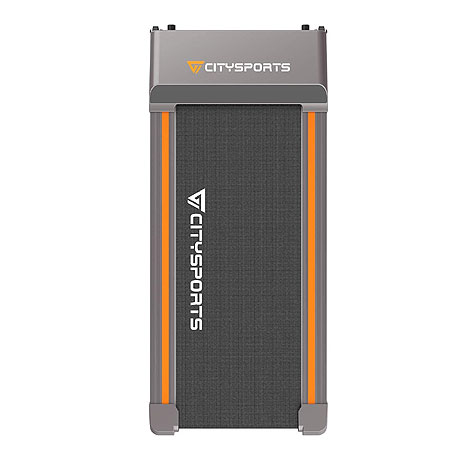 WP1 Treadmills
Sleek, modern design
Good value for money
It's well-made
Super-compact
Not ideal for sprints!
"The WP1 is a brilliant little machine that anyone craving a treadmill but short on space will get a lot out of. Frequent runners will need something with more speed though."
One of the more interesting easy-to-store treadmills out there is Citysports' motorized folding treadmill (Up for grabs on Amazon UK). With a stripped down 'no side rails' design, it promises a super-sleek running machine you can stash out of the way easily when not in use. But does this compactness come at a cost?
Today we're hopping on one of the more compact treadmills on the market, and one of the more popular machines to put it through it's paces. Welcome to our review of the Citysports Folding running machine.

What is the Citysports WP1 Folding Treadmill?
The Citysports folding motorized treadmill is high quality and performance-engineered treadmill made to store easily in an upright position to save space.
Despite the treadmill's space-saving dimensions, the Citysports treadmill has a respectable running area 1150 x 410mm, offering plenty of legroom for walking and running. Think compact. This treadmill is all about balancing weight, foot print while providing a 'proper' treadmill.
Designed for both home or office, the WP1 treadmill fits neatly into your work and living space for round the clock exercise. Their brushless motor ensures quiet operation, so you may watch your series or listen to music without having to crank the volume.
The main thing you'll notice is that this running machine has no sides, giving it a unique appearance, with the obvious benefit of less bulk and storage space. It's one of the more portable machines, coming in at just over 26kg.
But is this machine too stripped back? And can a super-slim runner like this keep up with someone wanting a proper way to workout at home?
Check Current Amazon UK Price
---
Citysports Folding WP1 Treadmill  at a glance
26.2kg
Max user weight 100kg
Adjustable speed
LCD screen on the base
500w motor
Upright storage saves space
150 x 410mm wide runway
Intelligent shock absorption technology
Low noise motor
---
What are the benefits of using the Citysports treadmill?
There are many health benefits to using a treadmill. The treadmill has a stable and predictable surface and prevents the kind of shock and vibration of road surfaces, which puts stress on bones and joints.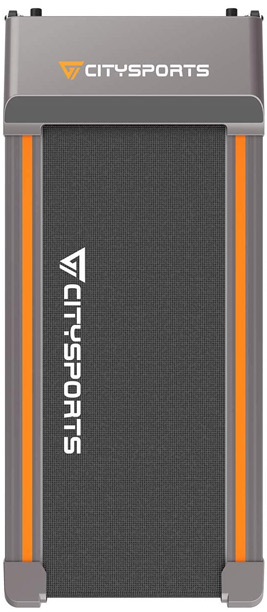 The Citysports treadmill provides intelligent shock absorption technology to cushion the user against the jarring aspects of running.
The user can program his/her workout to their preferred specifications. The motorized treadmill provides warm-up and cool down options and a calorie and distance counter.
Treadmills burn more calories than other home exercise equipment, including exercise bikes.
You have the option of doing other things while on your treadmill. Users can read a book, study, or watch television shows, which takes a lot of the tedium out of your workout.
Boost your serotonin levels, those "feel good" chemicals make you feel happy and positive as well as prevent depression and anxiety.
Treadmills improve your cardiovascular health, strengthening your heart, and lowering your blood pressure and bad cholesterol.
Lose weight by using the Citysports treadmill and build up your leg muscles.
Treadmills are safe, private, and convenient to use. Not everyone feels comfortable in a gym setting. The foldable Citysports treadmill can fit easily into your home or office.
Who is this treadmill aimed at?
Is City Sports' WP1 machine for you?
When choosing a foldable motorized treadmill, it is crucial to have a powerful motor to perform its purpose. Ideally, one should have a continuous horsepower of 1.5 for average weight users (up to 100kgs.)
The Citysports treadmill has a CHP of 1.5 and reaches speeds of 6/km per hour. This speed allows the user to achieve the pace of a light jog, so this treadmill is ideal for those who prefer an energetic walk.
Looking for something compact you can use for some indoor walking? This is made for you.
Because the Citysports treadmill has a powerful motor, it is perfect for those who prefer longer sustained workouts and aim to cover longer distances.
To run, or not to run
Let's be honest. This is not a full-on treadmill. It's just not possible to have a compact treadmill, weighing this little and offer a machine that's going to tax pro-runners to the limit.
The WP1 treadmill is for walking, light jogging and moderate exercise in an office or home. Looking for something compact you can use for some indoor walking? This is made for you.
Lets talk about those sides… or lack of!
If you've been running on a treadmill for a while, or have tried it in the past, you're probably wondering if you'll get along with a treadmill without the conventional side rests. After all, running on any treadmill can take some getting used to, and those side bars can be a reassuring touch away.
The short answer is, it's going to take a bit of practice. But, as you can see by people's reviews on amazon, it's not exactly mission impossible. As with any treadmill, the Citysports' speed can be easily adjusted. Of course, there's no front panel either, so the included remote is used to alter running speed.
Whether you've run for most or your life, or are just getting into it, this machine isn't hard to get used to. It just takes a while to get that co-ordination and confidence, more than anything.
---
Citysports Folding Motorized Treadmill: what to expect
It's compact and slender dimensions make this treadmill perfect to slide under your standing desk to burn off some of those workday stresses on the job. The 15-cm total width dimensions mean that the treadmill can slide under your bed easily.
The total mass of the Citysports treadmill is only 26.2 kilograms and rests on handy wheels. Therefore the treadmill is portable, and users can transport their treadmill from room to room with minimal exertion.
The Citysports treadmill's dimensions are 147 cm x 59cm x 15 cm, which means they save you space in your home. This treadmill's small stature belies a powerful engine that can bear up to 100 kgs of body weight.
With the 500w motor, this treadmill allows you to choose the speed you want to train, from 1-6km/hr so that you can select the correct rate for your physical needs.
With the upgraded brushless motor and belt, you need not worry about disturbing your better half or your colleagues. The treadmill has low noise features with suits the item to both home and office use.
The treadmill comes with a large and comfortable to view LED display. You may see your time, distance, speed, and calories burned quickly from your standing position.
The intelligent shock absorption technology reduces stress on the user's knees and makes for a smooth pain-free workout.
The remote control fits comfortably in the hand and can be used with ease while in motion. It has easy access to a large red button for emergency stops.
Check Current Amazon UK Price
---
What we liked about the Citysports treadmill
Sleek, modern design
Not everyone gets excited about how their gym gear looks. Maybe we've spent too long reviewing this stuff but it has to be said the Citysports Folding treadmill is a sleek, interesting-looking machine that's definitely got a bit of style about it.
Most people will be buying this to store away between uses, but if you want to leave it on display, it's going to look good in any office or home. The LED display is a real stand out, as is the glossy finish on the machine's trim. A good-looking bit of gym hear here.
Good quality. Equally good value for money
Citysports' machine sits just above the budget price bracket and, thankfully, this is reflected in the quality of the machine. Although light weight, this is a well-made, robust portable machine.
You even get a bit of shock absorption although, at 15cm high, tamper your expectations on this front.
The machine is sturdy and compact and fits easily into the modern lifestyle. The 410 mm allows ample space to work out comfortably (for the average build.)
Low noise output
The low noise factor helps when using the treadmill in shared accommodation. Still, users must bear in mind that the footwear and type of flooring will affect these noise levels. If you're on woooden floors, as we always recommend, get yourself a mat to slip under it. Carpets? You're good to go.
Space saving design
The ability to store the treadmill standing up is excellent, especially if your bed has a solid base or your furniture doesn't allow the 15-cm clearance. The treadmill can fit neatly against a wall that is out of the way and is a breeze for cleaning.
At just over 26kg, this is about the lightest treadmill we've seen. If this is going to be used and moved regularly, you'll likely have the odd smug grin to yourself each time you slide it back in it's hiding place. It's so easy to move.
Decent length running track
The treadmill is suited for people like me who like to maintain an energetic stride over long distances. The 1150mm length gives you space enough to stride without feeling cramped and enough space if you want to perform a light jog.
The wheeled base makes it easier for the ladies to move the treadmill because 26.2 kilograms might be a bit heavy for the smaller ladies to carry.
The LED display is awesome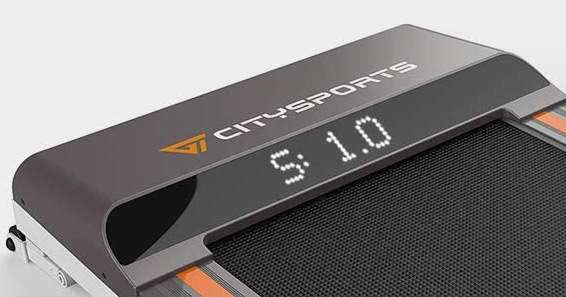 The first thing we thought on seeing the treadmill for the first time was 'where's the display'? Well, it's not in the hand-held remote (as we'd assumed). Powering up the treadmill reveals that your distance, calories and other stats are actually shown on a large LED panel on the base of the machine.
The large-format LED display does an absolutely brilliant job at showing how far you've gone and estimating the calories. Once you get to looking downward for this info, it's a breeze to get the feedback you need.
Of course, you could use your fitbit, or a third party app (although, sadly you can't pair it up with the Citysports…) but the simple data available on the treadmill is likely going to keep you happy.
Check Current Amazon UK Price
---
What could have been better about the Citysports treadmill?
The 2m long cable makes it more challenging to choose the perfect spot for your Citysports treadmill. You are limited to the area with a wall-plug connection unless you purchase an extension or have one handy.
Although it is relatively sturdy, the treadmill may take some getting used to balance-wise. The initial unbalanced feeling is especially evident if you are used to having a handrail for support.
It would have been handy if the Citysports treadmill could have upped their speed a bit to accommodate those who want the odd sprint, but for people like me, it made no difference.
---
Citysports Folding Motorised Treadmill Specifications
| Brand Name | Citysports |
| --- | --- |
| Color | Gray, black, and orange |
| Weight | 26.2kgs |
| Expanded size | 1470mm x 590mm x 150mm |
| Folding size | 229mm x 590mm x 1455mm |
| Packing size | 1545mm x 690mm x 170mm |
| Input Voltage | 220V±10% |
| Frequency | 50/60 HZ |
| Running area | 1150 X 410mm |
| Display type | LED |
| Console functions | Time,Speed,remote controller |
| Extra features | Easy self lubrication |
| Speed Range | 1.0-6.0KM/H |
| Max user weight | 100kg |
| Power | 1.5 HP |
| Speed adjustment | Via included remote control |

User feedback: What are people saying out there about this treadmill?
As usual, we like to see what other people think about the products we review on Home Gym Experts. What do they like / love / hate. We're nosey like that. So what's the verdict out there on the Internet from places like Amazon, Trusted reviews and co?
Let's take a look…
Thumbs up – stuff people like about City Sports' walking treadmill
Customers were pleased with the smooth action and compact design of their Citysports treadmill. The majority of the great reviews were from people who enjoy brisk walking over longer distances than those who prefer to run.
The consensus was that the Citysports treadmill was easy to assemble and was a welcome addition to their homes and standing desks.
Many customers remarked how quickly you could go from assembly straight into operation. The safety hand-held stop feature works speedily and slows the machine to a stop in seconds.
The majority of the Amazon customer reviews were five stars, and most felt the item was good value and good quality.
Thumbs down
A smaller percentage of the taller-built users in the over 6ft range felt the dimensions too cramped. However, these physical dimensions are beyond the average. Perhaps the larger folk should shop for an added length treadmill to accommodate their length/size?
Some customers experienced problems with the belt system of the treadmill shifting on the ramp. The manufacturers explained that there were instructions included to deal with issues of this nature.
Many reviews pointed out that the treadmill is not technically "folding." Instead, they have designed the item to be stored upright or slide underneath pieces of furniture or desks.
The customers also pointed out that the treadmill must be used on a non-slip surface for stability and is not suited for carpeted areas.
---
Conclusion: Should you buy the City Sports Motorised Treadmill?
You're getting a sturdy and carefully designed machine here, with space economy in mind. The treadmill is not ideally suited for the very tall or those you want to get stuck in and do some serious sprinting. However, City Sports' treadmill is excellent for a workout of rigorous walking or a light jog for an average size/weight user.
Raining outdoors? You can still get your walk without waiting around. Short on space? This machine might be your new best friend.
Its quiet action lends itself to your office or home where people may be disturbed by the sounds of a noisy motor. If you're looking for a great way to stay in shape at home or in the office, or just shed a few extra pounds, you'll love this.
The Citysports treadmill is highly recommended and a great product.
Check Current Amazon UK Price
References & further reading