This guide takes a look at the best noise-cancelling headphones around in 2023 for home gym workouts in the UK so you can cut out all sounds except for favourite training tunes. It's been proven in several studies that music can literally change your workouts for the better, reducing fatigue and improving recovery.
Having some musical accompaniment makes cardio a whole lot more bearable for a lot of people because most of us aren't built different, in that way that lets them endure those deep sets in the gym when you need that boost to push through.
Top best noise-cancelling headphones for exercise in 2023
Top Pick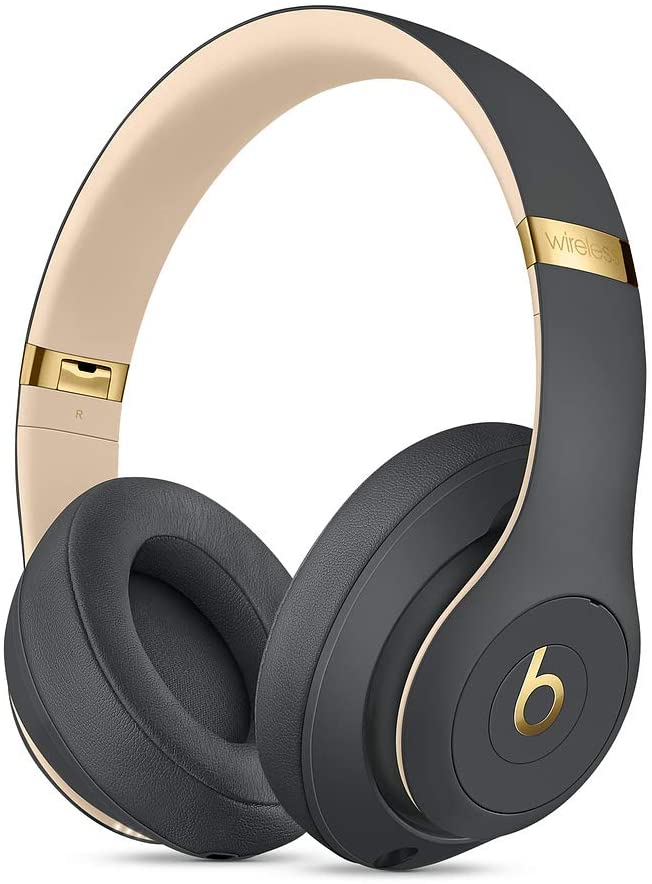 Best overall noise cancelling headphones
Comfortable, lightweight and with a just incredible sound. Beats Studio 3 are perfect for HIIT, weights and all other workouts.
Check Latest Price
Battery Life: 22 hours
Type: Over-ear headphones
Noise-cancelling tech: Pure adaptive noise cancelling (ANC)
Weight: 260 Grams
Connection: Wireless / Bluetooth
Best extra feature: 10-minute charge gives you 3 hours listening
There's a reason Beats are a well-known name among headphone brands. Coming in at a semi-premium price, they balance performance and great sound quality, along with, importantly for you, good comfort and lightweight. Ideal for a range of workouts in your home gym.
ANC does a great job at actively blocking sounds from either treadmills or other people working out. They're comfortable and have plenty of grip so you don't need to worry about them coming off when stretching, jumping or doing weights.
Aesthetically, these Bluetooth headphones are also really great-looking. Beats are distinctive at a glance, having been designed to look good and having that large, obvious logo, but also feel great when on. They sit at a reasonably weighty 263g, but a solid amount of padding and good clamp strength keeps them stable and locked in, easily stable enough to run in.
The headphone is wireless, using Apple's W1 chipset for industry-leading Bluetooth that has increased range and fewer drops, letting you leave your phone in one place and freely move around your home gym.
Battery life is a solid 22 hours, with the option for Fuel quick charging that gives you three hours of battery from a rapid 10 minutes of charging. Unfortunately, Beats still use a micro USB system for cables, tech that's quickly becoming obsolete. This isn't ideal, but can easily be worked around.
Best sound quality
As for sound quality, Beats have a beefy sound profile that's good for bass-heavy music. Club mixes, EDM, metal, anything that has a dark edge to it will sound great through these. The headphones also have a real-time audio calibration that adjusts the music balance on the fly. You can also benefit from Pure ANC, filtering out outside sounds and keeping you focused.
While they might not be the best in category for anything on the list, Beats Studio3s offer a lot in general. Good sound, comfortable, and a decent price put them near the top not just for running, but as a general pair of cans for daily life.
Check Current Amazon UK Price
---
Related Guides
---
Runner-Up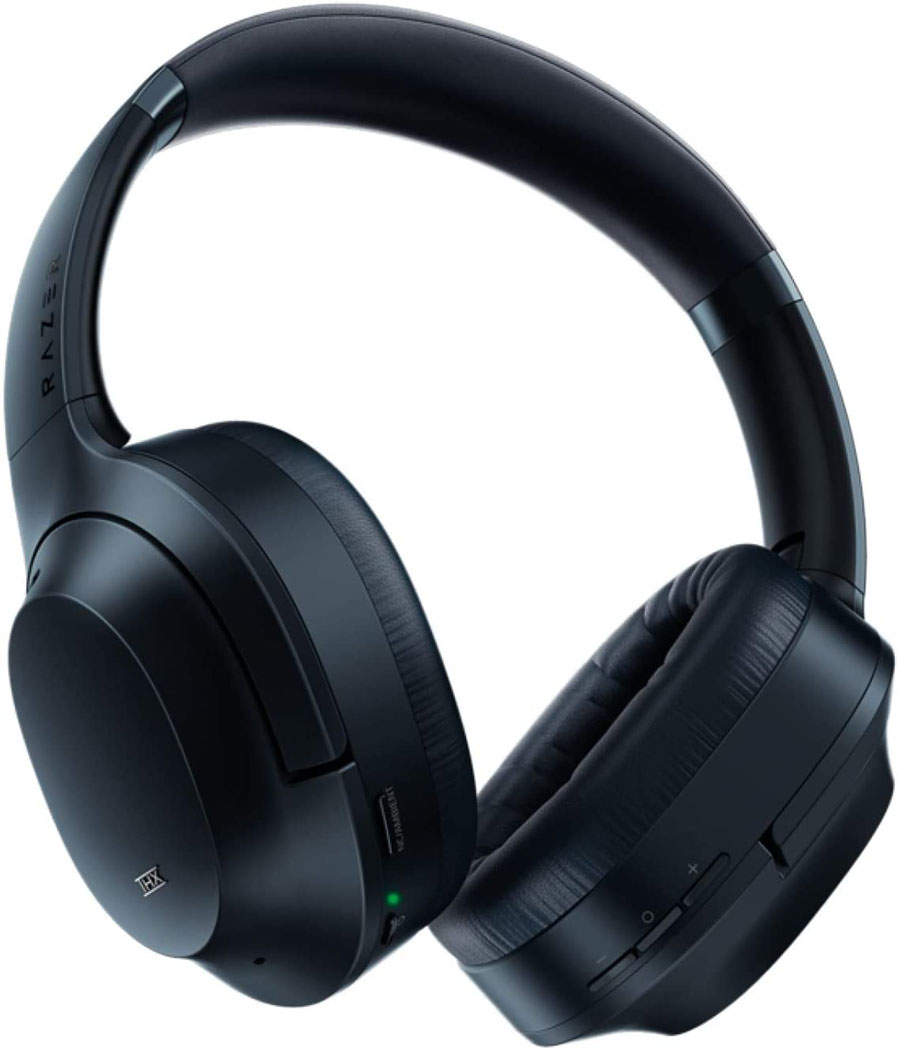 Good alternative choice
Razer's Opus headphones are comfortable, have high quality sound and are also secure whether you're lifting weights or jumping!
Save £73 Today
RRP £199.99
£126.99 at Amazon
Prices checked: 29th Nov 2023 - 06:29
Battery Life: 32 hours
Type: Over ear headphones
Noise-cancelling tech: Active Noise Cancellation
Best feature: Impressive sound quality
Razer are well known in computing circles for making quality, robust gaming gear like mice and keyboards, that last years and offer dependable performance with a little bit of flair.
Their headphones tend to follow suit, and the Opus is no exception. The initial feel is good, with a solid, robust weight in the hand. The padding is very comfortable, using leatherette over memory foam, so they sit well and don't move around much during heavy activity.
One slight downside is looks, which are a little dull, with no flair, but for a lot of people that won't matter.
The Opus has the option for wireless through a strong and stable Bluetooth connection, but also comes with a standard 3.5mm jack, so it can also be plugged into any of your devices. Battery life is equally decent, with a solid 32 hours of continuous run time.
So how's the sound? Out of the box, the sound profile is good across the board, with reasonable bass and a solid lower register. Sound adjustment is handled through a simple in-app graphic EQ that lets you adjust on the fly. There's also a decent, if not particularly inspired, ANC noise dampening system.
Razer clearly had runners in mind when designing these. The adjustable ambient mode can be activated by holding the ANC button, which boosts outside noise, which is ideal for outdoor running.
However, the integrated microphone isn't the best, so if you want to use this for calls, you might want to look elsewhere. But apart from that, these are a solid, reliable set of headphones that are perfect for running.
Check Current Amazon UK Price
Best Budget Headphones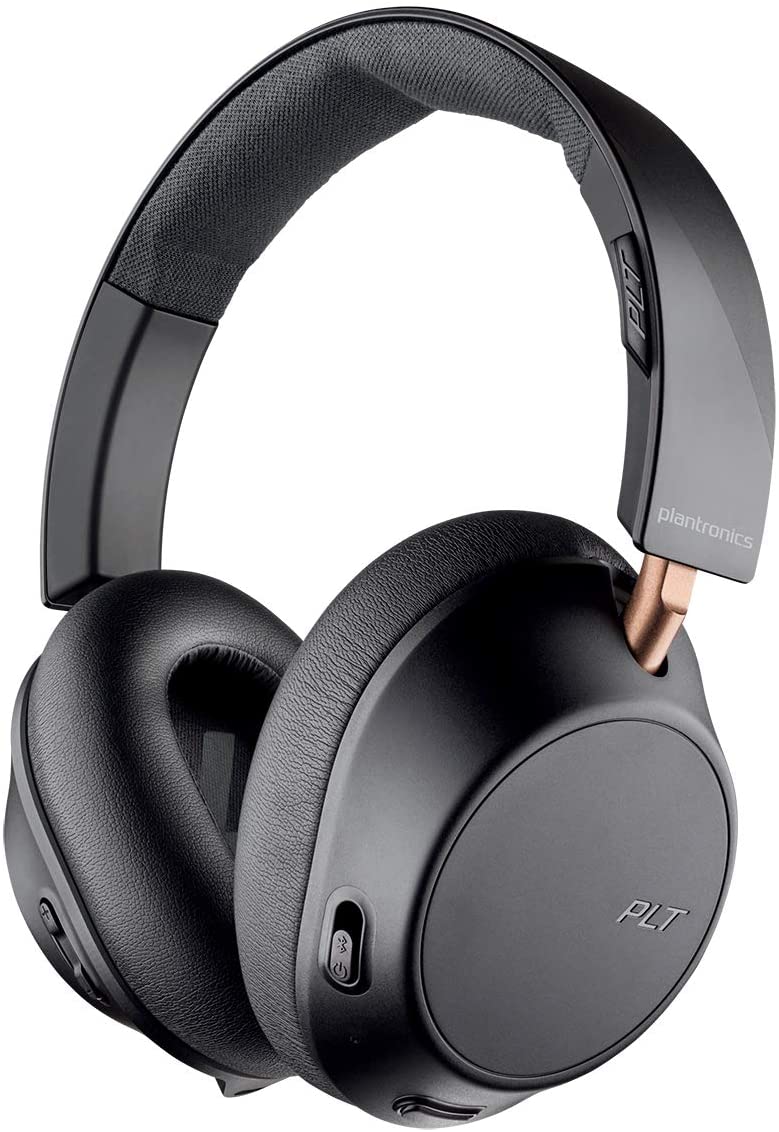 Best budget noise cancelling headphones
Ideal for just about any exercise. For the price, these cheaper workout headphones have many features you'd expect on the more expensive sets.
£60.00 From Amazon
Battery Life: 22 hours
Type: Over-ear headphones
Noise-cancelling tech: Dual-modeANC provides clear audio while training
Weight: 290 grams
Best feature: Powerful 40mm drivers
Surprisingly similar to the Beats Studio3s, the Plantronics Backbeat Go wireless bluetooth headphones are an incredible alternative if you need something that's a little more budget-friendly.
Working through powerful 40mm drivers, sound quality is good, though maybe without the same depth as some of the more expensive models on this list. Battery life is a decent 22 hours, with a 10-minute quick charge that gives you three hours of charge, again, basically the same as the Beats.
These phones also have ANC, which blocks noise and lets you actually hear every note, beat and vocal while you're training and working out.
One place that the Backbeats stand outlooks. They're sleek and gorgeous, with brassy fittings and luxury looks, and a simple suite of controls that are laid out across both earpieces and the band.
While obviously, you're not getting the same performance as our top choices, the options on offer here are incredibly impressive, which makes these our absolute best budget pick.
Check Current Amazon UK Price
Best For running & sweaty training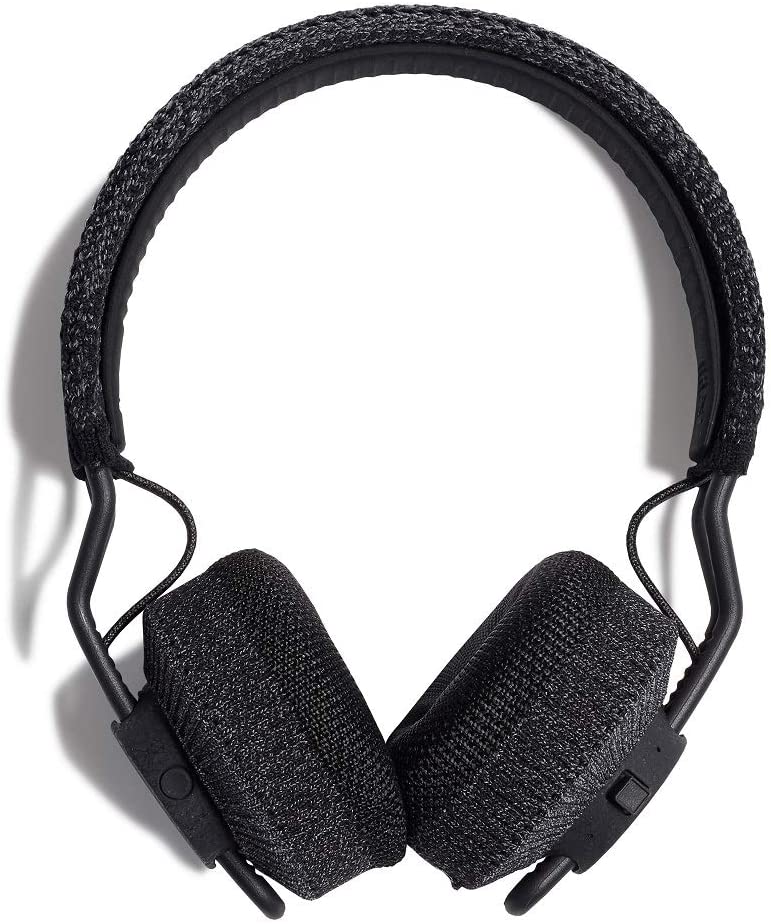 Designed for sport, ideal for running
Addidas's over-ear headphones have good all-round sound quality and have washable covers.
£60.00 From Amazon
Battery Life: 40 hours
Type: Over ear headphones
Noise cancelling tech: ANC
Connection: Wireless / bluetooth
Best extra feature: IPX4 rated sweat & water-resistant
It's surprisingly hard to get waterproof over-ear headphones, though when you look at the construction, with all of the edges and nooks for water to gather in, it's understandable.
With that in mind, the best we could find that had IPX 4 water and sweat resistance, while also still being a good set of earphones, is the Adidas RPT 01.
As a set of workout headphones, there's a lot to love here. They're incredibly hardy, with a strong, tough band and solid earpieces that are incredibly tough, to the point that you can happily toss them into a workout bag and just carry on.
Everything is covered in fabric, meaning that these are incredibly comfortable to wear, with an excellent fit and snug hold. All of the fabric can also be removed and is fully washable, great for the times when you're drenched in sweat.
The sound quality is good, though obviously not at the level of Studio3 or Sennheisers. But that's to be expected, as these cost significantly less and are also designed as workout gear first.
You gain up to 40 hours of playtime off of one quick charge, using USB C. Controls are also excellent, with 5 programmable buttons that can be quickly set to anything you want.
Overall, these aren't the best headphones on the list, but they are probably the best piece of pure workout gear. If you want headphones for general use, look up our list. If instead, you need a set that's purely for hard, heavy exercise, the Adidas RPT 01s are excellent.
Check Current Amazon UK Price
Best For running & sweaty training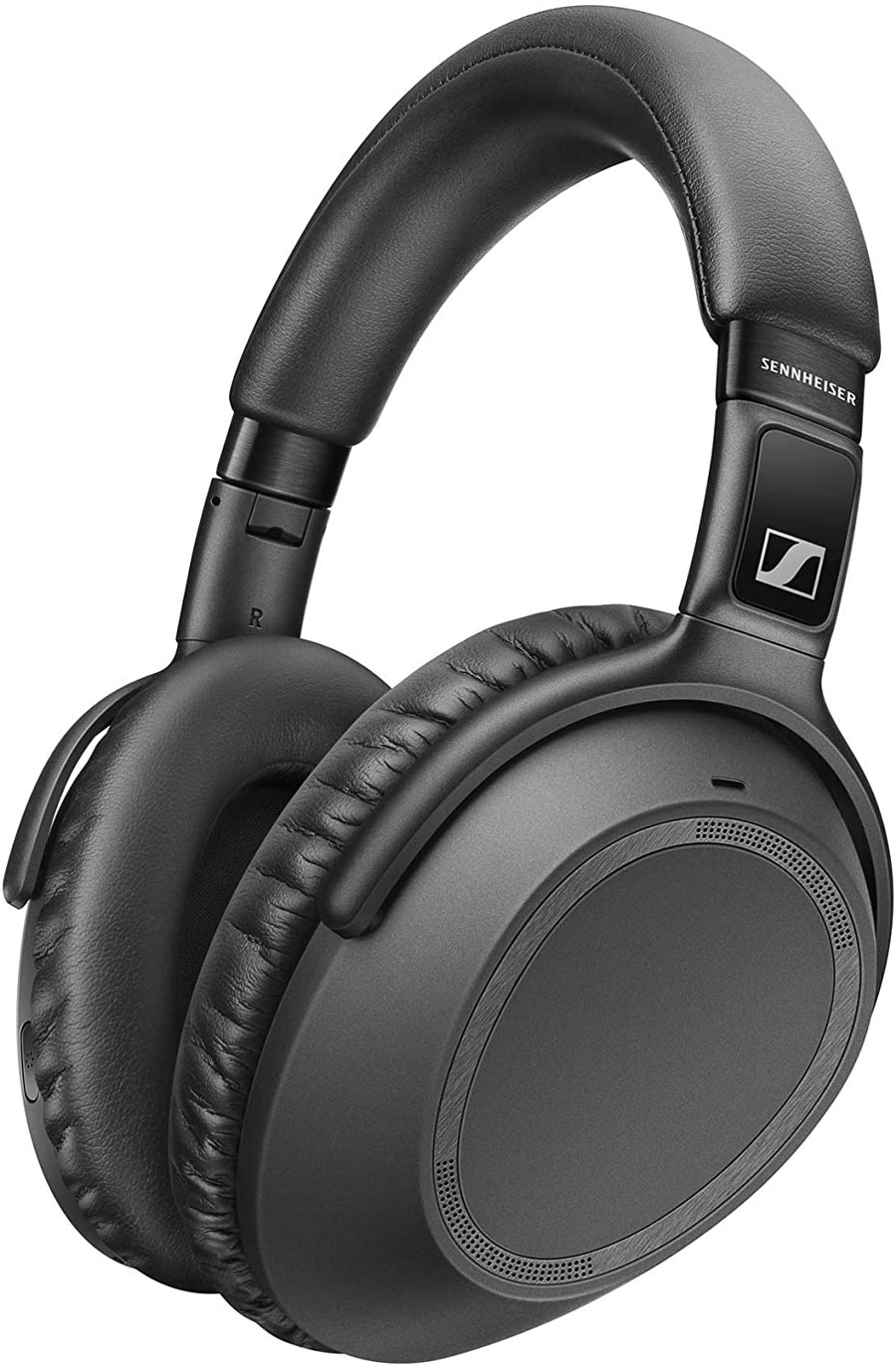 Best Quality For Running
You can use these daily for running and they'll produce fantastic sound each time.
£389.00 From Amazon
Battery Life: up to 30 hours
Type: Over ear headphones
Noise cancelling tech: NoiseGard adaptive noise cancellation
Connection: Wireless / bluetooth
Best extra feature: High quality noise-free audio
Aficionados of sound give a lot of respect to Sennheiser, for damn good reason; basically, every one of their products has great sound quality, and these are no exception.
The PXC 550 2 is the second edition of the best selling PXC 550 headphones. Small and slim, they seem light and easy to move around, with surprisingly small ear cups, but the tear-shaped pads conform to your head shape for a snug, comfortable fit with really good hold, even on smaller sized heads.
It's once you get these in your hands that the differences in the Sennheiser PXC 550 2 start to reveal themselves.
Firstly, they switch on and off by opening them up and twisting the cups, meaning that just putting these away powers them down and saves your battery. Second, once they're on, the control system is incredibly intuitive; the right ear pad is a touchscreen, with easy to learn swipe controls. This means no fiddling around trying to find buttons while you run. Just one movement cycles songs increase volume and more.
As expected from Sennheiser, the sound quality is exceptional. Well, balanced, loud enough without being too bassy, no matter what you're listening to through these, they sound good. The battery lasts up to 30 hours, and the headphones also boast Sennheiser ANC, which always performs well.
So why choose these? Two reasons. The controls are a lovely touch, but the main draw is the sound quality. These are the best sounding headphones on our list. If that's what you're looking for, buy them. It's as simple as that.
There are a lot of different types of headphones out there, but they can be broadly divided into two types.
Noise Cancelling Workout Headphones Buyer's Guide
ANC – Active Noise Cancellation
If you're looking to cut out all the extra noise when you're training, be it the WHOOSH from your C2 rowing machine, the noise from your exercise bike, or the motor on your treadmill, you'll need a good pair of over-ear headphones. They're really the only way you can hope to reduce all that ambient noise and be able to enjoy your training tracks as they were meant to be.
The one tech you'll need to get in a good pair of headphones that do this is ANC. This stands for Active Noise Cancellation and it's a brilliant invention that's actually been around since the 70s!
It's still used for it's original intended purpose: to cut out the noise of an aeroplane for pilots in their headsets. But it's also used in commercially available audio phones to reduce noise that comes in at you when you're out and about.
Or exercising.
So how does this noise cancelling work and is it effective when you're working out? In a nutshell, it's all about sound waves. Everything in your home gym or everything you do when you're exercising creates a sound wave that reaches your ears.
If you're using non ANC headphones, it can destroy the audio and the music you're trying to listen to. You can still hear it, but you'll need to turn it up and it won't be clear.
What ANC does is fire cancelling sound waves back at those incoming noise waves and effectively kill them before they can get to your ears. That's an oversimplification of how you can use active noise cancelling in your workouts whatever exercise you're getting stuck into. There's a much better explanation in this video:
The different types of headphones you can use for exercise
Earbuds
Earbuds, which might also be called in-ear headphones, are the smallest and most portable type of headphones out there.
There are a lot of different types of earbud headphones, from simple little white buds that used to come with popular smartphone brands, to more complicated wireless Bluetooth noise cancelling earbuds that wrap around your ear and lock in place for stability during movement and exercise.
The advantages of earbuds tend to be:
Easily portable
Lower average price
Stable and hard to knock off of your head
Good noise isolation as standard
The downsides of earbuds are lower overall sound quality overall, lower bass response, and only having adequate noise isolation. In short, if you're looking for high-quality sound, you buy over-ear headphones.
Over-ear headphones
Over-ears, sometimes also called cans are what a lot of people traditionally think of when they consider headphones. A big set of speakers is held together by a large overhead band.
Headphones like this have a lot of advantages and disadvantages over earbuds, with advantages including:
Much higher sound quality
High-quality sound isolation
Higher comfort
But this is balanced out by a list of downsides that include:
Much bigger and bulkier overall
Expense
Stability
Regardless, many people choose over-ear headphones, because of the sheer difference in sound quality, the fact that active noise cancelling (ANC) is much more impressive on them, and the massive battery life.