As you've likely heard, we humans aren't 'designed' to sit around all day. There are all sorts of problems that can arise from our sedentary lifestyles including obesity, increased blood pressure, high blood sugar, excess body fat around the waist and abnormal cholesterol levels.
That's all well and good, but what about if you have to spend time working in an office and most of that's spent on your seat?
Luckily, there are dozens of smart home exercise options that you can comfortably use from your own home office. This guide will go through the best exercise machines you can use at work we've found, including all the latest fitness gadgets and sneaky office gym gear you can use to get fit while you sit.
"Withings scales provide data you can rely on and the app makes it all easy to keep track of. "

BMI, fat %, muscle mass %

"A big improvement over the first generation smart scale. The QardioBase2 is easy to use, accurate and has a pretty impressive design too."

Track muscle, body fat, water, and bone

"These accurate scales help you lose fat, not just weight and are used by personal trainers in the UK. "

Gives muscle fat % for different body parts

Muscle mass, bone mass, water percentage

Works with 3rd party apps

Clinically Validated Accuracy

Works with Apple health on ios?

Recognises different users
What we look for when reviewing body tracking scales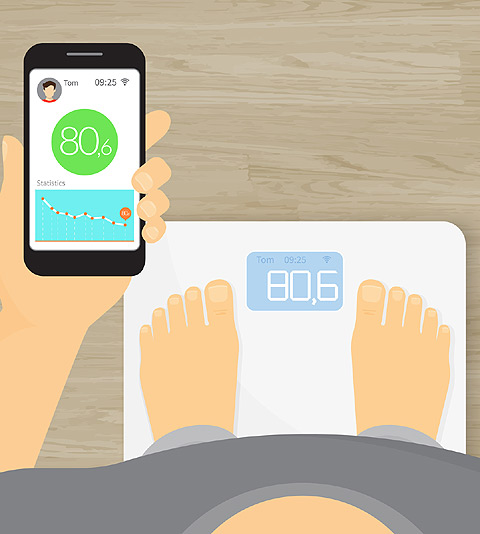 Are they accurate & consistent? While even the very best body composition scales have some variance over the course of your day, we don't expect to see any wild changes and do expect to get reliable readings on each weigh-in. This is obviously the most important thing to get right!
Are they a pain to connect? I love some Bluetooth action. As long as it works. I have enough problems getting my earbuds to talk to my phone without the smart scale having a spat with the app over Bluetooth. Sadly, some smart scales do a poor job on this front, which is weird. It's 2023!
What's it work with? If you're into fitness, you've probably got a favourite app and it's really helpful if your fat scales can sync data with that app. We always check carefully to see what you can and can't connect your scale to.
Max user weight – While standing desks are a thing when it comes to reducing the amount of time you sit at work, they're a bit out of the scope of this guide, as we're looking for stuff that can go one step further and get us in shape at work. We've included some things you don't need any space for and can train at your desk.
Can you share it? – If you're living with a partner or have a family, chances are they're going to want to start tracking their body stats once they see that lovely new smart scale! Any scale worth its weight should allow for multiple users.
Does it look gross after a few uses? In the Age of Gloss, everything is shiny these days. And fitness scales are at the top of the shiny scale. That's all well and good, but some black finishes can look a bit icky after a few uses – mainly foot prints and splash marks. Nit-picky? You bet. But we'll check it anyway.
What's the app like? – A lot of the newer smart scales come with an app that's worth downloading. While some are an oasis of calm and packed with easy-to-read data, others will have you scratching your head, trying to figure out what it refers to. This is one of the things we're checking.
---
The best body composition scales in 2023
Before the buyer's guide, let's go over the current best body measuring gadgets out there in 2023. Here are the ones we found were actually worth the money, starting with the top pick first.

#1 – Withings Body+ Wi-Fi Scales
Tracks: Body Composition Smart Scale, Body Fat Monitor, BMI, Muscle Mass, Water Measurement, Digital Weight
Number of users: 8
Smart app? Compatible with 100 apps including Apple Health / Fitbit / Google Fit / Strava
Batteries: 4 x AAA (lasts 2 years)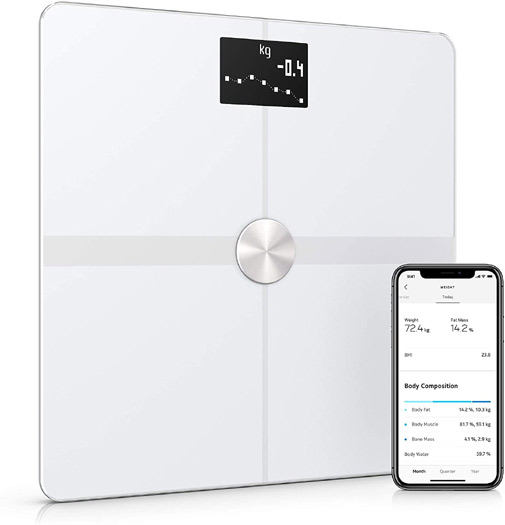 Withings actually invented the smart scale, and that lineage and forward thinking are obvious when you look at what's on offer from the Body+.
The scales are precise and well calibrated and measure weight, body fat and body water, muscle and bone percentages. It has up to 8 user accounts, letting your whole family keep their data or automatically syncing with over 100 of the major fitness apps including major players like Fitbit and Apple Health.
Data sync is automatic after every use through WiFi or Bluetooth, so you can just step off and go, and there's a whole bunch of smart features that make this so much better to use than a lot of the competition.
First off, it has a patented position control system, that helps you set your position evenly and firmly every single time, making sure that every measurement is accurate, down to 0.1kg (0.2lbs.)
Trends data keeps you on track, letting you know how close you are to your goal and how you measure up with the last few weeks. The screen is clear, easy to read and displays everything using simple controls.
With all this in mind, it's understandable why 2/3 of weekly users manage to stay on goal and lose weight. As a general use set of body comp scales, it's hard to match the range and quality of Withings models.
 Simple and easy to use, with patented position control technology
Accurate and consistent
8 person weight history
Accurate and effective
Software updates and occasional bugs with the app
Verdict: If you're looking for the current market leader in the world of body comp scales, we'd find it hard to recommend one over the Withings. It's user-friendly, has great compatibility and is consistent and accurate. If you're looking to shed some pounds, this really is a good buy.
Check Current Amazon UK Price
---
Tracks: Weight, BMI and body composition, changes in muscle, body fat, water, and bone
Multi-user? Yes
Smart app? App for iOS, Android and Kindle. Compatible with Android Wear and Apple Watch
Batteries:1 x Lithium Polymer batteries required. (included)
Light, distinctive and beautiful, the QardioBase2 has a sleek, round, ultra thin design that's gorgeous and will easily fit into any home décor style. The glass top makes it tough and easy to clean, and the LED display is simple to read and easy to understand.
As a scale, it measures six metrics, weight, body fat, BMI, body water percentage, muscle mass and bone mass. The maximum user weight is 180kg (396bs,) with a built-in pregnancy mode that can track you through your 40 weeks.
A couple of things set the QardioBase2 apart. One, unlike a lot of scales, it's rechargeable rather than running on batteries. That's huge. Scales, especially scales like these that are designed to be used every single day to track progress, can eat batteries, and the fact that this can just be plugged in is fantastic.
Two, unlike a lot of scales, this can be used on any surface without issues, including carpets. That frees up a lot of places in the home that this otherwise couldn't be placed, and gives you massive freedom in putting it where it's most likely to be used.
Apps and connectivity are also great. Connect via Bluetooth or WiFi to most active health apps to upload data from any of the 8 stored users, with smart user recognition. Just step on it and it reads who you are!
Verdict: The QardioBase2 scales look good and offer a stylish way to track body composition and some other handy stats. It won't work with your FitBit but, thankfully, the app it comes with is well made and keep you happy if you're not set on using 3rd party apps.
Smart and attractive
Rechargeable design
Pregnancy mode
Haptic feedback is fun (if unusual!)
8 users and step-on user recognition
Doesn't work with FitBit or other 3rd party apps
Unusual choice of battery
Check Current Amazon UK Price
---
Tracks: 10 different body measurements including weight, BMI, muscle mass and fat %
Number of users: 4 person memory
Smart app? Uses the Tanita app
Batteries: 4 x AA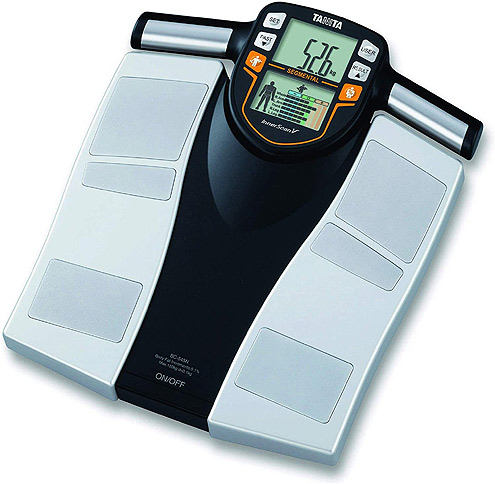 Segmental scales like these from Tanita are designed around a set of hand sensors that can give you a more accurate reading on body fat over the standard flat plate scales. The entire front of the scales detaches, and can be held like a set of bike handlebars with the LCD display and controls in the centre.
The controls are easy to navigate, with a big screen that displays all of your readings using simple to understand visual diagrams and big letters and numbers, which is nice, though they are a little old fashioned. Like the other Tanita scale on our list, there's a decently large list of things this measures, including some not seen in other scales like metabolic age and muscle quality.
Because it's sending a current through your entire body, not just the arms, you also get a segmented display letting you know the amount of fat, muscle, etc in different areas of your body, divided across all of the limbs, the torso, and more.
The memory function stores details for up to 5 people, with an auto recognition feature that lets you just step onto the scale and have it bring up your details. Weights are remembered for up to 12 months, with a guest feature to let friends and family try it out.
Maximum weight is a little lower than some we've reviewed, at 150kg (330lbs) but that's more than sufficient for most users, and everything else makes this a great general use scale.
Verdict: A great set of scales for anyone looking to improve their body and reduce things like visceral fat. The hand sensors let you track fat on parts of your body other scales neglect and the app shows some handy stats and graphs.
 Simple hand bar design is easy to use
Wide range of features
Large list of measurements
Calibration can be finicky
Check Current Amazon UK Price
---
Tracks: Over 10 different body composition measurements including muscle quality and score
Number of users: 4
Smart app? Uses the Tanita app
Batteries: 4 x AA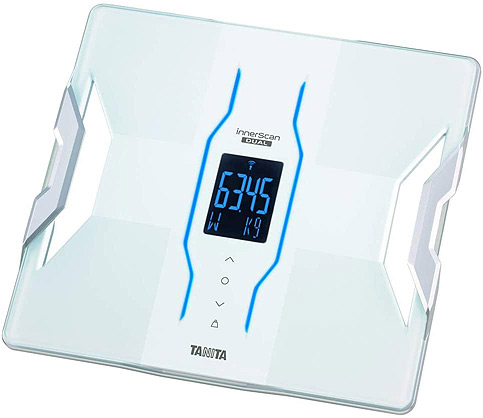 These Innerscan DUAL scales are accurate, with all of the latest innovations and a very high maximum weight capacity of 200kg (440lbs.)
But where they really stand out is the range of measurements. Unlike a lot of the more standard scales, these scales measure more than 10 different metrics. There's the expected ones, including body fat percentage, body water percentage, and muscle and bone percentage.
But on top of that, it also measures muscle quality, based on density and lack of muscular fat and water, as well as metabolic age.
All data can be sent to the My Tanita app, which tracks everything and keeps you on target, and the scales themselves also have memory capacity for up to 4 different users.
Plus, they're a really smart looking set of scales, glass topped with clean red lines that are distinctive and stand out.
Verdict: While it could be more user-intuitive, the Tanita Innerscan is a good tool if you're looking to look deeper into your body's stats. They'll show things like your metabolic age, which is interesting! And important stats like fat %, BMI,muscle mass, bone mass, water percentage and more.
High maximum weight
10 different measurements
Attractive
Tanita app is excellent
Still battery powered
Works with the Tanita app, not things like Fitbit
Check Current Amazon UK Price
---
Tracks: Body Fat, Body Weight, Visceral Fat, Skeletal Muscle, Resting Metabolism and BMI
Number of users: 4
Smart app? Uses its own Omron app
Batteries: 4 x AAA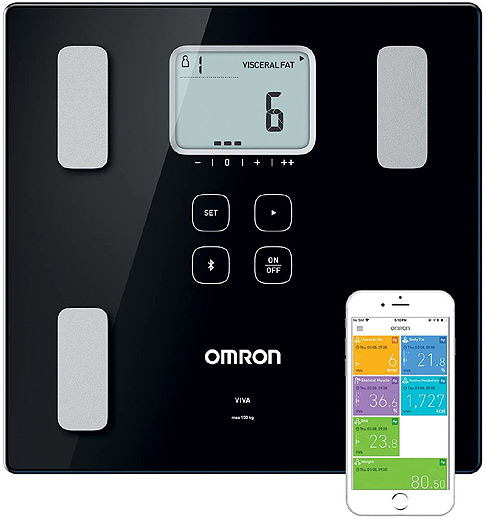 Similar to the scales used by doctors the world over, the QLPP don't just come with the scales themselves, they also come with a full height measurement tool and a convenient attached control panel.
Precise sensors accurately measure weight to within 50g, with a maximum weight capacity of 200kg (440lbs.) The scale is automatic, and designed to work in concert with the height measurement for more accurate results.
The controls are simple to use, and built directly into the operating column for the height measurement. But everything can be set to automatic, with single button on function and automatic shut off after a short period.
With 5 different measurement options, it doesn't offer any more functionality than anything else on our list. What it does offer is accuracy and the built-in height and weight measurement functions working in concert. For a lot of families, this is probably too much, but if you need that accuracy, or if you're working with something a little more professional, for example, a personal trainer, it's a great option.
To that end, even though this has a plug, it can also be used on the move under battery power, though be careful, because it does take 7 triple A batteries.
Verdict: Omron's smart scales are a cheaper than some and track 6 key stats. The app is bright, easy-to-use and it all connects simply over wifi. A great way to  know what your body fat percentage is, and to move it closer to your goal.
Very accurate
Cheaper than most fitness scales
Simple controls and easy to use
Mains and battery power
Check Current Amazon UK Price
---
That's the end of our list. Hopefully now you're closer to making an informed decision about the scales that you're looking for, and you've found the right tool for the job. Next up, we've got a buyer's guide and some quick tips for anyone getting started measuring their body fat and other core stats.
---
Body Composition Scales Buyer's Guide

Training intelligently and getting better results with tech
Body composition scales can be an invaluable tool when you're looking to get fit and healthy. The data that a decent set of scales offers gives you a much deeper insight into the way that your body is working and statistics that are otherwise very difficult to get hold of.
Do you really need body composition scales?
From the minute we're born, you start being plonked getting weighed. Anyone trying to 'lose weight' is likely already regularly weighing themselves and using it to track their progress. After all, knowing your weight is an important part of understanding your health.
But, if you're serious about getting in shape, there's a deeper, more complete approach you can get into easily at home.
What kind of stuff can I find out with a body composition scale?
There are a stack of different smart fitness scales out there, each offering their own set of data and things you can measure. Some of the more common ones are:
Body fat percentage
BMI
Muscle mass
Muscle score / quality
Bone mass / density
Water content in your body
Body or fitness rating
Metabolic age
If you're serious about losing weight, pick up a decent smart body composition scale
Understanding your body fat percentage gives you a much greater understanding of your body composition, gives you another important metric you can track in your training. While 'losing weight' is a reason people often say they're workout out from home is, tracking your body fat percentage is a much more useful stat to aim for.
Great video to watch if you want to learn about body fat scales
This video gets into all kinds of interesting techy (but not too techy) info about the accuracy and precision of body fat scales, along with how they work in general.
Having a high body fat percentage can be deceptive, and you can have a relatively high body fat percentage while still being a healthy weight. Visceral fat, or subcutaneous fat that sits under the surface and around the organs, is something that's difficult to measure without specific medical equipment, but body fat composition scales can help you do that.
How do body fat scales work?
Body fat scales are about as easy to use as normal bathroom scales. For most models, you simply set them up, sometimes put in a few personal details like height and sex, then step on them as normal.
A shocking revelation
Body fat scales use a method called Bioelectrical Impedance Analysis, (BIA.) When stepped on, a body fat scale sends a tiny electrical current through your body, up through one leg, across the pelvis, and back down through the other leg, completing a circuit between your body and the scales.
Body fat has a larger amount of resistance than the muscle and other tissue, so the higher your body fat percentage, the higher the total resistance, which the scales measure.
Have we missed anything, or maybe you've had experience with some of the scales on our list and want to share a story. If so, let us know in the comments below!
---
References & Further Reading