Staying toned and healthy seems to be a permanent struggle. Modern life just steals away all of our time, and once the day is done, all most people can really handle is to flop on the sofa and fall asleep in front of Netflix.
Add in the fact that everything we eat and drink, from your morning coffee to the so-called 'healthy' options at the local sandwich shop, is just jam-packed with calories, that finding a balance is incredibly tough.
This is why more people every year are turning to apps and other home-based fitness programs as a way to stay on top of everything and keep trim in a way that's simple, trackable and easy to follow.
Already one of Germany's leading fitness apps, Gymondo are pushing hard for the UK and expanding fast. And with their fantastic app and fun and fast workouts, it's easy to see why.
Gymondo explained: How it works
The simplest way of explaining Gymondo is that it's a fitness app that's designed to help you work out.
As long as you've got an internet connection and some sort of smart device (Gymondo works on phones, tablets, computers, most TVs, and probably your smart fridge, too) you can log into your Gymondo account, pick a workout that's right for you and get started in literal seconds.
This also means that it goes wherever you go. As long as you have your phone, you can keep up the streak. If you want to burn a few calories or get some stretches in during your lunch break, there's nothing stopping you.
No matter your goals, Gymondo is designed to help you hit them. Whether you want to lose fat, get toned, gain strength or increase your flexibility, there's a training plan for that, with all their workout plans designed and led by top trainers for maximum benefit to you.
Combined with the daily tips, motivation boosts and other benefits, no matter where you are in your fitness journey, there's a plan that will get you where you want to be.
The Gymondo workouts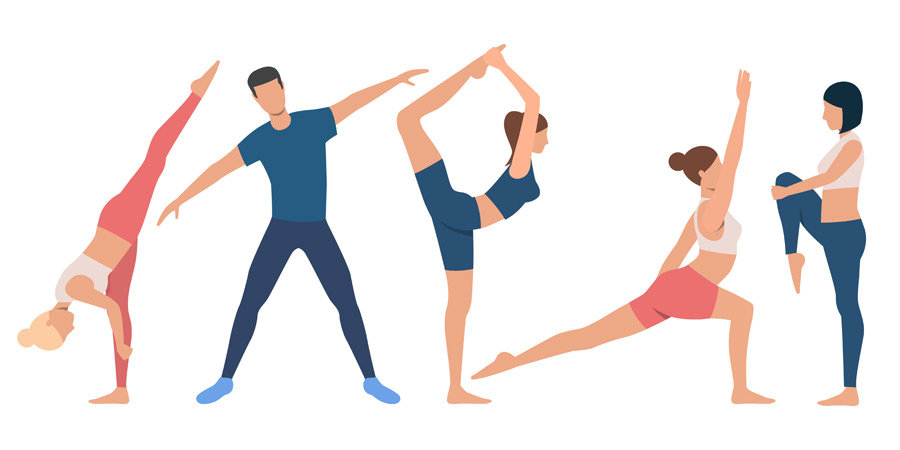 Logging into the app for the first time can be dizzying because there's just so much stuff here.
But once you're past the initial few seconds, you'll realise that this is an incredibly good thing. Right now, Gymondo has over 35 different programs, all designed around different goals, and more than 350 individual exercise videos for you to run through.
That means you could literally pick a new, exciting routine every single day, and by the end of a whole year, you still wouldn't have completed them all, (Gymondo regularly add new batches of exercise plans to keep everything fresh and up to date.)
The workouts on offer are super diverse and incredibly easy to navigate. If you know what you're looking for, you can search for that directly, including all of our favourites such as:
Pilates
Body Blast
Yoga
HIIT plans
Stretching and flexibility
After pregnancy workouts
Meditation
Fat burners
Alternatively, you can look through the workout plans, conveniently organised into beginner, intermediate and advanced difficulties. The wide variety of choices means that you're never going to get bored, and there's always something new and interesting to try out and challenge yourself with.
The classes
We tried a few of the classes from Gymondo and were incredibly impressed. From start to finish, everything was sleek and slick, felt incredibly professional, and was accommodating and easy to follow. We're comfortable saying that, even if we'd never exercised before, Gymondo would have felt great to use.
From the start, every workout tells you exactly what you need to know at a glance, including how long it takes, so it's easy to balance around your day, as well as calories burned, and whether you'll need any specialist equipment (mostly just light dumbbells.)
Once you've made your choice, the videos follow a slick, easy to follow a pattern.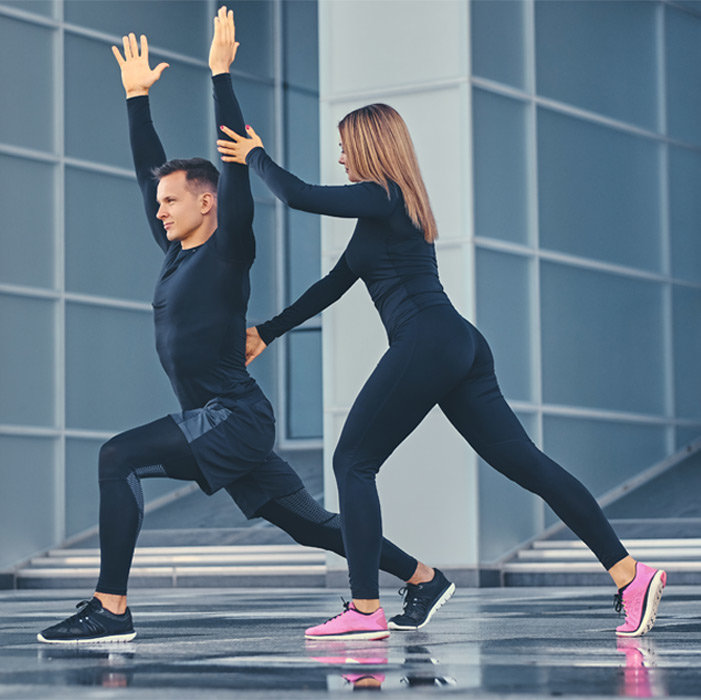 First, your instructor introduces themselves, adding a little bit of a personal touch, as well as letting you know who's leading, so you can choose your favourites.
From there, it kicks in fast. The workouts we checked out had us up and moving in less than thirty seconds on average, and were simple, fun, and surprisingly hard. The top of the screen has a constantly moving bar that shows you how long you're following each particular movement or hitting reps for time, and there were always added bonuses and little extras thrown in if you want to challenge yourself.
The trainers were fun and energetic without being too in-your-face. One guy, in particular, an absolute bundle of energy and enthusiasm called Andy, who we could easily see running classes in front of dozens of people in a slick, high-end gym. (All of their instructors are fully qualified, and clearly excellent at their job.)
All of the stuff surrounding the exercises were also good. The camera work was great, clear and easy, and made things really easy to follow. We also noticed the music, which wasn't very intrusive but had a great beat that would get people bouncing, if they aren't already following the exercises.
The other plans we tried were just as good. Yoga was led by an instructor who was much calmer and made the whole session feel comfortable and welcoming, even when you're twisted into a pretzel.
With so many options, we can imagine following our favourites every week and throwing in some more individual things to try out every now and then. Gymondo makes this easy with Weekly Workouts, our week featured a Hip Hop dance fitness class, which seemed fun.
The app: What it does. What it tracks. Why this matters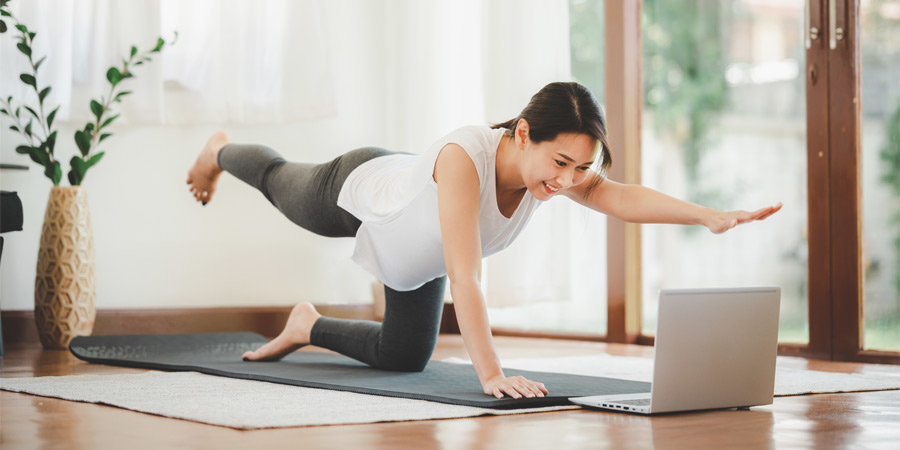 So far, so fitness, right? Why not just pull up workouts on YouTube when you want to sweat?
There are a few really good reasons, but the app is the big one.
The first thing you'll see after logging in is the exercise plans, which we've already gone over. But the Gymondo app promises so much more.
There's the planner, which lets you set your week up in advance, pick workouts and set up a personalised plan. This does a few things: It lets you know when and where you should be exercising and makes it so much simpler to plan your week. It lets the app pre-load each video, so you can run your workouts even if you're not within range of WiFi for fast streaming. And finally, it lets the app ping you reminders on your phone to keep you on track.
The app also functions as a fitness tracker, with all of the things we love to see built right in. Every workout is tracked, with calories burned, your weight fluctuations, and even achievements to build up the habit and give you something to aim for.
Finally, the Gymondo app has something to help you with one of the biggest factors to good health and a happy self-image. Your diet.
The Gymondo diet plan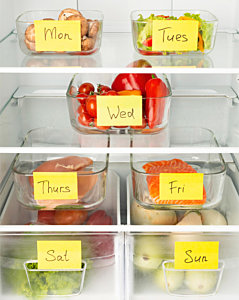 On top of the fitness plans, Gymondo comes with a huge number (over 1000) of healthy eating recipes, divided into breakfasts, lunches, dinners and snacks.
Each recipe can be filtered by any custom dietary requirements you have (we really loved the vegan Christmas gingerbread balls, which aren't just for the holidays!) And it's easy to make customised and delicious meal plans based on your exact needs.
We know that getting the body you want is mostly about what's on the end of your fork, so having the option for a personalised meal plan, especially considering that at the price of the app it almost feels like it's an added, free bonus, and one this deep and comprehensive, is only ever great.
In fact, in our opinion, the diet plans are almost worth the price of entry alone, they're that good. You could easily pay a year's membership cost for this service from a personal trainer, so if that's something you've considered, now is a great time to make the leap!
How much does Gymondo cost?
We all know how expensive gym memberships can be, so it was really pleasant to look at the pricing options for Gymondo and not feel terrible.
All three options are monthly plans, which cost as little as £6.99 per month. If you're like us, the idea of being locked in for an entire year can be scary, so Gymondo does two things to take the risk out of the choice.
First off, before you sign up, there's the option for a 7-day free trial. While we would have liked to see a trial that was a little longer, this is easily long enough to try a handful of workouts, look through the meal library, and make sure that Gymondo is right for you.
Second, even though you're supposedly signing up for 3, 6 or 12 months, you can cancel your membership at any time, with absolutely nothing locking you in past what you've paid for.
Both of these put together means that there's literally zero risk in trying Gymondo, past the cost of maybe a coffee per week. And that, in our big, is a big plus.
What we loved about Gymondo
Great workouts
The programs we followed were great, with fun instructors and a good challenge, without being too hard or too easy. You can definitely get fit following a Gymondo plan.
Very budget
The asking price is low, much lower than a gym membership or monthly classes, and includes a lot of extras that add even more value.
The convenience
Fitting exercise into a busy day can be hard, but even if you've only got 10 minutes, you can easily find something that will fit into your schedule. The small, regular workouts are easy to commit to and short and fun enough that they don't feel like hard work, even when they are.
The final say
It's hard to find a bad thing to say about the Gymondo program. With a range of diverse, effective exercise plans, you're almost guaranteed to hit your goals, as long as you're sticking to the program.
Convenient, fun, and with a whole host of bonuses like the healthy eating recipes, at the price that's being asked, and with a free trial to make sure that you love it before you have to pay anything if this review has caught your attention you should definitely sign up and try it out.
Fitness apps like this are the future. Gymondo has already proven it works all across Europe. Now it's your turn to let it work for you! Happy training!