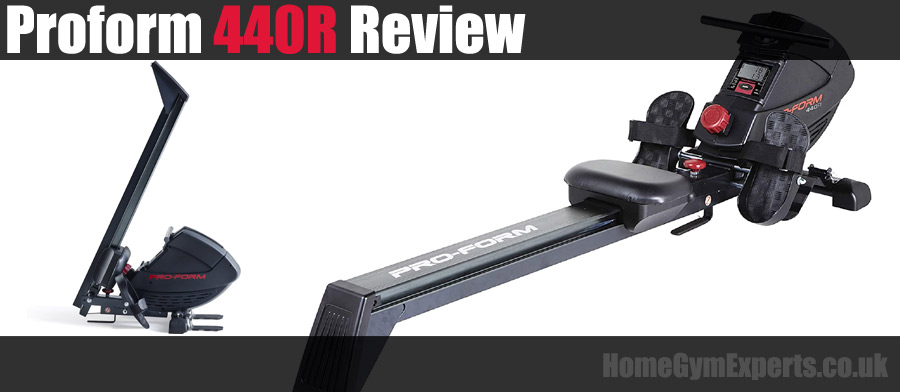 What is the Proform 440R
The Proform 440R is the smallest, most budget-friendly rower in the Proform range. It's currently discontinued, but still available from online retailers and a good number of physical stores.
Designed as a simple, easy rower for home use, the 440R deserves its place in the Proform rowing machine range, with a lot to offer, but can it stand up to the newer models? This review will reveal all.
What can you get from training on the Proform 440R
Rowing machines are a fantastic form of cardio, but they're surprisingly niche, considering all of the benefits you can get from using one.
A rowing machine can be used as an integral part of almost any workout, though most people use it for solid-state cardio. That's what most people imagine, sitting on a rower for 15+ minutes, heart rate up, sweating hard.
But a rower also hits the majority of your body's muscles (more than 85%) so cranking up the resistance can let you use your rowing machine as part of a strength-building routine, as well as for HIIT training, and more.
Who is this best suited for?
As a smaller, more budget-focused rower, the 440R is a better choice for people who use rowing, or looking to add rowing, to part of a regular fitness routine but aren't planning on making it a major focus.
440R Key Features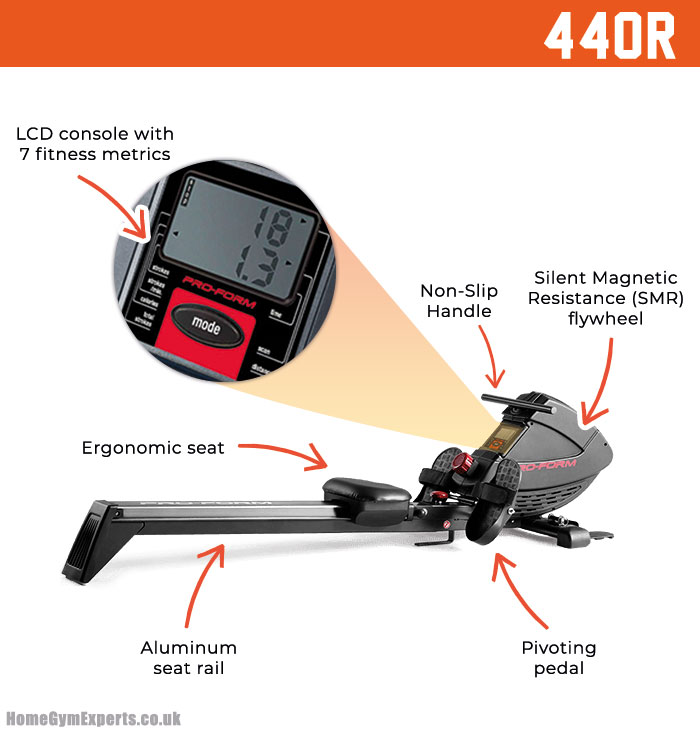 Silent Magnetic Resistance (SMR) flywheel
8 levels of magnetic resistance
LCD console with 7 fitness metrics
Folding space saver design
Ergonomic seat
Aluminum seat rail
250lb (115kg) max user weight
10-year frame warranty, 1-year parts, and labor
---
Related Guides
---
What we like about the Proform 440R
Solid and dependable construction quality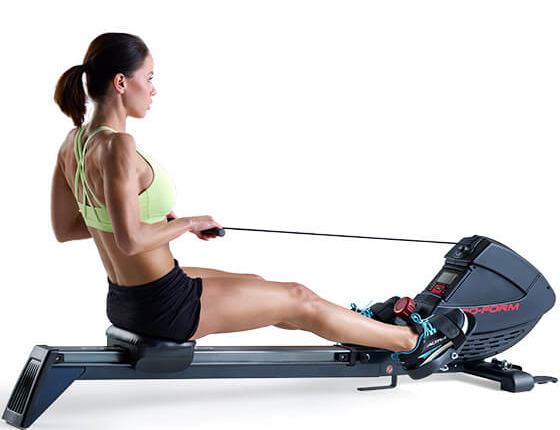 Everything Proform we've ever looked at has been good. Let's face it, Proform makes good exercise gear.
Despite being the cheapest model in their range, the 440R follows the trend. At the upper end of what you could call budget, you would never expect it to feel cheap, but the seat is comfortable, the main rail is solid and robust aluminum, moving without wobble, and the LCD display is simple to read and large enough to see even at full extension.
The 250lb user weight limit is good, if not exceptional; exactly where we'd expect it to be on a rower like this. What is impressive is the warranty, which is a full 10 years on the frame, and 1 year on parts and labor.
There are a couple of things we'd like to change. The resistance knob feels old school, though it works, and the handlebar is a little narrow with no real padding. But overall, there's a lot to love here.
Decent magnetic resistance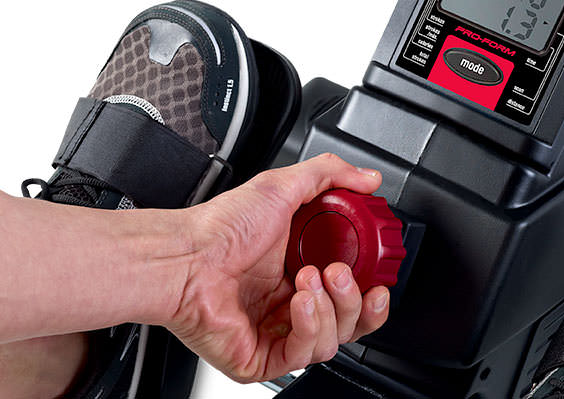 A magnetic flywheel is solid on a rower at this price. Silent Magnetic Resistance (SMR) is the gold standard when it comes to rowing machines, because of the sheer amount of benefits it offers.
There are 8 levels of resistance on offer, which is a little low for our taste, but the jumps are large enough, and it scales high enough that most people can get a good workout here, whether they're just pushing through some light warm-up cardio, or a full-on muscle blasting strength session.
Variable workout features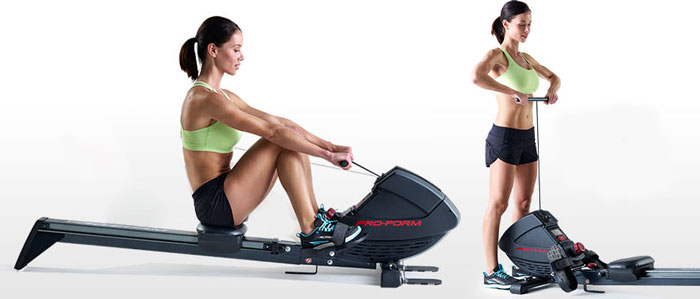 One thing that's pretty unique with the 440R is how it can be used as a direct strength trainer as well as a rower.
The pulley can be switched to a vertical holding position, letting you practice vertical rows, chest pulls, flys, and more.
While it's not going to replace a good set of weights or a multigym, having that option is definitely a nice touch.
---
What we don't like about the Proform 440R
No iFit
In our eyes, the biggest issue with the 440R is the lack of iFit functions. Every other rower in the Proform range has iFit access, including the 750R, the next step up.
Interactive fitness programs are the future. We see a big shift coming in how most people get fit in the next few years. So anything you buy should be ready and equipped for that. The 440R just sadly isn't ready.
It's big and large
Despite being a supposedly compact model, the 440R is deceptively big and large. Even when folded into its transport mode, the rower is surprisingly unwieldy.
While it's not huge, for a budget rower with a small flywheel, it takes up a lot of space, and for people who don't have the biggest home gym, that might prove to be an issue.
Building it isn't the best
A lot of modern rowers come pre-assembled, or in two or three major parts, which means that you can slot them together, tighten one or two bolts, and have it up and working within minutes.
In contrast, assembling the 440R is surprisingly complicated, with a lot of finicky parts that are irritating to put together. Once it's built, the machine is robust and well put together, but we'd recommend following the instructions carefully, maybe checking out a YouTube video, and having a second pair of hands.
---
Final thoughts
Compared to the rest of the Proform range, the 440R is adequate but disappointing. It's not a bad rower overall, but looking at it next to their newer models shows just how out of date it's starting to feel.
The 440R is currently out of stock on the Proform website, and in our opinion, that's how it's going to stay. We'd expect the 440R to be updated, or another budget-friendly model pushed out in the coming months.
We'd avoid the 440R right now. If you're looking for a good budget rower, we'd recommend something like the RSX400 rower instead, which is equipped for interactive fitness, at roughly the same price.
Alternatively, if your budget stretches a little further, we'd always recommend the Proform 750R, which is a little more expensive, but basically future-proof and an all-around fantastic machine.
---
ProForm 440R Full Specs
Brand
ProForm
Model
440R
Display
LCD console
Resistance type
Silent Magnetic Resistance (SMR)
Resistance Levels
8
Folding
Yes
Seat
Adjustable Ergonomic
Molded Seat
Handlebars
Soft Touch
Ergonomic Handle
Pedals
Pivoting Pedal with
Adjustable Foot Strap
Transport wheels
Yes
Max user weight
115kg
Product Weight
28kg
Warranty
10-year frame warranty,
1-year parts, and labor
---
REFERENCES AND FURTHER READING