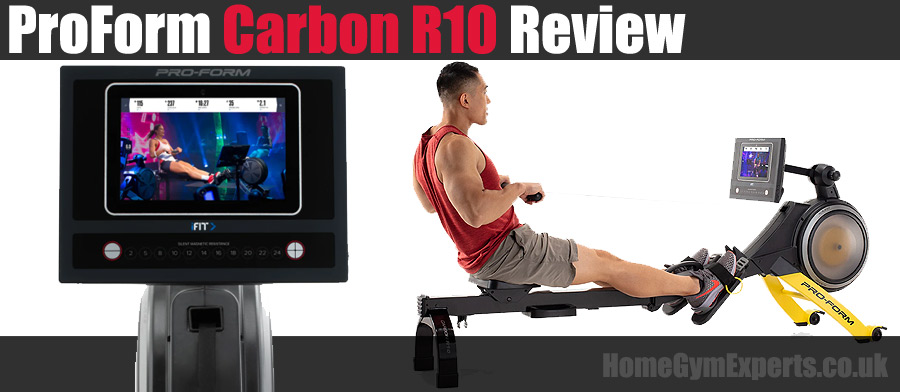 Rowing remains a popular form of exercise, and with the Olympics pushed back to 2023, expect more people to have a renewed interest in the sport and its benefits.
Today, we're looking at the Carbon R10 rowing machine from perennial fitness favourites, ProForm, aimed at the higher end of the market, and bespoke, high-quality fitness products.
What is the ProForm Carbon R10
The flagship model in ProForm's range of rowing machines, the R10 is a high performance, mid-priced rowing machine that's fully equipped and ready to deal with the demands of the modern fitness world.
Packed with all the latest developments, including excellent build quality, a magnetic flywheel, and a touchscreen that's ready to go with iFit interactive training out of the box, the R10 is solid, dependable, and more than a match for anything else at equivalent cost.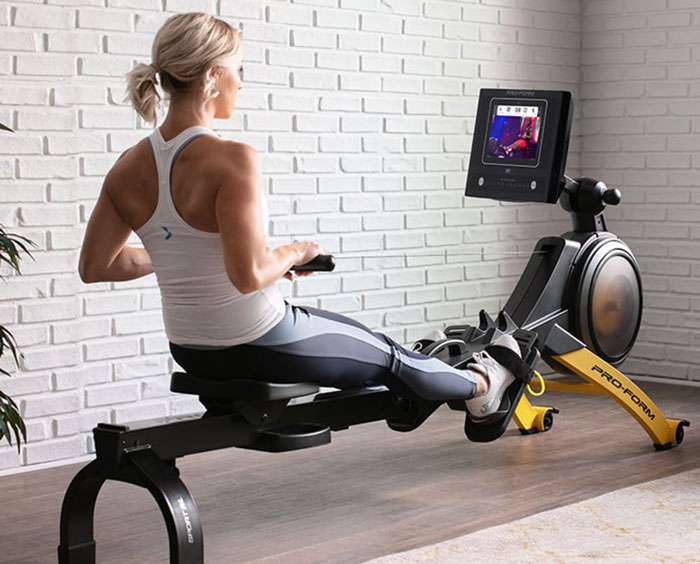 What do you get from training on the ProForm Carbon R10
Rowing is a great exercise that's suitable for almost anyone. A rowing workout can be light enough and simple enough that you can use it for warming up or recovery, and almost anyone can do it.
But scaling up the resistance lets you build muscle and burn calories, hard. Rowing can target 14 areas of your body, focusing around your back, arms, and chest, but also helping to build strong, powerful legs and glutes.
Factor in the R10's exceptional build, and the fact that it's ready for iFit streaming fitness workouts, with 1 month's family membership included in the cost, and you've got a flexible and effective fitness tool.
Who is this best suited for?
The Carbon R10 is reasonably expensive for a rower, but under most circumstances what's on offer is more than worth the asking price.
If you're looking for a simple piece of cardio gear that you're only using occasionally, the R10 might be a little too much. If that's that case, we'd recommend looking at our list of budget ProForm rowers for 2023.
But for anyone else, especially anyone who plans on regularly using their rowing machine as a staple part of their workouts, the R10 is a fantastic bit of kit.
Carbon R10 Key Features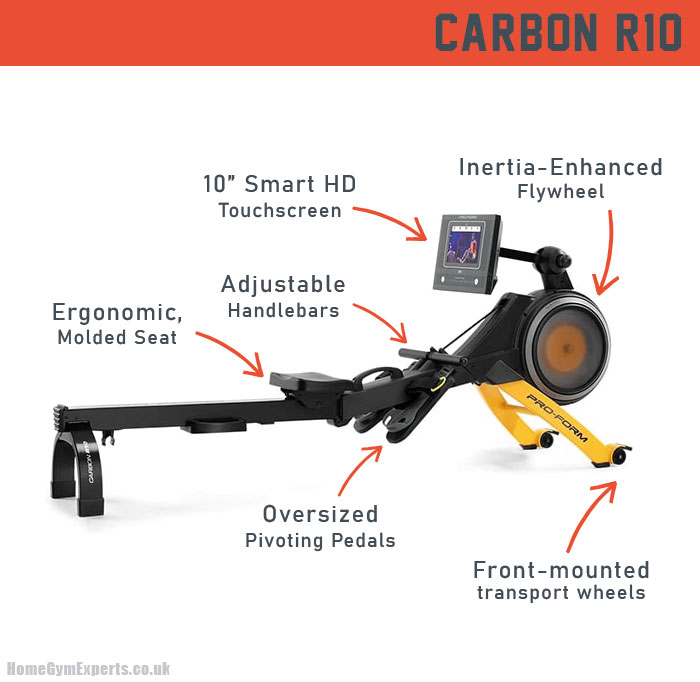 250lb (114kg) user weight capacity
Inertia Enhanced Flywheel
24 levels of digital resistance
10-inch touchscreen
Space saver folding design
Front-mounted transport wheels
---
Related Guides
---
What we like about the ProForm Carbon R10
The flywheel
The flywheel is the heart of a rowing machine, and the R10 has the best flywheel in the ProForm range, offering 24 levels of resistance to work through.
It's a big, weighty, inertia enhanced monster that uses Silent Magnetic Resistance (SMR) to provide all of the exercises. SMR is the gold standard in digital resistance for rowing machines because it provides a much smoother, almost whisper-quiet ride, constant resistance, easy adjustment, and near-maintenance free function.
Build quality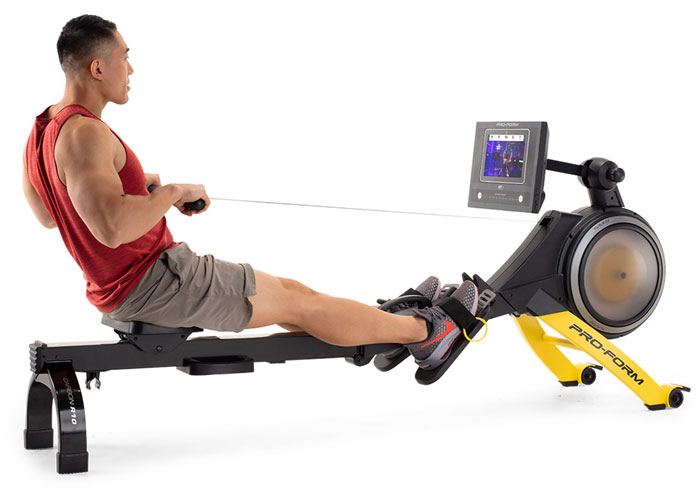 ProForm systems are all generally sturdy and well made. The R10 is no exception to that.
Throughout, the build quality is impressively solid, with strong main construction built around a solid steel frame, a decently high 250lb (114kg) user weight limit, and all-around impressive fixtures.
In use, it's exceptionally comfortable, with an ergonomically moulded seat, adjustable handlebars that fit the hand well, and a set of huge and easy to adjust pedals with big nylon straps. All of this adds up to a rower that makes it easy to find the best and most comfortable workout position possible.
When it's out of use, you don't have to leave this sitting down and taking up seven feet of floor space. It folds away in seconds, and it's easy to move using the built-in transport wheels.
Finally, the warranty is decent, with a full 2 years on parts, labour and frame.
The built-in touchscreen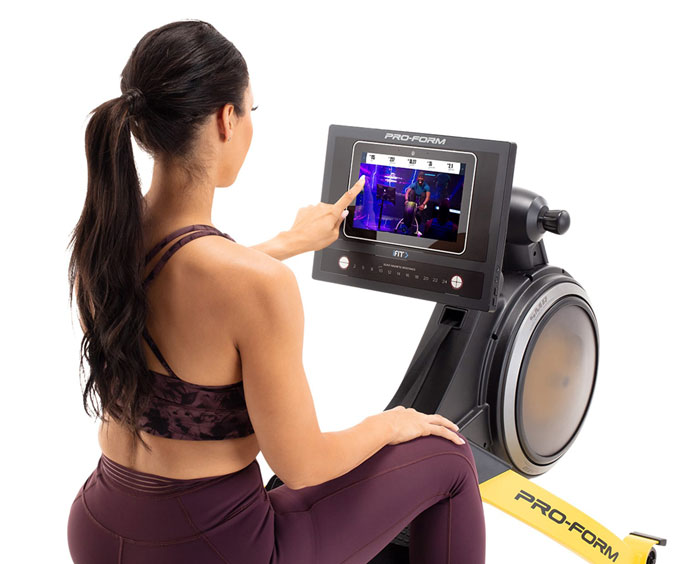 The R10 has its own built-in touchscreen instead of a console, which makes the whole user experience incredibly simple, and it's actually impressive to find a screen like this on a rower at this price point.
It's a reasonably small 10 inches, but on a rower, that's not an issue as it would be on other systems, because once you've set up your workout you can't expect to touch it, like you would with something like a treadmill.
The only time you might struggle is if you're using iFit for off-rower workouts, like stretching, strength and Yoga, but in that case, you can always just link your membership up to a tablet or other device.
Out of the box iFit fitness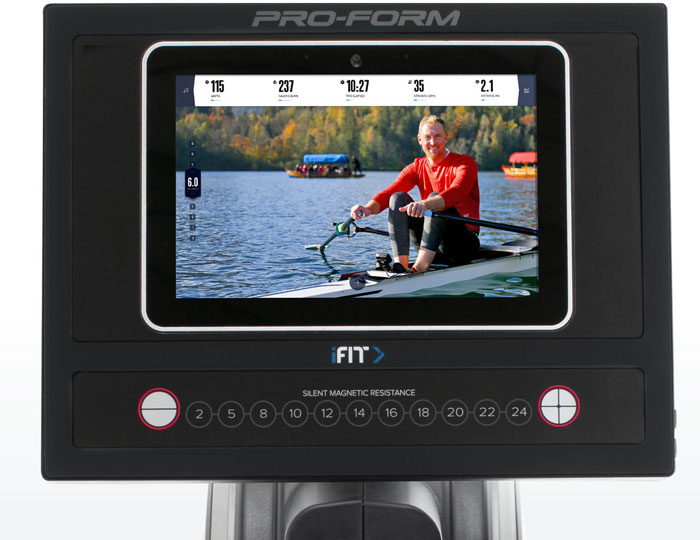 One of the biggest advantages about the R10 is the fact that, as soon as you get it set up, it's ready to be linked into your Wi-Fi and go live with iFit streaming fitness programs.
At HomeGymExperts, w think that streaming fitness programs are the future. The fact that you can have gym class quality workouts, led by world-class trainers, delivered straight into your living room whenever and wherever you need them to, gives you so much flexibility when it comes to your exercising, and saves you so much time and money in the long term.
Plus, you get a month's family membership free out of the box, which has a value of several hundred pounds and lets you see the benefits yourself and try before you buy.
We have a full guide on iFit and all of its benefits right here, so click the link to find out more.
---
What we don't like about the ProForm Carbon R10
Reasonably low weight limit
While the weight limit on the R10 is reasonable at 250lbs (113.3kg), it could have been higher, with some rowers having another 40 to 50lbs on that weight limit. Just something to bear in mind if you or one of your household users will exceed that limit, you might need to go for a machine with a higher upper weight allowance.
However, at the price point, the R10 is exactly where it should be, so don't put too much stock on this as a negative.
The screen is slightly too small
We've already mentioned the screen in the positives. Overall, it would have been nice to see something slightly bigger. But obviously, that would push up costs, and it's not a necessary change. iFit works perfectly well in all it's glory here and there's no pairing it up with an external tablet. It just looks better on the bigger screens we've seen on some of Proform and NordicTrack's products.
---
Final thoughts
Putting it all together, the ProForm Carbon 10 is a beast and more than a match for almost anything else at its equivalent cost.
While it's obviously not a Concept2, the combination of great performance, solid build, and iFit built-in means that you'll struggle to find a better rower at the price this will set you back. We love it, and fully expect it to feature on this years list of best home rowing machines.
---
Carbon R10 Full Specs
Brand
ProForm
Model
Carbon R10
Display
10" Smart HD Touchscreen
Resistance
24 Digital Resistance Level
Seat
Ergonomic, Molded Seat with Oversized,
Steel Seat Rail
Handlebars
Multi-Position, Adjustable Handlebars
Pedals
Oversized Pivoting Pedals
with Adjustable Nylon Foot Straps
Flywheel
Inertia-Enhanced Flywheel
Folding
SpaceSaver® Design
Transport Wheel
Front-Mounted Transport Wheels
Weight Capacity
114 kg
Warranty
2 Years Parts, Labour and Frame guarantee
Footprint
119 L x 56 l x 64 H cm
iFit®
iFit® Enabled,
1-Year Family
Membership Included