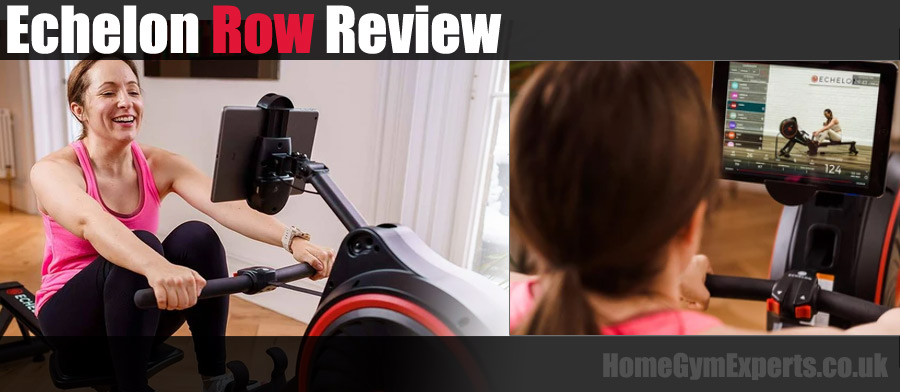 Review Summary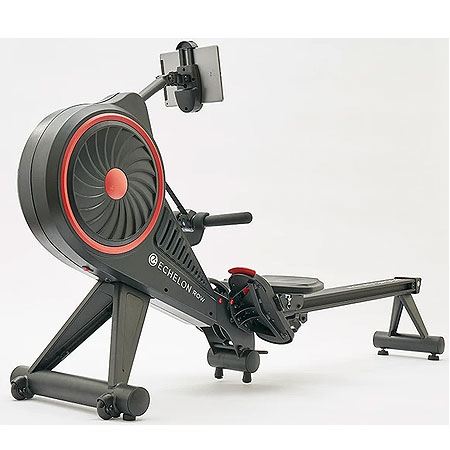 Echelon Row
Great build quality
Silent magnetic resistance
Echelon app packed with content
Smooth and comfy
More pricey than the Concept 2
"Echelon's smart rowing machine has a lot to offer home users. Online features from its Echelon service are top-notch.  A solid machine that keeps the noise down while providing a tough workout."
Not content with putting out a top-class exercise bike, treadmill, and even exercise mirror (it's a thing, check our review!) Echelon is now muscling in on the growing market with the Echelon Row. In this review we'll cover everything you need to know about this machine and whether or not it's worth your money.
But is it actually any good? Can a company keep putting out the hits, time after time, and how does it measure up against the big names in the industry, like the Concept2?
What is the Echelon Row?
Echelon's entry into the rowing machine space is a premium level rower that can be used with Echelon's online service that lets you take part in pre-recorded classes where you'll follow along with an instructor. It works as a standalone rowing machine too tough, with 32 levels of resistance to keep you busy and a free version of the service too.
Well made, simple to use, and live fitness ready out of the box, there's a lot to love here. Let's dig into the details, and see what makes the Row tick.
What can you get from training on the Echelon Row?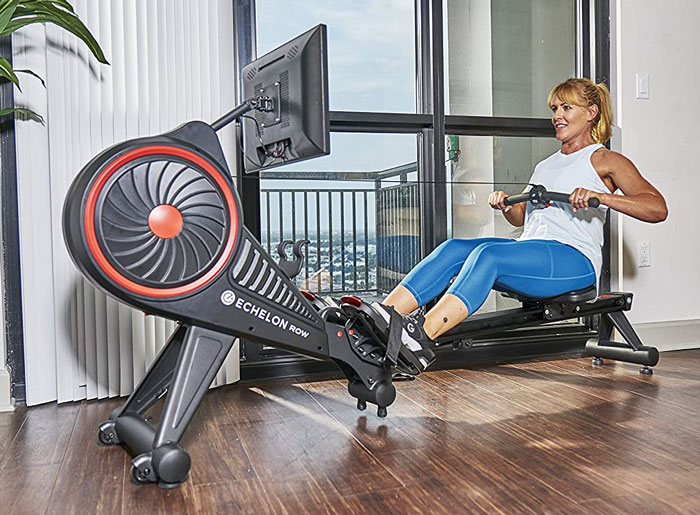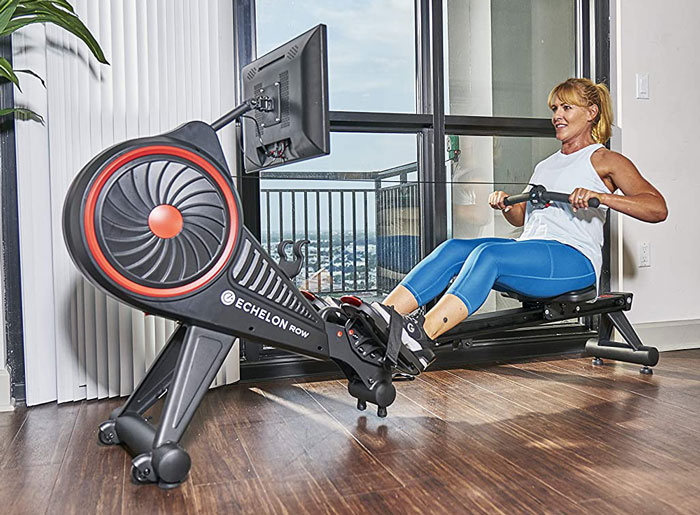 Rowing is fantastic exercise – A rowing machine can be used to hit almost any fitness goal. A gentle warm-up is easy because 5 minutes on a rower at a steady pace gets the blood pumping and works every joint.
Get some serious cardio in – Cardio is effortless on a rower, and it comes without any of the stresses and strains that you might experience on a treadmill or bike. You can train steady-state, intervals, hard sprints, or anything in between.
Toning and muscle building – Rowing is also surprisingly good for muscle building. It probably shouldn't be your primary method, but considering every stroke on a rower hits 85% of your body's muscle groups, cranking up the resistance can make a big difference.
Plenty of variety to keep from getting bored – Finally, the fact that the Echelon Row is designed to work with Echelon's fitness app means you don't even have to think. You can just sit down, pick a workout that's suited around your goals, and get going, taking all of the difficulty out of exercise. You just have to do it.
Who is this best suited for?
Honestly, anyone could use the Echelon Row and enjoy it, but we'd recommend it for people who are big on fitness and looking for the best rowing machine they can find. If you're hunting for a budget rowing machine, we've got a guide for that too. Check out our best cheap rowing machines.
The combination of features and pricing clearly aims the Row at the upper end of the market, and that's no bad thing. If you're already a big fitness fan, you're training for a triathlon, or you just want basically the best rower on the market right now, we'd recommend the Row.
This rower is a good match for newbies who have never rowed before but there's enough of a challenge here if you've used a rower before and want something like the ones you get in a gym but in your home.
The Echelon Row, like most rowers, has a folding design that's easy to store if you don't have room to leave it standing permanently.
---
Echelon New Smart Row Key Features
8lb (3.5kg) magnetic flywheel
32 levels of resistance
Comfortable rowing handles
Oversize footrests
Adjustable device holder
Transport wheels
1 year parts, 5 years frame warranty
---
Related Guides
---
What we like about the Echelon Row
Great build quality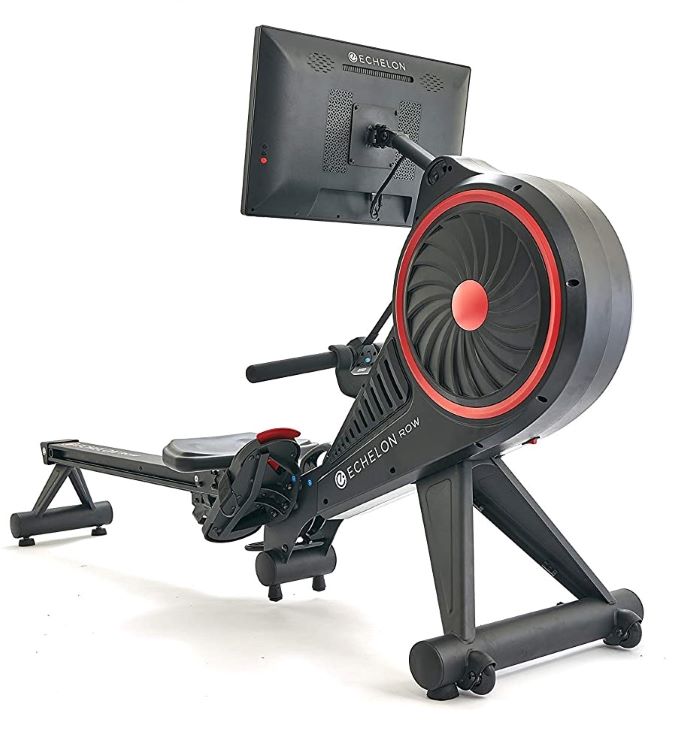 From the top, the Echelon Row feels like it's more than worth the asking cost. The entire thing is well put together, and made out of quality materials. It feels a lot more well put together than a lot of Echelon's earlier offerings, like the Connect Bike, which had a cheap plastic frame, a fact we pointed this out in our review of the bike.
But there's none of that here. Everything feels great in operation, fits well, slides together, and is really quiet, with no rattle. It's also very comfortable, with soft, well made hand holds and big, chunky footpads that make it easy to find your best working position. The warranty reflects this, which is a decent 1 year on parts and 5 years on frame. Not industry leading, by any margin, but excellent for the cost.
Good magnetic flywheel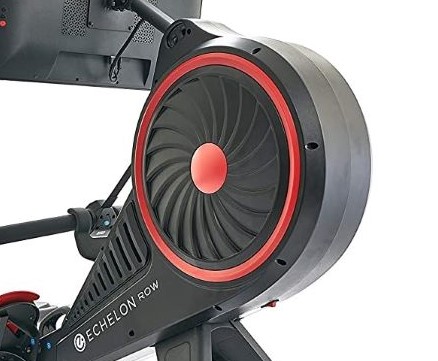 The Echelon Row uses an 8lb (3.5kg) flywheel that runs on silent magnetic resistance (SMR.) Magnetic flywheels are the gold standard in the industry, for good reason. They offer much smoother resistance, easier operation, and they're incredibly quiet, with none of the whooshing or friction drone you get from a conventional, heavier, mechanical resistance flywheel.
There are 32 levels of resistance on offer, which is a very good amount. Resistance is controlled through a pair of buttons in the middle of the handles, which is a really smart place to put them as it means you can easily switch resistance on the fly.
It is worth pointing out that the flywheel itself isn't particularly heavy, so overall, the resistance feels a little low until you get to the higher levels it won't be an issue for most people, but if you're particularly fit, it's worth considering what this means to you.
The Echelon App
Echelon's App, recently rebranded to Echelon United, is looking to be a big threat on the interactive fitness market. It's huge, with a wide range of classes that can be used on or off of all of their exercise gear, plus a whole host of fitness and health classes like Yoga and Pilates on top of that.
In terms of rowing support, you can expect around three to five live rowing classes per day, which is a little less than the rest of the plans. This is obviously because rowing is still a little niche compared to biking or running, but there are more than enough classes in the library to keep you going.
In order to access the app, you do have to pay a monthly membership fee. However, as of writing, it's only £39.99 per month, with bonuses like free delivery if you sign up for a year upfront. This works out much cheaper than an equivalent gym membership. Especially if you end up grabbing a second piece of Echelon gear that can also be used with the membership, or your family also want access (4 profiles come as standard.)
---
What we don't like about the Echelon Row
It's expensive
There's no denying that the Echelon Row is a pricey piece of kit. It's actually more expensive than the Concept2 Model E, which is widely known as one of the best pieces on the market.
Is it worth it? Absolutely. But for anyone just looking for a basic rower to throw out 15 minutes of cardio, the price tag might be a bit much.
No built-in screen
It's a shame that this rower doesn't come with a screen already built-in. However, it's actually good, in a way. One, because it would push the cost up even higher. Two, because most rowers don't actually come with integrated screens. Three, and finally, because it means you can take your device off for the rest of the workouts through the fitness app.
---
Final thoughts
The Echelon Row is a fantastic, if pretty expensive, a bit of workout equipment. It's legitimately capable of competing with everything else in its price range, but it's up to you whether that price is worth it.
However, if you decide to take the plunge, the Row is absolutely one of the best rowing machines on the market right now, in the middle of 2023, and we'd expect it to stay that way for a while.
---
Echelon New Smart Row Full Specs
Brand
Echelon
Model
Row-S
Resistance Mechanism
Magnetic
Item Weight
108 lbs
Material
Alloy Steel
Dimensions
85" L x 24" W (In Use)
Max user weight
350 lbs
Display
Built-in 22" class
HD touchscreen
Resistance levels
32