Review Summary
V-Fit Tornado
Lower-priced C2 alternative
Budget price
Sturdy and reliable
Comfortable to use
No online options
On the noisy side
"A good all-round air-based rower that doesn't cost the earth. There's no online connectivity and it's not the most silent machine but the Tornado gets the job done and is well put together."
Welcome to our V-Fit Tornado Review, where we'll be digging into one of the more popular budget air rowers up for sale on places such as Amazon. This one caught our eye some time ago, with its simple Concept-2 reminiscent design. As always, we'll cover everything this machine does and give our opinion on where it succeeds and fails.
Grab a water bottle and let's jump on the V-Fit!
What is the V-Fit Tornado Air Rower?
This is a home-based rowing machine that uses air as opposed to magnets, water or any number of other forms of resistance. It's a seated exercise that will train most of your muscles if you adhere to at least a decent form.
If you've used a rower before, it's not a million miles off to say it's a budget version of the Concept 2, although it's missing a lot of features it's more expensive cousin has.
At first glance, it looks and feels like it belongs in a commercial gym, but costs a fraction of the price of most of the big-name brands. Well built, with decent performance, there's a lot to love here, even if the whole package is a little basic at times.
Check Current Amazon UK Price
If you're interested in air rowers, you might also like our JTX Ignite Air vs Concept 2 guide.
What do you get from training on the V-Fit Tornado Air Rower?
There's a lot of benefits to training on a rowing machine, which is why they're an incredibly popular form of cardio.
First off, amongst all of the cardio out there, rowing machines are only average for total calorie burn, burning from 200 to 400 calories per 30 minutes of exercise, depending on your weight and your exertion level.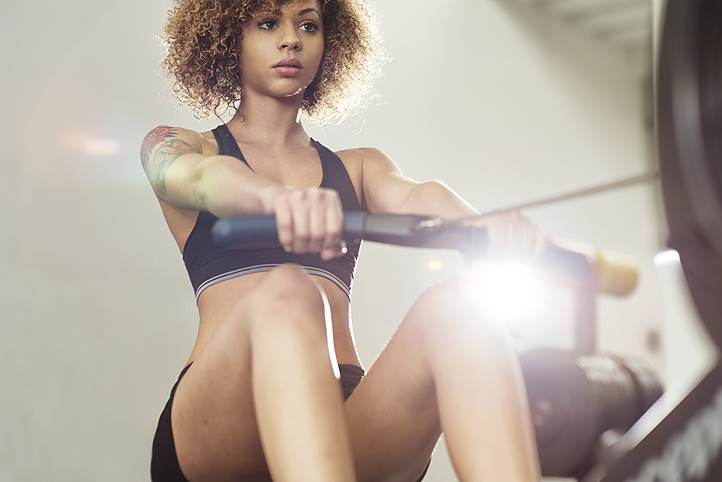 But unlike a lot of cardio options (bikes and treadmills especially,) rowers hit every single part of your body. A lot of the focus is on the lower body, but there's also some serious benefits to your back and your arms from the pulling motions used, and your core because of the constant back and forward.
Rowers are also incredibly low-impact because you're supported all the way through the movement. This means there's basically no impact on your body so rowing machines are a great choice if you're working through an injury or looking to get back into exercising after a break.
Tornado Key features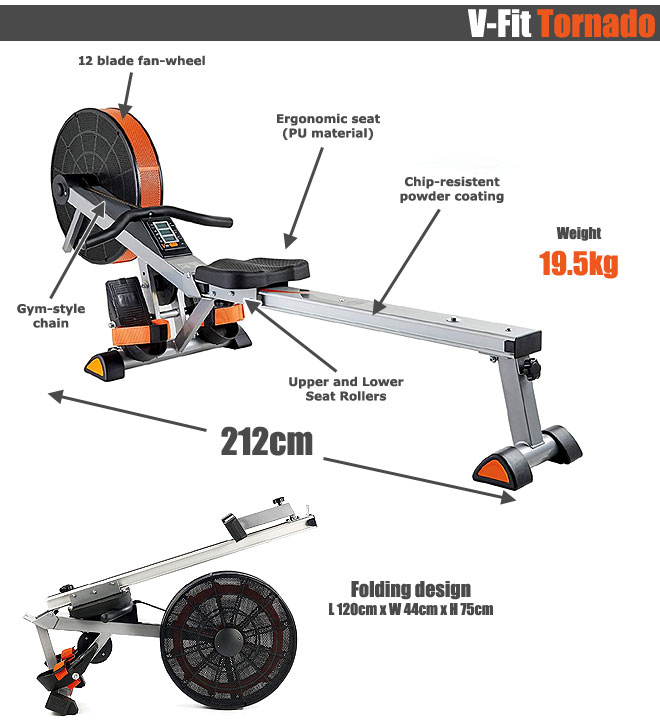 Speed proportionate air resistance
Sculptured seat
Ergonomic handles
Oversize footplates
6 function LVD display
19.5kg unit weight
115kg (250lbs) max user weight
Transport wheels
12-month parts guarantee
---
Who is this best suited for?
The V-Fit Tornado Air is a solid choice for starting exercise, as well as for intermediate fitness levels.
The fact that it's an air rower with adaptive resistance is both a blessing and a curse. It means the rower will adapt to the amount of force you're exerting, so you're always getting a good workout.
But it also means that, if you're looking to drive the resistance up high and really push yourself hard, that option isn't there like it would be on other rowing machines.
At the end of the day though, you get what you pay for, and the V-Fit Tornado Air is very budget-friendly, especially for the quality of what you're getting. If you're buying a rower for the cardio benefits to outfit your own home gym, and you don't need a professional level machine, the Tornado Air is a really impressive pick.
Check Current Amazon UK Price
---
Who makes this rower?
Home-grown and designed right here in the UK, V-Fit are known for the reliability and solidity of their exercise equipment. Everything V-Fit makes is tested again and again and constantly being updated to stay at the forefront of the market.
---
Review time: What we like about the V-Fit Tornado Air Rower
Attractive design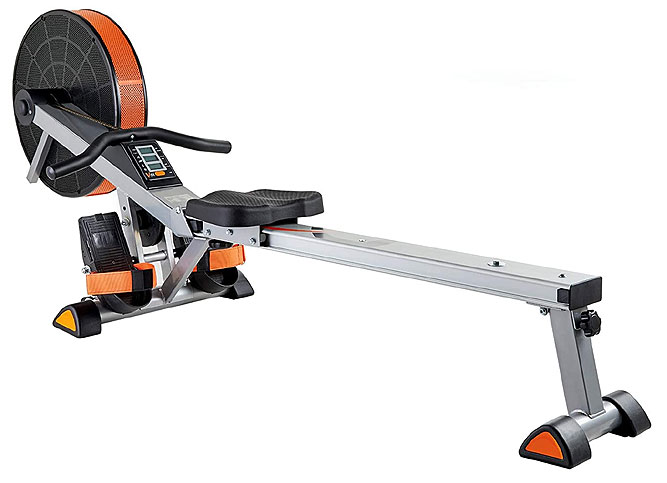 We've got an adage here that the cheaper a rowing machine gets, the uglier it gets; With gorgeous wooden water rowing machines at the top end and a sub-£100 hydraulic contraption at the other. That criticism can't be aimed at the V-Fit. Clearly mimicking the simple lines of the Concept 2, the design here is light, modern and clean.
With the bright orange bringing a bit of flair and co-ordination. Considering this is a budget rower, it looks pretty good. If you're looking for something you can add to your home gym and leave there, rather than hiding in a spare room, it will definitely brighten the place up a bit.
Really good construction
One thing that absolutely stands out about the V-Fit Tornado Air is how well made it is. It's no lie to stay that this holds up against rowing machines that cost two to three times as much.
The mainframe is an incredibly tough tubular steel, that's up to 80mm thick in some of the main working sections. This solid construction lets it hold a decent 115kg of weight, while only weighing a deceptively light 19.5kg itself!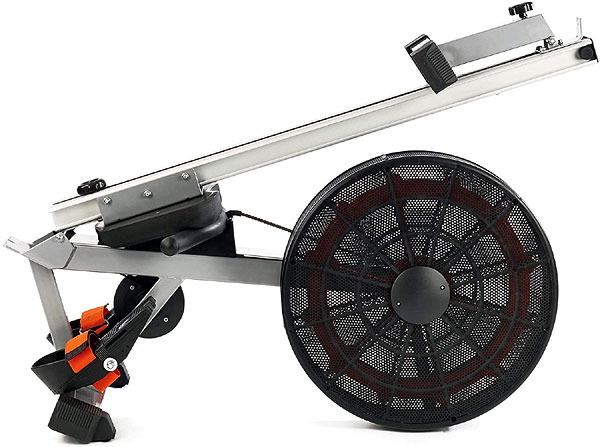 On top of this, this rower is fully collapsible, folding in half to save at least some space if you're not planning to leave it out in your home gym or a spare room. This makes the rower incredibly mobile, especially factoring in the transport wheels. Rowing machines are big systems, and having the flexibility of being able to pick this up and stow it away is great.
There's some slight movement on your stroke, due to the folding pivot, but it's barely noticeable and doesn't impact how stable the machine feels.
It's very comfortable
Everything about the Tornado Air has been designed with the user experience in mind, making it incredibly comfortable to use.
The seat is a soft, comfortable polyurethane material that's contoured and anatomically designed. It sits on well-made nylon covered bearings that give a smooth action, even at high speeds.
The footplates are oversize and comfortable, pivot, with 2 position Velcro straps, and the handle is large and padded, so even on long workouts, it's not going to hurt your hands.
As we've said earlier, everything about the build of this rower is great, and you're going to reap those benefits every time you sit down.
Messing about on the river
The V-Fit uses a chain that comes with its own plus and minus points. It's a standard gym chain that's not going to wear out any time soon. On the other hand, it's more clunky and 'chainy' than the belts we've seen on a lot of magnetic machines and water-based rowers. It's also a bit noisier in that department too.
Speaking of keeping it smooth, everything has bearings; from the 12 blade fan to the runners on the seat. For a budget machine, this is smooth and has a good quality feel to it.
There's nothing complex about this machine
One big advantage of adaptive resistance on a rower like this is that anyone can sit down, pick up the handle and start exercising without having to adjust any settings or worry about whether you're doing it right.
No matter your fitness level, the Tornado Air will give you a decent workout by adjusting the resistance to the amount of speed and force you're exerting. That means as you get fitter and stronger, it's going to scale up with you.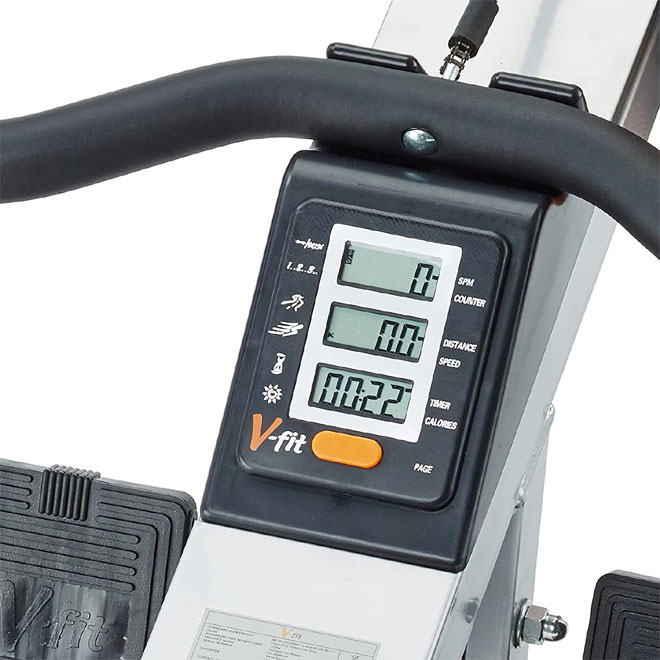 There's also another advantage to an adaptive flywheel like this one. You don't have to interrupt your workout to change the resistance. Let's say you're planning on a fifteen-minute warm-up, followed by ten minutes of intensity. On other rowers, you might have to stop and spend a minute or two adjusting settings. On the Tornado Air, you can just increase your intensity and the rower does the rest.
That ease of use extends throughout the whole rower, especially when you first get it out of the box. Simple to assemble, you can have this together and ready to go in around 30 minutes, and because there's no lengthy sign-ups or other electronic necessities to get it working, you can just sit down and get going.
Check Current Amazon UK Price
---
Related Rowing Guides
---
What we don't like about the V-Fit Tornado Air Rower
It's noisy
A trait shared by all air resistance rowers is volume.
The V-Fit Tornado Air is surprisingly loud when it's in use, especially if you're working hard and pushing up the speed and resistance.
It's loud enough to interfere with anything else going on in the room, so your friends and family probably won't appreciate you working out as they're watching TV.
It doesn't fold as well as some other rowers
One thing to note with this rower is that it doesn't reduce its footprint a great deal once you've flipped it over. In fact, it's still bulky, especially compared to say the C2 rower or the WaterRowers – where they flip up on their end. This rower has a simple folding pivot and while it's very easy to move around, it's not all that compact when you fold it down.
No resistance adjustments
Because the Tornado Air's resistance is generated by the friction of the flywheel, there are no actual resistance adjustments.
If you're just using this as a cardio workout, that's not going to be a problem for you. But for anyone who's training hard and looking for discrete workouts that are always regimented and controlled, the lack of options is a shame.
For some reason, stroke measurements are also slightly off, as it's measured from the front of the seat, so you're not going to get accurate results on any of your metrics, which might throw you off if you're used to something with a lot of precision, like a Concept 2.
A lack of multimedia options
There's no getting away from the fact that the multimedia options on the Tornado Air are … lacking. We'd expect a large LCD screen at the very least, with support for tablets or phones as a nice extra.
The Tornado Air doesn't have that. Instead, it has 3 very basic LCD screens that show the standard metrics of your workout. It's missing some kind of app integration which, in 2023 is becoming a standard addition. Still, this is not a full-price rower and as long as you're just looking to actually row, and aren't interested in online races, you'll be OK.
The display is very basic
One hit this machine has taken to make its budget price is definitely in the performance console.
It's more of a simple counter. You've got 3 standard LCD panels, albeit large enough to read clearly. Each shows something different – the standard stroke counter, calorie guesstimate, distance and so on. You can't compare it to something like the Concept 2 or JTX's air rower, where the displays not only look a world apart but offer far more in-depth stats.
They do the job, but that's all you can say for them.
---
Final thoughts: Is the V-Fit Worth a Buy?
Solid, but uninspiring, everything the V-Fit Tornado Air does, it does exceptionally well. The performance is great, it's easy to use, and the design and frame are tough enough to last years. It's just a little lacking in extras and finesse.
Still, if you're looking for a dependable, standard home rower to outfit your home gym and you're not particularly interested in online training or fancy touchscreens, then there's much better out there for a little more cash, but the V-Fit Tornado is a fine choice for a really reasonable price.
Check Current Amazon UK Price
---
What else can I get for my money?
Similar rowers in this price range
So what other rowers are around in this price range? Let's take a quick look at some of the competing rowers for a similar price.
This is a cracking air rower in the same(ish) price bracket. JTX make some fantastic home gym gear and their Freedom rowing machine is very well put together. The display on it is super-impressive, with different programs and the ability to track lots of stats at the same time.
This little gem comes in at a fair bit under the £500 budget actually. It uses air compared to the Tornado's air so it's a bit quieter too. You can adjust the resistance on the Dripex but it can max out and if you're in good shape, it likely won't challenge you in the way the Tornado does. One of the best things about air and water resistance is it will fight back the harder you pull.
Another air rower that you should definitely check out at this price point comes from the popular brand JLL. It impressed us when we reviewed the Ventus 2 thanks to its sturdy design and its dual magnetic and air-based resistance. An advantage over the Tornado is that you can connect your phone or tablet via bluetooth.
Prices Last Updated Thursday 9th November 2023 - 20:11:33 pm
---
Tornado Rower Full Specs
Brand
V-Fit
Product
Tornado Air
Type
Rowing machine
Resistance type
Air
Resistance Fan
50cm Diameter Extruded PU Fan-Wheel with 12 Vanes. Sealed 20-Roller Freewheel Bearing.
Adjustable resistance?
No
Seat
Sculptured Seat
Console
3-panel LCD
Console display
Calorie (Theoretical Calorie Burn)
Distance (KM)
Speed (km/h)
Stroke Counter
Stroke Rate (Strokes per Minute)
Time (Minutes and Seconds)
Rowing Action
Single Gym-Style Chain
Construction
Tubular Steel Main Frame
Extruded Aluminium Rowing Rail
Tranport wheels
Yes
Coating
Chip Resistant Silver Coloured Epoxy Powder Coated
Row bar
Single Max-Extension 33mm Bar
Dimensions
L 212cm x W 44cm x H 74cm x Wt 19.5kg
Folded dimensions
L 120cm x W 44cm x H 75cm
Seat
Ergonomic Expanded PU
Rollers
Pressed Mild Steel
Composite nylon covered bearing
Upper and Lower Seat Rollers.
Weight
19.5kg
Max user weight
115kg
Warranty
12 Months Parts Supply
---
References and further reading