In this guide, we're taking a look at some of the best rowing machines for taller people. If you're over 6 foot tall, some of the rowers might feel a little cramped for you. Fear not, we've compiled a list to help you find a machine where you can get a full rowing stroke in comfort.
"The Concept 2 is the daddy of all rowers and it's easy to see why. A workhorse-of-a-machine that's tough, feature-rich and a joy to use."

"This low-priced water rowing machine comes is cheaper than the WaterRowers but has all the features and same incredible design."

"Sportstech's RSX500 is seriously sturdy while managing to be fairly quiet too. It can connect to online races and can stream to your TV or tablet."

Excellent online capabilities

Dripex Magnetic Rowing Machine

"This is by far the best budget-priced rower around today. Puching way above it's weight, it's solid, suitable for tall people and is a great all-round machine for the price."

"For light jogging and walking, this is a great machine that's also incredibly-quiet."

Excellent Concept 2 Alternative
What we look for when reviewing rowing machines for taller users
Things we're looking at when picking the perfect rower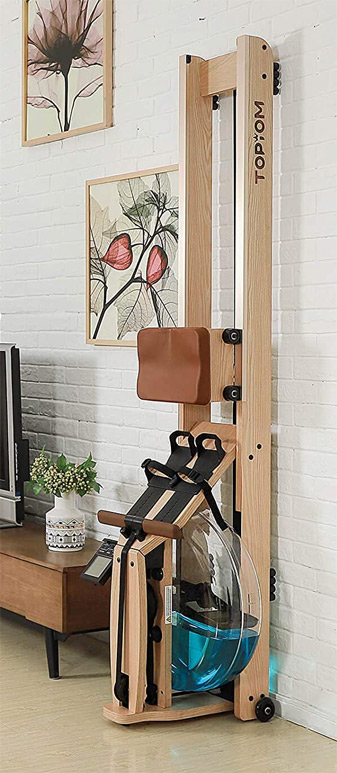 Weight limit – Even though this guide is about rowers that are good for taller people, a big factor is also the weight limit. While some rowers like the wooden ones and the Concept 2 have some beastly upper weight limits, it's a stat some machines fail miserably on.
What's the mechanism like? – Pretty much any of the rowing machines on places like Amazon look amazing in the images. Bit the real issue is how well they perform. Do they creak like an old door, or are they buttery-smooth?
Height limit – The upper user height limit on a rowing machine is harder to discern, as it's not a spec that's generally put out by the manufacturers for some reason. We gather a number of metrics for this including testing different users and also whether it's possible to complete a full rowing stroke without feeling cramped or cutting it short.
Budget options – It's easy to just recommend machines like the Concept 2, but not everyone wants to spend that much cash on a machine. The good news is there are some cracking cheaper rowing machines that have a good upper weight limit and a good user height limit.
Display & online features – You'll be looking at your rowing machine's display for a long time overall, so it's important it's easy-on-the-eye and packed with the essential info you'll need to make some progress. We also look at online connectivity and whether or not you can use third party apps.
Is it easy to put together? – Every rower we've seen requires at least some assembly. Thankfully, the products in this category aren't too hard to knock together. You can normally expect to spend around 30 minutes to an hour putting your new rowing machine together.
Is it easy to store? – Unless you've got a massive gym, you're going to have to get rowing machine out and put it away when you're done. We've seen a few problems with some rowers that make them harder to move about than we'd have liked. We always check things like how well it folds, transport wheels, and general storage.
---
The best current rowing machines for tall people in 2023
Before the buyer's guide, let's go over the current top rowing machines for taller people for 2023. Here are the ones we found were actually worth the money, starting with the top pick first.

#1 – Concept2 Model D
Resistance type: Air
Footprint: 274cm x 122cm
Max User Height: 6′ 8″
Max User Weight: 227kg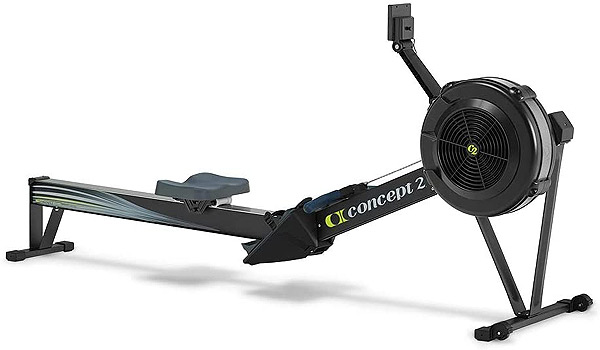 The Concept2 Model D is the market leader in home rowers for a damn good reason. It's a professional-level piece of exercise equipment that's trusted by athletes the world over, and in terms of performance, it's hard to beat.
But it's also one of the best rowers for taller people, for one good reason. The massive in-seam length of up to 39 inches with the optional 5-inch monorail extension, allowing this to accommodate users up to a fantastic 6'8.
Then factor in the 500lb weight limit, the market-leading performance, the ease of use, and the fact that it can be folded and easily moved when not in use, and it quickly becomes obvious why the Concept2 model D is trusted by everyone.
Concept2 rowers almost always have a waiting list, sometimes up to several weeks long, for delivery, so if you're considering purchasing one, we'd recommend sooner, rather than later. Finally, there's a colossal warranty on these rowers, with a 2-year repairs and 5-year parts warranty built into the price.
We've also got a guide on some awesome Concept 2 alternatives here.
Top-notch build quality
Perfect for taller people
Very sturdy
Market-leading resistance levels
The display console is easy to use but has a lot of depth
Ergonomic and fun to use
Hard to find in-stock
Expensive
Loud!
Verdict: There's a reason these machines are the go-to for just about every gym in the world. They're tough, easy to use and extremely long-lasting. If you aren't put off by the price, you're not going to find a better rowing machine for someone over 6 feet tall.
Check Current Amazon UK Price
---
Resistance type: Water
Footprint: 210cm x 56cm
Max User Height: 6′ 8″
Max User Weight: 180kg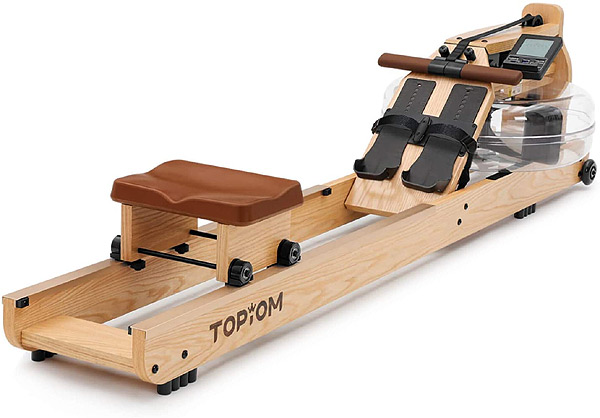 Water resistance rowers are incredibly popular with people who use regularly use rowing machines, for several solid reasons. One, water-based rowers have smooth, regular resistance that's only limited by your own strength. Two, they're very quiet and comfortable, meaning that they're a lot nicer to use, and every workout is a pleasure.
Another huge advantage of wooden rowers is how variable they are, due to the fact that you can change the entire feel just by adding or taking away water from the resistance tank.
Constructed out of European Beech, the frame of this rower is incredibly tough, capable to taking weight up to 180kg (400lbs) and heights of up to 6'8, with the 38-inch in-seam On top of this, despite being a water resistance rower, it's foldable, down to a tiny 0.4sq.m, so it can easily tuck away into the corner of your gym when done.
Every pull drives the resistance paddles down into the water tank, accurately simulating real rowing, making this a very similar experience to actual rowing, and the closest you can get to training on the water without actually getting out the oars.
It's also equipped with an LCD HD display, and has full Bluetooth and a tablet stand, for full app connectivity. Check out some of the impressive reviews on Amazon for this water rowing machine. It's also a fair bit cheaper than other wooden rowers.
Verdict: This rower is beautiful to look and a joy to use. If you're looking for a water machine, this is a great one to go for. It's also substantially easier to find in stock than the WaterRowers and a good bit cheaper too.
Solid construction
Good upper height limit for taller rowers
Gorgeous wood finish
Identical to WaterRowers
Lower price tag
Monitor not as good as WaterRowers
Assembly instructions are not easy to follow
Check Current Amazon UK Price
---
Resistance type: Magnetic
Footprint: 57cm x 155cm
Max User Height: 6′ 6″
Max User Weight: 120kg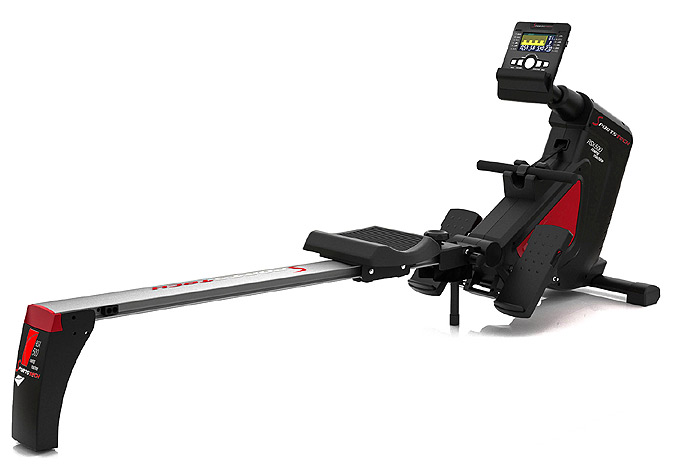 Sportstech is a German brand, and as you'd expect, they're known for their engineering standards. The RSX500 has everything you'd expect from a gym standard rower, all sized up for people up to a max of around 6'6.
The whole thing is built around a 7kg magnetic flywheel that delivers 16 levels of resistance. Magnetic resistance is always smooth and even, no matter how high you crank it up, and stays surprisingly quiet even on the highest settings as there's no friction from moving parts. The only sound is the rotation of the flywheel itself, which is generally low enough to watch TV or have a conversation.
Construction is good, with an aluminium frame that can take up to 120kg (265lbs.) As already mentioned, the rail is long enough for people of around 6'6, or 38-inch in-seam, to sit comfortably.
But one of the biggest reasons to go Sportstech over other options on this list is the multimedia system. A lot of rowing machines don't invest the same amount into controls and workout systems, as a rowing machine is relatively simple. But Sportstech understands that instant access to all your metrics, and interactive workouts, can have a huge effect on motivation and drive.
Which is why this rower has a 5.5-inch console that can be linked into your tablet or phone, giving you constant updates and up to date numbers, whether you're going for a gentle cardio workout, or pushing for time on the Wi-Fi enabled competition mode.
Verdict: This rowing machine is easy to recommend; it's sturdy, it's comfy, it's big and reliable and the online connectivity is spot-on. We like everything about this rowing machine and it's a lot cheaper than a Concept 2.
Tough design with good upper height
Easy assembly
Pre-set workout programs are excellent
Quiet rowing action
Compact folded size
Foot pedals need more grip
Check Current Amazon UK Price
---
Resistance type: Air
Footprint: 178cm x 53cm
Max User Height: 6′ 6″
Max User Weight: 120kg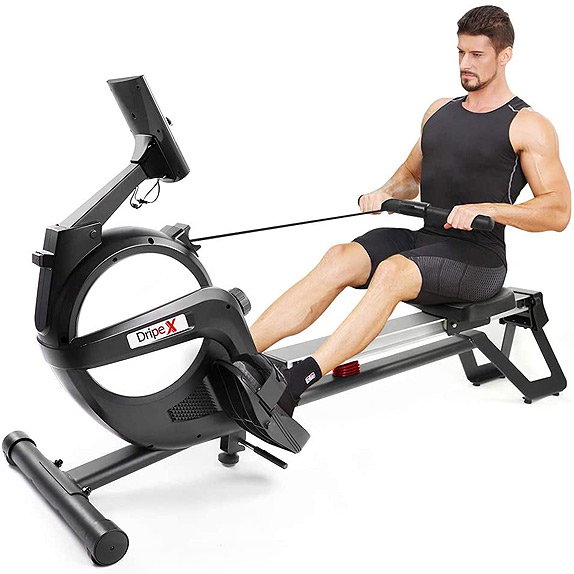 The next rower on our list comes from Dripex, a home-grown sports equipment supplier making some waves (pun intended!) on the scene. And despite being half the price of some of the premium choices, it shares a surprising amount of features.
To start, it's worth pointing out that this is suited for people up to around 6'6 and 120kg (265lbs.) The frame is alloyed steel, and solidly built, with an 8 level magnetic resistance flywheel, backed up with extra air resistance and an advanced drive belt that's silky smooth.
Despite the solid build, it's a reasonably light 35kg, and folds for easy storage, like most good air and mag resistance rowers do. The seating is designed to be ergonomic, with non-slip plastic, and the ergonomic handlebar fits the hands well, whether you've got tiny child hands or Andre the Giant shovels.
Even though it's the cheapest on our list, it comes with a solid 12 month warranty, that covers you should the worst happen.
Verdict: If you're on a budget, don't overlook this extremely popular rower. It's got a lot of great features and is very well made. It's fairly quiet to use so it's ideal to use with a tablet and Netflix. A proper rowing machine at a budget price.
Budget price rower for taller people
15 levels of resistance
Handy tablet holder
Near-silent rowing
High quality construction
The display looks cheap
Basic stat tracking features
Check Current Amazon UK Price
---
Resistance type: Air
Footprint: 212cm x 44cm
Max User Height: 6′ 4″
Max User Weight: 115kg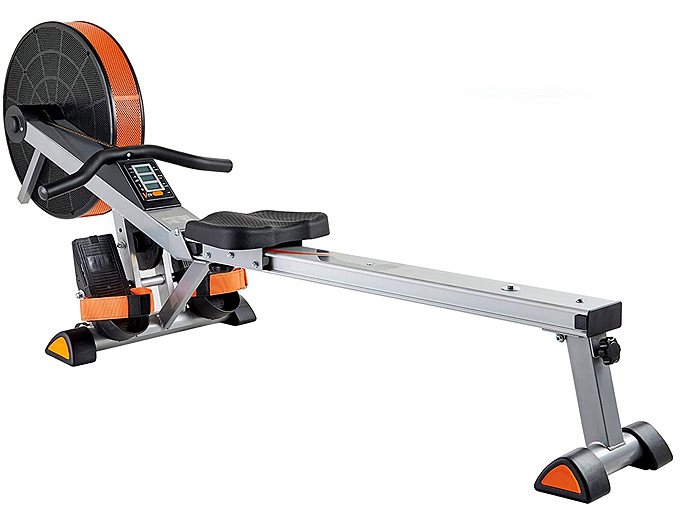 Often touted as a much cheaper alternative to the Concept 2 is this rowing machine, from the good people at UK-based V-Fit. The Tornado's design definitely looks like the higher-priced sibling and it also employs a similar air resistance and is driven by a chain too.
This machine is fine for anyone over 6 foot too, and the overall design is solid, sturdy. As with any rowing machine, if you're putting this on a wooden floor get a nice thick rubber mat to help protect the surface. Other than that, the build quality here is excellent and your max user weight is 115kg.
On the downside, don't expect the display console to match up to that of the Concept 2. While you do get the important stats when working out on this machine, the display is a simple, 3 LCD panel display which doesn't match up to the more expensive rower.
You can expect an hour of assembly and this machine also folds up to a reasonable size that can sit at the side of a sofa, or slip into the spare room.
Verdict: This rower fits a gap in the market for a cut-price version of the Concept 2. If you're looking for a proper rower but not ready to splash out a grand on one, this will likely be your new best friend. It's well-made, fine for taller rowers and a pleasure to use.
Cheaper than the Concept 2
Good, solid build
Great design
Fine for anyone well over 6 foot
Smooth action and chain drive
The display console is not as good as the Concept 2
Footplates could be longer
Check Current Amazon UK Price
---
Rowing Machines For Tall People – the Buyer's Guide
Sometimes the world just doesn't seem to be designed for people past a certain height. And we know we don't need to tell you how this affects your workouts.
Using a rowing machine that's not sized right for you is the worst. The most important measurement on a rowing machine is the length of the rail, and trying to use a rower that's too small is a terrible idea.
One, consistently using a rower that's too small means less effective workouts, because you're not going to be able to move through the full range of motion. So your muscles get worked less, you're not going to see the same benefits, and in the long term it could even cause joint problems.
Second, it's going to feel horrible when you work out. No one wants to bang into the end stop with every rep, so having a little bit of extra play, even when you're at maximum extension, is necessary. Knocking into the stop at the end of the railing isn't just going to sound and feel awful, long term it might also impact the lifespan of your machine.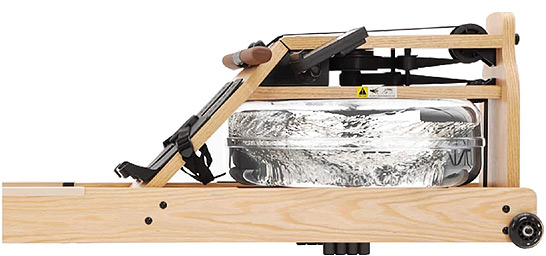 Rowing machines, size, and price
One hard truth of exercising when you're particularly large or tall is that everything is going to be that little bit more expensive.
On the one hand, this isn't ideal, because it means that you're going to be spending more upfront. But on the other, given the option, we would always recommend spending a little more on quality, because one, it's going to last that much longer and be that much more comfortable. And two, you can't put a price on your health and fitness.
How to tell if a rowing machine is the right size for you
On the upside, when it comes to rowing machines, there are a lot of great options. Professional rowers are actually 6'4 on average, so training options are varied and measuring whether a rower will fit you is relatively simple.
The way to tell whether a rower will fit you is easy. First, you need to measure your in-seam, or inside leg. This measurement matters because it's going to be roughly the same distance from the seat to the pedals when it's at maximum extension.
There are many ways to measure your inside leg, but the simplest is to grab a pair of trousers that you know fit and measure it manually from the bottom of the leg to the inside of the crotch. Measuring on yourself can be awkward, and you might get an incorrect figure.
---
References & Further Reading