Welcome to our Task 2 review. Today it's the turn of Bluefin Fitness' interesting home running machine. This machine is definitely a bit different to most of the other treadmills we've reviewed. We'll cover what it is, what we thought of it and whether or not it's worth the cash.
What is the Task 2 Treadmill?
The Bluefin TASK 2.0  is a home treadmill that doesn't have the normal surrounding 'frame' you get on regular machines. Instead, there's a simple over-arching bar which can fold down to let you exercise without any side rails at all.
This machine takes up hardly and space and is easy to store
The main selling point with this machine lies in how little space it takes up. With a 10cm tall stowed height, it's a good candidate for slipping under a spare bed, or standing behind a door. Basically, if you want a running machine but are seriously short on space, this might be for you.
However, it has some limitations, which we'll discuss below.

Because there's no 'sides', and you can train with the frame folded completely flat, the Bluefin comes with a wearable remote control that makes it easy to adjust your speed or chose from one of the 6 pre-programmed exercise options.
The Task 2 has a range of 1km/h up to 8 km per hour. So this machine is aimed at people looking to either walk, or go for a jog. This is not an endurance machine so temper your expectations if you're a seasoned runner! We'll cover this later in the review.
The Task is perfect for in-office walking and upright for home exercise.
It comes with an adjustable spring-loaded console with an integrated tablet holder and an LCD display to track your stats.
There are two integrated Bluetooth speakers on the base of the machine and you can connect your phone or tablet via Bluetooth to use the ever-popular Kinomap app for interactive, on-demand training and virtual trails anywhere in the world. The belt size is 120cm / 40cm.
Check Current Amazon UK Price
---
Task 2 – Main Treadmill Features
2-in-1 folding treadmill for under-desk and home exercise
5 layers anti-static and noise reducing track
Spring-loaded iPad and smartphone shelf
Kinomap compatible for interactive virtual training
Variable speeds from 1-8km/h
The Task 2 includes a wearable wrist band remote control
LCD Digital Console maps speed, distance, calories, and time
Integrated Bluetooth speakers
149 x 66.5 x 105 cm (upright)
149 x 66.5 x 11 cm (folded)
but evidently the
Running belt is 122cm x 40cm
Weight 71.3lbs (32kgs)
Max user weight 120kgs (264lbs)
Integrated Bluetooth Speakers
Motor: 600W DC
---
Who are Bluefin Fitness and are they a reliable brand?

If you like to buy British, you'll be pleased to know Bluefin are a home-grown company, started in West Yorkshire in 2013. Unless you're in the vibration plates world, you might not have heard of them, as that's where they started. They've grown their line of products to include machines such as the Kick 2 treadmill (Amazon), Task 2 and more.
Bluefin Fitness have good standing in places like Reviews.co.uk and Amazon.
---
What you'll get training with the Task 2-in-1 treadmill
Burn Calories and Lose Weight
The Bluefin Task 2.0 is an excellent way to lose weight. According to Harvard health rates, the amount of calories you'll burn at 8km/hr is around 710 calories per hour for a 185lbs user. Jogging, walking and running are proven ways to shed excess weight while toning muscles and improving overall health.
Improve your Health
Treadmills provide a great aerobic workout that improves circulation and lowers cholesterol in the blood while improving your heart health and immunity. Daily treadmill exercise also boosts mood, lowers anxiety levels, and promotes healthy sleep patterns.
The Task 2 treadmill can will strengthen your muscles
Jogging or walking on a treadmill strengthens your leg muscles and builds up your quadriceps, calves, and hamstrings. The running action also strengthens your hip flexors and your glutes for a well-toned body shape. It is easy to incorporate upper body training by introducing weights to your treadmill exercise.
---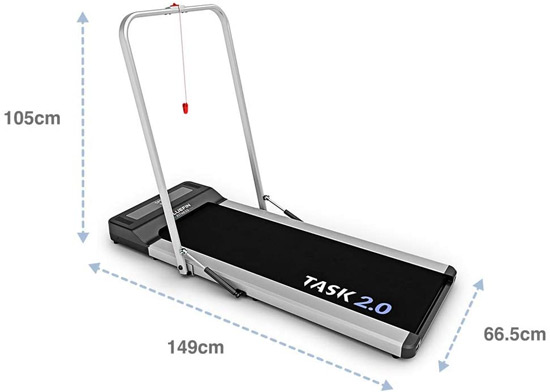 Check Current Amazon UK Price
---
Other Bluefin Gym Gear Reviews
---
Who will love the Task treadmill?
The Bluefin is not just an under-desk exercise machine but also doubles as an upright treadmill with handlebars for balance and a spring-loaded tablet and smartphone shelf. You can opt to walk while working at your desk and burn an average of 80-90 calories an hour or use the Bluefin for a faster workout and lose up to 120 calories an hour from the comfort of your office or home.
If you're not in the best shape…
The Bluefin is suitable for all fitness levels and can be used by multiple members within a busy household without having to fiddle with seat heights and setting. The 1km-8km adjustable speed makes the Bluefin great for beginners as well as those seeking low-to-moderate-intensity training from their home.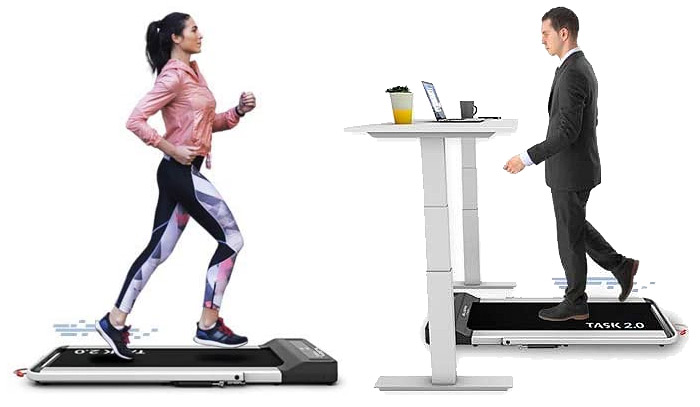 If you don't like exercise!
With its integrated app features, the Blufin will appeal to those seeking motivation top get back on and do another session. This treadmill will work with both FitShow and KinoMap with the latter being light-years ahead of FitShow. You'll be able to dive into a wealth of online content such as virtual trails and on-demand coaching sessions.
If you don't want a whopping treadmill hogging your space
The Bluefin is lightweight and durable and folds up neatly for office or home use with a 10-cm profile at its highest diameter. This is probably the most compact treadmill I can recall reviewing – at least the most compact one that was actually any good.
Who might not get the most out of buying a Task 2?
A dash, not a sprint…
The Bluefin Task 2 has a speed limit of 8km/hr (4.97miles/hr) so it would not suit those seeking high-intensity training that includes sprinting or intensive running. The maximum speed is more suited to a jogging pace than a running one.
Over 120kg? This is not going the machine for you
The compact Bluefin also has a user weight restriction of 120kgs and users should not exceed these manufacturers' specifications.
---
Review: What does Bluefin's treadmill get right?
The Bluefin Is Ready To Go
It was such a nice surprise to find the Bluefin ready to, after some really complicated assemblies in the treadmill niche. Simply take the kit out of the box, tweak a spot here and there and all the work is already done for you.
How easy something is to set up isn't necessarily the be-all and end-all of how good a treadmill is, but with gym gear, it's rare to get something hassle-free to set up. It's literally good to go from the box. Phew!
Smooth and Cushioned Track
So how will you feel when you step on this treadmill? One of the biggest problems when it comes to these ultra-portable, easy-to-store machines is that it's often like running on a flimsy bit of wood. Well, you might be pleasantly surprised with the Task 2.
The 5-layer track is soft enough to reduce stress on the joints yet firm enough to for a comfortable spring which we really liked. The running surface provides good traction while absorbing a lot of the noisy footfalls that can disturb other people in the home or office. The rubber and PVC layers do a good job of absorbing impact and noise.
Great Interactive Features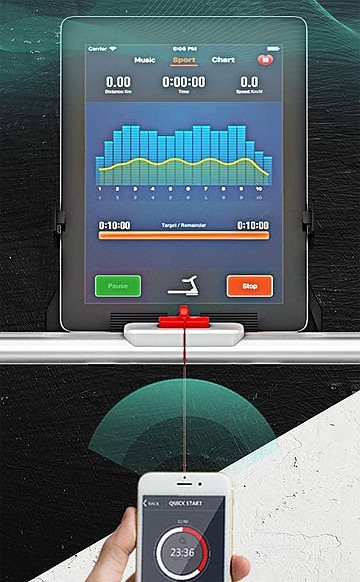 Whether or not you want to get into the deep features Kinomap brings to the table, we definitely recommend giving it a try, especially once you've got used to the treadmill and are looking for some motivation.
Make use of the free trial to explore some of the Kinomap features and you'll likely be impressed by the layout and selection of coaching. The quality of the virtual trails on offer is pretty astounding.
The Bluefin comes with two built-in speakers and a USB which is handy and the console stand is adjustable to get the perfect angle when working out.
Compact and Portable
So let's get onto one of the main pros to this machine: how easy it is to store, and the space it takes up.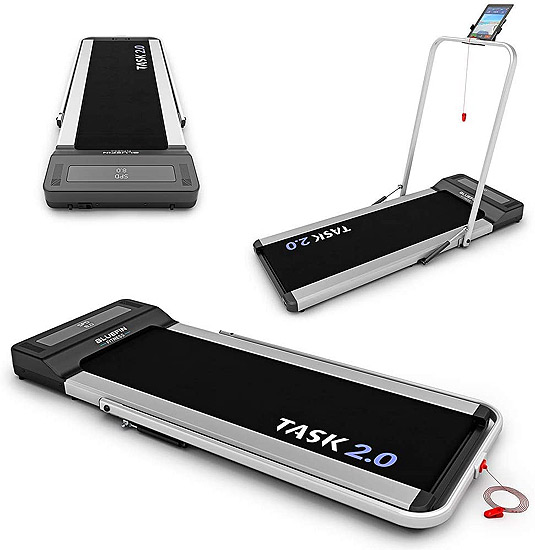 The Bluefin weighs 32kgs and has a super-slim profile for storage. This is especially important in terms of office space where you don't want your exercise equipment to be bulky and take up valuable space.
Although it's still quite hefty, the treadmill has two wheels to make movement easier. There's nothing to say about the folding down part as a monkey could do it. The cross bar simply raises up and clicks into place.
Nifty Armband Remote
We really liked the nifty armband remote that fits like a watch so you don't need to fiddle under your desk to reach the console. The layout is intuitive and we really enjoyed being able to change speeds easily while at our desk.
Check Current Amazon UK Price
---
What could the task 2 have done better?
LCD is Not Great
The LCD console is built into the bottom of the front of the track and does not measure up to some of the full-colour digital displays that you can find in the treadmill niche. The display is annoying at is covered by the desk so you can't access it to measure your stats.
Low Maximum Speed
We wished the Bluefin had just a bit more power to achieve a steady run because the highest speed is just the cut-off between a brisk walk/ easy jog and a run. I think this machine is well suited for office use and for those who like walking as their chosen mode of exercise.
Where's the incline?
While automatic incline is out of the question with a portable treadmill, it's not uncommon to have some form of manual incline setting. The Task 2 has neither and you'll have to make do with a flat running surface. Not a huge issue but a feature that would have been a welcome addition.
---
Conclusion: Is the Task 2 worth a buy?
There are always trade-offs to be made when it comes to this style of  walkpad treadmills. While it's easy to point out the lower upper speed here, this machine is not aimed at endurance runners. Instead what you have here is one of the most compact machines on the market, targeting those looking to get in shape through walking and jogging.
If that's what you're after, and you don't have the space for a larger runner, this machine will likely put a smile on your face.
The Task 2 is great quality, feels sturdy and offers a non-insignificant walking and jogging speed.
Kinomap makes for the ideal companion to this machine, adding variety to your fitness routine.  The steel-alloy frame is solid and the technology is both quiet and joint-friendly making this a definite option for an office or home exercise machine.
Looking for a walking, jogging, easy-to-store treadmill that isn't too expensive? Then this is the one.
Check Current Amazon UK Price
---
Task 2 – Full Specs
| Brand | Bluefin Fitness |
| --- | --- |
| Model | Task 2.0 |
| Motor size | 2 HP |
| Color | Silver and Black |
| Tablet shelf? | Yes |
| Fitnes app | Yes |
| Incline | None |
| Monitor | LCD Digital Fitness Console |
| Speakers | Bluetooth Speakers |
| Wearable remote | Yes |
| Includes tools? | Yes |
| Dimensions (upright) | 149 x 66.5 x 105 cm |
| Dimensions (folded) | 149 x 66.5 x 11 cm |
| Automatic Programs | 6 |
| Top speed | 8 Km/h top speed |
| Safety features | Safety Key for immediate stop |
| App compatibility | FitShow App |
| Storage height | 10cm |
| Belt style | Multi-Layer Anti-Static Track |
| Transport wheels | Yes |
| Works on carpet? | Yes |
| Running track size | 120cm x 40 cm |
---
References & Further Reading