If you pay any attention to the fitness world, you've probably heard the names of some fitness apps thrown around, and one of the biggest, that's drawing a lot of attention, is Kinomap.
But what is Kinomap? What does it do? And is it worth looking into to reach your fitness goals?
What is Kinomap?
Kinomap is an interactive exercise app that's been designed as a one-stop-shop for personal health and fitness.
Available for Apple and Android products, the Kinomap app is a free download that can be used on almost any phone or tablet, and links into a huge variety of exercise equipment.
Currently, the Kinomap app is available on almost any exercise bike or treadmill that has Bluetooth functionality, and it also works with any rowing machine, Bluetooth or not, as it can use the camera of your device to read your strokes and keep you in time.
What does Kinomap do?
Kinomap links into your exercise bike, treadmill or rowing machine and offers a massive amount of benefits. If you've never used an interactive fitness app before, it's quite the experience.
When you sign into the app, you're given a massive choice of workouts from an extensive library of options. Realistically, there's more here than most people could ever conceivably get through in a lifetime, and with more routes constantly being added, you're never going to get bored.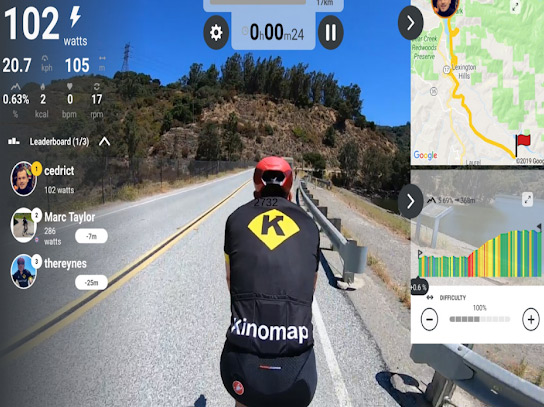 Once you've made your choice from any of the 186,000 miles of routes, all shot and tracked with high-quality cameras, the workout begins. As you cycle, run, or row, the app adjusts to match what you're seeing on the screen, including changing:
The resistance and intensity of your workout
The incline of your exercise equipment, if available
You can follow along and take part on your phone, a tablet, or a smart TV, giving you a massive range of usable devices. Essentially, it's as close as you can get to being there, without actually being there.
Videos are shot worldwide and added by the app developers themselves, or by users (with a sweet rewards system for videos that are accepted!) Today you could be running in Central Park, tomorrow cycling one of the Tour de France stages, and the day after rowing off the French Polynesian coast.
Workouts are graded in difficulty, length, and various other metrics that make it simple to pick the workout that's right for you. Structured workout plans are also available, as is coaching, as well as fitness exercises and tests like interval training or a Functional Threshold Power (FTP) cycling test.
But what are the actual advantages of working out like this? Can it really make a difference?
Short answer, yes.
First off, having a structured set of workouts makes you far more likely to stick to them. It's far easier to exercise knowing exactly when and where your next session is coming from.
Second, enjoying what you're doing makes you far more likely to stick to an exercise plan, and there's a lot to be said for gamifying your workouts, including scoreboards, time trials and more. The feeling of beating your previous best is one that's hard to beat.
Third, training with others is a massive boost to motivation, and the Kinomap community gives you access to hundreds of thousands of other users, as well as your friends and family, right at your fingertips.
---
Other guides you might like
---
What is the Kinomap community?
One of the great pleasures when it comes to working out is challenging yourself alongside friends or family. There's a reason so many people have spotting partners, or groups that they regularly go to classes or the gym with.
The app delivers that same experience into your hands, letting you take part in group classes or test yourself in public events, with full leader boards, scores, and personal bests.
If you're more private, create your own friend group and share results only with them, or even just set your own goals and hold yourself accountable.
As a member of the Kinomap community, you also have the option to help everyone else achieve their goals. If you have the gear, you can record your own routes and upload them to the workout library, earning points that can be spent on rewards like free subscriptions and more.
---
Are there any downsides?
All online exercise apps share the same small list of downsides.
First off, you're responsible for your own motivation. One of the biggest advantages of a gym membership is the fact that it can force you out of your home and your routine so you actually keep working out.
Though don't feel bad, because a gym membership isn't anywhere near foolproof. Just look at the number of people who swear that this year is the one that they're going to do it. They swear they're finally going to get fit. The same as they did the year before. And the one before that.
So if you know that you struggle to motivate yourself to exercise from home, it might be worth considering if Kinomap is right for you.
However, the counter-argument is persuasive. Working out from your living room is the most convenient it can ever be, and the app has a huge amount of community options built in to keep you accountable.
The second problem is one faced more by fitness classes rather than cardio apps like Kinomap, but it's still there.
Form
If you're new to exercise, then bad form can lead to long term issues like muscle aches and joint problems. And with no one there to correct your form, you might be working out wrong, with no way to know.
But the fix is simple. Online videos exist to teach you the basics. You can record yourself and watch it back to check your form, ask a more knowledgeable friend to spot you in a session, or even spring for one or two personal training sessions to make sure that you're doing everything correctly.
Apart from these minor issues, the downsides are basically non-existent.
How much does Kinomap cost?
So what's the cost? Actually very little. Kinomap has multiple payment plans available, and all of them are surprisingly reasonably priced.
There are three choices available, a monthly paid plan that costs £9.99 per month, a yearly prepayment plan that costs £79.99, or lifetime access to the app for £229.
In our opinion, the yearly payment plan offers a massive amount of value. It's around the cost of two months gym membership, can be used with two different devices, and you also have the option to pay a small surcharge for a family account that has 5 different account options built-in.
But there's literally no reason to commit upfront. Kinomap currently offer a 14 day free trial on download of the app. You can sign up, link it to your system of choice, see the benefits, and only once you're sure that it's right for you do you have to pay. No downsides.
Is Kinomap any good?
In our opinion, absolutely. There are apps out there that offer a little more, for example, iFit. But they tend to be linked to specific machines and manufacturers and cost a lot more.
The real benefit of Kinomap is the fact that it can be used on damn near any piece of exercise equipment, whether that's something you already own or something you're looking to purchase in the near future.
For the low price you pay, there's a lot on offer here. But you don't need to take our word for it. As already mentioned, you can sign up for a 14 day trial and see for yourself, without spending a penny.
Do machines work without Kinomap?
Yes. Because Kinomap is designed as a stand-alone app, you don't need it in order for any of your exercise machines to work.
Kinomap is just a bonus. It takes your existing machines, whether they're designed for Kinomap or not, and just makes them better.
Final thoughts on Kinomap
Interactive workout apps are the future. They bring all of the advantages of a commercial gym right into your home and giving you access to world-class trainers and routes from all over the world, which gamifies your exercise routine like nothing else.
It's been shown that tracking everything through fitness apps and making exercise enjoyable makes people significantly more likely to stick to and hit their goals.
Taking that into account, then factoring in the fact that Kinomap costs a lot less than a gym membership, as well as the fact you'll be saving a huge amount of time not travelling back and forth, and if you're serious about your fitness then using Kinomap isn't really a choice.
At the end of the day, you have literally nothing to lose. You can download the Kinomap app, start your free trial, and see just how much you enjoy using it. And if you don't enjoy it after 14 days, you've lost literally nothing. But when you realise just how effective this type of exercise program is, you'll wonder how you ever lived without it.
---
References & Further Reading