In this guide, we're taking a leisurely stroll through the world of walking treadmills – for anyone not wanting to compete in the next Olympics, and is instead aiming for a slower kind of exercise.
If you're in the market for a machine that will let you take a walk whatever weather the UK is throwing at us, you might find this handy.
| | | | |
| --- | --- | --- | --- |
| | | "If you're looking for the best treadmill for walking at home, this one is perfect for the job." | |
| | | "It's simple to use, extremely well-made and has a great feel when you're walking on it. There's also plenty of upper speed if you fancy a jog that day." | |
| | | | |
No running: what we look for in a decent walking machine
Here are some of the specs we look a when picking out the top treadmills suitable for a good walk.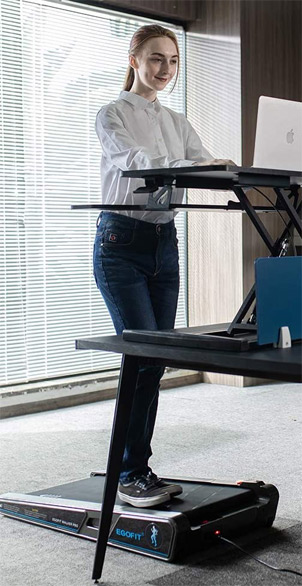 How fast… and slow does it go? –  The average walking speed for most people is around 3 – 4 mph or 6 km/h so it's important that any decent walking treadmill can match those specs. Now, that's a constant and fairly brisk pace that will be too fast for some. So we also look at the low end too.
Is the motor any good? One of the most important bits about any treadmill is obviously the motor. While it's easy to overlook, a noisy one on a walking machine will drive you insane. And even though we won't be running, it still needs a decent bit of power (preferably 2HP or more) to prevent belt-slippage and simulate proper walking.
Can I get my full stride? The track size of a walking treadmill is just as important as that of a full-fat running machine. You don't need as large a belt surface area for walking, but it's still a stat we cast a careful eye over.
Will I break it? The max user weight is one of the main things we check on any fitness gear we're writing about, especially treadmills. Along with the quality and thickness of the belt.
What if things don't work out? – As with any gym gear, we want to know what they'll do about it if it all goes wrong. We always check for good brands, what other customers are saying about them, and sometimes perform some crafty checks on their customer service. To be fair, a lot of the stuff we review is available on Amazon, who, as everyone knows, are great with returns.
Child safety – If you've got little ones in your home, you'll know how adventurous they can be. So one thing to look for in a new treadmill is a locking mechanism that will prevent them from accidentally starting the treadmill. These machines are generally safe, but you still don't want your child playing with a moving belt.
---
The best walking treadmills you can get in 2023
Before the buyer's guide, let's go over the current top walkers out there. Here are the ones we found were actually worth the money.
Walking track size: 115cm x 41cm
Speed range: 1 – 6km/h
Max User Weight: 100kg
The Citysports 500w treadmill tops our list of the best running machines for home walking due to its simple design, powerful motor and great set of features.
This is one of the newish breeds of 'walking pads' – reduced size treadmills that take up a fraction of the space of the huge gym-style running machines. And for walking, most of the bulk of those larger machines is unnecessary.
This machine does away with the extra size and weighs a mere 26.2kg. It's light enough to comfortably pick up and move around your home. But despite that, it can take a maximum user weight of 100kg.
The walking deck is also impressive. You get a full stride length, and it's wide enough to walk comfortably on with no issues. It's also quiet, with a maximum volume that approaches background conversation level, and that's only at the top speed of 6kph.
The 1.5HP motor is powerful enough for walking and light jogging and you get a fab little remote control to adjust the speed without stretching or reaching out. You can use it with a standing desk, or just plonk it in front of your TV and go for it.
This is a very easy-to-use machine that's hard to beat at this price. It's discreet, powerful and has some very impressive reviews on Amazon too.
Zero assembly
Good remote, with simple controls
Tough and well-made
Simple to move around on wheels
The display might be hard to read while standing
Verdict: The Citysports WP1 is a brilliant treadmill for walking at home. It's compact but incredibly well put together. It's easy to use and there's nothing to do except plug it in and get walking. Ideal for anyone with limited space.
---
Runner Up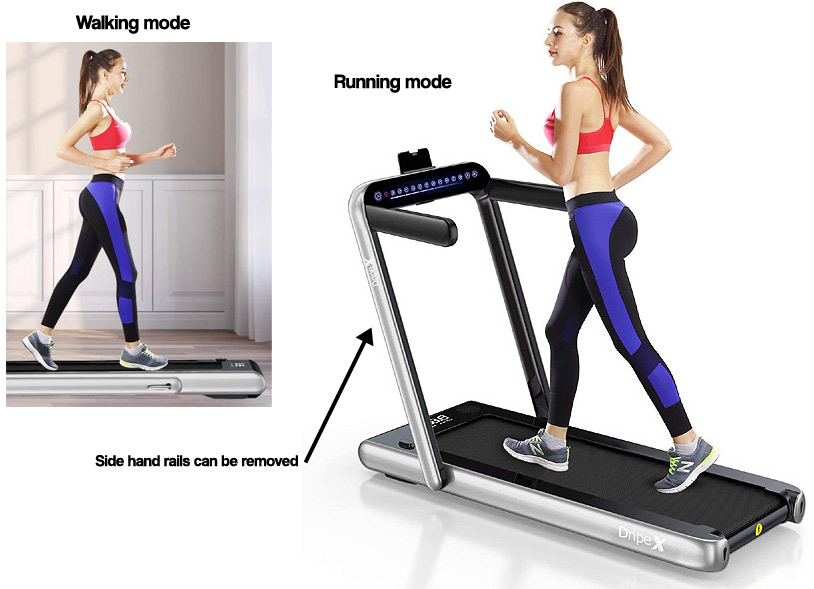 Quiet with a good-sized running area
Somewhere between a walk pad and a full treadmill, an excellent machine for walking and light running. It's quiet, easy to use and absorbs a lot of the impact better than other machines.
Check Latest Price
Walking track size: 102cm x 41cm
Speed range: 1km/h – 12km/h
Max User Weight: 120kg
Serving double duty as an impressive running treadmill as well as a walking deck, the Dripex 2 in 1 is a fantastic option if you're looking for something with a little more grunt and the option for some speed walking or a light jog.
A good machine for fast walking
Set to walking mode (with the stabilisers off, as it were) it has a decent speed of 4kph. Extending the running supports switches to running mode, which kicks the 2.25HP motor into high gear and pushes the top speed up to a solid 12kph.
Your phone has a place on the support arms, just above the dual displays, and links into the Bluetooth speakers so you can blast tunes while you walk. And for a dual-mode treadmill, it's also surprisingly small, light and easy to move, with a maximum height of just 5 inches when it's folded down, easily enough to slide under furniture.
Top-quality
Natural feel to walking
The removable side rails are a great idea
Lovely glossy finish and overall design
Has more oomph if you need it
Running track could be thicker
It's heavy
Verdict: We genuinely love this treadmill. Dripex has released a crazy amount of gym gear over the past couple of years. As far as walking machines go, this one is an absolute blinder. Talk the sides off for a true walking experience.
---
Related guides
---
Budget Pick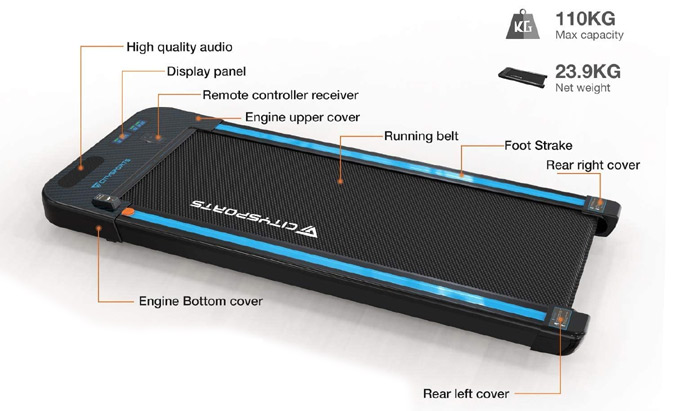 Cheap, reliable and gives a great performance.
Save £20 Today
RRP £249.99
£229.99 at Amazon
Prices checked: 29th Nov 2023 - 06:28
Walking track size: 108cm x 43cm
Speed range: 1 – 6km/h
Max User Weight: 110kg
A fantastic budget pick, this treadmill by CitySports is the cheapest model on the list but doesn't suffer in performance.
A top speed of 6km/h is more than enough for a brisk walk, and the large running deck gives you a lot of space to move comfortably. Unfortunately, this does mean that it's a little bigger than the other normal walking decks, so plan accordingly.
Bluetooth integrated speakers let you listen to music as you train, and you can keep your family safe with an integrated child lock. Finally, it's solidly built, with a 110kg (245lb) max user weight. While it doesn't have quite the same list of features as either of our top picks, if you need a decent walking treadmill to fit a lower budget, this is it.
Budget price tag
Good Bluetooth speakers
Compact & stylish
Lock mode protects curious toddlers
Calorie count not 100% accurate
Verdict: The WP2 from CitySports is a great walking machine that's perfect for gentle strolls up to fast walking and jogging. It's got a modern sort of look about it and the built in speakers aren't bad sounding either.

---
That's the end of our list. Hopefully, now you're closer to making an informed decision about the walking treadmill you're looking for, and you've found the right one for the job.
Next up, we've got a buyer's guide packed with handy info to help you choose an awesome treadmill to stretch your legs.
---
Related guides
---
Walking Treadmills: Buyer's Guide

Almost everyone recognises a treadmill when they see one, but did you know that there are different types of treadmills that are designed for different things? And that one of the most popular, that are becoming far more common because of all of the benefits they can bring you, are treadmills designed only for walking?
What is a walking treadmill and what are they for?
A walking treadmill sometimes called an office treadmill or a walking deck is a treadmill that's been designed around a single purpose and use. And what is that use?
Walking, obviously.
All snark aside, there are a lot of uses for walking treadmills that you might have overlooked.
A walking treadmill is specifically designed only for walking, which means that there are a lot of things about their design that separates them from the standard style of running treadmill that you generally see in a gym.
The first thing you might notice is that your walking treadmill doesn't have any support arms. A lot of models are almost completely flat because they're designed to have a very limited maximum top speed. This means that you won't generally need any stabilisation, and it also means that you can use them with a walking desk.
In terms of top speed, a walking treadmill will generally go up to around 4mph, with a standard general speed of around 2.5mph, enough for a gentle walk, but no more.
On top of this, the internals are often different, with a very high torque motor that runs at a lower speed, suitable for hours of use, and thousands of steps per day, without burning out.
The last thing that you might notice with most walking treadmills is that a remote control is a standard feature. Without support arms to put the controls at waist or chest height, they need to be somewhere, and no one wants to bend over every few minutes just to adjust the speed on their machine.
People generally use walking treadmills for:
Exercising in their home office or at work
General fitness and aerobic health
Recovery and injury management
Pets
Get more from your walking time: check your body posture
As with any form of exercise, there's a right way and w wrong way to do walking. While you're probably pretty good at walking, your posture can sometimes go out the window on a treadmill, especially if you're looking down at the calories or your time, or watching your feet. Double-check you're hitting your stride in style: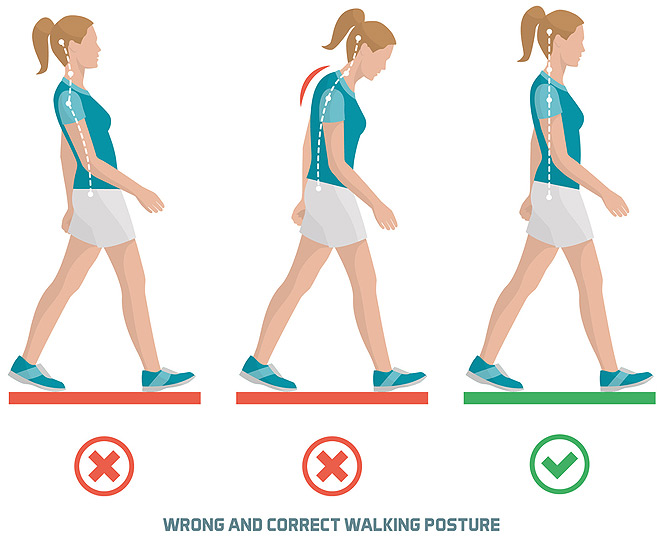 Why would you want a walking treadmill?
Walking is oft hailed as the underrated form of exercise, often seen as an easy option and not viewed as a proper form of training. If you think that, I'm afraid there's an avalanche of research that will disagree with you.
For starters, walking has been shown to help you lose weight (by burning off calories). With just one hour of walking shredding up to 150 calories. Doesn't sound like a lot? It could be all it takes to get into a calorie deficit, especially over a period of time.
On the health side of things, it's also surprising how important a good stroll can be. Some health benefits of walking include:
Improve heart health
Lower risk of heart attack
Reduces risk of a stroke
---
What should you look for in a walking treadmill?
A good motor
The motor in a walking treadmill doesn't have to be strong, because it's not going to be running at high speeds, but it does have to be tough. Most walking treadmills will be used for long periods of time, which can put a lot of strain on the motor, especially if the user is reasonably heavy.
A 2 horsepower motor is a good starting point, which will have enough strength to drive the belt for long periods.
On top of this, it's also worth understanding the difference between peak and rated or running horsepower. A lot of treadmills advertise their motors with peak power, ie, what the motor can do when at maximum output, not in general use.
A rated horsepower motor instead tells you what the standard running power of the motor is, and is a much better option overall.
Supportive suspension
If you're going to be walking on your treadmill for several hours per day, you don't want it to feel like walking over broken glass.
Most good walking treadmills will have built-in support or suspension on the walking deck.
This will help to absorb the impact of every step you take, reducing the force transferred to your joints, letting you walk for longer, and helping with long term injuries and short term aches and pains.
Quiet operation
Walking treadmills are designed to be used while doing other things, whether that's working in your home office, or just watching some TV.
But trying to focus on what you're doing with a treadmill clanking and grinding under your feet is surprisingly difficult.
Most walking treadmills shouldn't be too loud, because they're not running at high speed or putting a lot of heavy strain on the motor, but some are much quieter than others. Our reviews will point out the quietest if this is something you're looking for.
Size
In general, walking treadmills are smaller than running treadmills, in every dimension.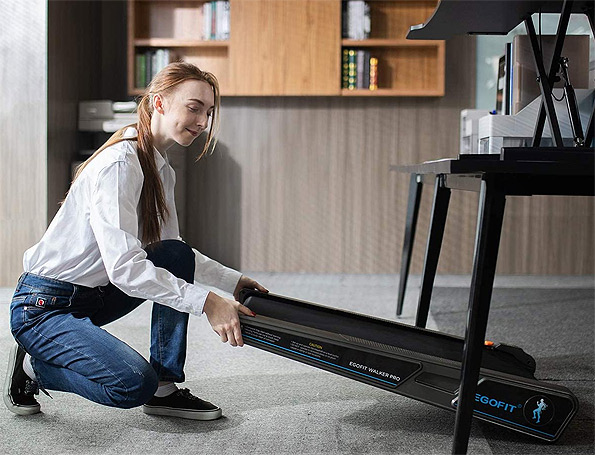 They don't tend to have high arm supports, so take less vertical space, and the smaller motor size and smaller running deck (to accommodate for the fact that you're not taking long, running strides on it) mean that they're generally narrower and shorter.
This smaller size makes walking treadmills lighter weight, and much easier to store. It's normal to find transport wheels as part of the design, and a lot of treadmills like this are small enough to fit underneath other furniture or be stood up vertically in a cupboard.
Good news: Walking treadmills should cost less money
It's a sad fact of life that no one has an infinite budget. But you also don't want to waste money on something that's not going to perform.
In general, avoid budget models, because that will mean a weak motor and shoddy construction, but with a walking treadmill, there's also not generally a reason to splash out like you would with a luxury running treadmill.
A good standard figure is several hundred pounds. This will get you a well-made machine that's going to perform well and last a long time.
Protecting the little ones
As most people will buy one of these machines and have children bombing around the house too, make sure you get one with some kind of lock when it starts. A toddler could definitely do some harm to themselves mucking around on a walking treadmill. If you're a parent, add start-up safety features to your checklist.
---
Can I use a walking treadmill for my pets?
Absolutely. Most dogs and some cats, plus other animals that like walks, can be trained to use a walking treadmill, letting them get daily exercise when you can't otherwise take them outside.
But bear in mind that a treadmill is not a substitute for real exercise with your pet, and that your pets should always be monitored at all times when using a walking treadmill.
Hopefully, our guide has given you a better understanding of the best walking treadmills on the market, and which one is right for you. Thanks for reading, and make sure to leave a comment. We always appreciate hearing from all of our readers!
---
References & Further Reading