Body Solid is one of the brands you'll likely hit on when looking to buy your next weight bench. They've got a decent range of benches that aren't super-expensive, making them ideal for proud home gym owners.
But are they any good, and which ones are right (there's a few different shapes, sizes and functions in their range? Fear not, in this guide we're covering the main pros and cons for the BodySolid range and weighing up whether or not they're actually any good.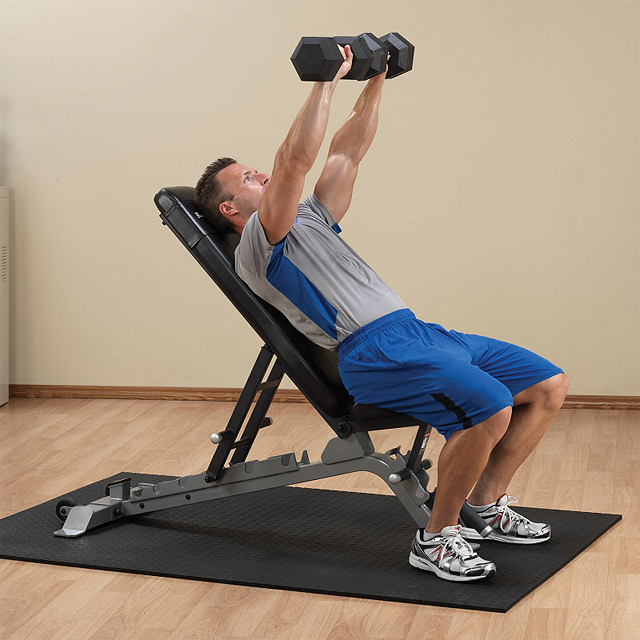 Who Are Body-Solid?

Founded in 1989 in Chicago, Illinois, Body-Solid has built up a reputation for high-quality quality home and commercial strength and conditioning equipment. With an impressive A+ rating from the BBB (Better Business Bureau), they are known for their lifetime warranties on their products.
They sell in the UK, USA, Canada, and over 200 countries worldwide and their 400-strong gym equipment range include:
Single and multi-station home gyms
Free weight machines
power racks
Weight plates
Kettlebells
Dumbbells
Olympic bars
Fitness Accessories
For over three decades, Body-Solid has gained a reputation for providing durable and high-quality exercise merchandise for homes, gyms, military, and professional gyms.
As far as weight benches go, Body-Solid have a good selection which is at the budget to mid-end of the price spectrum.
Which Body-Solid Utility Bench is the best?
There's a number of distinct benches in this companies range, each offering something different. From fixed flat benches, to incline and decline benches, to benches that fold neatly away to save space. Whatever you're after for your setup, they have it covered.
The max weights stated are combined user and weight limit.
Here's the benches we recommend for home gyms
#1 – Body-Solid Pro Club Line Full Commercial Flat/Incline/Decline Utility Bench
Type: Inline & Decline
Max weight: 450kg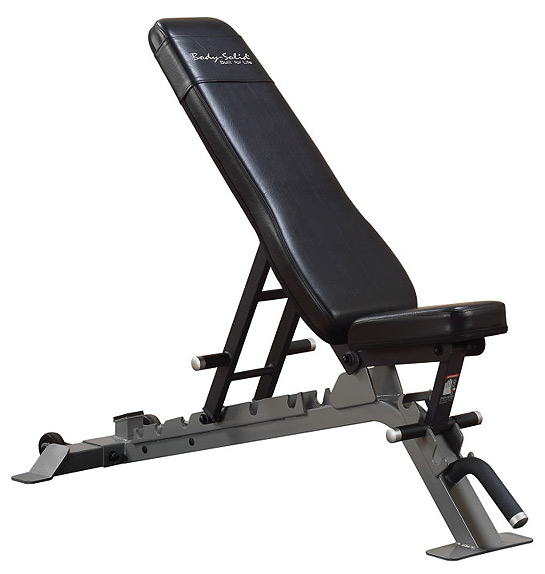 Built sturdy enough for commercial use, the Body-Solid Pro is a durable and stable weight bench for your home weight training. With the flat, incline, and decline functions, you have the option to train on three different levels with seven incline positions.
This bench is easy to transition between the various angles, although there's nothing to prevent you from sliding down the bench if it's in an incline position, which is unusual! The quality is really impressive here, however, with a near-commercial feel to it (without the commercial price).
The back pad and seat pad are both adjustable individually from each other for extra flexibility of training. Both have an above-average thickness on the covering quality too.
The SFID325 can handle weight capacities of over 1000 pounds on its robust 2″ x 3″ eleven gauge steel. The upholstery is durable and made to withstand heavy workloads. This bench is an ideal home or gym option for serious workouts and is perfect for a user that wishes to have space to grow their weight capacity over time.
Pro Club Commercial Utility Bench Features at a glance
2″ x 3″ eleven gauge steel
Back pad and seat adjust independently
1000 pounds weight capacity
Durable and wear-resistant padding
Transport wheels for manoeuvrability
Back pad adjusts to flat, incline 15,30,45,60 and 80°
Decline adjusts to minus 18°
Dimensions: 132 x 54 x 34cm
Weight 34kgs
Pro Club Commercial Utility Bench Pros & Cons
This product is a compact and powerful utility bench that is built well and doesn't take up too much space for home use. It has enough range that a user can progress their workout over time.
Excellent construction
Easy to assemble
A variety of inclines to chose from
Pads are firm for bench press
Excellent finish
Lifetime warranty
Heavy! (We're not complaining)
Fairly large gap between seat and back-rest
---
---
Related Bench Guides
---
#2 – Body-Solid Pro Club Line Full Commercial Flat Bench
Type: Fixed flat bench
Max weight: 680kg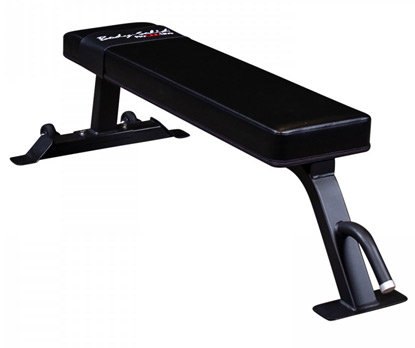 The Body-Solid Pro Club flat bench is a straightforward, no-frills, flat workout bench with extra thick upholstery, and a robust steel base.
It makes a dependable and wobble-free base for bench press, dumbbell flys, dumbbell rows, and many more. The high density 12″ wide padded cover provides comfort and support to your weight training.
This solid steel bench will root you firmly to the ground while you can lift to 1500 lbs / 680 kg which makes it ideal for heavy dumbbell training, bench press inside a power rack or smith machine.
The stability of the bench is also excellent for lower body and abdominal exercises such as single-leg dumbbell lunges and butterfly kicks.
The bench has an ergonomic handle and wheels to allow ease of movement.
Body-Solid Pro Club Line Features at a Glance
Commercial rated
2″ x 3″ 11-gauge steel construction
High-density upholstery
Upholstery wear guard
Wheels and handle
1500-pound weight capacity
Black powder-coated finish
Dimensions: 63'' x 25'' x 17''
Pad dimensions: 48″ x 12″
Weight 26.31kg
Body-Solid Pro Club Line Pros & Cons
The Body-Solid Pro-flat bench is a robust and stable flat bench that may be used for a variety of weight training either by itself or with other equipment.
Solid and wobble-free steel frame
Compact dimensions
High weight capacity
Easy to move
Limits exercises to non-inline
---
#3 – Body-Solid Folding Utility Bench (Pre-Built)
Type: Folding utility bench
Max weight: 272kg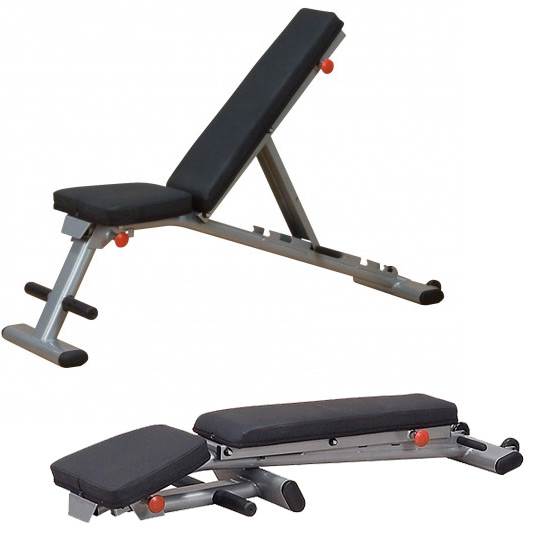 The Body-Solid folding bench comes pre-assembled, so you can take it straight out of the box and start your weight training. Both compact yet highly durable, it folds up snug to keep out of the way for home use and has handy wheels to make moving it around easy. The 2" x 3″ oval tubing provides support without taking up too much space.
Body-Solid Folding Utility Bench Features at a Glance
Assembled dimensions: 18″ x 57″ x 16″
Folded dimensions: 9″ x 57″ x 16″
No assembly required
7 ladder style position adjustability
Weight 33kgs
Home use warranty lifetime for parts
Firm and durable padding
Light commercial warranty
600 lbs maximum weight
Body-Solid Folding Utility Bench Pros & Cons
It is a solid bench for those who are seeking a maximum-intensity workout under 600 lbs maximum.
The real advantage of this bench is that it fits well into smaller-size spaces, and yet the steel is durable for weight training. This bench offers a hard-to-find combo of being a sturdy bench that folds down.
Compact and portable
Comfortable padding
Folds up to store under furniture
Solid steel construction.
No assembly
The back does not lock in place when folded
(Can't be stored vertically)
Lower weight capacity than non-folding benches
---
#4 – Body-Solid Flat/Incline/Decline Utility Bench (RED)
Type: Incline / Decline bench
Max weight: 272kg
This bench is a well-made and professionally designed piece of equipment.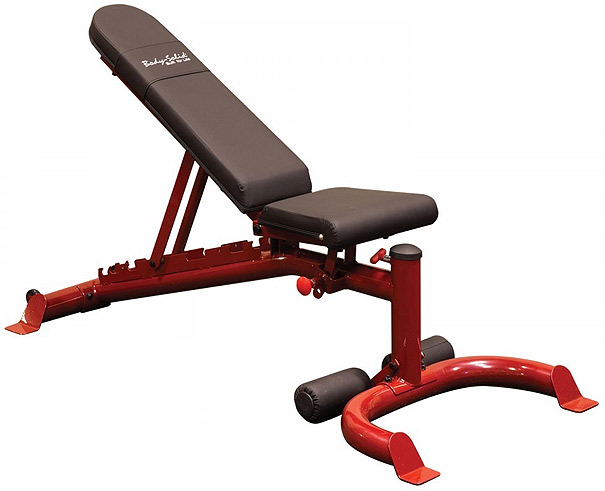 The body solid incline/decline bench is a ridiculously strong bench for your home gym. The extra-wide base makes for one of the sturdiest wobble-free benches you can get. This bench is also surprisingly comfy.
The heavy-duty steel frame is made for a weight capacity of 600 lbs / 272 kg, which makes it great for weight training. The back and seat pads have durable, extra-thick padding and lock into different positions for you to align your posture.
The leg lock down is an excellent feature with oversized rollers for extra stability while you perform upper and lower body exercises.
This bench is a well-made and professionally designed piece of equipment. It is very solid, and yet its dimensions are not excessive. The red and black finish is a stylish touch.
Body-Solid Flat/Incline/Decline Utility Bench (RED) Features at a Glance
6 Different adjustable positions for incline/decline
3″ round steel frame
Wheels for portability
Wide roller covered leg lock down support back
Thick DuraFirm back and seat pads
In-home and commercial lifetime warranty
Dimensions: 19'' x 28'' x 66''
Weight 58lbs
Body-Solid Flat/Incline/Decline Utility Bench (RED) Pros & Cons
Solid steel construction
Very comfortable seat
Stable during workouts
Leg lockdown is a plus
Slightly lower weight capacity than other benches
The front feet can get in your way during bench press
---
#5 – Body-Solid Flat Bench – Full Commercial Weight Bench
Type: Flat bench
Max weight: 1000lbs / 454 kg capacity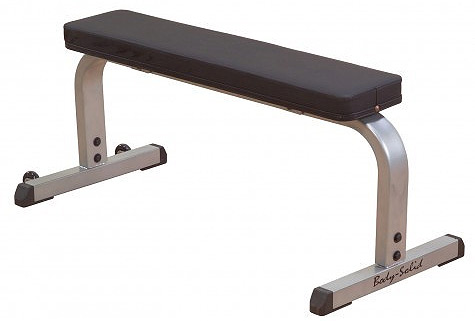 It's nice working with some gym gear that can be assembled in a few minutes. Body Solid's flat bench is easy to put together and is rock solid once you've it together.
The shortened design of Body Solid's dedicated flat bench is especially helpful for form and positioning for shoulder presses of all types of racks.
It's also light enough to move around when you need to, with small transport wheels to save dragging it around.
The set pad is adjustable to 8 different positions, so users of all sizes can perform their weight training with proper lower back support.
The seat is also padded with a durable but soft DuraFirm upholstery.
This product is a solidly built bench that should last a user a lifetime. Customers all commented on the robust, wobble-free action and the solidity of the product. For its small frame, it carries a highly impressive weight limit.
If you're looking for a commercial-grade bench that doesn't cost the earth to buy, then this simple, sturdy workhorse is a good one to go for.
Body-Solid Flat Bench – Full Commercial Weight Bench Features at a Glance
2″ x 3″ commercial steel frame
DuraFirm upholstery
Four-side welded constructed
Can fit power rack, smith machines, and press racks
6 ladder style settings
Built-in wheels
1000 lbs weight capacity
Weight 41.4lbs
49″ x 23″ x 19″ dimensions
T-bar leg hold down attachment included
Lifetime warranty on frame and welding
Body-Solid Flat Bench – Full Commercial Weight Bench Pros
Impressive 1000 lbs capacity for its size
Sturdy as they come
Lifetime warranty
Easy to assemble
Good positioning options
Pad takes a little lining up with the screws
---
Conclusion
Body-Solid is a reliable company that makes high-quality products that are made to last. Their products review extremely highly from users who have bought them.
Their customer service is also high standard (See below for links). When a company puts a lifetime warranty on its products, it is a good sign that they have been manufactured up to high standards, and any of the above benches are well worth their price.
Body Solid's line of gym benches is exactly suited to home gym owners as they balance price with good, reliable benches that you can find in many commercial fitness centres in the UK.
---
Gym bench buying guide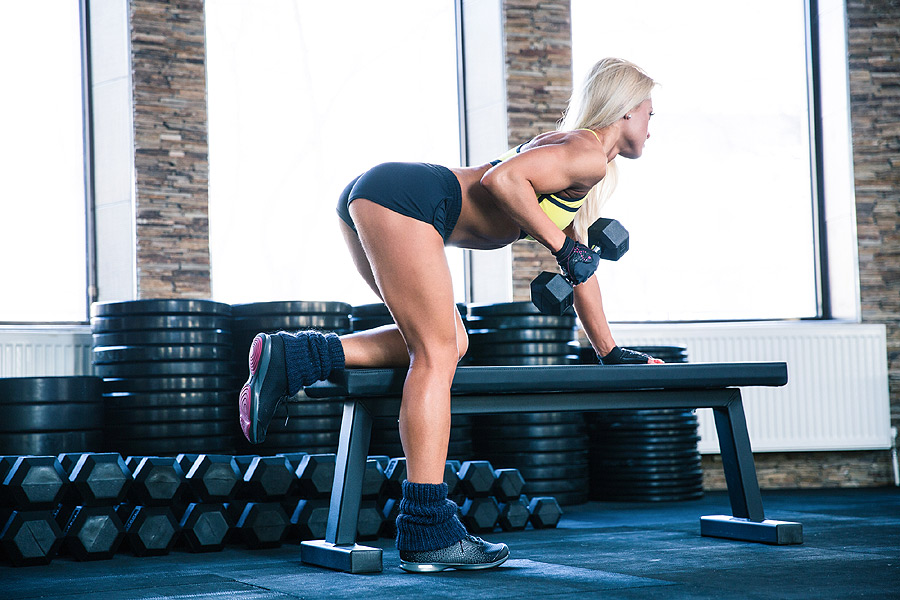 Picking up a weight bench is one of the best pieces of kit you can get for your home gym
A weight bench is an excellent investment for any home workout program, that will open up many major exercises that are ideal for building strength and muscle.
They're easy to assemble, and generally don't hog too much space – especially compared to things like multi-gyms.  With a weight bench, you can improve your muscle mass, perform compound exercises as well as target isolated muscle groups to define your body.
When shopping for that perfect weight bench, it's a good idea to get armed with some basics so you know what you'll need in terms of weight capacity, the type of bench, comfort, and your space allocation.
Free weight training is essential for your strength training
Working with barbells and dumbbells on a weight bench has a host of benefits beyond just building muscle mass.
Some surprising benefits of bench training
Improve your posture
Improve your sleep
Gain bone density
Lose fat and maintain weight loss
Boost your metabolism
Protect you from chronic disease
Top 5 things you need to know when picking a weights bench
Whether you're buying a Body Solid Bench or another brand, here are some things to be on the lookout for. Your weight bench at home is a great idea to start your weight building routine or take your lifting to the next level, and we want you to get one that lasts a long time.
Five key things to look out for when buying a weight bench are:
#1 – Performance
Maximum user and load weight are crucial factors, especially if you plan to build muscle mass. The bench should be solid enough to support not only your current weight but your weights in the future should you move up and increase your training intensity.
#2 – Durability
If you plan to use your weight bench to build muscle mass, you should be increasing your weight limit as you progress. It would be best if you had a solid bench that is durable and is made to last you through your weight increases.
#3 – Comfort
Make sure that your weight bench conforms to your measurements correctly. The seat should be firm for support and be comfortable during exercise. A durable and sweat-resistant cover will stand you in good stead.
Also pay attention to the width of the bench, as well as the length.
#5 – Weight capacity
Ensure that your bench allows you scope for growth. You don't want to find that your bench is no longer suitable for your upgraded weight need.
#6 – Adjustability
Having a bench that declines and inclines allow you to perform your workout over three different levels. While a flat bench offers unrivalled stability and usually lets you handle a lot more weight on the bench.
For most people, however, it's a good idea to get an adjustable bench for home use. This means you'll be able to do a lot more exercises from that one bit of fitness equipment and have a greater variation in your sets.
Resources and further reading