Welcome to our review of one of the more futuristic exercise bikes doing the rounds today – the NordicTrack Commercial S10i.
This high-end upright home cycle has an HD colour screen and integration with online classes, virtual racing and a ton of other cool stuff.
This review will cover everything the S10i does, and give our opinion on whether it's worth your time and the price tag. We'll cover the good and bad points and help you decide if this is the machine for you and your family!
Water bottle ready? Let's go!
What Is the NordicTrack Commercial S10i Cycle?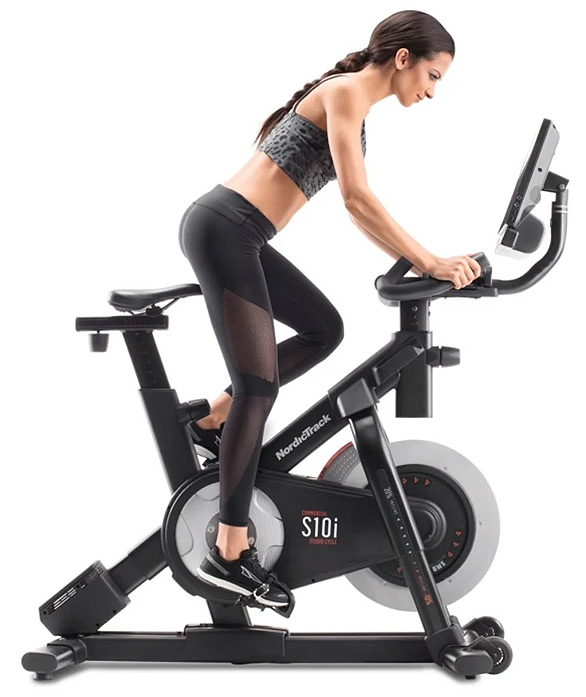 The NordicTrack S10i is an upright home exercise bike similar to the machines you'll get in spinning classes. It aims to get you in shape with features such as online coaching and classes, as well as the standard resistance and programs you'd expect from an exercise bike.
It comes with two 1.4kg weights (3lbs) weights to integrate your upper body into your intense cycling workout.
The seat post is fully adjustable both horizontally and vertically to suit any height and both pedals and seat are standard road bike compatible. They can be swapped out according to your preference.
The S10i offers inertia enhanced flywheel with 22 levels of digital resistance to taking your endurance up to the next level.
The S01i includes both an incline and the much rarer decline function which combine for a slope variation of -10° to +20° with easy to reach quick touch controls on both the console and handlebars.
Built in 10″ touch screen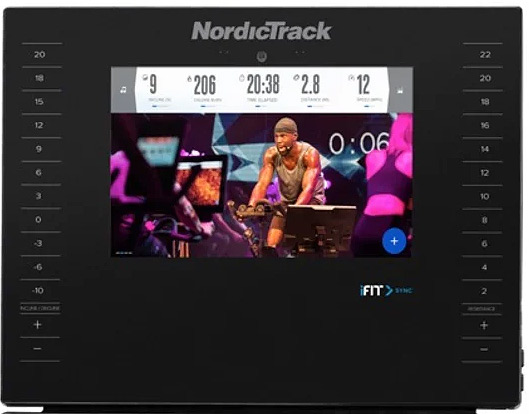 The 10″ smart HD full-color touchscreen console is fully rotatable to 360° and has a watts meter and is iFit Coach enabled with an included full 12 months subscription.
You can enjoy the real-time spin experience with coaching programs that incorporate your S10i resistance functions, incline, and two digitally amplified speakers.
With access to yoga classes, on-demand streaming workouts, and full-body-sculpting classes, you will need your onboard Autobreeze fans to cool you down.
---
The NordicTrack Commercial S10i Cycle Features at a Glance:
10″ Full-color Smart HD Touch Sensitive Screen
Watts power display
Auxiliary music port with 2 digital speakers
Inertia enhanced flywheel
SMR Silent Magnetic Resistance
22-Resistance levels
The commercial-grade steel frame
2 x 3lbs dumbbell weights
AutoBreeze Fan
Front-mounted wheels for transport
Incline/decline function -10° to +20°
3-year Warranty on the frame, 2- years on parts, 1-year on labour
Benefits to Training With The NordicTrack S10i
Increase your fitness and endurance
What are the benefits to NordicTrack's commercial bike?
With an absolute boatload of upright cycles to choose from in 2023 (when you can find them in stock, that is) you might be wondering what NordicTrack's machine can do for your fitness.
Here's a quick rundown of the things we think this bike does pretty well.
It's kind to new riders, or anyone looking for a serious challenge
The NordicTrack S10i is a rare beast in the exercise bike world in that it has enough power for experienced users but it can also be turned down to be gentle enough to jump on, even if you've not trained in years. There's 22 levels of resistance to keep everyone in between those extremes happy too.
Experienced cyclists will find plenty of challenge here too, whether using the built in programs or tackling into one of the fitness classes from iFit. The way the instructors control your resistance means there's no skiving off, even if you're pedalling at home.
Train your upper body too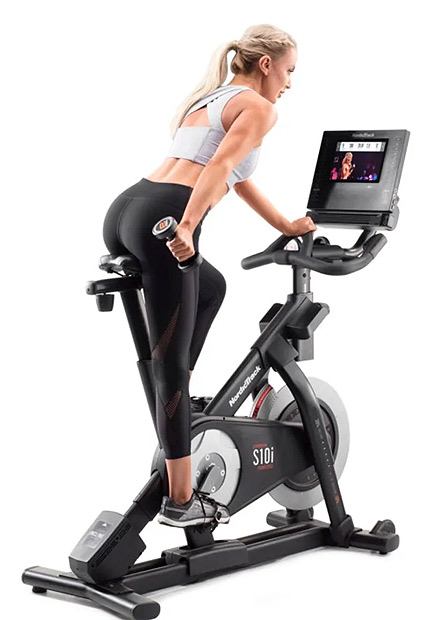 Although cycling itself is traditionally a lower body workout, NordicTrack have incorporated training programs and weights into the S10i system to involve your upper body too.
The ingenious screen on the S10 can be moved to any angle, allowing you to get stuck into a completely non-exercise-bike class if you want to. And there's some classes that combine both cycling and upper body too. See it in action here – it's really something.
The integrated iFit program gives users access to both on-bike and off-bike body training such as intense body sculpting and even Yoga.
I just want to get in shape!
If you're looking for a simple way to get in shape, as futuristic as this NordicTrack's bike sounds, it's actually simple to use and will burn off the calories you need to, as long as you don't skimp on the training.
The cardio training and integrated iFit exercises have a host of health benefits. Cardio is proven to lower blood pressure, improve circulation and heart health, and boost your immune system.
With regular exercise, your stress levels will decrease, and your sleep will improve your psychological well being.
Train whenever you want
When that UK wind starts to blow and the nights get darker, training from home seems like more and more of a good idea! With your NordicTrack S10i, you can get the benefit of cycling outdoors, or at the gym without stepping foot outside.
The idea of taking spinning classes without being surrounded by gym-heads sounds good to us. With the NordicTrack S10i, you can train whenever you want. And the compact dimensions of the cycle can easily fit your household without taking up too much valuable space.
With your own studio cycle at home, you can work out at any hour of the day in safety, regardless of the time or what the weather is throwing at us.
---
iFit integration on the S10i – is it any good?
The S10i comes standard with a free month's subscription to iFit (a family pass). iFit is a third party training platform that offers live classes, pre-recorded sessions and much more.  with realtime streaming integration with your cycles resistance and incline.
Why bother with iFit at all?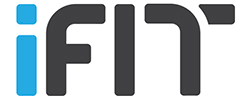 While the S10i works perfectly well without iFit, it's clearly a big selling point that NordicTrack are pushing with many of their ellipticals, bikes and other fitness machines. It might also be 100% for you. Here's some good reasons to give it a go:
It keeps you motivated
You'll burn more calories without noticing
It breaks up what is really a pretty monotonous activity
You'll stretch yourself and try new exercises
You'll tone your body better with professional instructors
The virtual races you'll do on the S10i, where you follow an instructor through a glamorous location, are insanely cool and good fun. *
* Not only can you choose from a fantastic variety of trainers and classes, but you can also explore the virtual world through Goggle map integration. Each day your S10i provides you with an updated map workout and offers 50+video workouts and manual mode.
---
Integrate body training with your cardio workout
Back in the day, everyone had an unused exercise bike in the garage because let's face it; they could get dull. The upper body also seemed to be left out of the fitness regime when you spent most of your time pretty much stationery (besides your legs.)
With the integrated iFit Coach and the nifty weights included in the kit, you have the scope to integrate upper body training sessions with elite trainers in Yoga and body sculpting.
Not only does this make for a more rounded workout, but it keeps you interested and motivated. Choosing to ride anywhere in the virtual world or joining a virtual class keeps things from becoming dull.
You can do other things while you work out
The beauty of a home exercise bike is that you are free to choose what to do when you work out. There is nothing worse than being forced to watch what other people want at the gym, or listen to music that you don't enjoy.
You can cycle in front of your favourite TV show, study, read, or listen to your favourite tunes through the two digital speakers and the music port for iPod/mp3.
---
Who Is the NordicTrack S10i Studio Bike Aimed At?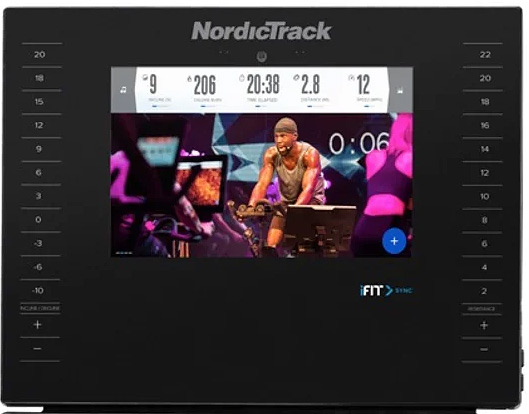 The S10i is adaptable to any fitness level
The S10i is exceptionally versatile in that it can accommodate users, whatever their fitness level may be. With the 22 levels of silent magnetic resistance, you have the option of starting easy or pushing a maximum intensity spinning session.=
The best part of the bike is that it allows you to increase your intensity over time and not find yourself 'peaking' and have to upgrade your cycle.
It is great for multiple users
If you have a family, couple, or share accommodation, the adaptability of the S10i can accommodate various size users at varying fitness levels. The iFit Coach is included in your purchase of the S10i and caters for multiple users, each of which can create their separate user ID. The seat is adjustable both vertically and horizontally so users may easily adjust the bike to their dimensions.
Anyone who struggles to find time to exercise will love this…
With our busy everyday lives, it isn't easy to find the motivation and the time to exercise. The commute to and from the gym and finding parking and getting changed all take up valuable time.
With your S10i neatly in the corner of your lounge or bedroom, you have more chances of finding the time for your workouts. If you are a night owl, there are no closing times with your indoor cycle, and you have access to 24-hr streaming fitness and spin classes that you may join for motivation.
You can focus your training
The advance of indoor training technology offers much more today in terms of training than ever before. The S10i allows you access to an interactive training app that enables a user to isolate target training goals with much greater precision.
For example, you can integrate your power-based workouts to improve your endurance, climbing performance, or improve your sprint speed. You can access external resistance control through iFit training sessions and get the most from your workout.
The S10i cannot  accommodate a higher body weight than 150kg
The sturdy steel construction of the S10i can hold weights up to 150kgs/330lbs, which is larger than most of the indoor cycles of its dimensions.
The sold frame also means that you will get a greater lifespan out of your bike, which has an impressive three-year warranty on the frame. Despite the sturdy construction, this bike is not suited to those over 150kg.
---
Review Time: What We liked About The NordicTrack S10i
It's really sturdy
The S10i is undoubtedly sturdy and surprisingly compact for its 74kg weight.
If you've not heard of NordicTrack before, and there are people who've yet to discover the brand, then think quality. Although you could never say their exercise bikes and other gear are the cheapest, they're definitely up there with the better-engineered machines available today.
The S10i is made to last, with a thicker steel frame than you'd get on competing machines. This is all the more important on a bike where you'll often be shifting your weight around, and standing up too.
Wobble-free. Built to last. And it's not hard-on-the-eye either. There are no surprises here; the S10i offers top-level build quality and engineering. It looks sleek, and there is hardly any noise when cycling, even on high resistance.
Good functions and easy to use
We liked the functionality of the S10i and how the touch points for resistance were placed on the handlebars in easy reach during exercising.
Plenty of resistance
The controls are intuitive, and you could easily track your stats from the get-go. The resistance is a killer, and you can feel that this bike could take to a power level you would have to work hard for it.
iFit takes a few minutes to set up but you'll get lost in it when you dive in to either the classes or the wealth of pre-recorded routines. The production quality on the iFit videos in general is excellent and it's implementation with the NordicTrack bike is superb.
Looks good and is easy-to-adjust
The seat adapted quickly between myself and my taller colleague. The seat was comfy but not the most luxurious, but that is not a deal-breaker because the seat post is compatible with most bikes.
The pedals were nice and wide, and the toe cage is adjustable and comfortable. I have a size four shoe, so I did find I slid a bit at high speed, but you can easily replace the pedals as they accommodate most road bike fits.
Superb, crisp colour display
The HD display is crisp, and the sound is clear from the two onboard speakers. The stats are clearly visible without the hassle of toggling around, and the streaming videos translated well onto the screen.
---
What We Didn't like About the NordicTrack S10i
iFit Subscription fees
Although iFit is one of the best things around in the world of home fitness right now, it's also worth noting that this is a subscription-based service. You get a full family pass free for a month with the S10i, but if you want to continue using it after that, you'll be charged the rate. (Around £25 for the family pass per month).
That's not to say the S10i can't stand on it's own without iFit. It definitely can. You're still getting that NordicTrack quality and a superb quality indoor cycle. But, to get the most out of this product, you're going to want to use iFit. It's just so good.
You'll have to weigh up whether or not you're happy to (eventually) take on another subscription to your likely already burgeoning collection in 2023!
Assembly takes some work
The assembly of the S10i was not a walk in the park.
The 150 parts seemed to multiply as we attempted to put the cycle together, and it took much longer than either of us anticipated.
They do allow you to order the kit assembled on some platforms for an extra charge, and after assembling the bike, I know why.
Some users may want to change the seat
The NordicTrack S10i comes with a regular cycle style seat which won't please everyone. If you're not used to cycling, it could get a tad uncomfortable after some use. However, some people may prefer the tapered and firm style saddle for their workout.
It's also worth noting that the seat post is compatible with most bike saddles, so you're free to pick and choose any one you want if you don't get along with this one. Again, nit-picking and it won't be an issue for many cyclists, but it's also worth mentioning!
An even bigger screen would have been nice!
Having sung the praises of the HD touch screen, we'd like to have seen those videos running on an even larger screen. What you get is around the size of an iPad, so it's not too bad by any standards. But if fees like a larger screen would have been at home here and something we'd like to have seen with the NordicTrack S10i.
It's not the cheapest upright bike we've seen
Another elephant in the room with NordicTrack's Commercial S10 machine is obviously the price. At the upper end of the market, this is going to push this indoor cycle well beyond some people's budget. Everyone will have to decide how much they're happy to pay for a proper quality machine like the S10i.
An easier question to answer is whether or not this bike represents good value for money. Compared to cheaper sub £1000 machines, the build quality here is significantly better.
The S10i also simply does things the competing machines don't. The large, built in screen, swivelling design and things like the decline function, and online active resistance control make a good case for this product.
Bot the cheapest machine, but you're getting a lot for your cash!
---
Conclusion: Is the S10i worth your money?
The NordicTrack S10i Studio cycle is a compact powerhouse that seems built to last the long haul. If you're even slightly interested in iFit, or online races and classes, you'll likely be delighted with what's on offer here.
The S10i is beautifully-designed too, offering all the add-ons that make your spinning life more pleasant and interesting. The bike has a lot of scope for individual fitness goals, and the iFit integrations succeed at the far-from-easy task of making tough workouts seem like fun.
The bike is neat and functions as well for those starting the fitness road and those already racing on it. If the S10i is within your budget, there's really no reason not to go for it. It's an excellent quality indoor bike with superb online features.
If this machine is within your budget, you're in for a treat, with multimedia splendour and sweaty hard work in equal measure.
Highly Recommended!
Full NordicTrack S10i Specs
Resistance
Infinity resistance, featuring flywheel and padded brake.
Touchscreen
10" HD Touchscreen
Memberships included
1 year family iFit subscription
(£349 value)
Music
Multimedia amplified speakers
Saddle
Ergonomic padded seat
Flywheel
Inertia-enhanced flywheel
Water bottle holders
2
Seat Adjustment
Vertically and horizontally
Handlebar adjustments
Vertically and horizontally
Handlebar grips
Multi-position handle bars, sit up right or lean forwards
# Resistance levels
22
Frame
Commercial grade steel
Max user weight
150kg
Dimensions
55.0" L x 21.9" W x 54.8" H
Compatible with standard pedals?
Yes
Warranty
2 Years parts and labour; 5 year frame guarantee upon warranty registration within 28 days of purchase.
References and further reading