Review Summary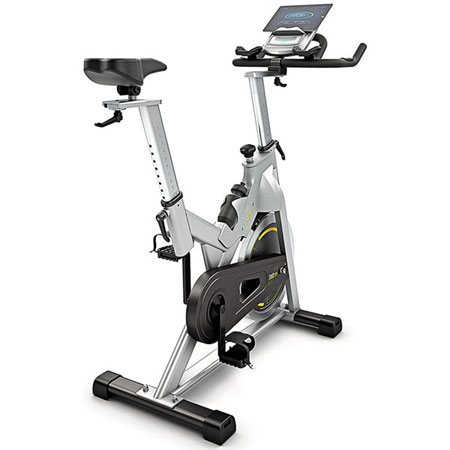 Tour SP
Solid, chunky frame
Good value for money
Works with Kinomap
Good quality backlit LCD display
Lowish user weight limit (100kg)
"Offering a superior quality to budget spin bikes, the Tour SP is well made, fun to use and has good integration with Kinomap."

Places like Amazon are cluttered with cheaper spin bikes but what can £500 get you these days? Welcome to your review of the Bluefin Fitness Tour SP bike. In this full guide, we're going deep on what this bike has to offer, what it's actually good and where it falls short. Is Bluefin's bike worth your cash?
Let's find out.
What is the Bluefin Fitness Tour SP
The Tour SP is their commercial level, electronically enabled exercise bike that comes straight out of the box with app functionality and a host of high-tech features. You're getting an indoor bike that uses belt drive and has a decent-sized flywheel at 25kg – a fair bit larger than a lot of the bikes we've seen in 2023.
Resistance comes in the classic brake pad, which you'll be adjusting with a spin-class style 'knob'.
There's a lot to love here, at an incredibly reasonable price (normally around the £500 mark)… so let's dig in.
---
Tour SP: At a glance features
25kg flywheel
Silent belt drive transmission
Backlit LCD display panel
Device rest, for tablets or phones
Adjustable resistance
Stop brake
Aluminium sports pedals
Water bottle holder
Transport wheels
12-month warranty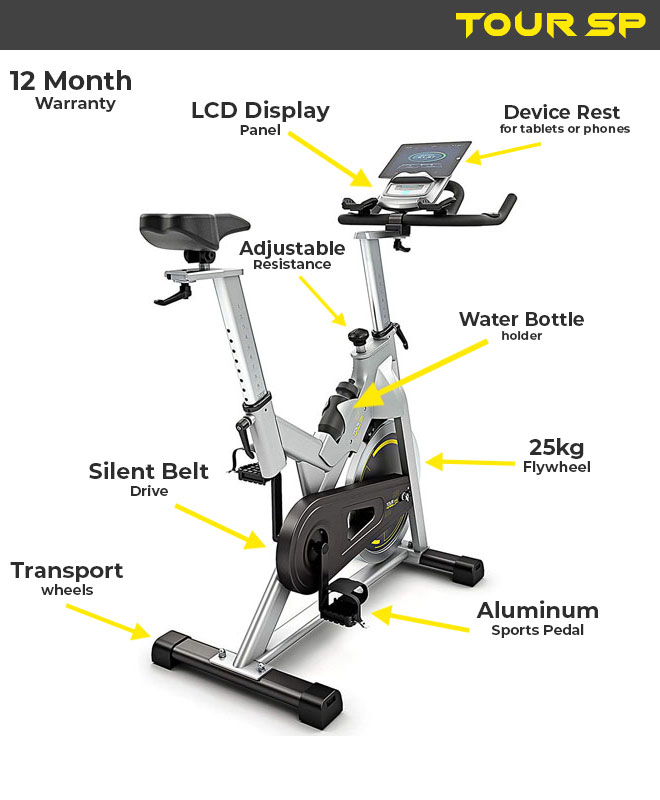 Who are Bluefin Fitness?

Bluefin are a UK company, based in West Yorkshire. They've been around since 2013 and are actually better known for their vibration plates, although they have now branched into all kinds of fitness products. They've got everything from rowing machines to
For customer reviews, they've currently got a 4.01 rating out of 5 on Reviews.co.uk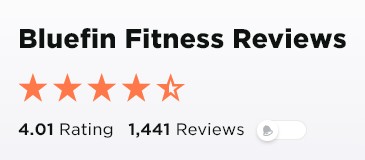 ---
What's it like to assemble this cycle?
While spin bikes like the SP aren't ranked highest on our list of absolute b*****d gym gear to assemble, there have been some that could thin your hair a bit. I'm going to make a bold statement here. Even without the instructions here, I could have put this thing together just by looking at it. And I SUCK at DIY things.
What I'm trying to say is that Bluefin's bike comes mostly assembled. There are some simple tasks like attaching your stabilisers and obvious bits like slotting in the handlebars and seat. The hardest part, and it's not that hard at all, would be attaching the LCD display. Even that's a doddle.
Good instructions. Minmum messing around. Mostly assembled. Perfect.
Design: The Tour SP looks pretty good
It never ceases to amaze us how different something as simple as a spin bike can look. Here, Bluefin has gone for an angular design that's mostly finished in a minimal silver colour. Bright chrome stems and handlebar look good too.
The 'chain' guard, which is actually a belt here, is the only bit that lets it down. It reminds me of an old bike and looks a bit on the clunky side.
The rest of the Tour SP's aesthetics are good though if a little colour-less.
What you'll get from training with Bluefin's exercise bike:
There's a reason that exercise bikes have been a staple form of exercise for a long time. Studies agree that it's a fantastic form of exercise.
Firstly, cycling is excellent cardio, with a huge amount of training options. High-intensity interval training, long term solid-state cardio, short bursts that fit into your day. However and whatever you're looking to train, there's probably a way to do it on a bike.
Second, you can use a bike as part of a strength-training regimen. By cranking up the resistance, a bike is a fantastic tool for exercising your legs.
Third, and finally, bikes are very low impact, especially compared with a lot of other forms of cardio. An exercise bike isn't going to hurt joints, and it's a great way for people who aren't in the best shape, or working off an injury, to get back into exercising.
---
Is this bike for me?
So who is this bike suited to? Who might want to look elsehwere?
If you want to do online spin classes
Whether you go for one of the paid subscription services like iFit, or get stuck into one of the zillion spin classes on Youtube, this bike is well placed to do those kinds of classes. The built-in tablet shelf is ideal for spinning in your living room.
If you hate setting stuff up
There are people out there who enjoy adding their own cadence sensors to a bike or building their own indoor setup for online races and training. If you're just looking for a simple take it out of the box and go arrangement, this is a good bike to go for. Setup is simple and it's easy to use.
If you're looking to burn some calories
If there's one thing this bike is good at, it's burning calories. While there's a lot of different factors involved in just how many (time, your weight and intensity being the main ones) you can burn anywhere from 250 to over a thousand calories per hour on an upright bike.
You'll need to watch the energy in just as carefully, but spin bikes are a devastatingly effective way to torch calories.
A good all-rounder
This is all backed up with a solid suite of electronics, with the capacity for far more expansion. If you need a basic, decent exercise bike that's going to get you fit, the Tour SP will do that. If you want a highly technical tool that's going to link to online fitness apps, heart rate readers, and any touchscreen tech you have, this does that too.
If you're over 100kg
Then you might want to look elsewhere. While we've heard of people over that using this bike, and can see why; it's a solid beast, it's a good idea to stick to the specs.
---
SP Review: What we like about the Bluefin Fitness Tour SP
At this price, the Bluefin Fitness Tour SP is a fantastic bike with a whole lot to offer.
Great construction
The Tour SP is a commercial level bike, with the level of quality you'd expect from something at this price point and calibre.
The frame is strong aluminium, which keeps weight down while being robust and strong. It arrives part assembled, with all of the tools necessary to put it together, which should only take an hour or so, as well as keep it maintained and working correctly.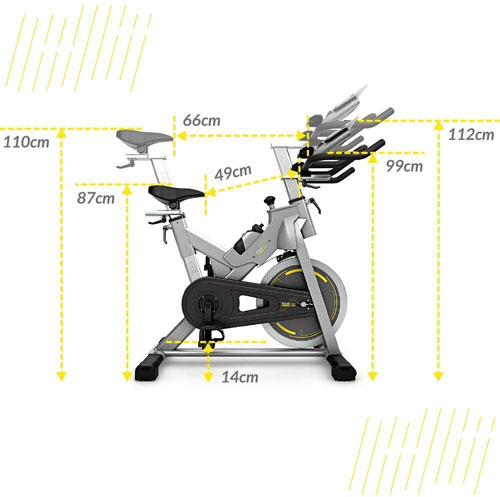 All of the fittings here are of a high quality. The pedals, for instance are aluminium, with moulded toe cages that are comfortable, but let you push hard without your feet slipping.
The seat is comfortable, with 9 levels of vertical adjustment, as well as horizontal adjustments, so you'll be able to find the perfect riding position, no matter your height and weight.
The handlebars are equally adjustable, with vertical and horizontal movement, as well as big, cushioned arm supports for comfortable riding.
But the best thing about this bike is the flywheel. It's a very hefty 25kg, which provides a massive amount of resistance that's changed with the easy to access resistance wheel.
It's also mounted on a silent drive belt transmission system, which is whisper quiet, even at high resistance.
Very easy to use
There's a lot of creature comforts in this bike. We've already touched on the seat and handlebar adjustments, but there's also a tablet argument, a water bottle holder, and simple to use LCD screen and controls.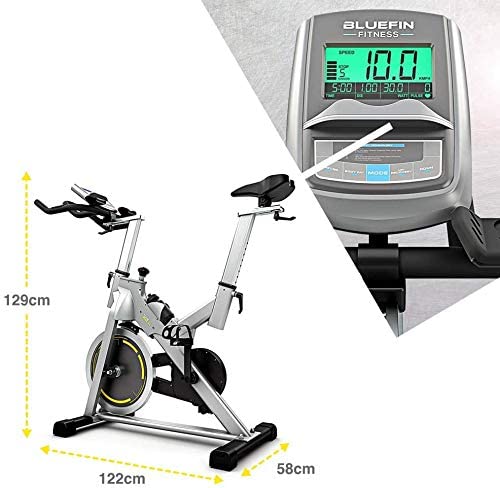 Everything is simple and laid out well, with a full suite of measurements, from time, distance, calories burned, and pulse rate. There isn't a heart rate monitor built-in, but this takes any standard HRC pulse monitor.
Out-of-the-box multimedia options
The Tour SP is designed from the ground up to work with Kinomap, which is an interactive fitness app that lets you pick and choose from courses around the world and train as if you're there.
We've written a full guide on the benefits of the Kinomap app here but put short, we love fitness apps like this. They massively boost motivation, keep exercise fresh, help newbies know what to do, and barely cost anything, especially when balanced against a full gym membership.
Having this built right into the bike from the outset makes a big difference, and it's a serious reason to consider picking this up.
Backlit LCD Display
This might sound like a little thing but you'd be amazed how many mid-priced bikes skimp on a decent back-lit display. Not so with the Tour SP. Bluefin have thankfully opted for an easy-to-read LCD here that's brightly lit.
There's no squinting or trying to get the right viewing angle here.
---
Related Spin Bike Guides
---
What we don't like about the Bluefin Fitness Tour SP
Lower max user weight than we'd have liked
While it's not going to be an issue for everyone, the Tour SP has a lower weight capacity than we've seen on similar bikes. You've got 100kg here, or at least that's what is stated in the instruction manual.
It's odd because the bike itself is a solid affair that feels like it might take a lot more. But, that's not for us to say! Relatively speaking, it's on the low side but you'll have to weigh up (pun-intended) whether or not that's an issue for you.
Imprecise readings
According to some users, the speed and power readings on the bike are a little out. This is supposedly because there's only a single sensor, a pedal cadence detector, that monitors power and speed.
The difference is minor, but it's there, and you should be aware of it.
---
Summing up: Is the Tour SP any good?
At this price, the Bluefin Fitness Tour SP is a fantastic bike with a whole lot to offer. Although the stated user weight tops out at 100kg, this bike is really sturdy and offers a lot for the £500 price tag.
The built-in display is above average for spin bikes in general and way better than the ones you'll find on cheaper machines.
Great build quality and a host of features, plus Kinomap make this a solid pick up for any home gym.
---
What other bikes can you get in this price range?
There's a lot of different bikes in this sort of price range up for grabs in 2023! Check out our list of suggestions below.
The Nero Sports Bluetooth bike is a good choice if you want to connect your phone or tablet to the bike and get into some online racing and streaming.
There's also JTX Fitness's brilliant Cyclo series, with the Cylco 6 in almost the same price bracket as the Bluefin SP bike.
Check out Dripex's indoor bike too – it's been getting a lot of good reviews on Amazon and the company has brought out some great home gym gear recently.
Prices Last Updated Thursday 9th November 2023 - 20:11:33 pm
---
Tour SP Specs
| Brand | Bluefin Fitness |
| --- | --- |
| Flywheel weight | 25kg |
| Model | Tour SP |
| Color | Black and Silver |
| Resistance Mechanism | Magnetic |
| Material | Aluminium |
| Drive System | Belt |
| Water bottle holder? | Yes |
| Kinomap compatible | Yes |
| Backlit | Yes |
| Display | LCD |
| Resistance | Felt brake |
| # Seat Adjustments | 9 |
| Pedals | Plastic toe clips |
| Handlebars | Racing handlebars with elbow rests |
| Handlebar adjustments | Horizontal and vertical |
| Seat adjustments | Horizontal and vertical |
| Transport wheels: | Yes |
| Dimensions | 122cm x 129cm x 58cm |
---
Resources and further reading