Who giants in the treadmill world: ProForm's 'pro' 5000 and NordicTrack's 1750. If you're sick of trying to pick between these machines, hopefully, this guide will help make the decision easier. We'll cover absolutely everything about these two heavyweight running machines and give our view on which one is the best.
Let's face it. Comparing exercise equipment can be difficult. There are lots of different stats and technical terms to understand. A lot of gear can seem pretty similar at first glance, and that's without factoring in systems that come from the same manufacturer.
Comparing NordicTrack and ProForm treadmills can be particularly difficult because they're actually sister companies and their equipment is all manufactured by the same brand. They're a huge and well-regarded company called ICON health and fitness.
This brings us to the two treadmills we're looking at today. The NordicTrack 1750 and ProForm 5000.
About the NordicTrack 1750 and ProForm 5000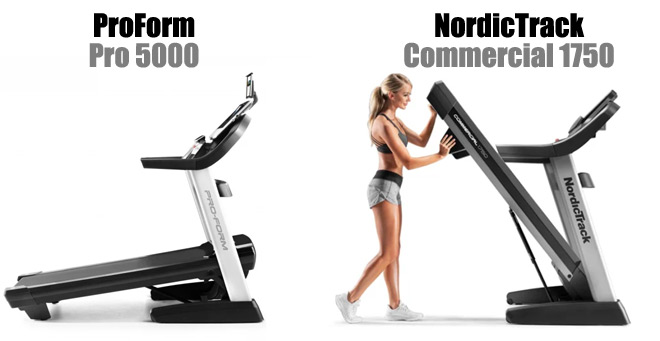 Right now you might be confused. How can we compare both treadmills under one heading?
Simple.
Both treadmills are actually incredibly similar. It's actually harder to find differences than it is to find what's the same!
They're made to an incredibly high standard (as you'd expect from the brand names.)
The machines use a similar motor, with near-identical performance.
You get access to iFit with either one, along with other smart workout options.
So what's the point, you might ask. Well, a closer look shows a few key differences. This guide will go in deep and point out everything you need to know.
Feature Comparison
Let's start with the basics. Here are the main specs you need to know about:
How are treadmills are the same
Size and construction
As sister models, the NordicTrack 1750 and ProForm Pro 5000 are mostly the same in general size and dimensions.
It's worth pointing out that both of these treadmills are big, hefty pieces of kit. Each one is almost 7 feet long, and they both weigh in at over 100kg. That's not necessarily a bad thing; we've seen plenty of home running machines that were flimsy and could have used a lot more weight.
The NordicTrack runs at 200 x 99 x 160cm, with a total weight of 110kg (242lbs.) The Pro 5000 is slightly larger, at 205 x 98 x 180cm, and weighs 30kg more, at a chunky 140kg (308lbs.)
This is both a blessing and a curse. A blessing, because both treadmills are built to incredible levels of quality around rock-solid frames that will last forever if looked after. The weight limit on both is also identical, at 135kg (300lbs.)
The downside is obvious. Space. Both treadmills do fold in on themselves, halving the length and making them much easier to store, and you can move them on flat surfaces using the built-in transport wheels. But there's no denying that these take up a lot of floor space, and that's real estate that you're going to have to account for when buying one of these.
Where to buy for the best price?
You can buy both running machines direct from Proform and NordicTrack directly, cutting out the middle-man and getting the best price. Stock is another matter. Worst case, you can normally pre-order both machines for a future date.
Check prices on the Proform Pro 5000 here
Check prices on the NordicTrack here
Running deck and incline
Both treadmills boast an impressively sized running deck, sitting at 55 x 152cm. That's an impressive stride, even more so when you realize that the running deck on both models has a powered incline function.
If you're into some seriously intensive or HIIT training on your treadmills you've got an incline on both machines of up to 15%, and also has the option of a -3% negative decline, to accurately mirror the ups and downs of hill running.
How steep does the 15% feel?
The incline will definitely put you through a hard workout, no matter how fit you are. If you've never run at that level before, take it easy. It's also worth noting that this is the upper level you can expect to go to. Many of the programs will be a lot lower than this.
This can be controlled manually, as part of a program, or by the instructor via iFit.
The decline feature offered on both machines (something that's fairly rare in the world of running machines) is an unusual sensation if you're not used to it.
Comparing folding capability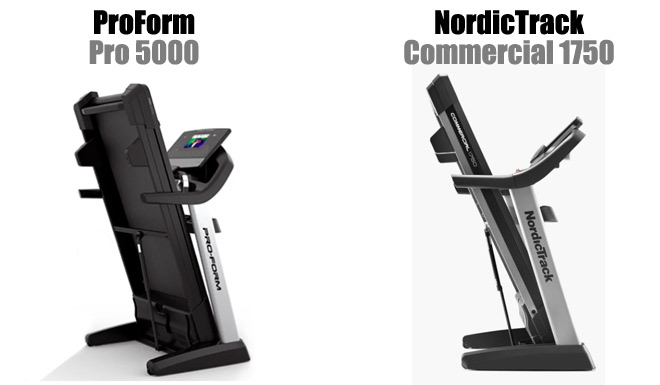 Like any treadmill out there, both the 1750 and the Proform Pro have running decks that fold up. They're not designed to be scooted into another room unless you've got super-human strength. Folding on a machine the size of either of these treadmills is an odd one.
The rails are still on the floor and the space you get back is negligible. Comparing them, the NordicTrack deck folds up a lot higher than other machines, with the deck pointing almost completely vertical. It locks in place and is easy to get back down (you just push the deck a little and kick the support pole with your foot).
The treadmills take up almost exactly the same size when they're in their flipped-up position, give or take a centimetre or two.
Extra features
This deck has an interesting feature we've not seen on too many treadmills; you can flip a handle on the side which will make the surface feel harder or softer. Think running on grass vs. running on the pavement… kinda. It's an interesting idea and while not essential, it's worth mentioning in this comparison.
---
Related guides you might like
---
The motors
The motors on both treadmills put out identical performance, with 3.75 continuous horsepower (CHP) of performance. This is seriously impressive, matching the peak power output of cheaper models, and it's a motor that's going to perform no matter what, not chugging even when it's set to high speeds and high inclines.
This increased power gives both treadmills a solid top speed of 22kph (14.5mph.)
iFit included
Like (almost) all NordicTrack and ProForm systems, both treadmills have access to the iFit interactive workout programs.
Put simply, iFit, and other interactive fitness programs like it, are the future. They deliver world-class, trainer-led lessons directly to the inbuilt screen, with your choice of live classes or a library of literally thousands more.
Even better, the classes interact directly with the treadmill, changing the speed and incline, so all you have to do is focus on finishing the session.
iFit is a subscription service, but both treadmills come with 1 month free as part of the package. If you want to learn more, you can find our iFit guide here.
Price and warranty
The NordicTrack 1750 and ProForm Pro 5000 are commercial level pieces of kit, and they have the price tag to match. They're roughly the same cost, though the Pro 5000 is slightly cheaper. The difference is relatively minimal though, especially when broken down across a payment plan.
As expected from something like this, the warranty is also impressive on both. They share 2 years on parts and labour, 5 years on the motor with the Pro 5000, and 10 on the NordicTrack, and lifetime frame warranties on both.
Where the treadmills differ
The consoles
One of the most noticeable differences in both treadmills is the console layout.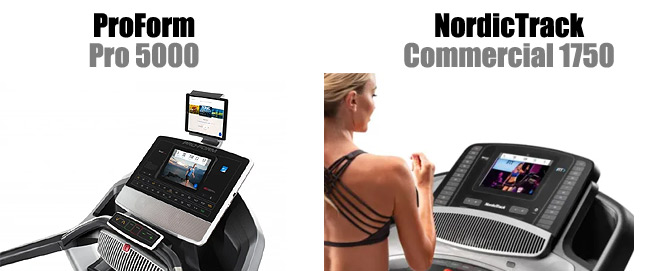 On both treadmills, the consoles are built around a decently sized 10-inch touchscreen display, with the controls for speed and incline laid out around the screen. Both also share the same OneTouch controls, which are much easier to use than a lot of other treadmills as you can select your chosen speed directly, without having to scroll through anything in between.
However, on the ProForm, the controls are horizontal, laid out underneath the screen, with incline over speed. On the NordicTrack, you'll find the incline on the left and the speed on the right, running vertically down both sides.
The controls
Both machines have the quick-select buttons you'd expect on any running machine worth its salt. However, the layout is slightly different. The Proform's buttons are arguably easier to reach along the bottom of the console whereas the 1750's run up each side of the screen.
Heart rate training is via the handlebar sensors on both machines. This isn't ideal as grabbing these bars while running is not easy by a long shot. Obviously, it's easier to do when walking than at a hill sprint, but for proper heart rate training, you'll need a strap instead.
Comparing the incline
The NordicTrack 1750 was updated in 2020 with a dedicated interactive drive motor that's specifically for the incline function, and the ProForm Pro 5000 hasn't quite caught up yet.
The difference in performance is small but noticeable. Because the 1750 has a second motor just for the incline, it's a little smoother, with a faster incline and decline response, and it's a lot quieter than the ProForm, and previous models.
We'd expect the Pro 5000 to follow up on this update in the coming months, but right now, the option isn't there.
Running deck cushioning
Both running decks are generously sized and excellent to run on, as we've already touched on. But the NordicTrack 1750 has an extra option; adjustable cushioning.
You can turn the running deck support up or down to find your preferred running surface, whether that's softer for more joint cushion, or slightly harder to simulate road running.
Updated audio hardware
The NordicTrack 1750's 2020 update also brought an upgrade to the audio gear.
Your tunes are now delivered through a pair of more expensive, more powerful 3-inch speakers that are fully Bluetooth capable so you can link them to any of your other devices and stream your sounds direct. No cables, no plugging in your phone, just stream and go.
On Proform's machine, you've got standard speakers that are Bluetooth compatible. On both machines, the speaker is below the console.
Tablet holders & Storage
Let's finish up with the little extras with each machine. You know, the really important stuff like cup-holders.
In addition to the console differences, the ProForm Pro 5000 comes with a built-in tablet holder, and the NordicTrack doesn't.
This is a minor difference, and even though they're laid out differently, both do exactly the same thing, so this shouldn't sway your choice.
Storage
The NordicTrack machine has a wonderful rack tucked under the console with 5 decent sized buckets to store anything you want. It does mean you'll have to reach down to grab your drink, but it's a good use of space and keeps the upper area uncluttered.
Verdict: Which one should you choose?
After breaking down the differences, the choice is actually a pretty simple one.
First off, both of these treadmills are absolutely fantastic, and you're not going to feel bad about buying and owning either of them. They are what you might call 'proper' treadmills that, while good for anyone's first treadmill, are really aimed at anyone who wants to do some serious running and training at home.
Despite the hype you'll read on these machines, neither one could be called a commercial gym treadmill. And they're not trying to be. They cost less than half the price of gym-quality machines to be fair. However, there's a big step up in quality here from a mid-level machine.
But the NordicTrack 1750 just has a few more bells and whistles bolted on. The recent update brought some of its tech up to date and improved on the overall performance, which makes it the better choice overall.
Considering there's almost no difference in price, especially when broken down over monthly payments, and that the two treadmills are essentially just the same model with a different name, if you have the choice, you should always choose the NordicTrack 1750.
---
References & Further Reading