Welcome to the JLL IC400 Elite Review, covering one of JLL's large family of indoor spin bikes. If you're hunting through the overwhelming number of these kinds of bikes in 2023, we'll help you decide if this one should be on your shortlist.
As always, you'll get a straight answer here including the good, bad and ugly.
What's the JLL IC400 Elite?
The biggest bike in JLL's fitness range, the IC400 Elite is designed from the ground up as a gym equivalent home bike. JLL are a home-grown company, operating out of Birmingham right here in England, and they're very careful in what they choose to sell.
With its angular profile and big weighty flywheel, at first glance, it looks very similar to the bikes you're expect to see at a commercial gym or inside spin classes. Overall, it's a big, heavyset thing that's solid and built to last.
On the resistance front, they've gone for spin-class style brake pad only on this bike and it's clearly aimed more at that market than a casual user looking for an exercise bike. Adjusting the knob at the top of the cycle will drive down a felt pad onto the flywheel, often referred to as 'infinite resistance'.
Your thighs won't thank you the day after, but it's a popular, simple way of getting generating some serious resistance.
It has all the things you'll be familiar with if you've even been to a spin class including toe clips so you can stand up and not slip off.
The bike currently has some impressive reviews on Amazon too.
Check Current Amazon UK Price
---
How's it compare to the other JLL IC family?
The 400 Elite is at the top of the JLL range in terms of it's strength (it can take up to 150kgs!) and the size of the flywheel. While it's likely overkill if you're new to spinning or are relatively light
| | | | | | | |
| --- | --- | --- | --- | --- | --- | --- |
| | | | | | | |
| | Magnetic: Fully Manual Dial | | | Magnetic: Fully Manual Dial | | Magnetic: Fully Manual Dial |
| | | | | | | |
| | | | | | | |
| | | | | | | |
| | | | | | | |
| | | | | | | |
---
The JLL  IC400: at a Glance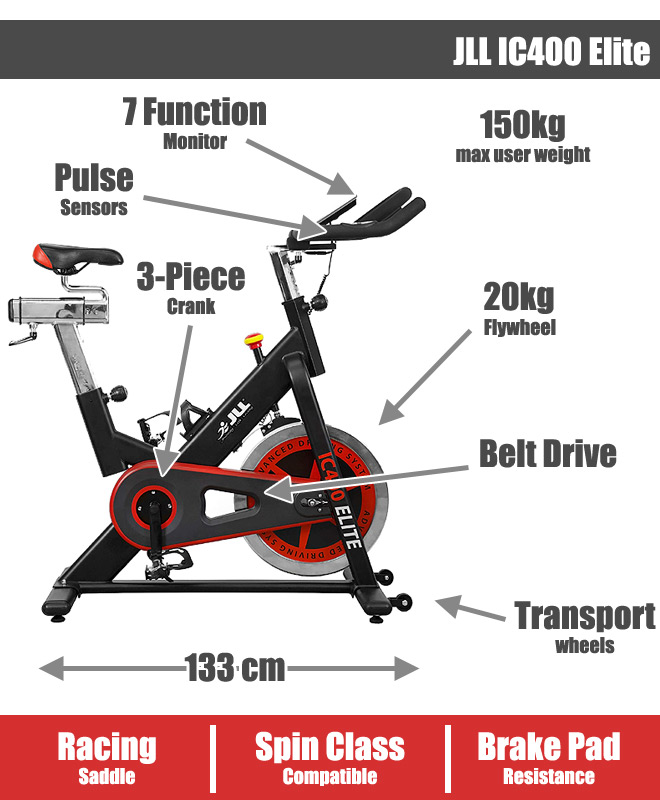 20kg friction based flywheel
Alloy steel frame
150kg max user weight
47kg unit weight
3 piece crank
7 function monitor
9 adjustable handlebar positions
14 adjustable seat positions
Handlebar heart rate sensors
Built-in transport wheels
---
Who are JLL Fitness?

This bike is made by JLL Fitness, a well-known fitness brand who make mid-level fitness gear. We've reviewed a number of their products one Home Gym Experts and been impressed with the overall build quality and value for money they offer.
This means you're getting
UK based company
Shipped from a UK warehouse
UK customer support
They've currently got an 'Excellent' rating on Trust Pilot, the independent user reviews website.

How do they fair on our customer support tests?
JLL's support has provided both fast and friendly on our covert tests, with replies always within one hour during weekday working hours. A lot of people buy more than one machine from this company as they're reliable and the products are good quality.
We've had them sort issues for us in super-quick time over the years with the gear we've bought from them. In one case, bringing a replacement to the door and collecting the defective item. No complaints there whatsoever.
---
What's it like to setup?
Difficulty rating: Easy
Don't you love it when there's a set up video for something you've bought? JLL have a simple assembly video that's way easier than trying to follow the instructions:
Bank on under 30 minutes assembly time, depending on how good you are at this kind of thing. It's also quite a heavy bike, so just bear that in mind. You don't need two people to put this together however.
---
5 Fitness goals The IC400 will help you crush in 2023
Cycling is one of the best forms of cardio out there, which is why it's so perennially popular, especially spin classes and other high-intensity forms of cycling.
With the option to take it slow for a gentle warm up that's easy on the joints and great for heart health, or push hard for a heavy, sweat inducing, muscle burning workout, the JLL IC400 Elite can handle any style of exercise.
#1 – Burning Calories and Lose Weight
Harvard Health estimates that stationary bike exercise may burn up to 754 calories an hour for users of 185lbs (83.9kgs). This capacity makes stationary bike exercise an effective way to lose excess weight from home. The portable JLL IC400 is portable and fits neatly into one's home for a convenient exercise option at any time of the day.
#2 – Boosting your overall health
Stationary cycling offers excellent cardiovascular exercise and has a variety of health benefits. Aerobic exercise provides circulation and heart function, lowering blood pressure and decreasing bad cholesterol in the blood. Having a home exercise alternative such as the JLLIC400 Elite can effectively improve your overall health, including vital body functions such as:
Heart
Brain
Muscular
Circulatory system
Lungs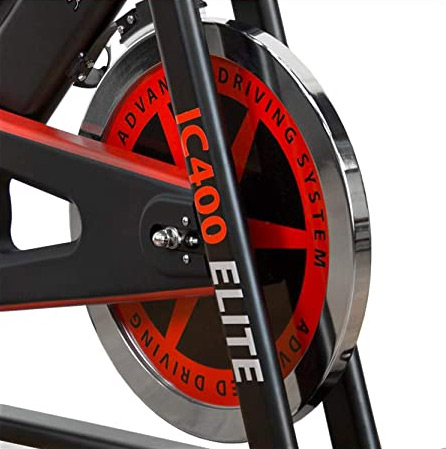 #3 – Increasing your strength and stamina
The JLLIC400 boosts the user's body strength and endurance by exercises such as interval training. High-intensity interval training (HIT) combines intense activity and active recovery on a 1:1 ratio. HIT has advantages over consistent speeds by boosting strength and stamina as well as endurance. HIT is an excellent means to improve your fitness.
#4 – Protecting your joints
Home exercise alternatives such as treadmills and outdoor running can put unnecessary strain on one's joints and knees. Stationary bikes such as the JLLIC400 provide an effective calorie burn while still being kind to your body. Users may expect similar benefits to running in terms of calorie burn without the possible injuries of repetitive foot strikes.
#5 – Getting into some online spin classes!
You don't need any fancy online apps to take part; Youtube is packed with free spin classes – which are normally just recorded spin class sessions. Although you can find some LIVE ones. Meetup often has free spin classes too. Either way, try one out – they're a lot of fun and the calories will fly off.
Check Current Amazon UK Price
---
Who Is the JLL® IC400 Elite Aimed At?
The IC400 Elite isn't a cheap bike, but it's also not ridiculously expensive either. Performance is solid across the board, and there's a lot to dig into here.
We'd recommend this bike if you're into your spinning classes, and want to invest in a home training solution, or for anyone who needs a dependable and easy to use bike for their home cardio option.
If you're looking for something between a cheap bike and a Pelaton
The 400 will suit anyone looking for a good level of resistance and a fairly intense workout. It's also worth noting that the JLL uses a spin-class style knob that you can increase + or decrease – manually to help make your legs ache the next day.
If you need a bike to share
The JLL is also highly adjustable and quick to swap to different sizes too. There are ten seating heights and six horizontal handlebar options. Therefore, the JLL is perfect for multiple user homes with different fitness requirements.
If you need a good spin bike for home use
The JLL is perfect for people who seek to improve their fitness, build muscles and lose weight from the comfort of their homes. Gym memberships are costly, and the commute can be frustrating and time-consuming. The JLLIC400 is convenient, and users can exercise at any hour they choose.
---
Review Time: What We Liked About the JLL IC400
Sturdy and well made
At the price point, you're always going to expect quality, and the JLL IC400 certainly doesn't disappoint.
The alloy steel body is strong, with everything on the bike laid out across it very well. The maximum weight limit is a solid 150kg (330lbs,) despite the bike itself being a very reasonable 48kg (105lbs.) It's direct belt driven, and works from a 3 piece crank, with easily replaceable pedals.
In terms of console, you get a decent LCD display that's simple to read and displays everything you need, including time, distance, speed, calories burned, and heart rate. The console is battery powered, giving you flexibility in where you use this, which is nice if you're used to being tied to a plug socket. Heart rate is read from standard handlebar EKG grips, which are simple to reach no matter your riding position.
It would have been nice to see a touchscreen, but at this price, that's not something you can rely on. There is the option for a tablet adapter, that plugs in simply and easily, so if it's something you're looking for, it's there.
The big, heavy flywheel
One of the stand out parts of this bike is the flywheel, which is a massive 20kg. This is a weight that you'd expect to see on a commercial class bike that could cost two, three, or more times than this bike does.
That big flywheel gives you a lot of resistance to work with, and the direct drive belt is smooth and easy to push through, even on the higher settings. It's also relatively quiet, especially for a friction resistance flywheel, which you'll come to appreciate when you're pumping out high speeds.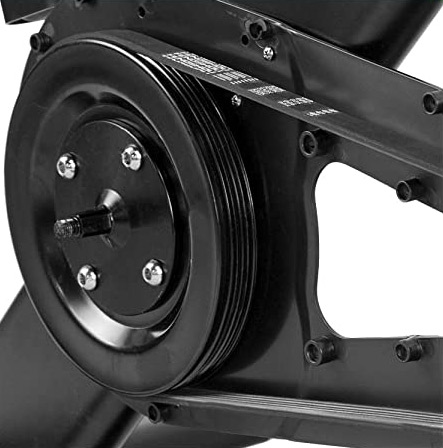 Highly adjustable
Because it's designed like a spin bike, there's a lot of built in variability to the bike itself, with options to easily set it up in exactly your preferred riding position.
The handlebars have 9 levels of adjustability, and the large seat has another 10 vertical levels, and 4 horizontal levels of adjustability.
You can also replace everything that you'd expect to be able to, with both the seat and pedals easy to switch out into aftermarket versions.
One thing it's worth pointing out is that some users have mentioned size issues for smaller users. If you're on the smaller side (approaching 5ft and under) then you might struggle to set this to a comfortable position, so bear that in mind before buying.
Easy to assemble
Bikes like these can be a pain when they first arrive, but luckily this bike is incredibly simple to put together, even if you've never done anything like this before.
It comes boxed, but goes together very simply. We do recommend having a second pair of hands available, but it's not essential, and you could potentially have this up and running within an hour of delivery.
Check Current Amazon UK Price
---
Related Spin Bike Guides
---
What Could Have Been Better
A basic computer
While the battery-powered console on the JLL IC400 Elite displays everything you need it to, the fitness world is moving more and more towards touch screens. Again, at this price, it's not essential, but we have seen equivalent models from other brands that do have a touch screen built in.
No magnetic resistance
Again, magnetic resistance is one of those things that isn't essential at this price. But the difference in feel, in noise, and in maintenance costs (important if you're planning on using your shiny new purchase a lot) is big.
JLL do have bikes with magnetic flywheels, including the IC400 Pro variant, but as of writing this review it's not available for purchase.
Comfort
Like every other negative we've pointed out, the comfort levels on the JLL IC400 are basically fine for most people, but there are a few little quirks that we'd like to see changed.
First, the pedals included aren't racing pedals. It's easy to change them, and the crank takes any commercial racing pedals, but it's another expense.
Second, the provided seat is large, hard, and surprisingly uncomfortable. It's going to ache your behind after a relatively short time. Again, this is something that can (and should) be changed.
Lastly, when you first start this up, it's annoyingly loud. But as soon as the flywheel starts to warm up, that sound quickly dies down to a low, background hum.
---
IC400 Elite Conclusion: Is this a good spin bike?
We like the JLL IC400 Elite. It's a robust bike that performs incredibly well for the price you pay. A good solid set of features across the board. It also looks great – which can't be said for all the spin bikes we've seen.
Overall, it's an impressive piece of kit.
If you search around, you might be able to find bikes at roughly the same price that offer a little more in one area or another, and the IC400 is outperformed by some of the bigger names on the market, but for what you're paying, you're getting a decent bike that's great for spin classes or normal use, and should last a long time if looked after correctly.
Check Current Amazon UK Price
---
What other bikes can you get in this price range?
There's a lot of different bikes in this sort of price range up for grabs in 2023! Check out our list of suggestions below.
The Nero Sports Bluetooth bike is a good choice if you want to connect your phone or tablet to the bike and get into some online racing and streaming.
There's also JTX Fitness's brilliant Cyclo series, with the Cylco 6 in almost the same price bracket as the IC400.
Check out Dripex's indoor bike too – it's been getting a lot of good reviews on Amazon and the company has brought out some great home gym gear recently.
Prices Last Updated Thursday 9th November 2023 - 20:11:33 pm
---
Elite IC400 FAQs
Can you get replacement parts?
Yes. JLL are a proper company you can contact and they're really good with things like replacement parts. Give them a shout on 0800 6123 988 and they'll be able to get the part you need.
Can I use this bike if I'm under 5-and-a-half feet tall?
OK you'll have to measure up for this one! The lowest the saddle can be set to gives you around 82cm from the pedal to the saddle. You'll need to measure your inside leg and leave a little for error. Everyone's body is different so take a few seconds and grab a tape measure if you're unsure.
What if the Elite 400 is hard on my bottom?
Unless you've got a cast iron butt of ultimate power, you'll likely want a comfy ride. The saddle here is firm and more of a racing bike type. However, don't despair just yet. A lot of people are more than happy buying a gel seat cover from somewhere like Amazon. They turn the hardest of bike seats into a soft pillowy bum-friendly seat.
How is this bike for taller people?
The tallest user we've seen test this bike was over 6′ 4″ so as long as you're around those sizes, you'll be good.
Can you adjust the handlebars vertically?
No, with the IC400 Elite, the handle bars only move up and down. The seat, however, can be moved in all 4 directions.
Does it have Bluetooth and app connectivity?
This bike's performance console does not have Bluetooth. If you want to use this bike with 3rd party apps, your best bet is to buy a cadence sensor. They're not that expensive and you can grab one on Amazon. It is a sensor that attaches to the pedals and can then be used to track your progress.
---
Elite IC400 Full Specs
Brand
JLL
Model
IC400
Resistance
Friction (felt brake)
Flywheel
22kg
Drive
Belt drive system
Data tracked
Time (mins/secs)
Distance (miles)
Speed (mph)
Calories
Pulse (ppm)
RPM
Heart Rate Training
Yes. Via handlebar sensors
Bluetooth
No
Seat Adjustment
Vertically and horizontally
Handlebar levels
Vertical handlebar adjustment only
IC400 Colour
Black, red and Silver
Handlebar adjustments
Vertically
Crank
3-Piece crank
Transport Wheels
Yes
Dimensions
133cm x 54cm x 130cm
Pedals
SPD Compatible Pedals
Maximum User Weight
150kg
Machine Weight
47.8kg
---
Resources and further reading