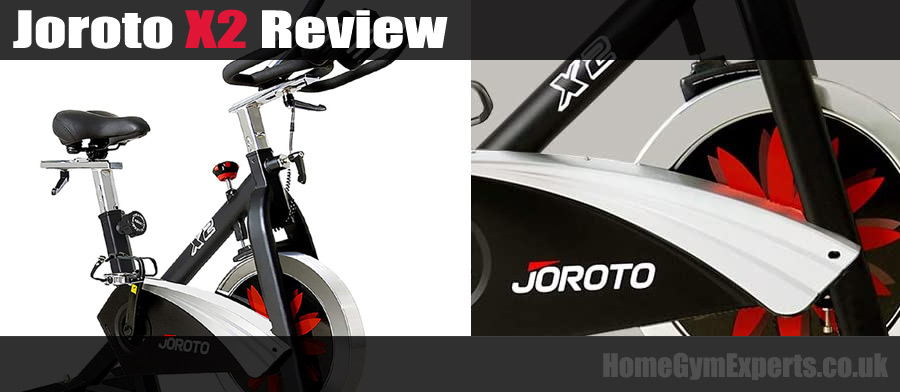 Another week, another spin bike. So what exactly does this one do to set itself apart from the army of other indoor bikes after your cash? In this full Joro X2 review, we'll cover everything you need to know about this bike, including our opinion on whether it's worth the cash.
What is the Joroto X2?
Designed primarily as a spin bike, the Joroto X2 is aimed at the mid-range market and has enough smart choices and bells and whistles to be competitive.
While it might not be a Peloton, you're also paying one third the price out of the box, and as our reviews show, a bike doesn't have to cost thousands in order to get you fit.
Here's what you need to know:
What can you get from training on the Joroto X2
Cycling is a great exercise in general; low impact, scalable intensity, simple enough that most people can do it, fantastic at burning fat but also great at muscle building.
There's a reason spin classes are growing in popularity, and bike sales have spiked by 63% during the lockdown. People are starting to realise the benefits of cycling, and that number only seems set to grow.
Who is this best suited for?
The Joroto X2 isn't a cheap spin bike, by any stretch, but it comes out of the box with serious power, a massive flywheel and great build quality, ready for basically any workout.
All it needs to be a contender in its price range is interactive fitness, which is something that you can grab from multiple sources, for example, KinoMap, which offers a huge amount of benefits for anyone looking to get fit or lose weight on a bike. (Click the link for a full explanation.)
The X2 certainly isn't a small investment, but if you're into spinning, or you're looking to buy a bike with a lot of features, that's going to last, it's a solid choice.
This bike has some overwhelmingly positive reviews on Amazon, what are worth checking out.
---
Joroto X2 Key features
16kg heavyweight magnetic flywheel
Silent Magnetic Resistance system
4-way adjustable seat and handlebars
Adjustable resistance knob
Emergency stop key
Tablet and drinks holders
300lb (136kg) maximum weight capacity
94lb (42kg) unit weight
Transport wheels
1 year of replacement parts
Check Current Amazon UK Price
---
Related Spin Bike Content
---
What we like about the Joroto X2
The big flywheel gives a good weighty feel to rides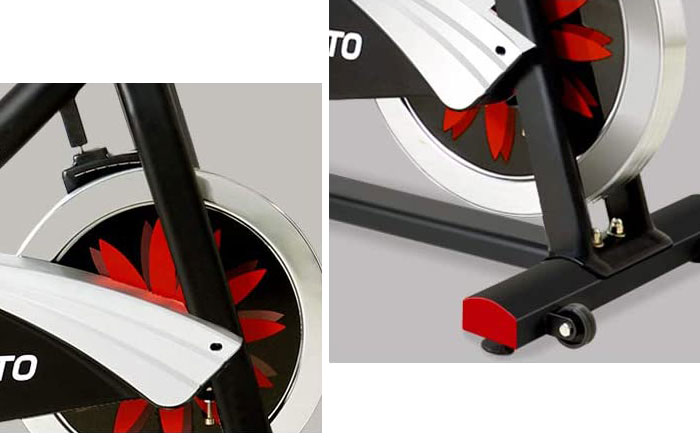 One of the biggest draws for the Joroto X2 is the hefty flywheel, which sits at a really impressive 16kg (35lbs.)
Considering the flywheel is the active part of an exercise bike, having a big, heavy flywheel is a huge deal. This is backed up by the fact that The X2 uses a magnetic resistance system, putting it in the same league as the biggest names on the market.
Magnetic resistance is used in every single one of the best bikes produced in the last 10 years. Stronger, quieter, longer-lasting, with smooth and even resistance, if you're buying a bike, you should be looking for magnetic resistance.
For a spin bike, the X2 is surprisingly quiet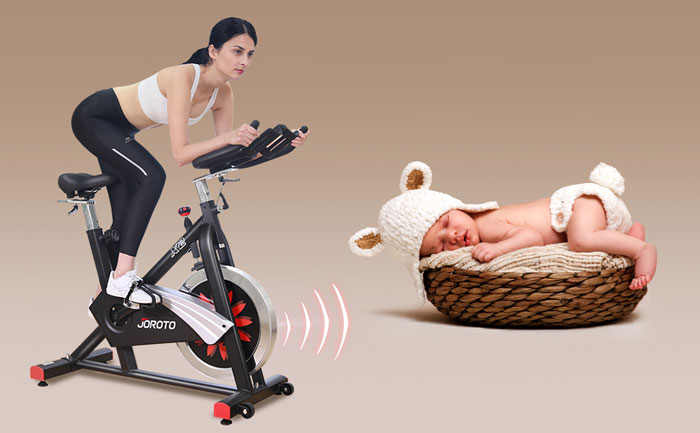 Building on the last point, the X2 is whisper quiet in use, because of that same magnetic resistance.
Magnets mean no physical contact between the flywheel and any other working parts. This means no friction between the flywheel and what's causing resistance, which makes a huge difference when you're working out, especially at full speed.
Decent build quality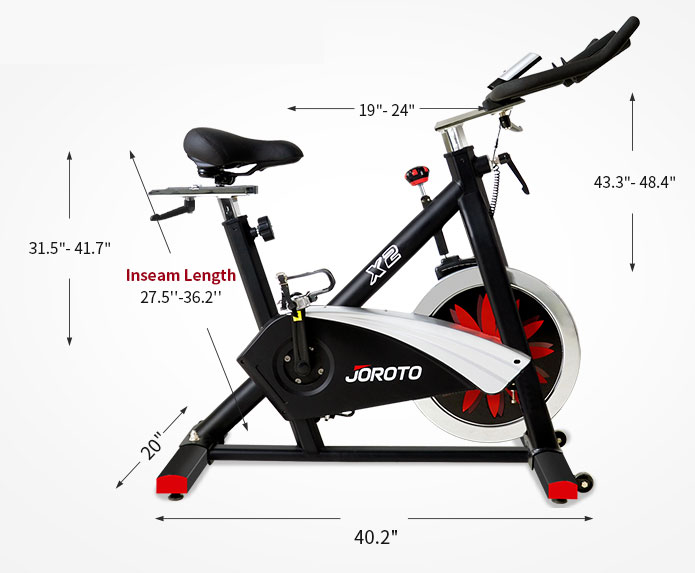 Across the board, the X2 is incredibly well built, apart from a few small build issues (more on this later.) The frame is huge and strong, built from 50mm steel, with a massive 300lb weight limit that should accommodate almost any user.
Fittings are also impressive, with steel cage pedals, comfortable handlebars, and a lot of creature comforts.
Comfortable and easy to use

There's been a lot of care put into thinking about how the X2 feels when you're on it. The seat is wide and comfortable, with handlebars that are large and easy to hold. Both are fully adjustable in four directions, with easy to use mechanisms that can be changed in moments.
The pedals are large and adjustable, with antiskid surfacing, steel caging, and a heavy-duty pedal crank for a long lifetime of use.
Check Current Amazon UK Price
---
What we don't like about the Joroto X2
A very basic LCD display
For a bike at this price, it's standard to not have a built-in touchscreen, because of the costs involved. But the LCD display that comes attached to the bike is surprisingly low quality.
It's a small screen, with strange controls minimal functionality. It does the job, nothing more. This is something we've seen on a lot of spin bikes in this price range and it's generally 'the way things are'. A better quality display would have earned the Joroto a few extra brownie points.
Some strange design choices
Putting the Joroto X2 next to some of the bigger names in the fitness world throws a couple of the decisions made in its construction in stark relief.
For one, whoever thought that making the front holder multi-purpose needs to understand how exercise works. Basically, if you're using a tablet or other device, there's no water bottle holder, because it's the same part of the bike. So it's your choice. You can follow a program, but it means slowly dehydrating, or drink your water in silence without any accompaniments.
---
Final thoughts
All things considered, the Joroto X2 is a perfectly reasonable bike that has a decent list of features and solid performance, especially with its weighty flywheel.
However, given the choice, we'd aim for something in the ProForm range or even the Sportstech ESX500. But there's definitely nothing wrong with the X2. It's a decent bike, especially if you back it up with some sort of interactive training program, like iFit. And the price is hard to complain about too.
Check Current Amazon UK Price
---
Joroto X2 Full Specs
Brand
Joroto
Model
X2
Gross Weight
108 lbs
Net Weight
94 lbs
Maximum Capacity
300lbs
Q-factor
180mm
Drive Mechanism
Belt Drive
Resistance System
Magnetic (with 7 magnets)
Digital Monitor
YES ( it tracks time,
speed, distance,
and calories burned)
Bottle Holder
Yes, 2 water bottle holders
Pedal Style
Caged and anti-skid
Seat Size
10.6 L* 8.3 W* 4.3H inches;
4-way Adjustable
Handlebar
4-way Adjustable;
Multi-position grasp handle
Package Size
42.9L * 19.7W * 42.5H inches
Package Included
X2 Indoor Cycling Bike;
Instruction;
Installation tools
JOROTO Support
1-year free replacement for new bikes;
24*7 professional support;
100% satisfied solution