Welcome to this in-depth review of the JTX Mission Air Bike – where we'll be taking a complete dive into this HIIT style air bike. Does JTX's fare well against the titans in that market place? Is this machine good for beginners and advanced users?
Let's find out.
As always, be prepared for the good… and the bad.
What is the JTX Mission Air Bike?
As the name suggests, the Mission Air Bike is an exercise bike that uses a fan-style fly wheel to build up resistance, rather than a weighted flywheel. It's a seated upright machine which has pull-and-push handlebars, which work your upper body as well as your leg muscles.
Air bikes are a fantastic form of exercise, and very popular in the HIIT section of gyms, designed for one overarching purpose – to get its users into improved physical condition.
At a glance, the JTX Mission Air Bike is sturdy, robust, and professional-looking which would not look out of place on the inside of a top-quality gym. Weighing 63.5kg, it's got a decent bit of heft about it.
While it's not especially beautiful to look at, it's on par with the other entries in the market like the Schwinn Airdyne and the Fitness Assault bikes.
---
The JTX Mission Air Bike at a glance
Here's a quick overview of the features you can expect with this air bike.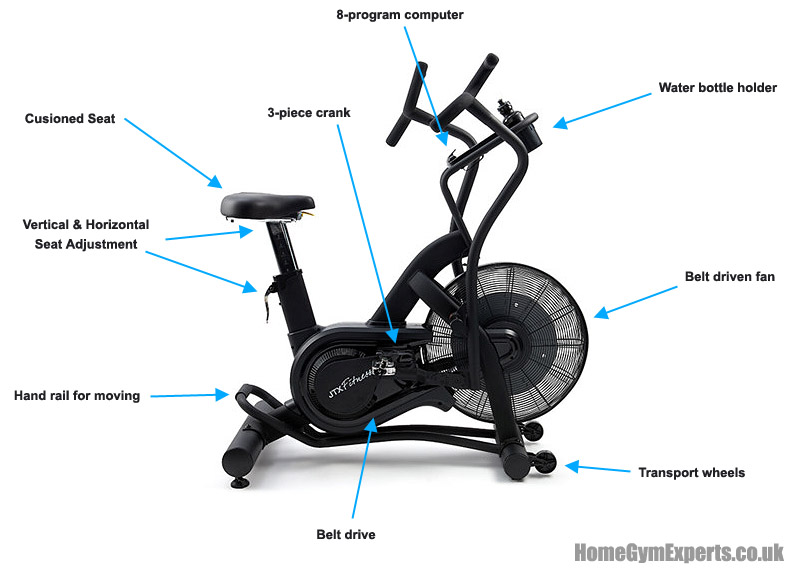 Eight training programs
LCD computer system
Entirely self-powered – the cycle doesn't need to be next to mains outlet
Options for HIIT training and general cardio
120cm high, 55cm wide, and 122.5cm long
The flywheel contains a powerful, belt-driven fan
The seat is adjustable for convenience and padded for comfort
Padded non-slip handlebars
Finished with sweat-resistant, matte black paint
The heavy, 63.5kg frame keeps its users fixed to a strong base
Transport wheels (this bike is easy to move around)
---
Who are JTX Fitness?

The Mission Air Bike is an exercise bike from UK based JTX Fitness and was released towards the end of 2023.
Not familiar with JTX? They design and build high quality commercial standard fitness equipment such as rowers, bikes, running machines and cross-trainers. They're known for their customer service and top engineered machines with high-quality components, build quality and aesthetics.
If you have any problems with your new bike, or any of their machines, they send engineers out to your home to fix it quickly, which is very rare and something we love.
You can find out more about the JTX Mission Air Bike, and different exercise bikes on the JTX website. We've been really impressed with their other bikes which scored well in guides like our JTX Cylco 6 Review.
One thing that you'll read a lot about, if you research into JTX, is how good their customer support is.
---
What are the Benefits of Training with the JTX Mission Air Bike?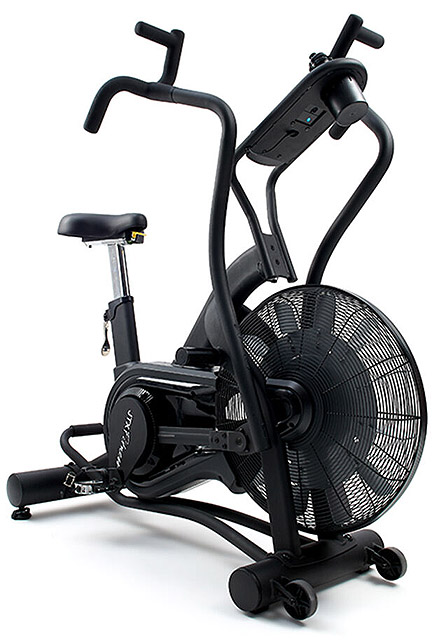 Air bikes are perfect for anyone looking to shed serious weight and get toned doing it.
Although cycling is mostly regarded as a lower-body exercise, products such as the JTX bike get your whole body to work in unison.
It's been proven that HIIT (high-intensity interval training) is one of the safest and most effective ways to train for muscle gain and fat loss, due to the low probability of injury and high workload put on your muscles. The main benefits of the Mission Exercise Bike are:
Effective workouts whatever your age or experience
The Mission cycle will get you working to a decent level. No matter what your skill level, age, or experience, the product is very adept at putting you in the driver's seat. The LCD screen offers options such as target speed and target distance, allowing you to track your progress, set goals, and try to build on them as your fitness journey develops.
Full Range of Options
If HIIT training is not your thing – you can always do good old-fashioned endurance sessions. The Air Bike is anything but a one-trick pony and users can adapt the bike for their own fitness goals. You can also cycle as softly or as hard as you like, depending on what you're training for. The Mission Bike can be utilized for numerous purposes for athletes of all abilities.
Gives Your Whole Body a Serious Test
The large handlebars are designed to engage your arms, back, and core. The Mission is like its own mini-gym and is ideal for those wanting to develop their upper body and core muscles. The handlebars aren't too heavy, but they also aren't lightweight and flimsy. You'll be getting a full-body session and the Mission Indoor Bike is ideal for anyone looking to give their whole body a rigorous session.
See our guide for more Air Bike Benefits here.
---
Who is the JTX Mission Air Bike Aimed At?
Suitable for home users and not just for the hardcore HIIT crowd!
This air bike does not really have a niche demographic. Cycling is quite a universal thing that everybody already knows how to do. However, as its primary purpose is to deliver rapid, intense workouts – those looking to lose weight and develop their cardiovascular fitness are the ones who would benefit the most from it.
Whether its users are athletes or mere enthusiasts, the JTX Mission Air bike was designed to give you a professional-quality, thorough workout.
Although it trains the whole body, it is not a replacement for those looking to body build or to develop their strength and power. Compound exercises with weights always take precedent to air bikes, although finishing off a weights session with the JTX Mission Air Bike can help 'finish off' the muscles, it will not build them in isolation.
---
What We Liked About the Mission Air Bike
With the fitness market being so saturated and awash with products, including air bikes, it's sometimes difficult to distinguish quality from mere gimmicks or half-baked products. The JTX Air Bike certainly is neither of these. In this next section we'll cover the things this bike gets spot on, and then look at some of the areas it falls short.
Good quality build throughout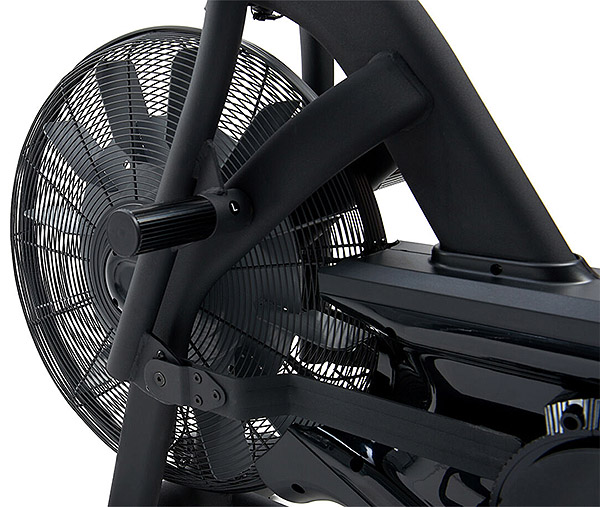 When you make an investment in a fitness product, you want it to last a substantial amount of time – especially when you're paying hundreds of pounds to get it. We've yet to see a JTX bit of gym gear that was poorly made and the Mission Air Bike follows suit, with a strong steel frame and thick, chunky tubes used throughout.
The bike's build is rock solid, the handlebars are malleable yet not flimsy, and the pedals are attached tightly – meaning that you don't go off flying mid-session. There's no doubt this is going to take a serious beating from one or a group of cyclists. Excellent quality through and through.
The LCD Interface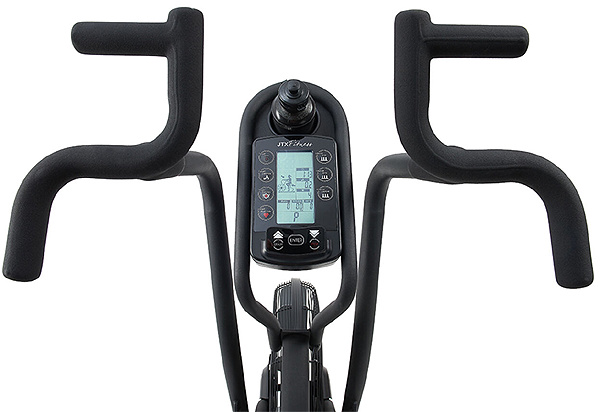 The technology in the JTX Mission Air Bike is certainly up-to-date. In today's market, people appreciate autonomy and control when it comes to their workouts, and the ability to set your own distance, speed, and pace goals put you firmly in control of your session.
In line with the basics-only air bikes seem to go with, the JTX bike offers a stripped back, simple LCD display with 8 programs.
Obviously with these kinds of machines the resistance is down to how hard you move the pedals, handlebars and ultimately the fan so there are not treadmill-style buttons to increase or decrease difficulty. Instead, there's simple controls and a readout of your speed, calories and other basic stats.
The Range of Workouts
It's always good to mix things up. Sticking to one workout all the time can allow boredom to set in, causing you to underdeliver in your workouts or even to skip them entirely. The JTX Mission Air Bike doesn't allow for complacency, though. With its options to train for endurance, speed, or power – it allows you to spice up your workout plan and organize days according to what you want to do.
The Portability
The JTX Mission Air bike is fully portable, for home use, or use in a gym. Perfect for those looking to get in shape at home.
While the bike weighs in just over 62kg, there's transport wheels and a quick-grab handle to the rear that makes it relatively easy to upend and trundle into another room. It takes a bit of practice 'steering' the bike from the rear, but it's not hard to move and doesn't require a great deal of strength.
The belt drive has a smooth feel to it
Indoor cycling purists may love chain drive, but it's not exactly the quietest. The Mission bike comes with a 3-piece crank and a belt drive to the fly which makes for a smooth, quieter stroke. We can't do much about the noise from the fan, however. That whooshing air comes with the territory.
---
Downsides to the JTX Mission Air Bike
The Interface is Tiny
The LCD interface that comes equipped is, simply put, tiny. This may not be a problem for those with good eyesight, but for those without – the display may be hard to see at times, especially if you wear glasses, as you will not be wearing them whilst exercising.
Not the cheapest air bike on the market
If you're looking for a budget offering or something under the £500 mark, you'll not find it with this bike. JTX have gone in at the top end of the market here, offering a more luxurious machine that many of the competing machines. This is reflected in the build quality however but it's not the cheapest air bike we've seen.
---
Verdict: Should You Buy the JTX Mission Air Bike?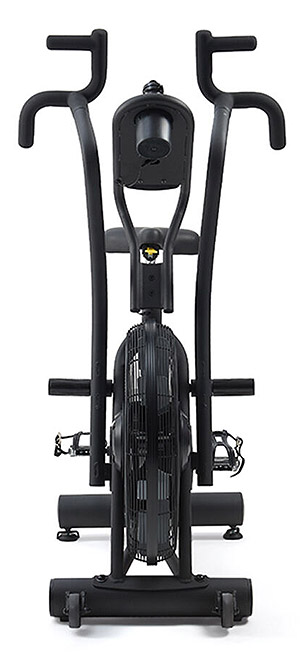 It's not cheap, but the JTX Mission offers one of the more robust air bike's we've seen on the market.
It's easy to use, powerful and offers a reliably smooth ride.  If you're looking to get fit as quickly as possible and make a solid investment in fitness equipment, then yes, the JTX Air Bike is for you.
Overall, the JTX Air Bike delivers on its promise, though, and is a solid, reliable, functional piece of equipment – it might be heavy, but after a while of using it, you won't be.
Highly Recommended
---
Mission Air Bike – Full Specs
| Brand | JTX Fitness |
| --- | --- |
| Model | Mission Air |
| Category | Upright exercise air bike |
| Resistance type | Fan-generated / air |
| Display | LCD computer |
| Levels of resistance | Air-generated infinite resistance |
| Power supply | Self-powered |
| Seat | Over-sized padded seat |
| Drive | Belt driven fan flywheel |
| Water bottle holders | 1 |
| Seat Adjustment | Horizontal / Vertical |
| Polar receiver? | Yes |
| Handlebar grips | Non-slip Handles |
| Machine weight | 63.5kg |
| Frame | Heavy duty steel frame |
| Max user weight | 110kg |
| Dimensions | Dimensions: 122.5cm (l) x 55cm (w) x 120cm(h) |
| # stats tracked | 6 Core Stats |
| Warranty | 2 Year in Home Repair Warranty |
| Incline | No |
| Decline | No |
| # training programs | 8 Training Programs |
| Tablet holder | No |
| Transport wheels | Yes |
| Seat to floor | 73.5cm (min) - 103cm (max) |
| Crank | 3-piece crank |
References and sources
Taking a few seconds to set up your new air bike before you start your workout will pay off in spades. There are some great tips about how to set up an air bike in this Youtube video:
The official JTX Youtube channel is packed with high-quality videos of their products if you'd like to check out other rowing and fitness machines.
Need more advice on which indoor racer to go for? The Cycling UK Forums are a great resource.
Find out more about what you can do with KinoMap here
If this is your first exercise bike, take a look at the NHS's cycling guidelines before you get started
Contact JTX on their website, or using the email info@jtxfitness.com
You can also contact them for help or any other queries on the JTX Mission Air Bike on 01273 453855
How good is JTX's customer service? Check out their Trust Pilot company reviews here. Spoiler alert: 4.5 / 5 stars.
Are you up to it? Check out the Live well website on NHS before you jump on your new exercise bike.