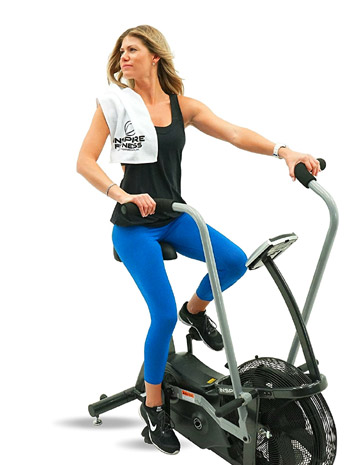 Love the feel of air resistance? So do we! If you're hunting around the web looking for the best air bike exercise machine, then Home Gym Experts is here to save you some time and money.
Air resistance offers a fantastic different feel to that of magnetic or friction, with something for those looking for light exercise, or those with more intensive training in mind!
Air cycles were all the rage once upon a time and were the go-to exercise bike in many a gym in the UK. Sadly, there's a lot less of them around today. But if you look around there are still some superb air cycles available (and they're a lot better than they were in the 90s).
In this guide, we'll look at the best current air bikes on the market in the UK, with an eye on the essentials such as price, build quality, assembly and everything else you'll want to know before you buy. With a whoosh of a fan, let's get started…

#1 Choice: We R Sports AirUno Air Assault Bike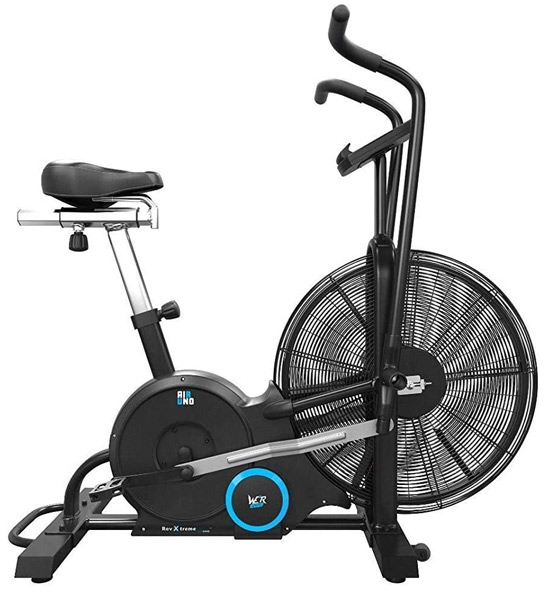 The great thing about air resistance is it's 'infinite' and bikes like the We R Sports AirUno let you get some serious workouts in, even if you've only got 5-10 minutes. The harder you push, the more calories you'll burn.
With some hard work, it's possible to torch up to  600 – 700 calories in the space of 45 minutes! But you don't have to go mad on an air bike – new users can go at their own pace.
So is the AirUno a good air bike to buy? It's definitely one of the most robust out there, offering a quality feel throughout.
It doesn't take up a huge amount of space either, making it a good choice if you're running out of room.
The air resistance is provided by a large high-strength frictionless fan. It's going to give you a smooth training session that's as hard as you want. While it's smooth, this is an air bike. It's not going to be silent. Expect some noise during intense workouts.
The display is also worth noting here. It's a top-quality LCD display that shows all the stats on screen at once. You can see things like calories, speed, distance, rpm and pulse displayed clearly on one screen. Forget scrolling through awkward menus, or waiting for the scan to hit on the stat you want to see.
Pros
Good price, for an air bike
Easy to put together
Very well made & sturdy
Burn off a lot of calories in a short time
Work your upper body at the same time
Standard noise from air bike
Check Current Amazon UK Price
---
#2 – Schwinn Airdyne AD2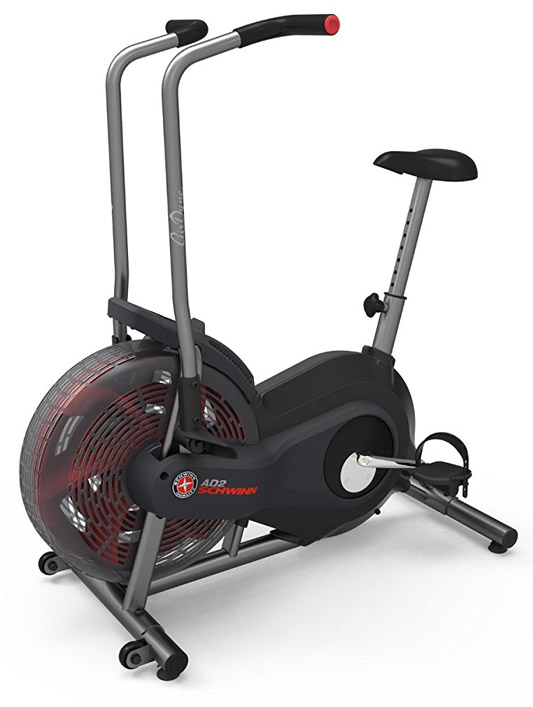 One of the best air bikes on the market in the UK right now is the Airdyne A2, also from Schwinn. It has a unique fan system that's designed to displace the air evenly and creates superb infinite resistance.
Best purchase I have made for home gym. By far.
(Verified Buyer)
This is a good choice for both new users, and those wanting a real challenge from their air bike workouts. The dual action trains your upper and lower body at the same time, or lets you focus on just your upper body. And the handlebars are HARD to move – in a good way. You'll get a tough workout here.
Another thing that's good about this A2 airbike is it's quality. It's not always easy to see which air bike has a strong feel to it but this one feels like it's built to last… forever? At least for many years to come.
Transport wheels to the front mean that you can move the A2 around when you're done. If you're looking for something to save space this is a good option.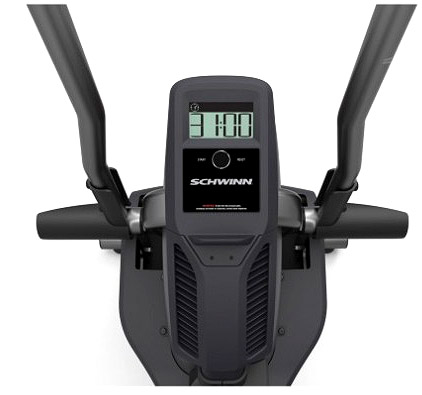 The LCD screen is also a lot better than some of the other models out at the moment. The screen has chunky, easy-to-read digits, and does some other cool stuff. As well as tracking the usual suspects:  time, distance, calories, RPM etc… it also records your data so you can review it after your workout. Completely optional, but a smart way to make progress faster.
This is a top-notch air bike that's not at a terrible price. Check out Fitness Superstore's A2 Airdyne page for the full specs.
Patented fan design makes for smooth exercise
Long-lasting design
Fine for beginners
Some serious workout for experienced riders
LCD screen lets you review progress
Easy to move around
Can't see all data on-screen at once
As with most air bikes, things can get noisy!
Check the latest price
---
#3 – JLL Sonic Air Bike
If you need a high-quality air exercise bike and are prepared to pay a bit more for it, then the JLL Sonic Air Bike might be the perfect air cycle for you.
It's massive fan wheel with large, angled blades leave the resistance up to you. Pedal harder and you'll get more resistance. You won't need to upgrade to another bike in a few years and you'll love to hate this one!
It uses a belt-drive mechanism and a solid 3-piece crank which offers a very smooth ride compared to air bikes we've seen.
See what other Amazon buyers thought about this bike
The whole bike is made from top quality materials, giving it a bomb-proof,  sturdy feel. It's used in gyms and is a favourite with rugby players.  You can get a complete CrossFit workout on the assault air bike and it's suitable for beginners, fitness enthusiasts –  right up to serious sports professionals.
Let's address the elephant in the room here – the price! Although it's more money than some of the cheap air bikes, you do get what you pay for. The performance monitor in particular stands out as being a lot better than the budget offerings.
This is a really useful gadget that has a large display showing all the important data without the need to scan. It does a lot more than mindlessly display data though. You can set your own programme and goals that will motivate you to hit certain targets. The idea is to speed up getting in shape and losing calories.
Aside from price, it's hard to fault this air bike. If you've got the cash, you won't find a better quality model.
High-quality bike
Smooth operation thanks to the bearings
Large display and goal-focused computer
Huge fan wheel perfect for beginners or advanced
Robust build
More expensive than some of the bikes in our reviews
Check Current Amazon UK Price
---
#4 – Inspire Fitness CB1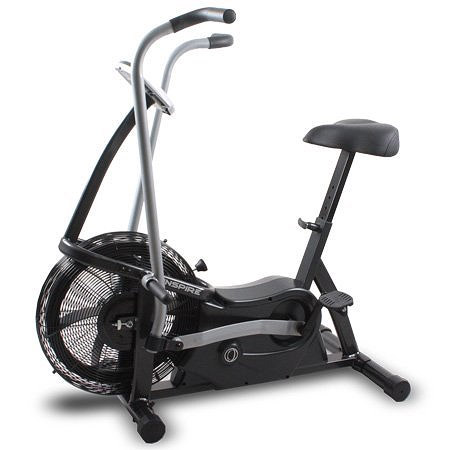 The Inspire Fitness CB1 is a mid-price, upright air bike combining high-quality materials with a solid, sturdy build.
Nobody wants to buy gym equipment they'll have to replace in a few years but the CB1 airbike feels tough and like it will last a long time.
The dual action from using the moving handlebars, and the pedals burns off mode calories than using a normal stationary bike in the same time.
Pedaling action provides cool air and a nice smooth riding experience. The faster you pedal, the greater the air resistance.
One of the best things about this exercise bike is you can rest your feet on the front pegs, and concentrate on your upper body, giving you a choice of workouts.
Your progress is tracked in terms of time, distance and calories by a decent-sized LCD panel.
Another thing this air bike gets right is the seat. If you're sick of bikes where the seat makes it uncomfortable, the CB1 has a deep-padded, supportive seat that lets you concentrate on your workout.
Read more about this bike on Amazon UK
Good quality parts
Sturdy and smooth operation
Can train upper and lower body together or separately
Simple but large LCD display
Comfortable seat
Check Current Amazon UK Price
---
#5 – V-fit ATC1
I was, perhaps prematurely, reluctant to give the V-Fit ATC1 (Amazon UK) much of a chance due to it's budget price and concerns that 'you get what you pay for', but the high number of reviews on Amazon convinced me to give it a second look.
Check out the reviews on Amazon UK here if you're interested.
This is the cheapest bike in the reviews of air bikes here and offers both air resistance and a second form called 'friction tape' resistance. This is adjusted by the dial and gives you a bit of extra work.
This bike isn't going to overexert you so it's best suited for home users looking for an air bike to lose some weight and get in shape. If you're looking for some serious high-intensity training, something like the AD6 (above) will be of more use.
Having said that, there's a lot to like about the ATC1. It's sturdy, comfortable and the pedals rotate upwards on their own so it's easy to get your feet on them.
Assembly is a mixed bag. It's not wholly difficult but the instructions don't make things as simple as they could be. Once assembled it's not heavy at all and won't take up too much space. Short on space? This could be the air bike you're after.
Hop on and it's easy to get going. You can train both your upper and lower body at the same time, meaning you'll burn off more calories than a regular upright bike.
The LCD screen is a bit of a letdown. It's a single screen affair that feels a little too far away. But it does track the basics such as calories, speed and distance.
A good budget air exercise cycle for the money, as long as you don't mind some basic features and a lower intensity workout.
Sturdy and comfortable
Work your upper and lower body at the same time
Extra dial adds more control over resistance
Fully adjustable seat
Self-presenting pedals are cool
LCD display is very basic
Handle bar pivots feel a bit slack
Instructions could be easier to follow
Not intense enough for serious sports riders
Check Current Amazon UK Price
---
Thanks for reading this guide on some of the UK's best air bikes. Hopefully, it will have given you a clearer idea of which bike to buy and what each one does. Good luck and happy training!
Let us know in the comments which air bike you like best, or if there's one that should be here.