Can you get a decent cheap weight bench online?
A good weights bench is the corner stone of any home gym. It opens up a whole range of exercises you can do with your dumbbell set, and even a lot of cool body strength exercises you can do without them.
This guide will look at the best budget weight benches, and we're on the hunt for something special for under a hundred quid. Like anything, you can pay a fortune for a bench, with some reaching into the thousand pound plus mark. But let's stick to a budget, ideal for home use. You might be pleasantly surprised at what you can get in the sub £100 price range.
You might be pleasantly surprised at what you can get in the sub £100 price range.
Cheap weights bench – NOT
 cheap and nasty!
The last thing you want with a cheap weights bench is a load of wobbly, cheap junk. The kind you trained on when you were 15. One of the main criteria we're going to look here is build quality. Yes, we want a solid, sturdy bench, capable of taking some pounding and one that will last a long time. With such a big chunky bit of gym equipment for your home, you don't want to be buying it again every year. Hopefully our cheap bench guide will save you some time and money..

#1 Choice: Hardcastle Flat Weight Bench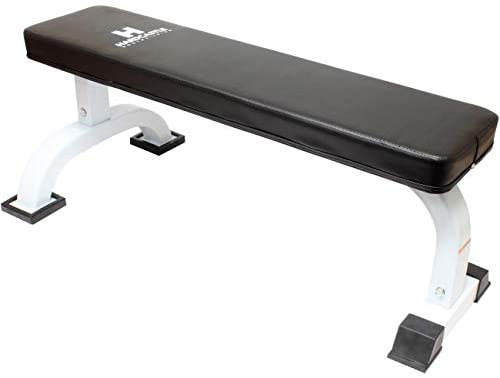 This is a great weight bench from Hardcastle. Despte it's sub-£100 price tag, you're looking at a bench that can handle to serious weight: 250kg to be precise.
A fairly cheap weights bench that's packed with cool features. It looks and feels like a 'proper' weights bench you'd find in a commercial gym. Not technically the cheapest weights bench in our budget selection, but  worth it as it's solid and built to last.
Not that looks are a huge thing when choosing a weights bench for your home gym, but the Hardcastle is a good looking entry. With a durable white powder coated finish, it gives off a glossy  professional appearance. Weight benches don't have to look fancy but it looks pretty good.
Assembly isn't complicated and you can start using this bench quickly.
Solid frame
Thick, comfy padding
Huge 250kg weight limit
Commercial quality
Professional look
Instructions not the clearest
Bolts all in one bag
Check Current Amazon UK Price
---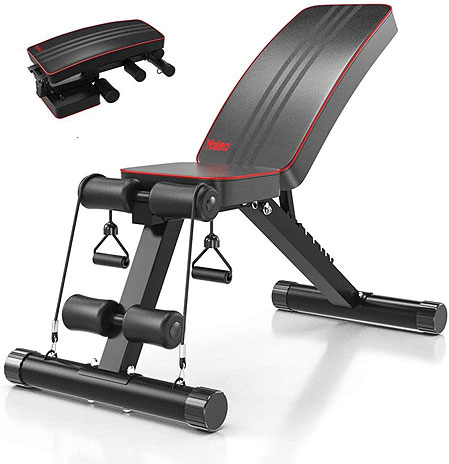 This bench is a steal for the price. With a chunky, thick frame that can take around 150kg, this is a folding bench with plenty of great features.
This is a folding utility bench that has 7 backrest positions and some long lasting, thick padding that gives good support. The backrest itself has a nice sort of curve to it, making it supportive and comfy for bench press, shoulders or even abs.
You've got lower leg cushions so you can work your abs on this bench too.
Assembly isn't complicated and you can start using this bench quickly.
Solid frame
Comfy back rest
Commercial quality
Professional look
Folding design
Instructions not the clearest
Seat a little too long
Check Current Amazon UK Price
---
Budget bench that has built-in rack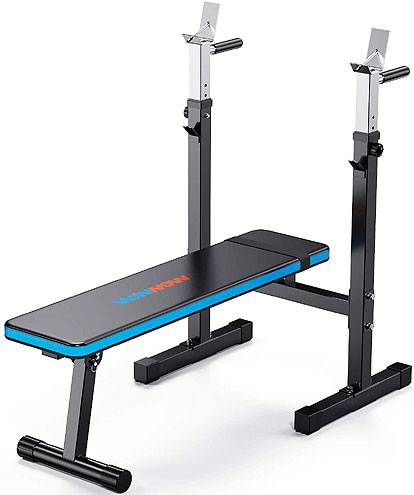 The next cheap weights bench we definitely recommend you take a look at is the Winnow 4-in-1. So what makes this bench so good, and why has it such good reviews on Amazon at the minute?
This bench is bloody brilliant to be frank and a real bargain at under a hundred quid. A good sturdy frame, as with the other benches in this list. But what sets this one apart is it has rests so you can stick any barbell on there and safely do your bench press.
There are also some sneaky dip bars hidden at the back and the height can be adjusted to bring them up to a number of levels.
But this bench has another secret – it folds completely flat so it's suitable for anyone looking for a good bench, but without the space to have one set up permanently.
On the downside, this bench can't be inclined or declined so you'll have to weigh that up against the other stuff it does.
Overall, a real bargain for anyone who hasn't already got a barbell rack and just an overall decent bench for any home gym. The fact it's under £100 is icing on the cake.
Feels very comfortable
Sturdy, made from thick tubes
Very good quality
Check Current Amazon UK Price
---
Good quality bit of gear that does both incline and decline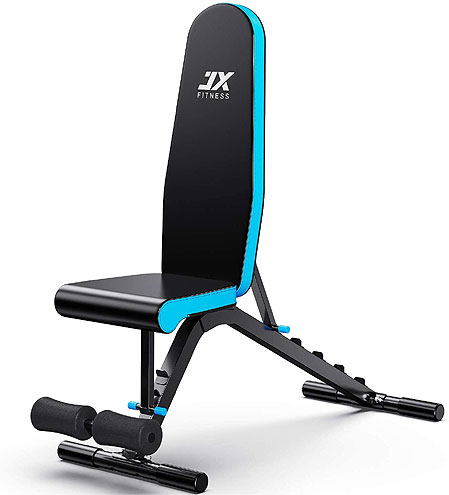 One of the better cheap weights benches around at the minute is JX's home gym bench. You don't want something flimsy that's going to wobble around and this one feels like a sturdy bench. With a fresh design and a shaped back, it also has a bit of design flare about it and we think it looks pretty good!
Both the backrest and the seat are fully adjustable, offering 5 possible back positions and 4 for the seat. It has the feel of a solid work or commercial gym bench and the padding is comfortable.
The max load on this bench is a respectable 272kg. And, despite it's chunky appearance, it won't put your back out to move it around your home gym either.
Simple assembly
Good value for money
Chunky steel tubing
lots of positions for back and seat
Feels like a sturdy gym bench
Not suitable if you're over 6 feet tall
Check Current Amazon UK Price
---
Super-cheap bench with plenty of stability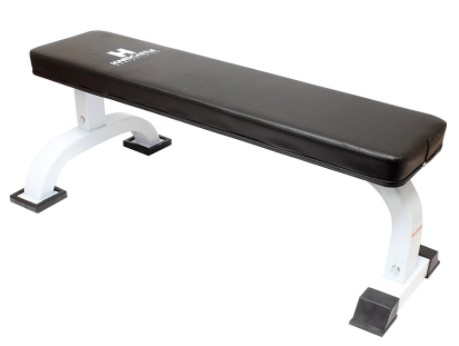 I always like to compare home gym equipment to the hard wearing gear you find in a commercial gym. And this weights bench could happily sit in any modern gym, despite it's budget price tag. We're pretty impressed with Hard Castle's gym gear and this bench is another hit.
You're getting a 'flat bench' here (it ain't adjustable) and is dedicated to presses, rows and other exercises in this fixed position. Some buyers prefer the simplicity and added stability of this style of bench, so I thought I'd throw it in here.
Don't let the low price put you off here either. This bench is a burly workman of a fitness bench, with a solid construction. It's forged from steel and it's finished with gym-style white powder coating. Stick it in your home gym and left to do it's job. If only everything was as straight forward…
Strong, sturdy, affordable. This bench is a great buy for anyone looking to go super-cheap and who is not worried about an adjustable bench.
Solid construction
Easy to assemble *
Quality feel that belies it's budget price
5 star reviews on Amazon
Some bolts arrived painted over
* Rubber feet take some whacking on
Check Current Amazon UK Price
---
As always, thank you for reading our guide on the best budget weights benches for under £100. I hope it shows that you don't have to spend a lot of cash to get a decent weights bench for home use. Let me know in the comments if you like any of these benches or you have a favorite you want to let people know about. You might also like our Ultimate Bench Press Guide.
Wishing you good training!