One of the most obvious choices for setting up your home gym is just buying an all-in-one multigym.
By combining multiple exercise stations in one easy to use piece of kit, a multigym is a one-stop-shop for health and fitness for most people.
And when it comes to big names in home multi gyms, one name comes up again and again.
Marcy.
Who are Marcy, and are their home gyms any good?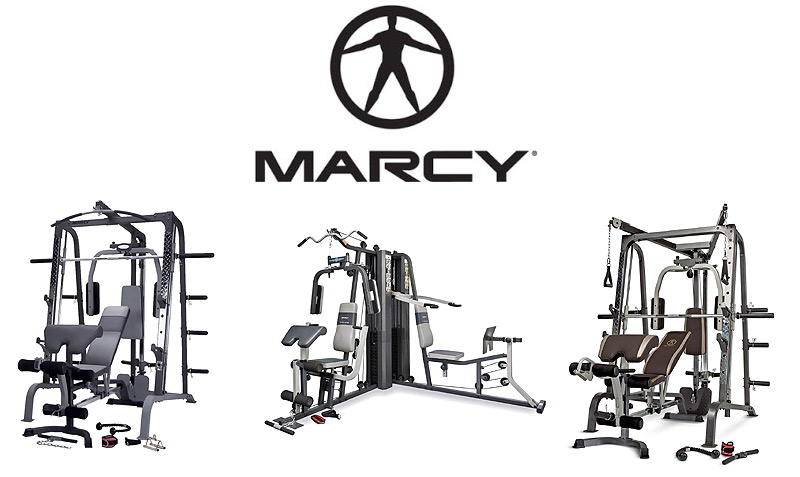 When it comes to fitness, few companies have a heritage as impressive as Marcy. It was built on the foundation of Walter Marcyan, an Armenian born US strongman and fitness innovator, who was starting and developing his own brand of fitness companies back in the heady pre-Instagram, post-WW2 days of the 1940s.
Marcyan was a strongman and fitness professional for around 10 years before he started his business, so clearly recognised the importance of a healthy body.
But the man was also a shrewd businessman and clearly sharp as a tack, developing his own health clubs, postal products range, and probably most impressively, designing the All-In-One fitness station that became the prototype for every single multigym in use today.
The actual Marcy company is a subsidiary of IMPEX, a US-based fitness company that own multiple fitness brands, all aimed at different parts of the market.
Marcy is their home fitness brand, and they've built a reputation for equipment that's solidly built, well priced, and more than a match for most other mid-level products on the market right now.
What are the best Marcy gyms for garages and spare rooms?
Here's some of the best Marcy Gyms that are up for sale today and (should be!) in stock today:
"This home gym has everything you need for some proper strength training"

Uses standard Olympic plates

Marcy GS99 Dual Stack Home Gym

"Same feel as a commercial gym, only in your garage..."

"A high quality home gym that takes a whopping 272kg olympic plates"
---
Help, I Have No Clue Which Marcy Gym To Buy!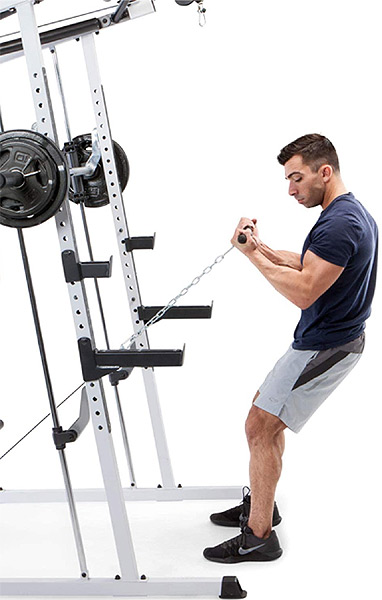 5 Quick questions to help you decide!
So which of Marcy's gyms is for you? There's a lot of 'em to choose from! Here are some quick things that should help narrow down your choices considerably.
How much room do you have? Multi-gyms are a bit of a hog when it comes to space and Marcy are no exception. Start off measuring up your garage or spare room and go from there. Leave some space around your gym whatever you do. This will narrow your selection down.
How much do you want to spend? Budget is another good one to start with when you're picking the perfect Marcy gym. Thankfully these aren't the most expensive gyms. But set a limit like £800, £1200, £2000 etc and this might save some time.
Are you already a complete gym beast? If you're no stranger to the gym and own at least one 'do you even lift?' shirt then you'll likely want a Marcy gym that will be able to keep up with you. (See the next point…) If you're new to training in home gyms, go for something with a lighter weight stack.
Olympic plates or weight stack? There are really two kinds of major Marcy gyms up for sale at the moment. First, there are the ones that have an adjustable weight stack, like the ones in commercial gyms. Second, there are gyms that take Olympic plates (you'll need to buy these as extras!) The latter is more suitable for experienced gym-goers or if you're looking to do some serious strength training.
Do you need a bench? If you've already got a weight bench, you can probably skip on the Marcy gyms that come with one. Unless you've got someone you can gift it to, or sell it on eBay… Some Marcy gear comes with a stand-alone bench whereas some of the gyms we've seen are more 'all-in-one', with it built-in.
Where can I buy Marcy exercise equipment in the UK?
Over the past few months, it's become surprisingly difficult to find certain fitness products online, and Marcy is no exception.
Luckily, as a well known and trusted company, Marcy home gyms are available from most major manufacturers. As always, we recommend buying online.
If possible, you should purchase from Amazon, because of the better price, simple delivery and excellent customer service. But Marcy is a big name, and you can also usually find their products sold by other major online retailers.
Top Marcy Home Gyms For 2023
---

Best Overall: Marcy Eclipse Deluxe
Type: Multi-gym with a built-in smith machine. Uses Olympic plates
Max weights you can add: 135kg
Dimensions: 249 x 203
Height: 209 cm
Max user weight: 135kg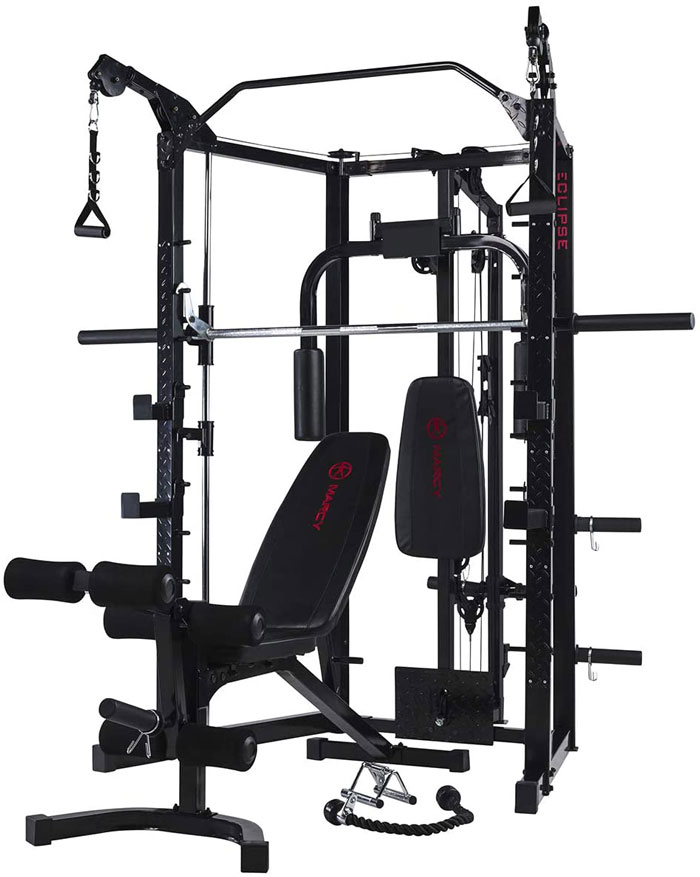 For the price, the Marcy Eclipse is a fantastic piece of kit that's fully capable of eating almost any workout the vast majority of people could ever think to throw at it.
It comes with a mass of stations, including dual swivel high pulleys, low pulleys, an integrated pull-up bar, a pec dec station, and the main draw, a heavy-duty smith machine.
Construction is exceptional across the board, with the machine holding up to 300lbs of standard 1 inch or 2-inch weights, and also has a hefty 300lb user weight limit.
It's a big beast, at 2.5m long, 1.5m wide, and almost 2m tall, but if you've got the space, this is going to outlast you. It's seriously impressive, and a serious contender for one of the best home gyms in its price range.
Check Current Amazon UK Price
---
Best If You Have Room: Marcy GS99 Dual Stack Home Gym
Type: Dual station multi-gym
Weight stack: 2 x 65kg
Dimensions: 182cm x 213cm
Height: 208 cm
Max user weight: 140kg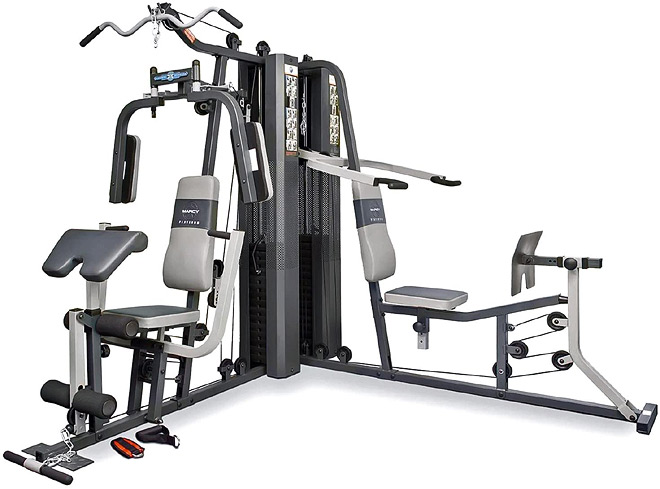 If you've ever used a commercial gym, you'll likely be impressed how much Marcy's GS99 manages to replicate a lot of the stand-alone machines on offer there.
With proper stations for bench press, pec fly, lat pull-down and shoulder press, it feels like a proper gym in your garage. This all comes at a cost of space and this is not one of the more compact in Marcy's range.
It's comfy enough too. Whereas a lot of home multi-gyms we've seen skimp on padding, this one has good quality, thick padding where you need it so it's as comfy as you can be while sweating and straining against the next rep.
You've got some decent options for leg exercises here too; one station will do leg extensions while the second one does a good leg press. There's a respectable 65kg per stack on either side too.
If you've got the space (and the budget), you can turn your garage into a pretty impressive home gym with this dual-station gym from Marcy.
Check Current Amazon UK Price
---
Best Premium: Marcy MD-9010G
Type: Smith machine multi-gym that uses Olympic plates
Weight stack: 272kg
Dimensions: 203cm x 254cm
Height: 216cm
Max user weight: 136kg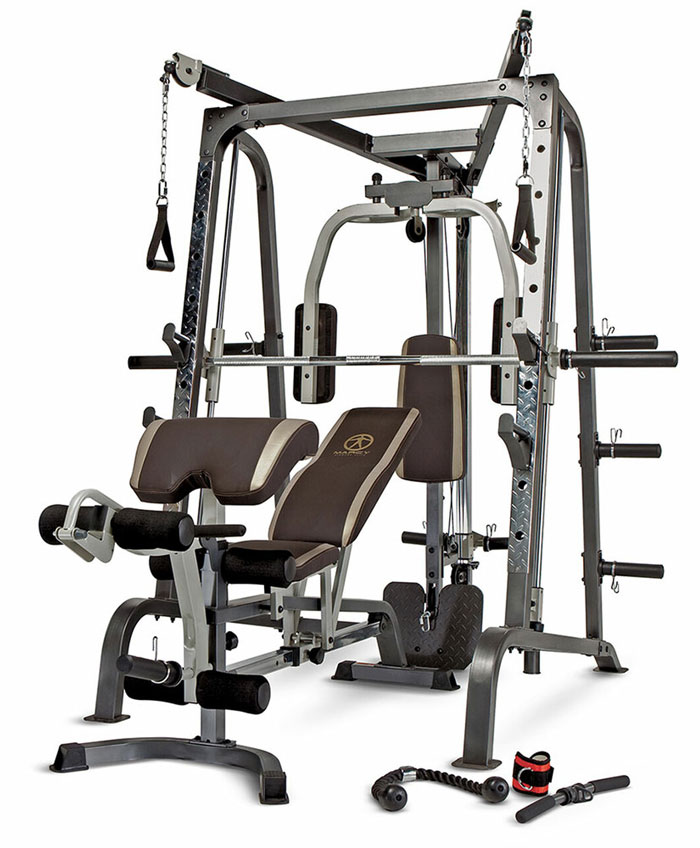 The Marcy MD9010G is an absolute animal that's beefy enough to cope with heavy powerlifting workouts and can have more weight on the bar than most people will really be able to lift.
It has the full suite of exercise stations, including pec dec, high and low pulleys, curl station, leg station, and the monster of a smith machine that holds a maximum of 600lbs.
The user weight is 300lbs, and it's still reasonably sized despite the weight, with a 2.5 x 2m footing and just over 2m maximum height.
Honestly, for most people, the MD-9010G is probably too much machine. The Eclipse, our top pick, does basically everything this does, for around half the price. But you'll know if you need this.
If you lift heavy, and you need a multigym that keeps up, it's going to be hard to find something that matches this at the price.
Check Current Amazon UK Price
---
Related Guides
---
Marcy Home Gym: Complete Buyer's Guide
Which exercise stations do you need?
Every multigym is going to come with several exercise stations designed for different exercises. However, each multigym is different, and it's worth paying close attention to what's on offer.
One problem I see with some multi gyms is there aren't enough different exercises you can do with them and you'd not only get bored, but there wouldn't be enough variation for a proper workout.
Standard exercise stations include:
Lat pull-downs
Curls
Pec deck station
Shoulder press
Rows
High and low pulleys
Leg press
Calf raises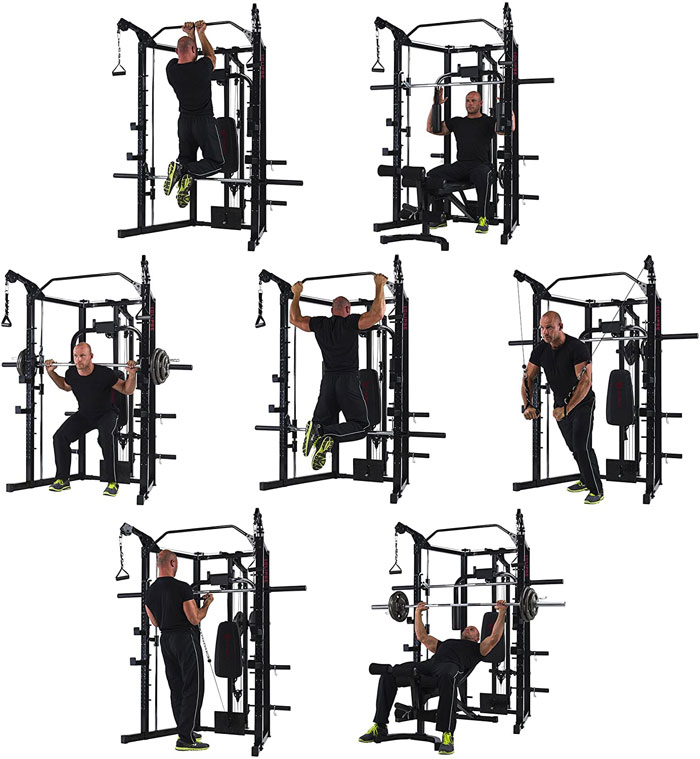 All Marcy gyms will have enough stations to perform a decent full-body exercise routine, but if you're looking for something in particular, confirm what's available before you buy.
Marcy Build quality and comfort
A lot of what makes a multigym tough and capable of taking a lot of weight is the quality of the frame. Heavy, steel-framed gyms are without a doubt the best, able to hold the highest amount of weight, and incredibly strong and tough.
All Marcy home gyms are built around a solid, heavy-gauge steel frame, meaning that build quality is something you don't have to worry about.
You're also going to want to buy a multigym that's comfortable to use. That sounds obvious, but a lot of companies save money by using thinner, cheaper padding on the seats and working areas like arm pads.
Marcy home gyms don't do this, and all have thick, padded seating, arm pads and leg rollers.
Dimensions – spend time measuring up
One thing anyone setting up a home gym struggles with is space, and while a home multi gym can help you save a lot of room overall, they can still take up a massive chunk of real estate.
Larger, heavier home gyms tend to be better quality overall, with a heavier weight stack and more exercise stations.
However, that's going to be balanced by cost, by height, and by footprint.
It simply might not be feasible for a lot of people to fit a bigger multigym into their home, so make sure you double-check the size and height of what you're buying compared to where it's going to go.
One final point on height and weight. A multigym is a large, heavy piece of equipment, and some companies might only deliver curbside, or to the front of the house. Always double-check the delivery options and make sure that you're going to be able to get your new gear where you need it.
The weight stack – is this heavy enough for you?
The majority of Marcy home gyms use single weight stacks for resistance. These are a set of plates that generally sit at the back of the machine, and are adjusted using a simple pin system.
Weight stacks can range anywhere from 100lbs on a lower-end system, to more than 300lbs and upon the most expensive machines.
For beginner to intermediate training, a weight stack around 100lbs to 200lbs (45kg to 90kg)  is normally good enough. If you're an experienced lifter, or you're looking to progress hard, then you may need something bigger.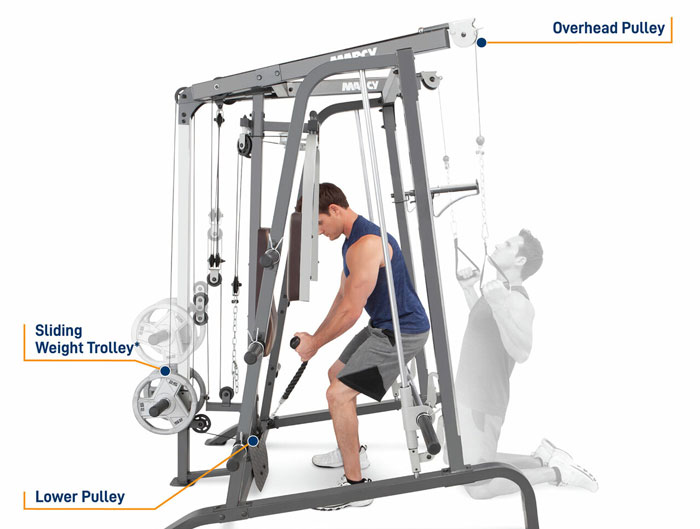 Also, remember that you'll get stronger over time so what might be enough weight for you now might not be enough a few months down the line. Marcy gyms generally have a good amount of weight included in their multigym equipment.
Warranty and returns
While most multi gyms aren't going to fail under normal use, it's good to have an extra level of security, just in case.
Marcy multigyms are covered by an impressive warranty that has 1 year on upholstery, 3 years on cabling, and a full lifetime on the frame. So no matter what, you know that you've got backup.
---
Some common FAQs about Marcy Gyms
Here are some of the things we've seen asked a lot about these multi's. If there's something you need to know, ask in the comments!
Do they come with plate weights?
Some Marcy gyms come with the ability to add plates onto the machine. With these models, you'll need to source your own weights as they're not included (at least not in the packages we've seen).
The weights you need are 2″ 'Olympic Plates', which you can buy at just about any gym store, or on places like Amazon.
Will this fit in my garage / spare room?
The dimensions you see above are the maximum space the gym gyms take up. It's worth leaving a bit of clearance above and to the sides if the gym is the type that has plates you can add. It's also important to leave space at the front if it has the leg extension station.
Are Marcy home gyms hard to assemble?
Out of all of the gym gear, we get to review and play with here at Home Gym Experts, the multi-gym is definitely the most involved and time-consuming category. There's literally just so many different components and parts you'll need to put together, from pulleys to the frame to all the protective casing.
It's not bad and you can do it solo
Marcy home gyms are not hard to put together. There are a lot of steps but the instructions are well laid out and simple enough to follow. Think a large lego set and you'll be about right.
It's worth checking Youtube (search [model number assembly]) to see if there are any video guides as they're often easier to follow.
It's likely to take an afternoon, or an evening so as long as you take your time, it's not the hardest job out there.
Here's a good guide to what you can expect when you assemble your new multi-gym.
---
Final thoughts
It's easy to see why Marcy home gyms are so well respected in the fitness world. A combination of solid construction, a decent price, and an ironclad warranty all adds up to a product that just performs.
While Marcy's range in the UK might be more limited than in the US, where they originate, we're confident that the range of multi gyms we've chosen above will give anyone a decent workout.
If there are other Marcy products you've used, or you have any experiences to share, make sure to comment below!
---
Reference and Further Reading