In 2023, thanks to Crossfit, Instagram and other social media sites, and more exercise knowledge in general, more women are lifting heavy weights than ever.
But this also means that more women are looking to buy their own barbell because the standard barbell is designed for men's needs.
So which one should you get if you're looking for a really good barbell that will last a lifetime and grow with you?
---
The differences between men's and women's barbells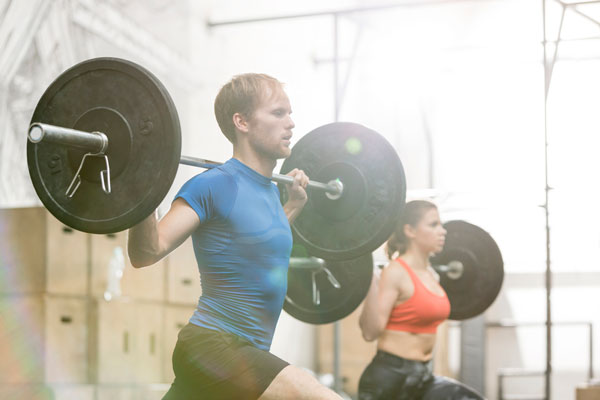 Do women need a specific bar for lifting? Technically, no, but women's barbells are slightly smaller and lighter, which generally makes them much easier to use for people with slightly smaller hands, and slightly smaller frames in general.
At first glance, it can be hard to tell apart men's and women's bars because they look so similar. One of the simplest ways is to look at the centre of the bar because women's bars will almost never have any knurling.
The differences below are relatively minor but can make a huge difference when it comes to finding an effective grip and balancing the bar, which is especially important for dynamic exercises like snatches and cleans.
1) Female Olympic barbells are typically
shorter
The first difference you'll find is in the length of the barbell.
A standard Olympic barbell has a total length of 2.2 meters, (86.4 inches or 7.2 feet.)
A women's barbell instead has a total length of 2.01 meters, (79.2 inches or 6.6 feet.)
2) The bar will have a slightly smaller
diameter
In general, men's barbells have a shaft diameter of 28mm (Olympic lifting) or 29mm (Powerlifting.)
Whereas women's barbells have a shaft diameter of 25mm, 10% less.
3) Ladies Olympic bars are normally 5kg
lighter
A men's barbell also has a standard weight of 20kg (44lbs.)
In comparison, a women's barbell has a weight of 15kg (33lbs,) 25% less total weight.
---
Our top choices for women's barbells
So what are some of the best female Olympic barbells you can buy today?

Best quality bar: Rogue Fitness Olympic Weightlifting Bar
Bar weight: 15kg
PSI rating: 215,222
Why's it good? A work of art. It looks and performs beautifully
One of the highest quality bars we've seen, this Olympic standard bar is a gorgeous piece of kit that's fully equipped for you to blast out reps and train to the highest standard.
Zinc-plated, it's been designed with the needs of weightlifters in mind. Needle bearings give it a smooth roll in the sleeves, and the 25mm bar has a full knurl that provides solid grip, without tearing into your hands.
Rated to 215,222 PSI, the bar can and will take more weight than most people can possibly throw at it, and it's treated with Rogue's hardening process, so no matter what you put it through, it's going to come out of the other side.
While it's expensive, you're getting what you pay for, and as long as you look after it, this bar will probably outlast you, all while taking you to new personal records.
---
Best budget bar: DTX Fitness 6ft Olympic Barbell Weight Bar
Bar weight: 14.5kg
Bar length: 6ft
Max weight rating: 300kg
Why's it good? Well made, looks good and takes a lot of weight.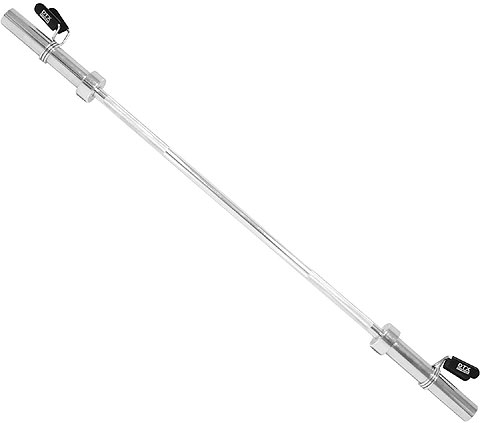 Strong, tough, and surprisingly budget, this bar by DTX is a great option for home training, with everything most people are going to realistically ever need.
Made from steel that's beautiful to look at, it's tough and hard-wearing. It's also got a great whip for a budget bar.
The bar can take 300kg and the knurling is a hybrid grip pattern, with two types of markings for a better grip profile.
The only downside compared to the Rogue Fitness bar is the lack of appropriate certification.
But that's not really something that most people are ever going to have to be concerned with. And if that's not something you're worried about, then this bar is a fantastic way to lift heavy from home.
Check Current Amazon UK Price
---
RELATED GUIDES
---
Olympic Barbells for girls: Buyer's Guide

How to choose the correct women's barbell for you
Barbell Strength
A barbell's strength is how much weight it takes to permanently damage the bar itself. It's generally measured in two ways, yield strength and tensile strength.
Yield strength is the weight necessary to cause the bar to permanently bend. Manufacturers test this exactly as you'd imagine, by adding weight to a bar until it gives.
Tensile strength is the weight necessary for a bar to break completely. This will be rated in pounds per square inch (PSI.)
High-end bars generally sit around the 190,000 or 215,000 PSI rating, but for general use 165,000 to 180,000 PSI is a good point to aim for.
Barbell Sleeves
The sleeves are the parts at each end of the bar that actually holds the weights. The sleeves also affect how much spin the bar has, which is controlled by either a set of bushings or bearings.
A bushing is a thin second sleeve that sits between the bar and the sleeve itself, and help to lower friction and let the sleeve spin.
Bearings are higher quality than bushings, and offer a much cleaner, smoother spin, but are normally more expensive. They're generally made from tiny ball bearings or rolling needles inside the sleeve.
Load Capacity
The load of a bar is how many plates it can hold on the sleeve, and depending on the manufacturer and the purpose of the bar, can vary by a lot. Powerlifting bars for example, are designed to hold significantly heavier weights than Olympic bars.
Another factor on how much load a bar can take is the width of the plates it's designed to hold. Again, powerlifting plates tend to be thinner than standard Olympic style plates, so you can stack them for a greater total weight.
Whip
The 'whip' of a bar is the technical term for the flex or bounce an Olympic bar experiences at the end of each rep.
The amount of whip in a bar is primarily determined by what it's made from, and the thickness of the bar.
Having a bar with a high amount of whip can even be a benefit, as certain exercises can use the momentum and flex of the bar to aid in finishing a movement.
Finish
The finish on a bar does three things. It changes how a bar looks, changes how it feels in the hand, and helps to protect against rusting and other corrosive damage.
Bare steel looks natural and feels good, with a lot of grip, but is susceptible to rust, and will need a lot of aftercare, especially if you're keeping your bar outside or in a garage.
Black oxide bars look and feel similar to a steel bar (except black,) but have a lot more oxidation resistance than bare steel.
Stainless steel bars combine the best of all things, with a great looking finish, solid grip, and high resistance to corrosion without much-needed maintenance.
Bars with a zinc finish have great protection against rusting, but the finish can quickly lose its lustre, so needs a lot of looking after.
Chrome bars are very expensive but almost immune to rusting and corrosion. Chrome also tends to be slippery in the hand, so tends to have deep knurling.
Knurling
The knurling on a bar is the diagonal grooves cut into the surface that are designed to help with grip, 'catching' the bar as you move through reps and holding it against your skin.
Deeper, wider grooves will make the bar easier to hold, but more aggressive knurling like this will also cause more friction on your skin and could create lifting blisters.
Depending on the type of bar you have, the knurling could also be placed differently. Powerlifting bars tend to have more knurling towards the centre to help with unconventional lift patterns. Certain bars are required to have a central pattern of knurling to help the bar grip onto a lifter's back during squats.
Olympic bars will have less central knurling, and women's bars tend to have no central knurling. Bear this in mind if you plan on squatting heavy, as a conventional bar might be closer to what you're looking for.
---
Final thoughts
With the slightly smaller diameter and lighter weight, a women's barbell can make the process of lifting much better for anyone with a smaller body frame or hands.
Besides that, the only real way to know what type of bar you're looking for comes with experience.
Our top picks have been specifically chosen for their suitability for a wide range of exercises, so if you're still not sure, it's hard to go wrong with either of those.
Thanks for reading!
---
Some Quick FAQs: Buying a women's Olympic barbell
Do they take the same plates as mens?
Yep! It is confusing as the width of the actual bar itself is thinner, the ends take the same 2″ hole plates as any Olympic bar does.
Why can't I find any female-specific bars on places like Amazon?
A lot of the time they are there, but they aren't listed as 'for women'. Most of the top-selling barbells do come in a range of lengths and weights so the trick is to check the top ones and see if there's an option for 15kg. It takes a bit longer but you should find some good matches.
Why aren't my Olympic barbell squats hitting my glutes?
One thing you might want to try is giving your glutes a real squeeze at the top of the rep. As with any resistance training, this pro tip can be employed to stimulate the muscles faster and you should feel it straight away (and the day after!)
Can I use a barbell without a squat rack?
It's really difficult and just not a good idea to do this. A squat rack lets you safely set up your weight, get into a comfy position and do your barbell exercises safely.
While it's technically possible to workout with your barbell without a rack, especially for things like deadlifts, you'll have a hard time doing things like squats and bench press!
Check out some awesome exercises you can do with your new Olympic barbell in this video:
---
References & Further Reading