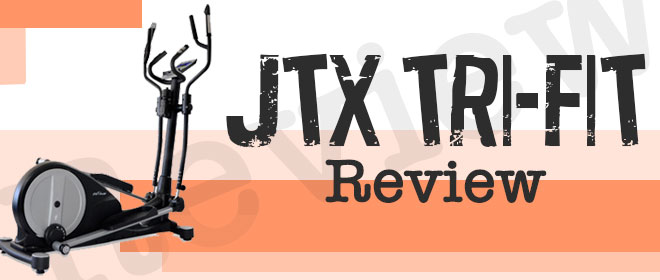 Review Summary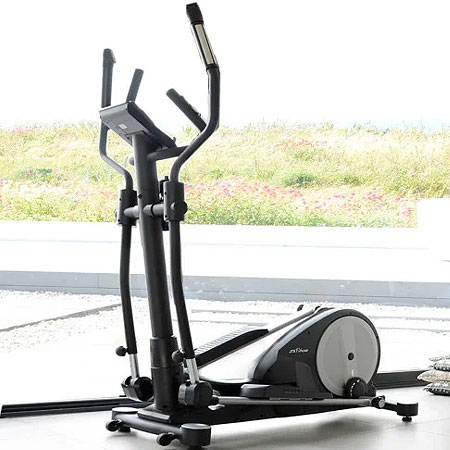 Tri-Fit Elliptical
Near commercial build quality
Display console is superb
Works with Kinomap
Smooth and comfortable
Large footprint
"Overall, a solid entry into the home cross trainer market. The Tri-Fit is big, solid and reliable. Although it takes up a lot of space, it feels similar to a full-on commercial elliptical."

Welcome to our JTX Tr-Fit review. An in-depth look at what this mid-level elliptical machine has to offer and who will get the most out of this bit of home gym gear.
As always, get ready for the good and the bad as we dive deep into what this cross-trainer does well, and where it falls short.
What is the JTX Tri-Fit Incline Cross Trainer
The mid-range option in JTX's cross trainer range, the Tri-Fit is priced somewhere between a commercial grade cross trainer and budget model and offers an awful lot for a comparatively low price.
The balance of affordability and function is backed up by a really attractive design that wouldn't look out of place in a high-class gym, as well as a bunch of things not generally found on systems at this level, including a three-level incline function and adjustable stride.
---
JTX Tri-Fit Best price & full guide
---
The Tri-Fit Elliptical at a glance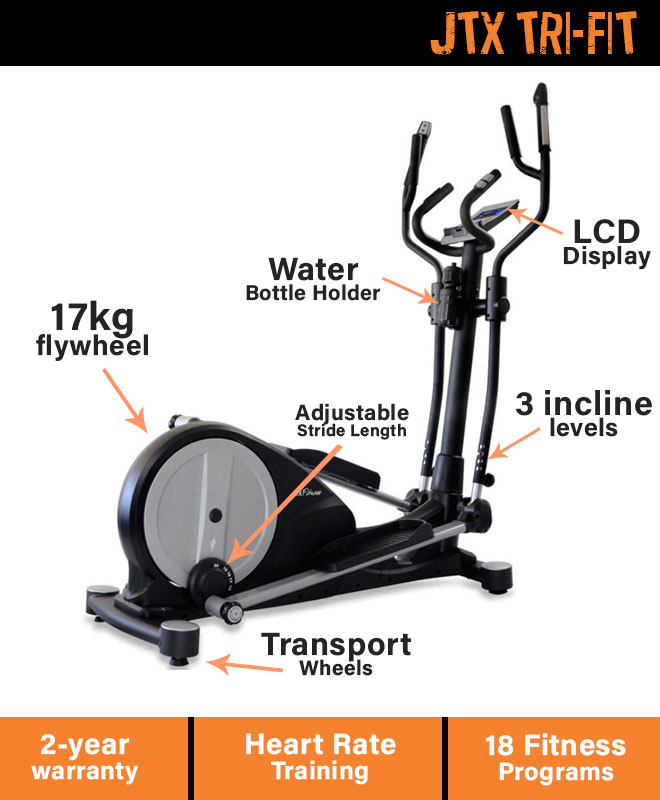 A quick overview of what this cross-trainers' features
17kg flywheel
3 incline levels
16 resistance levels
18 fitness programs
Heart rate training
LCD display
Adjustable stride length
Water bottle holder
Transport wheels
2-year warranty
---
What you'll get from training on the JTX Tri-Fit Incline Cross Trainer
Cross trainers are an increasingly popular form of cardio because they're easy to use and really low impact, so no matter your level of fitness or current goals, a cross-trainer can get you there.
The JFT Tri-Fit builds on this with some really smart features, including the incline feature that's basically a unicorn in the cross trainer world. Pile on a bunch of user-friendly design features and active, online, on-demand training from Kinomap, and you've got a tool that's fantastic for almost everyone.
---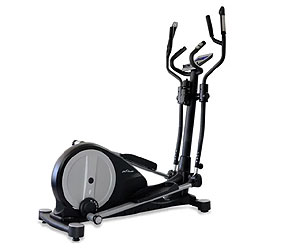 Get in shape at home with this zero-impact cross trainer. Ideal for cardio, general fitness and as part of a weight loss program. The Tri-fit is strong, easy to assemble and built to last. With Free UK delivery.
Who is this best suited for?
There are some serious reasons to consider the JTX Tri-Fit, even over far more expensive cross trainers with more options, because it offers things that are incredibly rare, even pretty much unique in the current market.
First among them is the incline. It's so unusual to see an adjustable incline on a pure cross trainer and to see it on one that only costs this much is basically unparalleled. It offers so much more in terms of training options, and once you've used it, you'll wonder how you ever lived without it.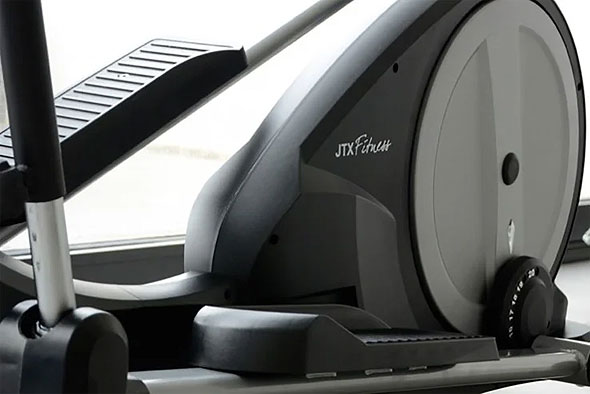 Second is the adjustable stride. Now, realistically, a lot of people will never find themselves using this feature, because a 20 inch stride is the commercial standard for a reason.
But if you're a little smaller than most, or you're looking to hit a bunch of different muscles, the ability to shift down to a smaller stride length is something you'll really appreciate.
Finally, for the cost, there's a lot on offer here. It's not a budget model, by any means, but for the price it's hard to fault the Tri-Fit.
---
Who are JTX Fitness?

The JTX Tri-fit is a machine from the gym equipment people: JTX Fitness. Not familiar with JTX? They design and build high quality commercial standard fitness equipment such as rowers, running machines and cross-trainers. They're known for their customer service and machines with top tier components, build quality and aesthetics.
If you have any problems with your new elliptical, or any of their machines, they send engineers out to your home to fix it quickly, which is very rare and something we love.
You can find out more about the JTX Tri Fit, and different exercise bikes on the JTX website.
One thing that you'll read a lot about, if you research into JTX, is how good their support is.
---
How does this elliptical compare to other ones in this range?
At the time of writing this, JTX has 2 other cross-trainers in their range. Here's a comparison of the differences between them.
---
5 things you'll love about this trainer
The onboard computer is fab – While you're free to add your own tablet and get stuck into some Kinomap action if that's not your thing, the display on offer here does a good job of showing your stats and giving a good range of programs. The display is a nice, readable blue and there's plenty of eye candy to keep you striding.
It's got a Polar receiver – Nothing to do with the North Pole, this is a built-in receiver that basically lets you connect any compatible chest strap. And if chest straps sound a bit 'weird', they're handier than you'd think. A proper chest strap is relatively cheap and will track your stats way more accurately than the built-in silver strips.
It will suit the whole family – Getting everyone off their screens and doing some exercise isn't always easy. At least the Tri-fit can be set to different stride lengths that suit different body sizes. Download a fitness app and they'll be able to watch screens and get in shape.
It's nearly like the ones at the gym – Remember gyms? In a time before Covid people could head out and actually get in shape. Well, we can't fix Coronavirus, but at least the Tri-fit gets you close to a 'real gym' elliptical. It's big. It's sturdy and it's a world apart from the cheap machines you can buy.
It looks great – Like all the JTX hear we've had the pleasure of reviewing, the Tri-fit is a handsome beast. In a world of ellipticals, this one has a nice modern smooth sort of design that you won't want to hide under a long coat. And, trust us, we've seen some really ugly machines in this category.
---
Reception of this cross trainer
What are the reviews like for this elliptical?
One of the 3rd party independent sources for reviews on this fitness bike is Trust Pilot. TheTr-fit currently sits at 5 stars. At the time of writing, there's a good number of reviews of this product.

Here's some opinions from users of this home elliptical machine:
"A good piece of equipment for your home gym. The elliptical does have rather a large footprint though, especially with the arms extending quite a way out, so plenty of space is needed" 
GiantRolo
---
" It is robust and has proved to be capable of much more than I need but the fact that the step height and stride length are adjustable has enabled me to adjust it to overcome the physical issue which concerned me before I bought it." 
Bill P
---
"Sturdy design, smooth action, though does need occasional adjustment to the lower joints to stop clacking sound. The computer has a good variety of programmes, all with added levels of resistance.." 
Mrs Wendy Donovan
---
Our Opinion: What we like about JTX's Elliptical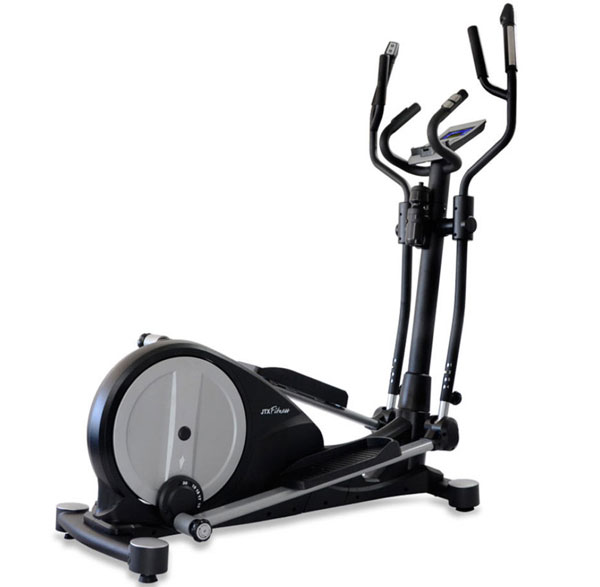 Ironclad, commercial-grade design
For being a mid-range, mid-price trainer, the JTX Tri-Fit is exceptionally well built all round.
The steel frame is rock solid and incredibly tough and stable, which is demonstrated through the 150kg (330lb) max user weight, which is legitimately incredibly high. The pedals are large and comfortable, and there are two sets of handlebars, an inner fixed set and an outer oscillating set, both of which have heart rate sensors built into them.
The unit itself is a beefy 72kg, but it's relatively easy to set up, as it arrives almost fully assembled. We do recommend having an extra pair of hands around, but you can have this together and working in literal minutes.
Finally, everything is supported by a solid 2-year warranty, with lifetime support on the frame, and if anything goes wrong, the engineering team will head out and complete all of the repairs right there in your home, getting you back in the game fast.
---
Related cross trainer guides
---
A whole lot of tech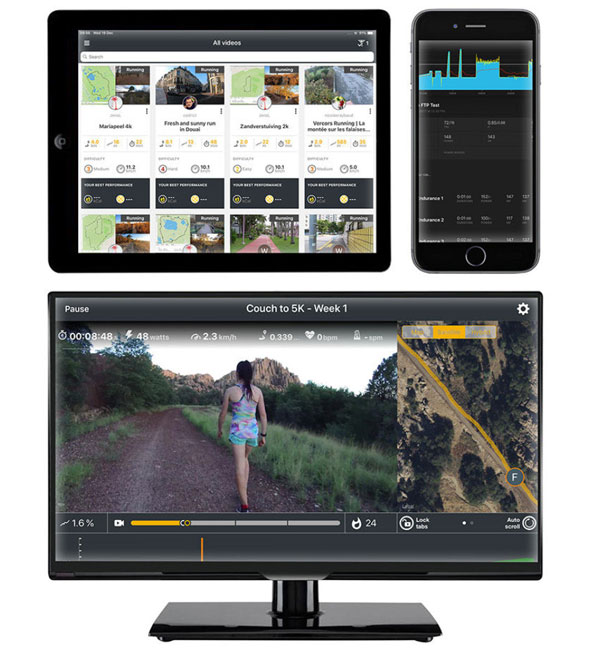 Backing up the build quality is a whole host of useful tech. The controls are a simple to read and simple to understand LCD display that's a little bit old fashioned but does what you need it to do.
There are 18 inbuilt programs, 12 for fitness and 6 for heart health, all backed up by heart sensors in the handlebars.
Bluetooth connectivity lets you link your devices to the system, tracking your fitness progress and all your statistics, and it also gives you the option for Kinomap.
If you're not aware, Kinomap is an interactive fitness app that lets you train as if you're anywhere in the world. The benefits of apps like these are massive, which is why we've written an entire guide on why you should be using Kinomap in your workouts. Learn more here
It feels great to use
Because everything about the Tri-Fit is so well made, it's a joy to use. The big, heavy flywheel can really ramp up the resistance, and because it uses magnetic resistance instead of physical, it's whisper quiet and very smooth, with a lot of resistance levels on offer.
On top of this, the fact that you can adjust the incline and stride length means that you can literally set this up precisely as you need it. Whether you're tall and heavy, or light and petite, you'll find your perfect set-up here.
---
What could be improved with the JTX Tri-Fit?
No touchscreen
The reason why is completely understandable. A touchscreen design that you'd see on more expensive competitors could easily throw another 50% on the asking price. And Bluetooth connectivity lets you link your phone to this and use it in its stead.
Still, it would have been nice to see. Maybe on the Tri-Fit version 2.0, whenever that hits the market.
Large footprint
Not really a negative unless you're short on space but worth mentioning. Ellipticals tend to be on the more bulky side of home gym gear thanks to the extending arms, and the Tri-fit is no exception.
Tablet and phone shelf cover the display
While many workout machines are, thankfully, including a decent shelf to put your tablet or phone on, they're not always ideally placed. The best tablet holders we've seen don't cover the display.
This is great because it doesn't block you from seeing your stats. One of the downsides of the Tri-fit is it covers the actual screen if you put your phone on the shelf.
Bring your own socket set
One minor complaint would be the tools that come with these kinds of machines are, understandably, not as good as your home toolkit. This is fine if you have a decent set of spanners or a socket set.
If not, you're stuck with the less-than-ideal ones that are in the box.
---
Final thoughts: Worth a buy?
Compared to other cross-trainers at its price, the JTX Tri-Fit blows almost everything out of the water.
The sheer range of features on offer, backed up by fantastic build quality and exceptional warranty, is almost on par with models that are twice as expensive.
This is honestly one of the best cross trainers we've seen at this price.
The single downside is the lack of a built-in touchscreen, but if you can live with that, you're almost certain to fall in love with this superb home cross-trainer from JTX.
---
Tri-Fit FAQs
Is this machine suitable for senior users?
Yes. This machine is smooth and easy-going for more mature users. Once assembled, it's slightly smaller than a gym machine and easy-going enough for anyone in their 80s.
---
JTX Tri-fit Full Tech Specs
Brand
JTX Fitness
Model
Tri-Fit
Dimensions
153(l) x 75(w) x 173(h)cm
Stride Length
16 - 20" Adjustable stride length
Flywheel
17kg
Resistance
16 Levels of electro-magnetic resistance
Incline
Independent incline adjustment feature (3 levels)
Computer Console
Advanced Bluetooth console with iConsole training included
Workout Programs
19 Programs: 12 fitness workouts including hill and intervals.
The difficulty of each workout profile can be adjusted to suit your current level of fitness. + 1 Manual mode. +4 Heart rate responsive programs. + 1 Watt program. + 1 Design your own.
Heart Rate Training
Via hand sensors or Polar chest strap (sold separately)
Q Factor
150mm
Max. User Weight
150kg
Machine Weight
75kg
Boxed Weight
75.3kg
Boxed Weight
Yes
Speakers
Yes
Assembly time
45 Minutes
Boxed Dimensions
134(l) x 73(w) x 38(h) cm
Max. Pedal Height
32cm (Add this to your own height to estimate ceiling height requirements)
Max Length In Use
165cm
---
References and sources