What is the NordicTrack Freestride FS14i
Explaining the Nordictrack FS14i is surprisingly complicated. It's elliptical, except it's also far more. It's a treadmill, sort of, as well as a stepper. On top of that, there is a powered incline built-in, a big HD touchscreen, and probably a kitchen sink tucked away somewhere too.
It's a complicated machine to look at, which is why it's so surprising when you step onto the thing, and feel just how natural and easy Nordictrack's 'freestride' system really is.
What can you get from training on the NordicTrack Freestride FS14i?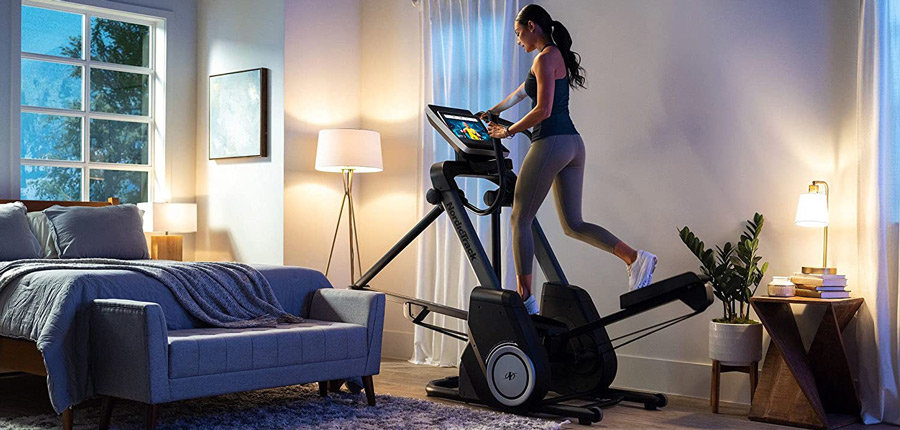 The FS14i has two big draws over everything else on the market right now.
One, it's a multi-function system, which can be used as a stepper, elliptical, and treadmill with absolutely no issues. This gives you so much flexibility when it comes to how you exercise, and helps the FS14i stand out in a crowded market.
Two, the feel of the FS14i is almost completely unique. Unlike standard ellipticals, the foot pedals don't run on a fixed track. Instead, each pedal can move freely backwards and forwards, adjusting to your stride. Hence the name. Not only does this make the FS14i feel natural and comfortable straight away, but it also means that you don't ever have to worry about whether you're going to fit on the system, or have to contort yourself to make a particular exercise work.
Who is this best suited for?
Honestly, almost anyone can benefit from the Freestride FS14i. It's an incredible piece of kit that's simple to use and offers so much variance in how you can use it, compared to most others.
But it's the freestride function that really stands out. This single thing makes the FS14i series incredibly for people who struggle with other forms of exercise, who are looking to really focus on their training in a certain area, and anyone who has joint issues or long term health problems.
---
Freestride FS14i Key features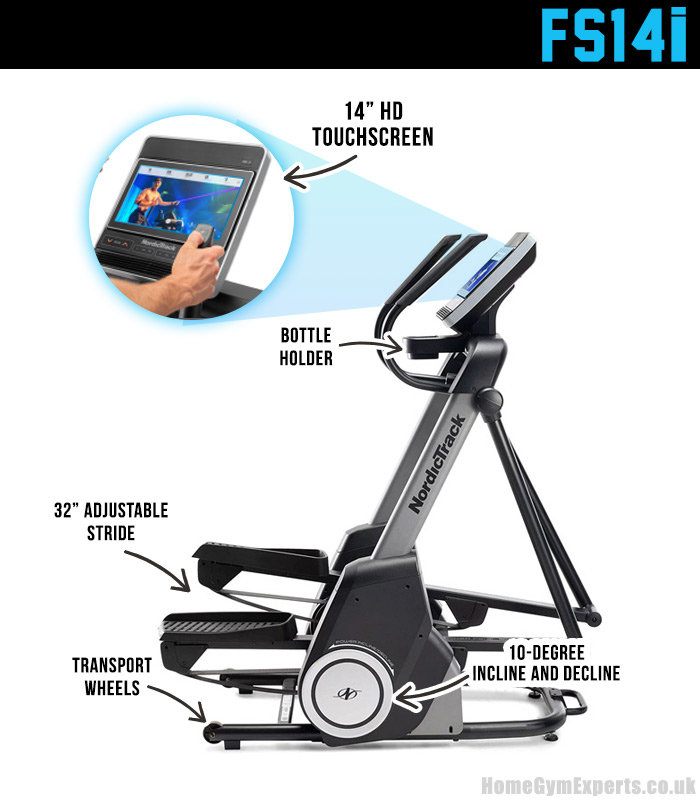 9kg inertia enhanced flywheel
Freestride system: elliptical, treadmill and stepper
26 levels of magnetic resistance
170kg max user weight
10-degree incline and decline
14 inches HD touchscreen
10-year frame warranty, 2 years on parts
---
What we like about the NordicTrack Freestride FS14i
The Freestride function
The thing that's most unique about the FS14i is the Freestride function itself. Instead of mounting the pedals for your feet onto a rotating, fixed track that can only move in one direction, the Freestride system sits the pedals in a free-floating array of supports that lets them move backwards, forwards, up and down freely. Hence the name.
This is huge.
One of the biggest problems people have with ellipticals is fitting them to their biomechanics. Cheaper ellipticals have shorter strides and fixed tracks, but the FS14i has a colossal 32-inch stride that automatically adjusts with you as you move, matching your natural gait perfectly.
On top of this, at the touch of a button, the FS14i can shift from an elliptical into a treadmill, with a more fixed backwards and forwards movement, and a stepper, letting you work out an entirely different set of muscles, and mix up your workouts.
Incredible Nordictrack build quality
Every single Nordictrack system we've ever reviewed has been built to exacting standards, and the FS14i is absolutely no exception there. Everything about this screams quality, from the rock-solid frame, all the way down to the tiny choices, which have obviously had a lot of thought put into them.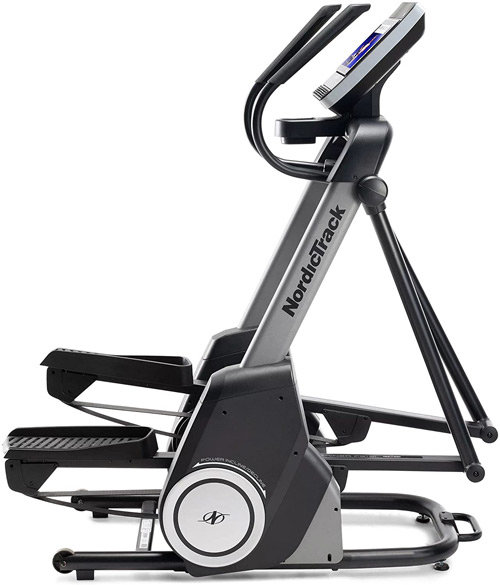 The whole system is built around the flywheel, which is a hefty and solid 9kg inertia enhanced beast, that uses silent magnetic resistance (SMR) for a smooth consistency, which stays quiet even when it's cranked up to maximum resistance.
On top of this, unlike basically any other elliptical out there, the FS14i has a built-in powered incline and decline function that moves up to 10 degrees in either direction. That's another huge positive, especially if you're shifting to treadmill mode, as even increasing the incline by a handful of degrees can spike the number of calories burned without really increasing the intensity of a workout.
Everything you'll be in contact with is well made, from the oversized, well-cushioned pedals, to the soft-touch upper body grips. Built around a heavy-duty steel frame, the user weight limit is a monstrous 170kg (375lbs.) Finally, everything is covered by Nordictrack's warranty, which is a long 5 years on the frame, and 2 on parts and labour.
Simple and easy to use controls
The control suite on the FS14i is built around a well-sized, crystal clear 14 inch HD touchscreen that's placed directly in front of you. Controls can be adjusted on the fly, using Nordictrack's OneTouch control system that's incredibly simple to understand, and means you don't need to shift through all the heights and speeds. Just press one button and go.
All of the controls, including resistance and incline, can also be controlled by trainer-led exercise plans, whenever you log into iFit (more on this later.) Sound is provided by twin 2-inch speakers, and you can Bluetooth link instantly to wireless headphones, helping to keep the sound down, and your family sane.
Interactive iFit training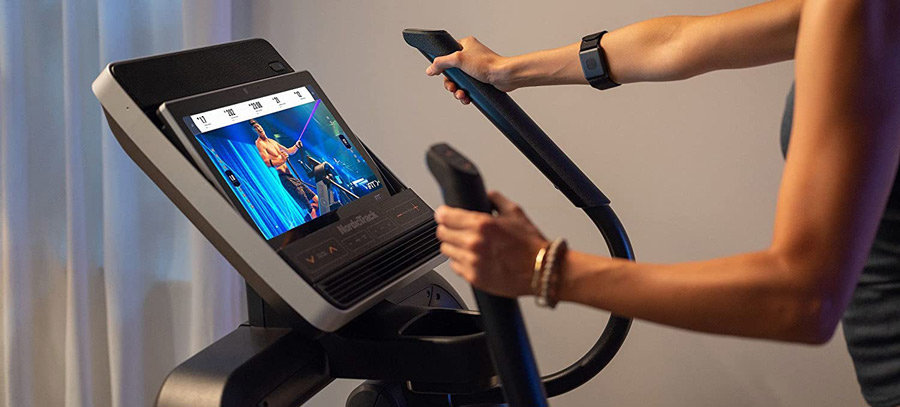 One of the single biggest draws for every piece of Nordictrack equipment is the fact that you get access to iFit.
iFit is a premium level interactive fitness app. Put simply, it delivers world-class streamed workouts straight to any device or smart TV. Each one is led by a personal trainer, with multiple live training sessions per day, and literal hundreds in the back catalogue, making it basically impossible to ever run out of ways to exercise.
The workouts also integrate directly into the trainer, so once you've picked a training plan, you don't need to do anything except focus on getting through it. Any changes to speed, resistance, to incline, are all handled by your trainer.
Every piece of Nordictrack equipment also comes with 30 days included for free, so you can see the benefits before you buy. We love iFit, and if you want to know more, you can find our full guide here.
---
What we don't like about the NordicTrack Freestride FS14i
It's not a perfect elliptical
The FS14i is an incredible piece of kit, it's true, but it does take some getting used to. Because it's not entirely an elliptical, and because your feet aren't locked into a single track like they are on other pieces of fitness gear, it can feel a little strange for the first few times you use it.
Now, it's hardly going to affect the quality of your workouts, and once you've got the rhythm down the smooth, even feel might actually be better, just don't go in expecting this to feel exactly like a cross-trainer.
It's expensive
There's no getting around the fact that the FS14i is reasonably pricey. Even compared to other Nordictrack systems, it's quite expensive.
But that's because there's just so much here. The FS14i is basically unique right now, and it offers so much, in such a compact package. If you're going to get used out of at least two of the functions, this is more than worth the asking price.
---
https://youtu.be/LbcCej_sHKY
---
Final thoughts
There's so much to love about the FS14i and the rest of the Freestride series. They're so unique, with such a wide list of things that they can do, that it's hard to compare them to anything else.
If you're in the market for something a little more focused, then Nordictrack also offers an extensive list of treadmills and ellipticals, most of which are a little more budget-friendly.
But honestly, there are so many people who might want this. If you're a cardio junkie you'll love the feel and the three separate functions. If you struggle to exercise on other machines, Freestride's way of accommodating your natural stride means that this adapts to you.
---
NordicTrack Freestride FS14i Tech Specs
Brand Name
NorticTrack
Model
Fs7i
Construction
Commercial Solid
Steel Construction
Display
14" Smart HD Touchscreen
Speakers
Two 2" Digitally
Amplified Speakers
Flywheel
9kg
Incline levels
-10% Decline to 10% Incline
Stride length
32" Auto-Adjustable Stride
Resistance levels
26
Workout fan
Yes
Max user weight
170kg
Transport wheels
Yes
Water bottle holder
Yes
Pedals
Over-sized cushioned pedals
Dimensions
148L x 75W x 188H cm
Weight
130kg
Warranty
10-Year Frame Warranty
2-Year Parts and Labour
Multiple users
Yes
On demand workouts
16,000+
Membership
Includes iFit family membership