Why does everything have to be bad for you these days? Turns out even sitting down for too long can be bad for your health. In this guide, we're taking a look at one of the new products designed to keep you healthy at your desk (or sitting anywhere really!) Welcome to our DFX100 review – an under-desk stepper that does things slightly differently from the other seated exercise bikes we've seen.
What's the 'Sportstech DFX100 Stepper' and what's it do?
Sportstech is a German brand that are making waves in the fitness world. We've already reviewed several of their products, and come away satisfied every time, and at first glance, the DFX100 stepper is no exception. It also looks a lot like the
Smart and solidly made, the DFX100 is an under-desk stepper that's designed to let you keep fit and healthy, even when you're forced to sit down all day.
Does it feel weird?
Yes and no. As I mentioned in the guide on office exercise gear, cycling and working at the same time (even though this is an elliptical motion) takes some practice. You'll have to stick with the DFX 100 until it becomes a subconscious kind of activity, and you can do it without thinking about it.
It's also easy to forget to pedal, especially if something at work takes your mind off it. But it's definitely well worth it. You can do up to 300 calories per hour on this machine as well as improving muscle strength and helping your joints.
Check Current Amazon UK Price
Doesn't your chair just slide backwards?
If you've got an office chair with wheels, which most have, it's going to slip backwards when you're pedalling. To fix this, the DFX100 includes some nifty chair stoppers that you slip under the two front wheels. The aim is to stop the wheels from moving back.
They're not ideal however as they can make your chair a bit wobbly. You're better off plumping down £10 – £20 and picking up some new chair wheels from Amazon (they're easy to fit) that have brakes. This will hold your chair securely in place and won't interfere with your work.
---
What can you get from training on the Sportstech DFX100 Stepper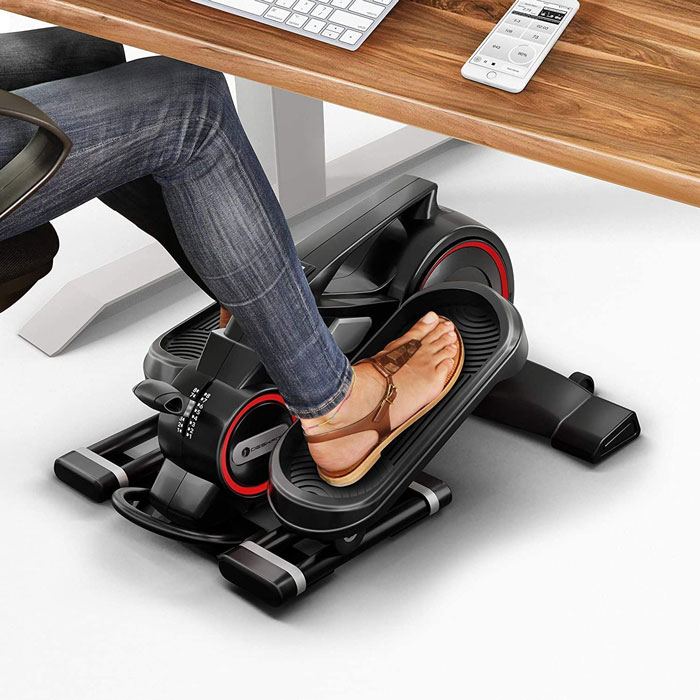 Under desk exercises like these are genuinely a smart way of keeping fit, too. There are a whole host of benefits, including:
Calorie burning, up to 400 in 30 minutes
A lower price point than a full time elliptical
Ability to exercise while you work
Easy on the body and the joints
Check Current Amazon UK Price
---
DFX100: Is it a gimmick and who'll get the most from it?
Come on, admit it, you've got something that looks a bit like this in your loft or garage? I have. It doesn't look that different from this and it got used about twice. Then stashed. So what's the score here? Does the DFX actually do anything?
If you work from home at a desk
It goes without saying that a stepper like this is going to be a massive benefit for anyone who works from home and is looking to add a bit more cardio and calorie burning to their workday.
Ideally, you'll want to take breaks and stretch your legs but, if your life is anything like mine, you'll likely find it hard to escape from the computer sometimes. This is a great way to block in some much-needed intra-day exercise.
If you're recovering from an injury
But there are also other possible benefits. If you're in recovery from an injury, ellipticals are the perfect recovery tool as they put almost no strain on your joints. Ellipticals are actually used in physiotherapy for this exact reason.
Find your most supportive chair and get as comfy as possible. Then choose a light setting and just go for some simple movements. The DFX has a 'hardly any' resistance, up to more challenging levels. Ideal for gradually improving over time.
Sneaking in some extra incidental exercise
One thing that has made a big difference in my fitness is sneaking in some extra exercise without increasing the time I spend exercising. Everything from tuck-jumps while waiting for the kettle to boil, to getting a step counter and increasing those wherever possible.
Sportstech's DFX can be used to add a little more burn when you're watching TV at the end of the day. Realistically, it's a simple enough tool that you can use as and when you want.
If you want to get fit while playing video games
Like the idea of toning up more of your body than just your thumbs? Grab one of these machines and stick it in front of the console and you can actually level up your fitness while you're ranking up in your video game. Of course, you might just want to relax and not fill every second with something productive, right?
---
A bit about the app
even if you're like me and refused to connect your new dish washer to the wifi, definitely give the bluetooth tracking a shot with the DFX.
One of the things I liked with this stepper was the app. Installing a simple app on your phone you can track some basic stats as you're working out:
Distance
Time
Heartrate
RPM
Calories
I'd probably take heart rate with a pinch of salt. For one, it's not going to go up much on an under-desk machine and secondly, there's not even a metallic strip here. Want to track your heart rate? Grab a polar strap. (Not that they're compatible here, or you need to track it with a stepper).
You can also set a target for each 'session' if you want to. None of this information is especially essential or 100% accurate but it's a good extra guide and it's fun keeping an eye on all the exercise you wouldn't have gotten without an under desk.
The app looks OK and works well, so even if you're like me and refused to connect your new dishwasher to the wifi, definitely give the Bluetooth tracking a shot with the DFX.
Life without the app
If you don't want the hassle of using your phone, there's a good old fashioned counter on the top of the DFX100 that cycles through the basics like the number of 'steps' you've done, calories and so on.
---
Sportstech DFX100 Stepper Key features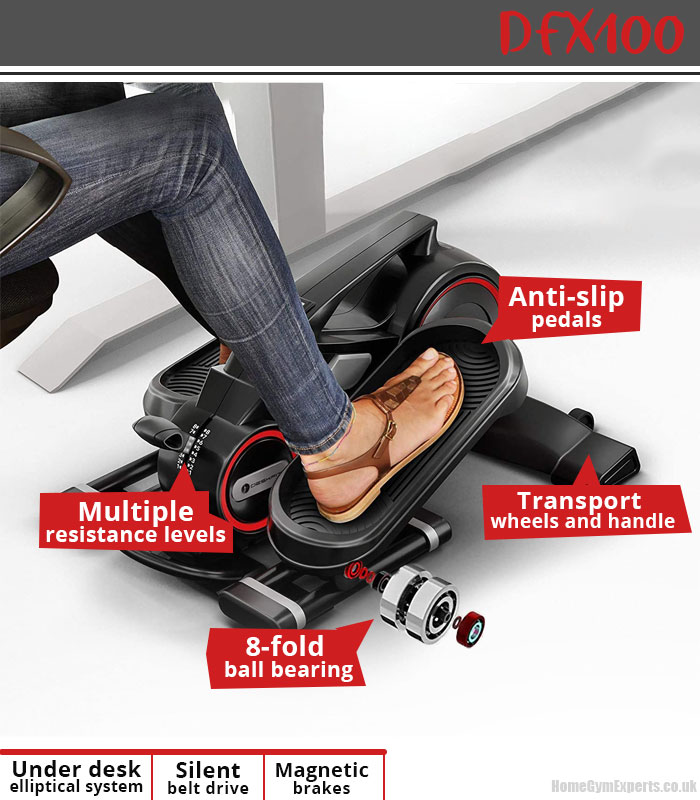 Under desk elliptical system
8-fold ball bearing drive system
Silent belt drive
Anti-slip pedals
Magnetic brakes
Multiple resistance levels
Transport wheels and handle
---
RELATED GUIDES
---
How does this under-desk machine compare to the others out there?
If you've never looked into the world of seated exercise, you'll be forgiven for thinking it's so niched there would only be a few products. But there's actually a decent selection of these things online now, with simple cheap budget affairs up to more established brands like the DeskCycle.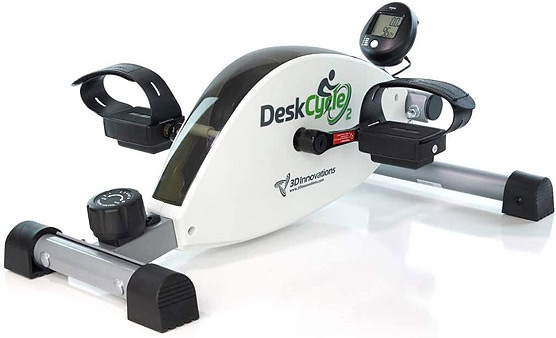 I've reviewed a number of these under-desk stepper gadgets and researched a lot of the competing ones. There are really three things that this one does better than the competing ones:
It's got great app connectivity – Like every bit of gym gear Sportstech have cranked out, their FDX 100 has awesome connectivity. You connect to your phone or tablet with Bluetooth and you can log a wide range of stats. Calories are something you'll likely want to track and if nothing else, it makes you feel good about those sneaky extra calories you're burning off.
It's an elliptical – Whereas a lot of the steppers go for a traditional bike-style crank, where you sit and pedal, the DFX takes a different approach. The motion is lower and more elliptical. This has the huger benefit of meaning you can work your legs without smashing your knees off the desk every few minutes.
It's really good quality – You can actually get these under desk bikes for under £40 if you look around. To be honest, at that price, they're not worth it. You get something cheap and nasty. The DFX100 is over 4x that price but the difference is huge. I'll cover why in the 'good bits' of this review in a mo…
Compared to other models, the DFX100 certainly looks the part. It's sleek and modern, with fixings that are strong and tough. That continues into the internals, which is incredibly impressive for something that should be as simple as this.
What we like about the Sportstech DFX100 Stepper
Easy to use and great construction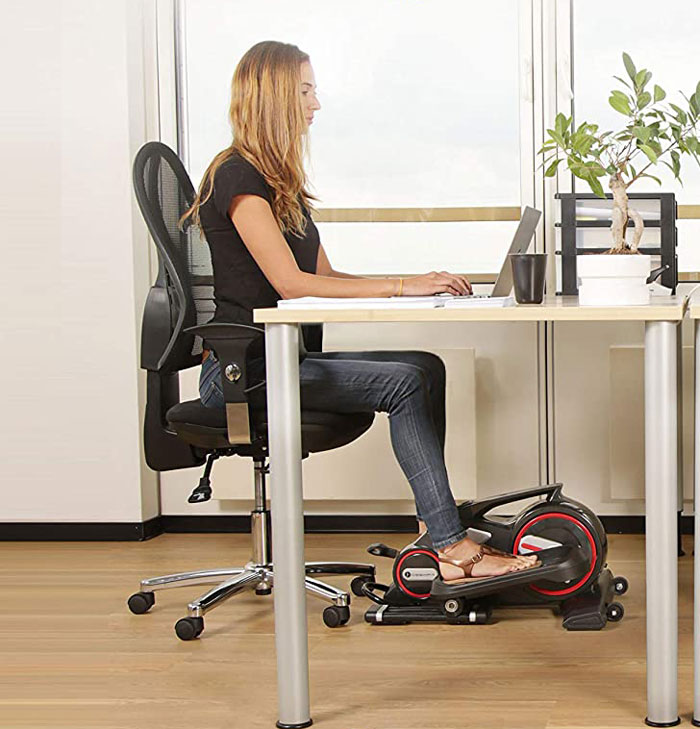 The main advantage of the DFX100, and of ellipticals in general, is how easy they are to use.
It's easy to use, with large footwells that will accommodate anyone, no matter how large. The silent drive system means that, no matter how high you crank the resistance, it's not going to intrude on your working day. Finally, the entire construction is very sturdy and well built, so it's going to last.
However, it's worth pointing out that this doesn't come already assembled. You have to put it together out of the box, a process that only takes around 30 minutes. The instructions are decent, and there's also an online video available that takes you through the entire process in simple steps.
App support is included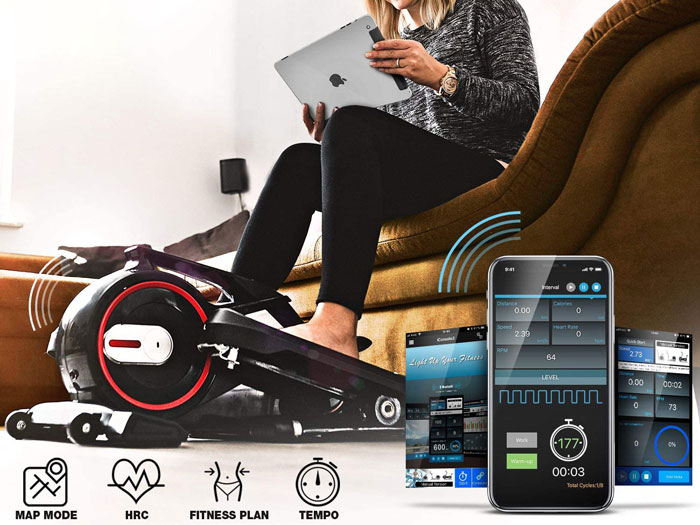 As part of your purchase, you gain access to Sportstech's app, which can help you track your health and fitness across your devices.
While fitness apps are ubiquitous nowadays, and the Sportstech app doesn't do anything groundbreaking, it's a nice touch, especially since it does work alongside your new piece of equipment.
Simple to move and store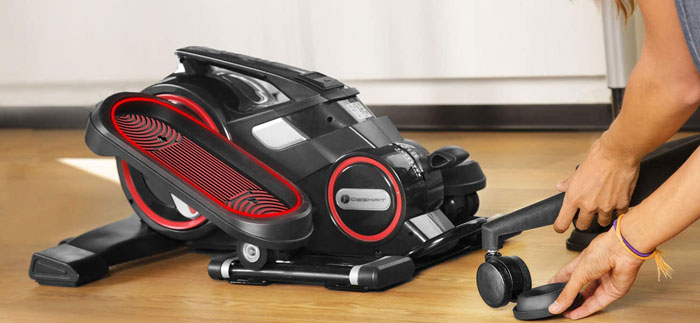 Despite being quite heavy, the DFX100 is incredibly easy to store, because it's got all of the features that you'd find in a much larger exercise machine.
This includes a set of transport wheels and a carrying handle that means that you can just drag this where you need it to be. It's also compact enough to sit comfortably in the bottom of a wardrobe, or a small cupboard.
Check Current Amazon UK Price
---
What we don't like about the Sportstech DFX100 Stepper
Delivery can take a little while
Because this is German made, it's also delivered from Germany. That means delivery can take a week or more, so factor that into your plans before you buy.
It's heavy
That solid construction does mean that this is a dense piece of kit. While you can move it around simply enough, it's not the sort of thing that you're going to want to be shifting around the house often.
It's one of the more expensive under desk machines
I think I'm right in saying this is the most expensive under-desk machine we've featured on the website, albeit in a market where the price point is fairly low.
You're looking at around £100 more than the DeskCycle 2, which does a similar job. It's worth noting that this is also the best-engineered machine we've seen. We're not comparing like for like here and the DFX100 is a completely different beast to the DeskCycle 2.
---
Final thoughts
There's a reason desk-based fitness systems are on the rise, and with home-based working environments here to stay, that's only going to increase.
Simple but effective, the DFX100 is one of the best ways we've seen to keep fit while you sit. It's tough enough to last, and the silent drive means that it's probably one of the least intrusive steppers on the market right now.
While it's definitely not the cheapest machine you can slip under your desk, it's pretty much in a league of its own in terms of its elliptical action and superior build quality.
Perfect for anyone looking for a top-tier product to stay in shape while you're sitting down.
Check Current Amazon UK Price
---
DFX100 Stepper Tech Specs
Brand
Sportstech
Model
DFX100
Product Dimensions
63 x 51 x 33 cm
Weight
16.5 Kilograms
# resistance levels
8
Bluetooth
2.4G (2402~2480MHz) 1.7mW
Transmission system
Silent belt drive
Extras
2 x Chair-stoppers
Charging cable
App
iConsole
Self assembly?
Yes
Assembly time
30 minutes
Foot well dimensions
13" x 5"
Max user weight
150kg
Dispatched from
Germany
Smartphone required?
No
UK plug?
Yes, included
# packages
1
---
References & Further Reading