Welcome to this review of the NordicTrack T 7.5 S running machine. In this guide, we'll cover everything you need to know about this treadmill (including the good and the bad).  Along with who this bit of gym gear will be good for, and who should look elsewhere.
Let's go!
What is the NordicTrack T 7.5 S Treadmill
The quick version is this: The T-Series machines are big, sturdy treadmills that are good standalone machines whether you want to get into the online training side of things or not.
The 7.5S has a 51 x 152 cm tread belt which is similar to what you'd find in a commercial machine, an elegant panel with quick start controls and a built-in touch screen that takes the place of more traditional LED / LCD displays.
If you just want to know if it's any good: The entry-level in NordicTrack's T-Series of treadmills, the T7.5S offers the incredible performance we've come to expect from NordicTrack exercise systems, as well as almost the whole suite of extras, at a much more reasonable price than their premier commercial grade runners.
With an interactive touchscreen, a powerful 3.0 continuous horsepower motor, powered incline, and more, the T7.5S is a match for treadmills that are almost double its price. Let's dig right in.
---
NordicTrack T 7.5 S Key features at-a-glance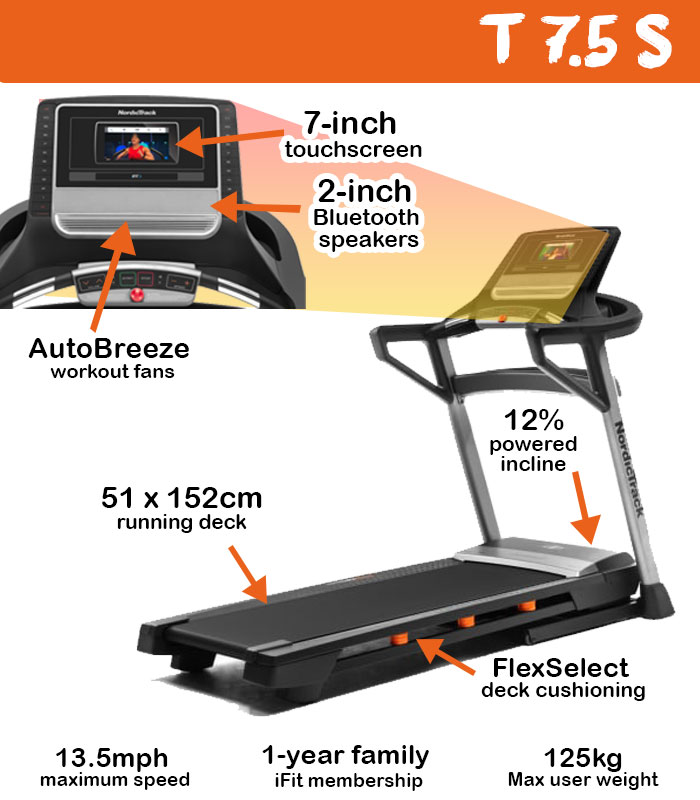 13.5mph maximum speed
51 x 152cm running deck
FlexSelect deck cushioning
12% powered incline
3 CHP motor
7-inch touchscreen
2-inch Bluetooth speakers
AutoBreeze workout fans
OneTouch controls
Max user weight 125kg (275lbs)
One-month family iFit membership
NordicTrack warranty
Get the Best UK Price – Buy Direct from NordicTrack
---
What can you get from training on the NordicTrack T 7.5 S Treadmill
In terms of treadmills, the T7.5S offers everything you could want. A powerful, commercial level motor that gives it a decent top speed, and all the fixtures and fittings including a touchscreen display, big, powerful speakers and a great running deck.
On top of this, the T7.5S has a built-in powered incline that adds a massive amount of extra resistance and options to your workouts, and as it's a piece of NordicTrack gear, obviously iFit interactive fitness comes as standard.
---
How does it compare to the other NordicTrack T-Series machines?
The T-Series comes in a few variations designed to suit different budgets but they're not drastically different. The frame, belt size and feel of the machines in this series are not drastically far apart.
The key things that increase as you go up in the versions are:
Screen size
Slight increase in motor power (HP)
Price
Increased max user weight capacity
The main thing you should look at is: For most people, it's going to be the screen size that makes the difference. The entry-level model has a smaller phone-sized screen, with subsequent versions doubling it's size.
| | | | |
| --- | --- | --- | --- |
| | | | |
| | | | |
| | | | |
| | | | |
| | | | |
| | | | |
| | | | |
| | | | |
| | | | |
| | | | |
| | | | |
| | | | |
| | | | |
| Folded Dimensions (LxWxH) | | | |
| | | | |
---
Who we think will love this treadmill
NordicTrack treadmills are some of the highest quality around and with that in mind, they're perfectly suited for almost anyone.
Anyone looking for something above a budget runner
At its price point, the T7.5S offers a huge amount of value. It's perfect for someone looking for the perfect balance between price and features, with a powerful motor, powered incline, interactive fitness options, and an exceptional running deck.
You're getting a 'proper' treadmill here. The lifetime frame warranty and 10-year motor warranty take a lot of pressure out of finding a machine that will last. We've featured some great treadmills for around £500 but in all honesty, they can't compete with the quality on offer here.
A good machine for couples or to share with your family
The T7.5S would be a great choice for anyone looking for a treadmill that can support serious training, for couples or families that need a treadmill that will handle them all, or for someone decking out a home gym who needs one of the best treadmills on the market at this price.
Check the latest T 7.5 S Price
---
Who are NordicTrack and are their running machines any good?

NordicTrack is a long-running luxury exercise machine brand, known for pushing boundaries and advancing the idea of what technology can be used for when it comes to home exercise.
While anyone into treadmills will likely have heard of them, you'd be forgiven for not knowing Nordic have a line of ellipticals, rowers, and other high-tech gym gear on the market.
They're mainly known for really modern machines that are high quality and at the higher end of the price bracket. Think luxury gym gear rather than budget machines. Their machines normally feature their iFit subscription service too, although all the products work fine without it.
---
Related Treadmill Guides
---
Review Time: What we like about the NordicTrack T 7.5 S Treadmill
It's packed with features that make it an absolute joy to use
Exceptional construction
Every piece of NordicTrack gear we've looked at has been built to exacting standards, and the T7.5S continues that standard.
Everything about it is impressive. The frame is rock solid and is basically impossible to damage unless you take a hammer to it (and probably not even then.) The max weight limit is 125kg (275lbs) which is decent for a treadmill of this size, especially when you factor in the powerful 3 CHP motor.
At this price point, you're also getting all of the little added extras, which might not seem like much at first, but really make the process of using this much more pleasurable.
With that in mind, it's nice to see high-quality Bluetooth speakers, powerful automatic workout fans, and a bottle holder as well as more storage space built into the frame.
The running deck
Compared to the average, the running deck on the T7.5S is average width, with a slightly longer deck at 51 x 152cm. The deck is supported by NordicTrack's FlexSelect cushioning, which lets you adjust the running surface by selecting the road surface you want.
Choose between a 'real road' running experience, that feels as close to tarmac as you can get from inside your home, or a more supportive model that's better for your body.
Powered incline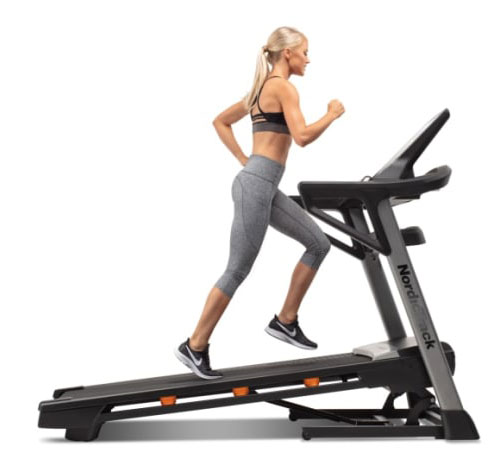 The big running deck and powerful motor are backed up with a fully powered incline system that runs up to an impressive 12% maximum vertical incline.
Powered by the motor, the incline system is adjustable as you run, and also links into the fitness training options, letting any programs automatically change settings on the fly.
The console and touchscreen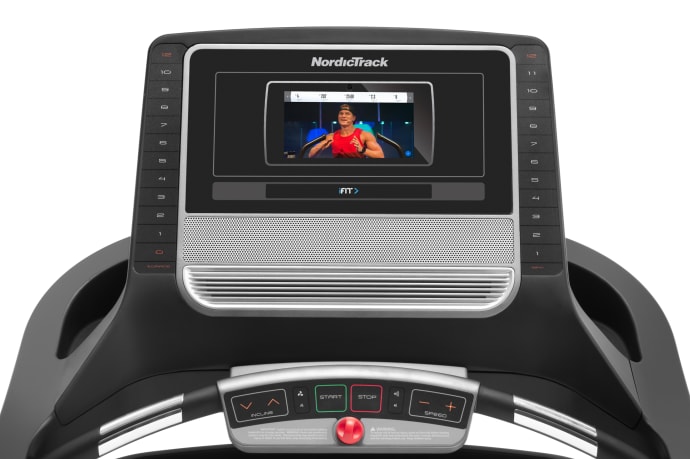 One thing that NordicTrack exercise systems have in common is a well-designed suite of controls.
The T7.5S is no exception, with everything fully adjustable using NordicTrack's proprietary OneTouch controls, that are laid out around the 7-inch touchscreen and let you change speed and incline at a single button press.
In all honesty, the touchscreen is a little smaller than we'd like, but the clarity is excellent, and everything is well designed and simple to understand, even for beginners.
iFit interactive fitness
We've already written an entire guide on the benefits of iFit. In short, we're all aboard the interactive fitness bandwagon. Apps like these deliver gym-quality workouts straight to your home, led by world-class trainers, whenever and wherever you want them. Read more in our 'What is iFit' Guide.
You can choose from daily workouts that are streamed live, or from a back catalogue of literally thousands of different choices, meaning that you could literally work out every single day of your life and never run out of options.
Workouts also integrate with the system itself, with the trainer adjusting speed and incline for you as you go, so all you have to do once you've set up and chosen your workout is concentrate on making it through.
iFit is a subscription service, but NordicTrack systems like this one come with one month free, and once you've found out just how big the benefits are, we're certain you'll learn to love it as much as we do.
Even without iFit, the machine comes preloaded with 50 built-in workouts, which is an impressive amount for a treadmill like this.
The NordicTrack warranty
NordicTrack products come with an ironclad warranty that guarantees support, even in the unlikely event that something goes wrong. The T7.5S has a full lifetime warranty on the frame, ten years on the motor, and two on parts and labour.
---
What we don't like about the NordicTrack T 7.5 S Treadmill
Small screen size
While the touchscreen console is high-clarity and responsive, it's a little smaller than we'd like. If that bothers you, the T8.5S and T9.5S have slightly larger screens, (and slightly better performance) for a slightly higher price tag.
---
Conclusion: Should You Buy The & 7.5 S Treadmill?
It's no secret that we love NordicTrack at Home Gym Experts. Every single product that we've reviewed has been consistently exceptional, across the board.
True, their products are reasonably pricey, but you get what you pay for.
The T7.5S is a fantastic treadmill. It's packed with features that make it an absolute joy to use, and with that powerful motor and solid warranty, it's going to run and run and run, all of which absolutely justifies the price.
If you're a serious runner, or you're pushing the top of its weight limit, then you might just want to look at some of the bigger models in the range, but realistically for most people, the T7.5S is all the treadmill they're ever going to need.
Another solid runner from NordicTrack – Highly Recommended
---
T7.5S Tech Specs
Brand
NordicTrack
Model
T7.5S
Display
7" HD Touch Screen
Incline type
Digital
Incline level
0% - 12%
# Preset programs
16,000 on-demands workouts
Memberships
1 year family subscription to iFit
Tread Belt
51 x 152 cm
Motor
3.0 CHP
Speed Range
0 – 22 km/h
Max user weight
125kg
Assembled Dimensions
187L x 91W x 151H cm
Folded Dimensions
110L x 91W x 178H cm
Boxed Dimensions
213L x 83W x 41H cm
Product Weight
96kg
Boxed Weight
116kg
Workout fans
Yes
Transport wheels
No
Warranty
Lifetime Frame Warranty
10-year Motor Warranty
2-Year Parts & Labour
(upon warranty registration within 28 days of purchase)
---
REFERENCES AND FURTHER READING