Welcome to our Nordictrack X32i Review. This guide goes deep on one of NordicTrack's biggest and more expensive modern range of treadmills. We'll be pulling the X32i, finding out who will love it, what it gets right, and where it falls short.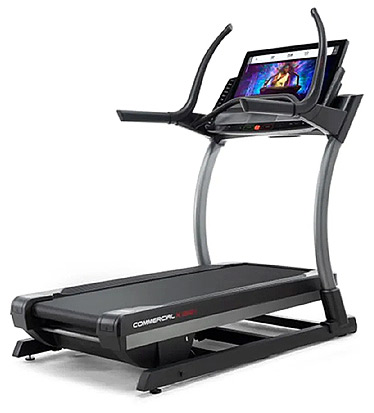 Health and fitness is always worth investing into, and the events of 2023 have made home gyms a hot commodity. A properly equipped home needs a way to get a cardiovascular workout in, and one of the best, and simplest, ways to do this is with a treadmill.
What is the NordicTrack X32i
The largest treadmill in NordicTrack's incline range, the X32i is an absolute monstrosity. Steel reinforced, with a colossal running deck, it's one of the largest and most stable treadmills we've seen.
The motor is a huge 4.25HP, giving it a high top speed and consistent shifting, but the biggest draw is the incline system, which pushes up to a ridiculous 40%, the highest incline we've ever seen.
Factor that in with the huge 32 inch screen and iFit functionality, and you have a treadmill that's equipped to take on absolutely anything you throw at it. It might seem like we're being a little hyperbolic about this treadmill, but it's honestly that good.
---
Key features
Here's a quick look at what the 32i has to offer. (We'll dive into these in depth during this review).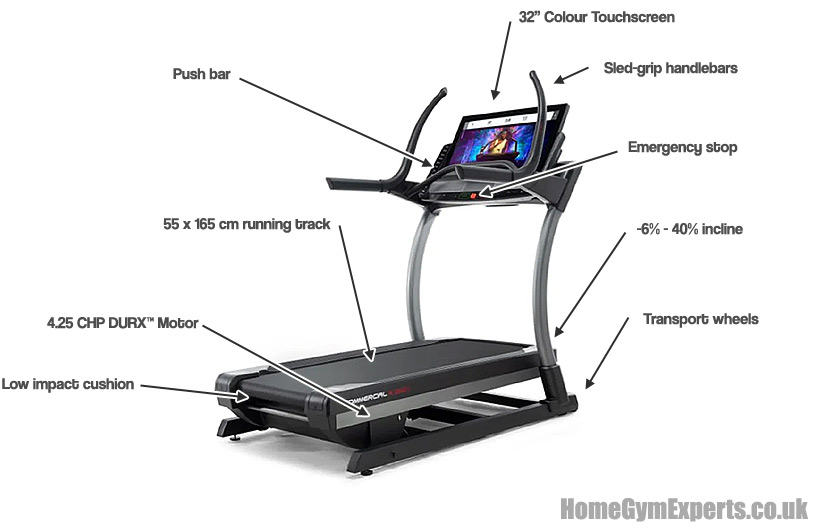 22 x 65 inch running deck
Cushioned running surface
13.5mph maximum speed
40 degree incline
6 degree decline (negative incline)
4.25 HP motor
32 inch interactive touchscreen
iFit functionality and 1 month subscription
Heart rate chest band included
Twin 3 inch speakers
Twin autobreeze workout fans
300lbs (135kg) max weight
10-year frame warranty, 2 years parts, 1 year labour
The Nordictrack X32i Review offers a superb quality treadmill that combines a powerful 4.5HP motor, a 40% incline and offers excellent online training facilities.
---
Who are NordicTrack?

NordicTrack are a long-running luxury exercise machine brand, known for pushing boundaries and advancing the idea of what technology can be used for when it comes to home exercise.
While anyone into treadmills will likely have heard of them, you'd be forgiven for not knowing Nordic have a line of rowers (and other gym gear) on the market.
---
What will you get training with treadmills like the NordicTrack X32i?
Treadmills are staple cardio for a reason. Almost anyone can run, and the benefits of training on a treadmill are huge.
Treadmills are simple to use, and easy to scale up workouts
Workout programs on treadmills are simple to change, and easy to understand
Running is a great way to burn calories and lose weight
Cardio exercise, like running, is a great way to improve your heart health
iFit and programmable workouts make exercising fun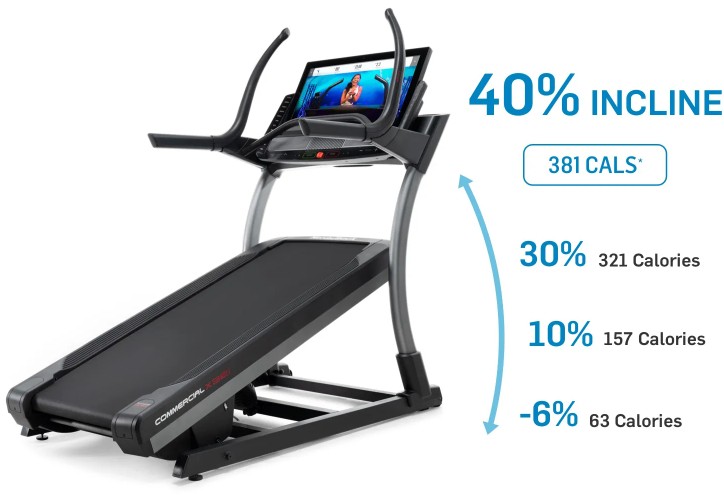 If you like to run, the massive running deck of the X32i makes it that much more pleasurable. Reinforced and cushioned to reduce impact on your body, you can run longer and harder on the X32i than you probably otherwise could.
The 40% incline level is the highest we've seen…
The 40% incline makes the X32i a monster trainer for mountain climbers, long distance runners, and just for general fitness use. It's legitimately one of the highest inclines on the market, if not the highest. We checked, and could only find treadmills that matched the incline. Nothing that beat it.
Crazy unique sled-grip handlebars
Finally, NordicTrack have made the smart choice of putting a pair of vertical sled grip handles on the hand bars to the X32i, which can be used by setting the system to 1mph and fighting against it, just like you're pushing a heavy sled. This gives you a way to work out arms as well as legs, and one more thing that can be integrated into iFit workouts.
Check the Price at NordicTrack
---
Who is this best suited for?
Anyone can get massive benefits from working out on the X32i. It's a near complete exercise system as well as a fantastic treadmill.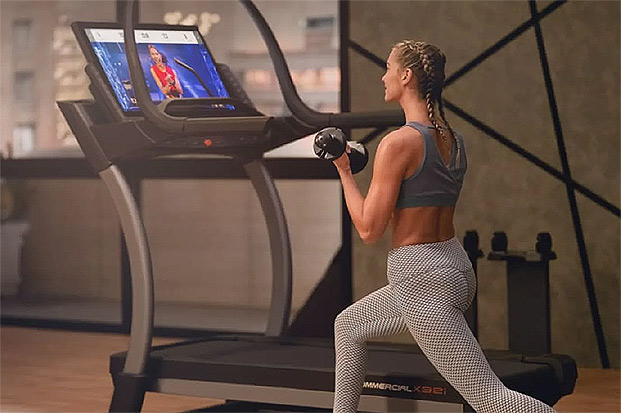 If you want a running machine that will keep you engaged over long period
The built-in iFit feature gives users a lot of options for exercise plans, including live training, recorded programs, and Google Maps led topographic map training, meaning that you'll never get bored or run out of things to do.
We'll get into more of what iFit can do later. But if you like the idea of online classes, and pre-recorded workouts – where the instructor controls your speed, incline and so on… you'll likely love the X32i.
If you're looking for a machine that can push you
If you're no stranger to running and treadmills, and want a training partner that's got some ooph to it, then the X32i wants to say hello. That 40% incline will absolutely destroy your legs in a fairly short space of time (it does go to smaller degrees for us mortals too).
Elsewhere, the 4.5 HP motor can deliver up to 20km/h. Even if you go at 1km/h – there's the grip bar, which will give you all kinds of aches and pains the next day. Sure you can have a light jog. But if you want to sweat – this is a beast of a machine to do it on.
Check the price at NordicTrack
---
Who is Nordic's X32i not a good choice for?
If you're looking for something portable – this isn't it
While we'd argue gym gear is often at it's best when it's big, chunky and heavy – it depends on what you're buying this machine for. If you want something that can be flipped up, or wheeled away after a workout, this definitely isn't that machine. The X32i  has a whopping 155kg weight to it so, unless you're part-time gig is flying around with a red cape, this probably isn't one for you.
It's not cheap!
While NordicTrack absolutely have some more budget friendly running machines, the X32i  is definitely up there with the more expensive machines we've featured on the website. Hey, all that innovative tech costs money you know. But this isn't one for anyone looking for a budget machine, or something to give running a try with. The X32i is definitely a high end machine.
If you don't like iFit, or loath the subscription model
With it's huge 32″ screen, this lavish machine is obviously built to work hand in hand with iFit. Personally, we're big fans here on HomeGymExperts, but we know not everyone wants yet another monthly cost. If you're not looking to do online classes, or get into what the iFit service has to offer, you can probably save some cash and go for something without the huge screen.
If you're not looking for a challenge!
The last case oif someone who might not want the X32i is anyone looking for a walking machine, or a lighter jogging machine. While the NordicTrack will absolutely do that, it's perhaps a little overkill. You could save money and get something with a lower spec that will do the job just as well.
---
Our Review: What we like about the NordicTrack X32i
We've covered some of the tech stuff this machine does, and who it might be best suited to. Now let's dig in to what we really liked (and didn't like) about NordicTrack's behemoth of a treadmill.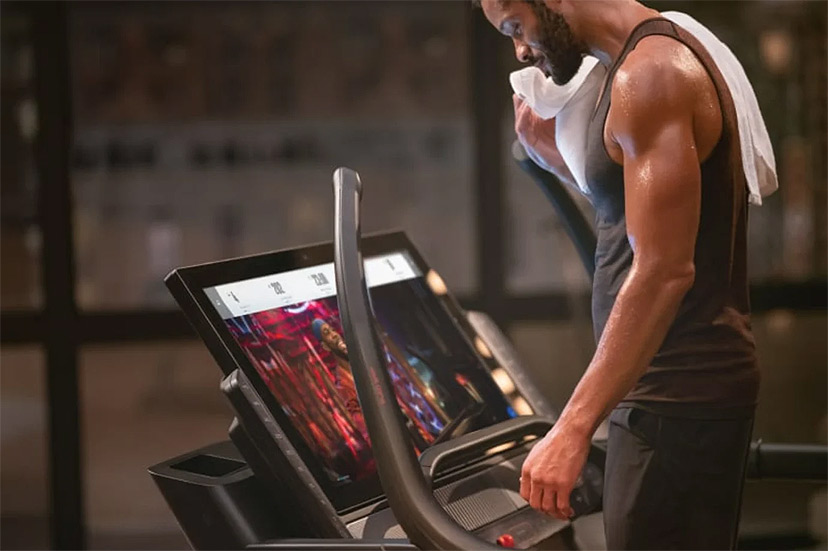 The running deck is fantastic
The X32i is built around a huge 22 by 65 inch running deck. That's almost 10 square feet of running space, which is absolutely massive. This makes running on it an absolute pleasure, whether you're taking it slow or running full pelt.
The whole deck is reinforced with deck cushioning, that absorbs the impact of your stride and takes a lot of the force, while also pushing back against your feet to replicate the bounce of a real running surface.
Then there's the incline, which is the defining feature of the system. This has an immense 40 degree incline, with 6 degrees of decline. This is one of the largest incline systems on any treadmill currently in production, and gives you a massive range to push through. At maximum, you're going to feel like you're trying to run up a cliff!
The motor is way better than cheaper machines
Everyone wants to wave around their HP like it's the only thing that counts. What sets the X32i apart from other machines is the quality inherit in it's motor. There's a couple of things that this equates to.
It's quiet – You don't realise how loud some motors are until you hear a good quality one in action. Suffice to say it's definitely a cut above the other machines we've seen.
It uses self-cooling – Another thing that a lot of treadmill motors don't even consider is heat. The X32i's motor is designed to keep itself cool, meaning it won't wear out anywhere near as fast and will deliver a consistent performance. Nice.
Even better, the 4.5HP motor makes the incline and decline effortlessly smooth, no matter how fast you're running, whether you're controlling it manually with the one-touch controls, or it's in automatic mode and linked to a workout routine.
Build quality and construction
NordicTrack don't make bad machines, and the X32i continues that lineage. The whole thing is built around a steel reinforced frame that's incredibly tough and well built, and lets it hold users up to 300lbs in weight.
The frame has to be tough, though, because the systems built into it are massively powerful. The drive motor is a huge 4.25 CHP that powers everything, including the running deck and incline system, with a maximum running speed of 13.5mph.
The running deck is flanked with a pair of oversized handles with built-in vertical pushing sled handles, that let you mix up your workouts and push hard against the machine, with a pair of huge Autobreeze fans keeping you cool as you run.
The huge screen and simple controls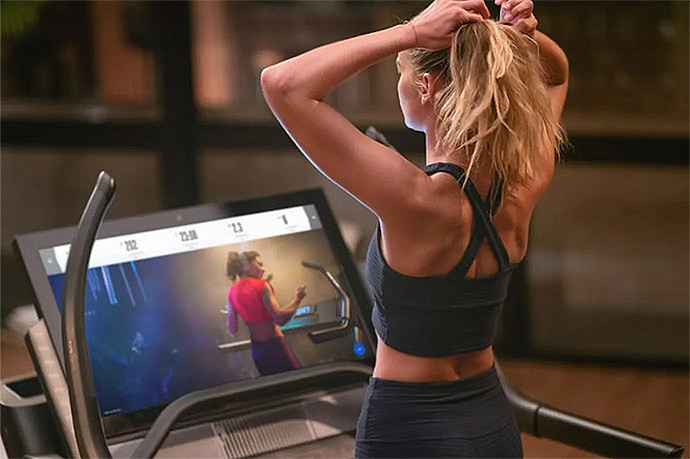 The multimedia system on the X32i is a huge, high-clarity 32 inch touchscreen. The controls are, like most NordicTrack systems, simple one-touch buttons that are laid alongside the screen itself. Incline is on the left, speed on the right, letting you just tap the speed or setting you need, and the treadmill does the rest.
It comes with dual 3 inch speakers that offer decent sound quality, especially for gym gear, but in case your significant other doesn't want to hear your workouts, you can link headphones or your phone via Bluetooth.
Obviously, the X32i records all the usual stats you'd expect a piece of gear like this to track, with up to four profiles so the whole family can keep on top of their health and fitness.
Also included is a chest strap heart rate sensor and an electric safety key.
iFit training
Like almost all NordicTrack gear, the X32i has iFit functionality built-in right out of the box.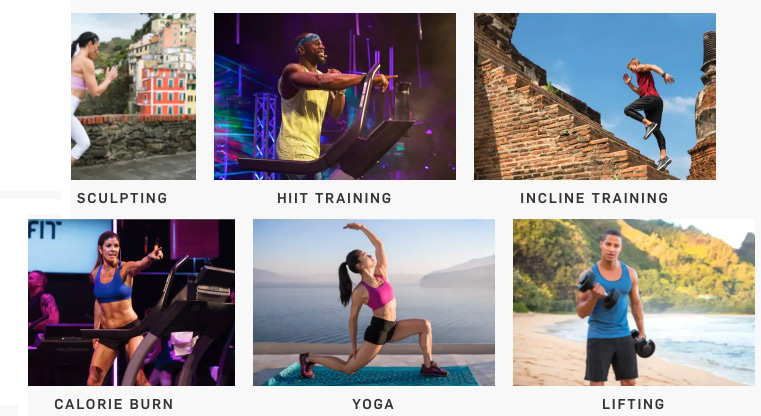 If you've not come across it before, iFit is an on-demand streaming fitness service that delivers gym-quality workouts, led by world-class trainers, directly into your home, whenever you need it.
It gives you an almost infinite amount of ways to work out. Live classes that you can jump into, where your treadmill is controlled by the trainer on the other end. An extensive back catalogue of workouts that you can select from, built around different goals like overall fitness, fat loss, cardio health, and more.
There's also the option to create a route on Google Maps, and let the program create a run that mirrors the ups and downs, so you can effectively take a run anywhere in the world! And all of this is streamed directly to the built-in screen, whenever you want it.
iFit is a subscription service, but the price is reasonable, and all machines, including this one, come with a 1 month subscription.
Impressive warranty
Like all NordicTrack products, the warranty on the X32i is ironclad.
You're looking at a 10 year frame warranty, 2 years on parts, and 1 on labour. If anything goes wrong, you know that you're covered.
Check the price at NordicTrack
---
Related Treadmill Guides
---
What we don't like about the NordicTrack X32i
The fans are oddly placed
This is an odd quirk, but the fans are placed where they're actually partially blocked when the treadmill is at maximum incline.
That means, for most users, and for most of its run time, this isn't going to be an issue, but you might notice and get a little hotter when you need it most.
The console can only be used with iFit
Again, this is a minor issue, but the touch screen can only be used with iFit and a few other authorised apps, and not things like iPlayer or other streaming services.
This is a shame, as it's a gorgeous 32 inch screen, and being able to watch other things on it would be nice.
Final thoughts: Is the X32i worth it?
Anyone lucky enough to set foot on this machine will likely fall in love.
The X32i is a beast of a machine, with fantastic performance and a whole bunch of tech built into it. It equals or outperforms most other treadmills on the market right now, with market leading incline built on top of an ironclad frame and a massive, powerful running surface.
It might be a little too big, powerful, and pricey for some people, but anyone looking for one of the best treadmills, especially for intense training, might have just found it.
The whopping screen puts others in the shade and, as long as you're onboard with iFit, there's really no better way to experience the online service.
Anyone lucky enough to set foot on this machine will likely fall in love.
---
Nordictrack X32i Full Specs
Brand
NordicTrack
Model
X32i
Color
Black / Silver
Display
32" HD colour touchscreen
Treadmill weight
155kg
Motor
4.25 HP
Speed Range
up to 22km/h
Incline type
Automatic
Incline level
-6% - 40%
# Preset programs
12000 on-demand workouts
Decline?
Yes
Mmberships
1 year family subscription to iFit
Console functions
Time
Pulse
Speed
Distance
Calories
Scan Mode
Incline
Pulse sensors
Heart rate strap included
Max user weight
135kg
Frame material
Steel
Handlebars
Treadmill features sledge-style handlebars / grips
Running track size
55 x 165 cm
Warranty
Lifetime Frame Warranty
10-year Motor Warranty
2-Year Parts & Labour
(upon warranty registration within 28 days of purchase)
Transport Wheels
Yes
Workout fans
Yes
Integrated speakers
Dual 3-Inch Speakers
Deck cushioning
Reflex™ Cushioning
Dimensions
194L x 100W x 187H
References and further reading