Review Summary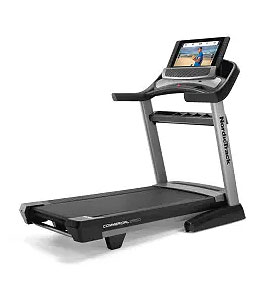 Commercial 2950
Powered incline AND decline
A solid commercial-style machine
Big, meaty motor
iFit is fantastic
Not cheap
"Nordictrack's 2950 treadmill is up there with some of the best machines we've seen. It's spacious, comfy and iFit adds some fun back into running."

Welcome to this review of NordicTrack's 'Commercial' 2950 treadmill. In this guide, I'll cover absolutely everything there is to know about this high-end running machine, including my opinion on what it gets right, and where it falls short. Let's dive in!
What is the NordicTrack Commercial 2950?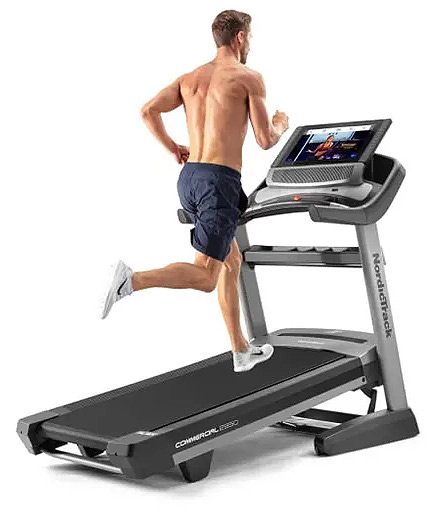 The 2950 is a large, gym-like (hence the 'commercial' bit) running machine. It has a full-size running track, powered incline and a swanky built-in 22″ screen which serves as it's 'console'. It's made by Utah-based NordicTrack, a fitness company that has been around since the mid-1970s.
That 22″ tablet screen is best used in conjunction with the (paid) subscription service iFit, which we'll cover later.
You get a year free to try it out, although the machine works perfectly fine without it.  If you don't want iFit, the screen will display all your stats, run other apps or can be used to give you something to take your mind of the road.
---
NordicTrack 2950 Features:
4.25 CHP motor
22km/h  (about 14mph) max running speed
22 x 60-inch running deck
300lb (135kg) user limit
15% incline and 3% decline
'WhisperQuiet' sound dampening
44 built-in workout apps
iFit functionality
22 inch HD touchscreen
Tablet holder
Heart rate sensors
Twin 3-inch speakers
55cm x 152 cm running surface
Two Autobreeze workout fans
Huge NordicTrack warranty
Extra storage 'shelf' under the console
---
What you'll get training with the NordicTrack Commercial 2950?
A good workout!
All of these functions mean that the Commercial 2950 is a one-stop shop for home cardio, offering far more options than a standard treadmill, for a surprisingly small extra investment.
Who is this best suited for?
Technically, you can buy it just for walking (although that's probably not the best use of over two-and-a-half grand).
Anyone who wants 'the best' quality
If someone came to me and said, I've got an unlimited budget and I just want an awesome treadmill, this machine would definitely be on the list. NordicTrack's machines are generally well built and use the top-of-line components. The 2950 is big, it's luxurious and it's extremely good quality.
Experienced runners
The second big use is for people who plan on using their treadmill to walk rather than run and want to burn the maximum amount of calories possible. By simply setting the incline high, you can burn as many as 5x the calories that you would when just walking.
Beginners
It's also worth noting that the 2950 is fine if you're just starting out.
I mean, technically you can buy it just for walking (although that's probably not the best use of over two-and-a-half grand). But, just like any running machine in the gym, you can start at any speed and build up. You definitely don't have to click 22km/h – at least not on day one.
The third function, as mentioned earlier, is as a step trainer or elliptical. At inclines close to 13% and set to slow speeds, incline trainers have a steep enough gradient to be used like these other gym cardio staples.
It's a slightly different feeling, and can take some getting used to, but hits all the same muscle groups, so people looking for a good multi-use trainer might see a lot of use here.
Who probably won't like this…
If you're short on space. This is an imposing machine that will hog a fair bit of your home gym's floor space. You're looking at a footprint of 201cm x 99cm x 170H cm tall for this runner. It's got a fair size to it, so be sure to measure up.
If you're short on cash
If the idea of throwing down three grand on a treadmill makes your hair stand on end, then there's plenty of machines at around a third of the price that will still tickle your fancy.
If you're not interested in iFit
We're big fans of the iFit service here, but outside of your 1 year included membership, you're going to be tied into a fee of around £129 a year for the single subscription, or around £349 for the family package. (Check the current prices here).
---
Related Treadmill Guides
---
What we like about the NordicTrack Commercial 2950 Incline Trainer
Powered incline and decline that can be controlled by iFit
There's no getting past it. A huge draw of this model is the fully powered incline and much-rarer decline.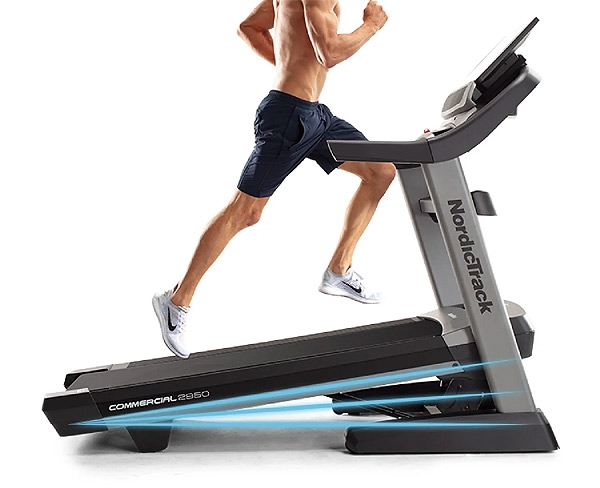 Ranging from -3% to +15%, the sheer range of options available for training is massive. The incline is also fully powered, and completely adjustable using OneTouch controls that can be switched at the press of a button.
A 15% incline is hard to put into words. It's almost like walking up a set of stairs, which is why this can also be used in the same manner as a step trainer or elliptical.
The incredibly powerful motor
One thing that's incredibly impressive about this treadmill is the motor. It's a beast that puts out 4.25 CHP, and that's continuous horsepower, not peak. That single stat by itself puts it in the upper 50% of treadmill power.
Let's be fair, it does need it, especially when driving the belt at such a heavy incline, but it also means that this can reach 14 mph, which is a solid enough speed for any sort of training, and lets this function as a fantastic flat ground treadmill, too.
NordicTrack build quality
It's no secret that we love NordicTrack's build quality. Every single one of their exercise systems is built to a fantastic level, and even the lower-priced entries, like the Commercial 2950, are built to stringent measures that mean it would feel at home in a commercial gym.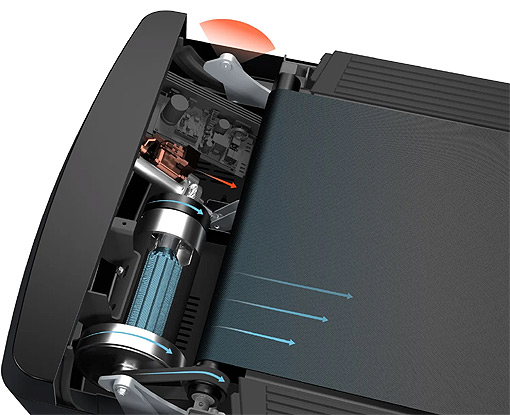 For starters, the deck is a commercial-quality 55 x 152 cm, and backed up by WhisperQuiet technology, so even when you're running at full speed it's still surprisingly quiet.
Second, the rest of the structure is incredibly well put together, which is why it holds up to 300lbs (135kg.)
And just in case something goes wrong (it won't) you're supported by NordicTrack's ironclad warranties, with 5 years on parts, 2 on labour, and a lifetime on the frame and motor.
Solid multimedia systems and controls
The Commercial 2950 is easy to control from the main console, which is laid out well, as all NordicTrack systems are. The main screen is a luxurious 22″ and the full HD clarity makes it easy to keep track of what's going on. While the touchscreen controls are simple to follow.
On top of the touchscreen controls, all of the major things like incline and speed are controlled through OneTouch, which run down both sides of the screen and let you adjust these key settings instantly, rather than having to scroll through entire lists.
This is backed up by decent speakers, the ability to connect to your phone or any Apple product for music, and a set of built-in heart rate sensors.
iFit training
Almost every NordicTrack system comes with iFit functionality built into it.
iFit is NordicTrack's live fitness program, and delivers studio-quality, trainer run workouts directly into your home, streamed whenever you need them. With live classes running every single day, and an extensive library of thousands of past workouts, as well as the ability to set up your own, there's an almost infinite amount of workout options here.
If you want to learn more about iFit, we have a full guide on it, which you can find here.
What we don't like about the NordicTrack Commercial 2950
It's more expensive than a comparable treadmill
There's no denying that the Commercial 2950 is more expensive than a standard treadmill, and it's also more expensive than the equivalent treadmills from NordicTrack.
The reason is obvious. The heavy-duty motor and strong build quality, that let this thing push itself to dizzying heights.
But that has its costs, and if you don't need that high incline, then you should probably just buy one of NordicTrack's other options.
---
Final thoughts: Is NordicTrack's 2950 worth it?
The NordicTrack 2950 is a top-of-the-range treadmill that pulls out all the stops and offers a high-quality 4.25 CHP motor with an impressive upper 14mph running speed.
If you're looking for a home running machine that delivers high performance, alongside one of the best inclines we've ever seen, then the Commercial 2950 should be high up on your list.
Providing you have the space for it, runners of all levels will find a gym-quality machine here that's going to help you hit their fitness goals.
The beautiful 22″ screen works in tandem with the iFit service and will keep you busy for years, with a wealth of content that interacts with the incline and difficulty level you train at. It really is a marvel to see in action.
If you're not planning on using iFit, you can probably save some cash and buy a treadmill that doesn't have a whopping screen. (Although it serves as a great performance console without the service).
As long as you have the required floor space – and the budget – and like the sound of iFit, this running machine is an easy recommendation in 2023. You're getting a fantastic, high-end machine that will keep you and your other household members training hard well into the future.
Highly Recommended
---
NordicTrack 2950 Full Specs
Brand
NordicTrack
Model
2950
Color
Black / Silver
Display
22" HD colour touchscreen
Treadmill weight
163kg
Motor
4.25 CHP
Speed Range
0 – 22 km/h
Incline type
Automatic (can also be controlled by iFit programs)
Incline range
-3% to 15%
Rollers
2.5" Precision-machined and
Balanced Non-flex Rollers
Decline?
Yes
Mmberships
1 year family subscription to iFit
Console functions
Time
Pulse
Speed
Distance
Calories
Scan Mode
Incline
Pulse sensors
Heart rate strap included
Max user weight
135kg
Frame material
Steel
Heart rate
EKG Grip Pulse Heart Rate Monitor
Running track size
55 x 152 cm
Warranty
Lifetime Frame Warranty
10-year Motor Warranty
2-Year Parts & Labour
(upon warranty registration within 28 days of purchase)
Transport Wheels
Yes
Workout fans
Dual AutoBreeze™ Fans
Integrated speakers
Dual 3-Inch Speakers
Deck cushioning
Reflex™ Cushioning
Dimensions
201L x 99W x 170H cm
---
References & further reading