What is iFit, and does it really make your workouts better?
We'll save you some time. The short answer is yes. But the long answer is a lot more complicated. Read on to find out why iFit is important, to you, and to the fitness industry as a whole.
What is iFit?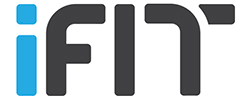 iFit is a live streaming workout service that delivers interactive, gym-quality classes straight to you in the comfort of your own home. Generally accessed by an iFit enabled exercise machine, but also usable through a tablet or your phone, iFit brings all kinds of exciting interactive training experiences straight to your tablet or smart TV.
You can use iFit with almost the entire range of NordicTrack, ProForm and Freemotion exercise equipment, including treadmills, bikes, ellipticals, rowers, strength trainers. It's not just the premium models either. You can get exercise systems with iFit functionality at a very low price, with a lot of entry-level models having the option for iFit.
What does iFit do?
The main draw of iFit is live, interactive exercise services that you can log into and stream directly into your home. These classes run multiple times per day, are led by world class trainers, and on more advanced models can actually adjust the settings on your system remotely.
iFit also draws from an exercise class library of thousands of classes, with more being added every day. Realistically, there are more workout classes on iFit than any one person could ever do in a lifetime, encompassing the full gamut, including cardio, HIIT, yoga and strength training.
The iFit library can be filtered by:
Duration: Letting you fit a workout into any stretch of time
Trainer: If you love a particular trainer's style, work with them continuously
Intensity: With levels from 1 to 7, find something that fits your fitness
Target Area: Blast your belly, crush your chest, smash your shoulders, whatever you need
Category: Cardio, recovery, etc
Continent or environment: Train all over the world with iFit
Whenever you log into a class, an automatic leaderboard loads on the right hand side of the screen. This is fully adjustable and filterable by stats, including age, distance, and gender. One big thing that we like is that you can also filter by live users if you're working out live, letting you compete with other people who are doing the same workout as you right now.
Virtual Workouts
Another huge advantage of iFit enabled exercise machines is that they can be set up for virtual workouts that track routes anywhere in the world, through the magic of Google Maps.
How it works is simple. You create a route using Google Maps, and the computer does the rest, creating a virtual route that your exercise machine will mirror in terms of resistance and incline, while the images on your tablet or screen show you Google sourced pictures or video, letting you work out as if you were literally anywhere.
If you've ever wanted to walk the Great Wall of China, or cycle a mountain range, with iFit, you can!
iFit Workout Series
The iFit series is a fantastic way to exercise. They're a whole collection of workouts designed to get you to a particular goal. In particular, we love the collection designed to get you used to the iFit programs and boost your fitness levels, no matter where you're at, called, unsurprisingly, Four Weeks to iFit.
Automatic Adjustment
iFit enabled equipment can be adjusted by the trainer, so when you join a live workout, you don't have to do anything except follow along. Your trainer will handle the rest. This means speed, resistance, incline, all can be automatically change as you go.
The iFit Rewards Program
iFit has started offering monthly rewards for hitting challenges, linked to their social media accounts. While it's not a major thing, it's worth pointing out because it's nice to have a little extra incentive.
Are there any downsides?
One small downside with the iFit library is actually finding the workouts you want to do. If you find a series, make sure you favourite it, because there's currently no search function, you just have to scroll through to find the workouts you want. Every. Single. Time.
There's also the fact that you do have to pay for the service, but in our minds, it's more than worth the money.
How much does iFit cost?
Currently, iFit costs $15 per month, with the option for a family membership that costs $33 a month. Subscriptions are billed every 30 days, and you're free to cancel it whenever you want.
It's worth pointing out that iFit offers a 30-day trial, so you can try the workouts and classes before you commit to a membership or buying one of their exercise systems. It's also worth noting that all NordicTrack and most ProForm exercise systems come with one month iFit membership built into their asking price, saving even more.
Is iFit worth it?
In our opinion, iFit is 100% worth it. The sheer range of exercises plans and classes that are available, backed up by all of the interactive elements, give you an unparalleled ability to exercise from inside your own home.
Then factor in the cost, which is far less than an equivalent gym membership, especially when you balance out the time costs of going to the gym, and it starts to make so much sense to why people are adopting exercise programs like this in huge numbers.
Another huge benefit of iFit is the psychological boost you get from working alongside other people and with real trainers.
Knowing that you're working out in a crowd spurs you on to work harder, and makes you far more accountable. You're more likely to actually work out, to push harder, give up less, and hit your goals.
Do machines work without iFit?
You might have heard that NordicTrack exercise machines and other systems actually require an active iFit membership in order to use them.
There's a reason this rumour is so pervasive. For a (very) short amount of time it was true. Back in 2017, NordicTrack released a commercial trainer that needed active iFit details, or you couldn't use it at all. But everyone quickly realised what a terrible idea this is, so it was scrapped.
So don't worry, your sparkling new exercise machine is yours to use, right out of the box. You might have to put in some personal details and sign up if you plan on taking it online, but you don't need an iFit membership.
It's also worth pointing out that most iFit enabled machines come with a month's free membership anyway, so for at least the first month, the question is academic.
Can you use iFit without a machine?
You absolutely can. iFit can be used from their app on any smartphone or tablet, letting you follow along with any of the standard workouts from home.
While you won't benefit from all of the interactive elements of iFit, this does let you try it from home before you buy a system and check out whether it's right for you.
Final thoughts
In our opinion, interactive workout programs are the future. Having the convenience of a gym quality, commercial level workout delivered by world-class trainers is such a big deal that it can't be overstated.
When you balance the sheer range of classes and all the benefits you'll get from your subscription against the cost of a commercial gym membership, iFit looks like even more of a good deal.
Our recommendation? If you're at all interested in your health and fitness, you need to invest in it, and one of the best ways to stay fit and healthy from home right now is iFit classes.
References & Further Reading