In the last few years, the way most people like you now choose to exercise has seen a drastic shift.
Gone are the days when the best option was fitness classes in the local gym. A combination of advances in technology and the inability to exercise outside of our homes for long periods of time has seen a massive change in how many of us are choosing to work out.
Sales of home exercise equipment is way up, with treadmills, especially walking treadmills like the WalkSlim series, near the top of the list.
What is the WalkSlim series?
Built for modern life, WalkSlim treadmills are designed specifically to meet the needs of modern fitness. Whether that's a budget-friendly walking pad that can be used to burn calories and stretch the legs in the comfort of your own home, or a heavy, high impact running system that can take higher speeds or inclines.
WalkSlim have been creating treadmills since 2020. They're a subsidiary of Vitality4Life, an Australian company that focuses on creating smart, high impact health and fitness products that slot easily into people's lives.
Why are WalkSlim treadmills so good?
Top-quality running surface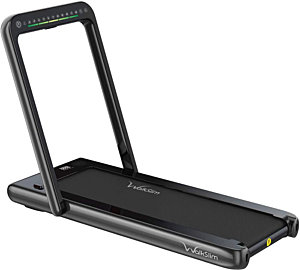 Until you've used a high-quality treadmill, it's hard to truly process just how important a decent running deck is. But it's the part of the treadmill you're interacting with most and makes the single biggest difference in how you exercise, how it feels to run, and how you feel afterwards.
Every treadmill in the range has an ultra high end, cushioned running deck. The low impact design lessens the force your body feels with every step, which makes these walking machines much more comfortable to use than most home exercise kits, and reduces long term strain and injury.
High-quality rollers and a powerful motor (more on this in a moment) reduce in-use noise, meaning these treadmills are quiet enough to use without interrupting the harmony of your home or drowning out the TV on a quiet night.
The walking decks are also generously sized, especially on the smaller models, which can have a deck equal in size to commercial level treadmills, which makes a massive difference when it comes to comfortably walk.
Build quality
On top of having a fantastic running deck, WalkSlim treadmills are generally just built really well. Sleek and black, every model looks smart and modern and will fit easily into the décor of your living room or home gym.
WalkSlim have also made a lot of smart choices when it comes to interactivity and controls. Many of the slimmer walking pads don't need 'conventional' controls; the speed automatically adjusts itself to your walking or jogging pace, with metrics like speed and distance projected onto a smart LED screen built into the pad itself.
Finally, the heart of every treadmill, the motors, are consistently incredible. Large, continuous horsepower bricks that provide a massive amount of power, and can run for hours at a time without issue.
An incredible warranty
Backing up that high-quality build is the warranty. WalkSlim treadmills have a warranty that's the match of anything on the market, including treadmills that cost more than double.
Every WalkSlim system is covered with a comprehensive lifetime frame warranty, with 5 years on the motor and 2 years on parts and labour, giving you the piece of mind that your new system is going to go the distance.
Built for modern life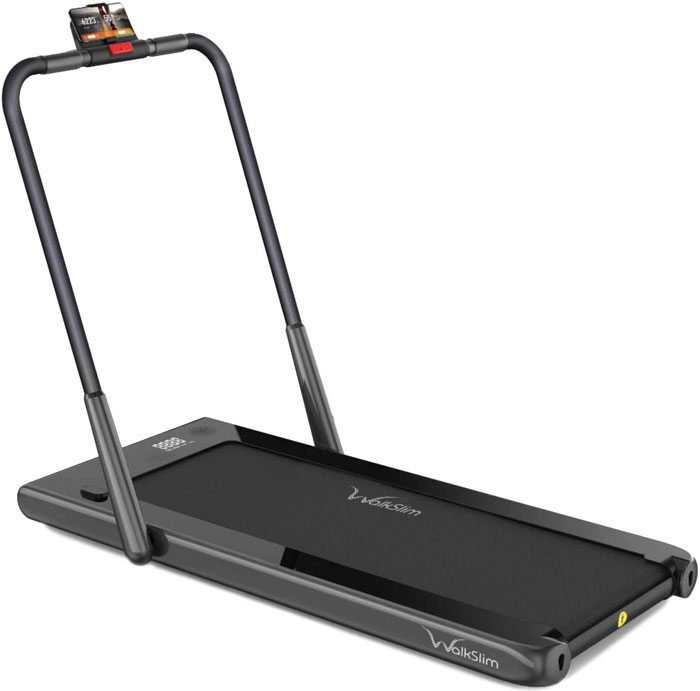 A lot of modern exercise machines seem to require a master's degree to set up and use. WalkSlim has decided to dispense with this and designed their walking systems to be as simple and easy to understand as possible.
This starts as soon as you receive it. Many treadmills in the range are ready straight out of the box, only needing power and an initial set-up that takes a couple of minutes.
They're ready to go when you are, folding down and switching on in seconds, and can be put away in less than a minute. WalkSlim treadmills all fold down when they're not in use, and the smaller ones are light enough to move around your home, using their built-in transport wheels, by just one person.
Most WalkSlim treadmills are also small enough to slip easily under a bed or sofa, and many can be stored standing, so they can slot effortlessly into a cupboard or the corner of a room.
Usable by anyone
Almost everyone can walk, and walking has been shown to be one of the most effective forms of exercise for general health and calorie burning.
No matter who you are, or what your goals are, WalkSlim have a treadmill that can help you meet them. Whether you want a small walking pad that you can use for an hour in the evenings to stay healthy, a heavy-duty treadmill to use with a walking desk, or something that can handle intense, effective workouts, WalkSlim have something that's suitable.
The WalkSlim range
Walking Pads
A walking pad is designed for one thing only. To give you the ability to walk, comfortably and easily, in the comfort of your own home.
In our opinion, the WalkSlim 470, is currently one of the best entry level walk pad models on the market. It combines a powerful motor that offers speeds between 0.5mph (a slow and steady pace) to 3.5mph (brisk walking) with impressive construction and smart tech that makes using it a breeze.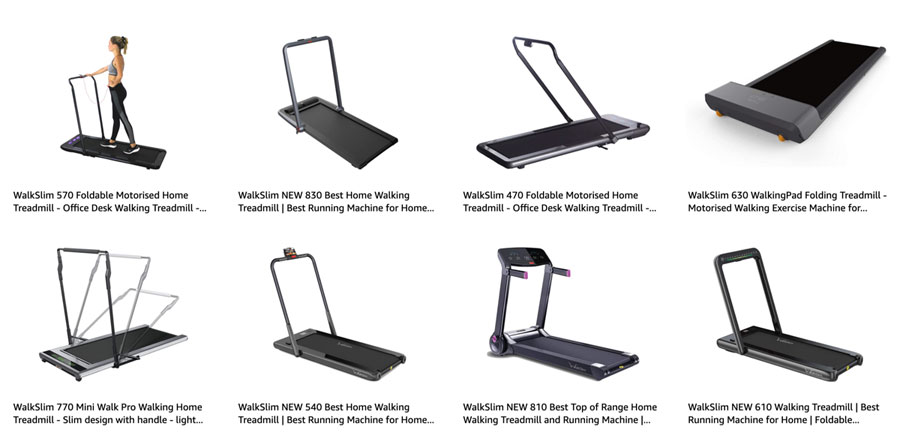 The build is ultra-light but strong. At only 29kg, with transport wheels, it can easily be moved around your home and packed away when it's not in use, made easier by the fact that this can collapse down to just 11cm in height, meaning it will slide under almost any bed or high couch.
Controls are handled through an easy to use remote, with important fitness numbers like calories, time and speed on the simple display built into the safety handle.
All of this is available at a surprisingly budget price, which is still covered by WalkSlim's industry-leading warranty.
0.5 CHP motor
0.5mph to 3.5mph speed
100kg (220lb) user weight
Shock absorbing, comfortable belt
Easy transportation
Remote and safety key
Walking treadmills
Sitting at a balance between price and features, the WalkSlim 830 is what we would consider their 'general use' walking treadmill; equipped to deal with basically any situation you might want to put it through.
It all starts with the running deck, which is large and incredibly well cushioned. The motor, which is a respectable 1CHP, can push the running deck up to a maximum of 7.5mph, a fast jogging pace, depending on which mode you have set this to. With the safety handles down, it's set to walking mode, with a limited maximum speed. Lock the safety handle in place (which takes seconds,) and it enables maximum speed mode.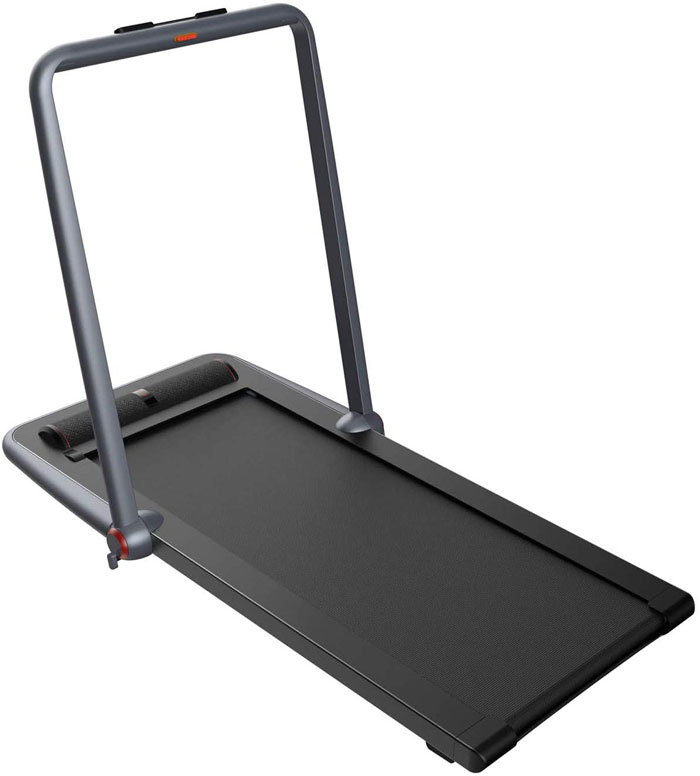 Even better, the treadmill is automatically adjusting, speeding up or slowing down based on the frequency of your footsteps and how hard you're working. The whole walking surface has also been set at an intentional incline of 2%. This doesn't sound like much, and realistically, unless you told them, we'd bet that anyone using this would never notice, but it significantly increases the fitness benefits of exercising, while cutting down on long term injuries by putting your joints at a more natural angle.
The overall build is great, solid and reliable, with the highest weight limit in WalkSlim's range, 265lbs. All of this is backed up by the massive, and comprehensive, warranty. As a walking pad, this offers literally everything someone might look for, plus extras.
If you're interested in finding out more, click here for our comprehensive review of the WalkSlim 830.
1 continuous horsepower motor
7.5mph maximum speed
265lb maximum user weight
Comfortable, inclined belt
72lb unit weight
Folding design
Fitness treadmills
The biggest and most impressive treadmill in the range, the WalkSlim 920 is a beast that's been designed for far more than just a gentle walk; boasting a list of features that a lot of commercial, gym level treadmills would love to own.
We'll start with the most important thing. The motor, which is a 1.25CHP block that can push the extra-large, comfortable running deck up to speeds of 9.5mph, a comfortable running pace, which is even more impressive considering the constant 4% incline of the belt. (Designed and angled for maximum calorie burn, while only increasing your effort by a tiny amount.)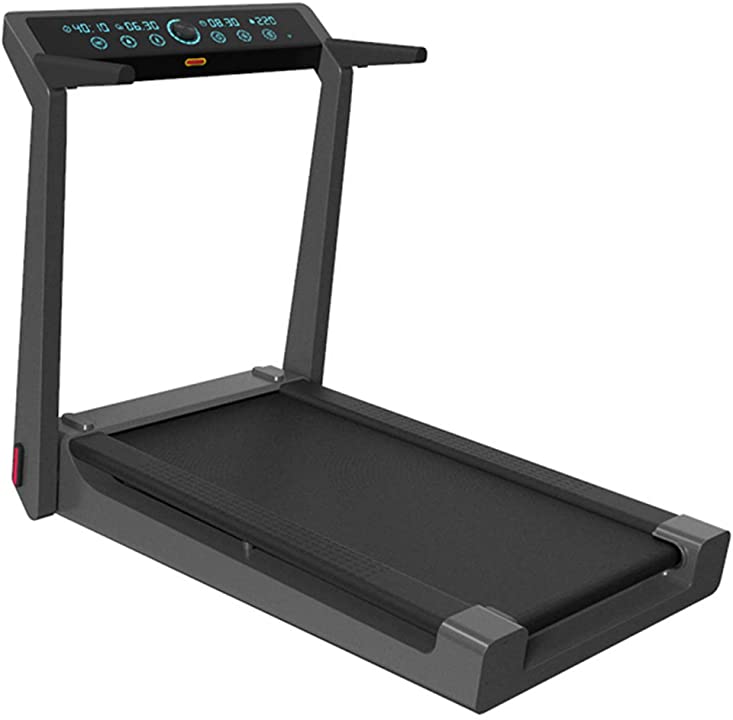 The treadmill itself is large and incredibly sturdy, with an impressively high 245lb weight limit despite its own manageable 125lb weight. Impressively, this still folds down like all other WalkSlim treadmills when not in use, which, combined with the lightweight and built-in wheels, means this can be moved around the home relatively simply.
But the thing most people will notice about the treadmill when they first step on to it is the technology. Controls are handled through a gorgeous touchscreen display that writes itself across the whole front of the safety handle, giving you all of your important information at a glance, and letting you change speeds and set fitness plans at the touch of a screen.
You can also link your devices in using Bluetooth, giving you easy access to your fitness metrics on the go, and letting you link in your favourite fitness apps, or just watch Netflix while you walk!
We'll be honest. If you just want a walking pad, the WalkSlim 920 is probably too much. But if you want to mix walks with workouts, and you're serious about your health and fitness, this is a treadmill that's going to handle whatever you throw at it and more.
1.25 continuous horsepower motor
9.5mph maximum speed
245lb maximum user weight
Touchscreen controls
Bluetooth device link
125lb unit weight
Folding design and transport wheels
Who should buy a WalkSlim
WalkSlim makes some of the best walking pads and light treadmills we've ever seen. Everything about them, from the fantastic build quality (almost to the point of being overbuilt,) thoughtful touches in the design, and ease of use and storage make them a great choice for health and fitness.
With this in mind, you would benefit most from a WalkSlim if:
You're looking for a robust, well-made treadmill to use instead of regular walking or jogging outside
You want a fantastic treadmill for a home office or walking desk
You're looking for a simple, easy way to burn calories at home
You need a light, simple, effective way to train, through age, injuries or other issues
Who shouldn't buy a WalkSlim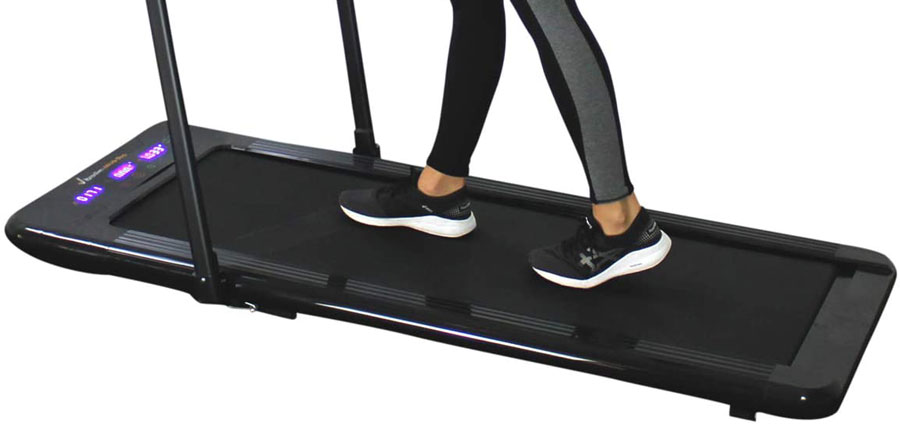 A WalkSlim is probably not suited for people who are looking for a treadmill that's built for high speeds and harder styles of training.
The design of WalkSlim treadmills focuses on ease of use, exceptional quality, and the ability to constantly run at low speeds for hours, without making excessive noise or being loud enough that it affects your household, neighbours, TV watching, or pets.
This means WalkSlim treadmills don't offer speeds beyond a fast jog, so they're not suitable for high speed or interval training. Incline features also tend to be fixed at an angle that's perfect for efficient walking and calorie burning.
If you're looking for a high speed running machine instead, we'd recommend taking a look at our guides on dedicated treadmills below:
Final thoughts
There's a reason the sale of walking machines and light treadmills is skyrocketing. More people are realising the massive amount of health benefits light exercise brings, advances in technology, and even the social benefits that come from working out at home with connected apps.
In our opinion, right now WalkSlim makes some of the best walking treadmills on the market, and if you're looking to invest in something that's tough enough to last years, with great looks and better performance, every single model in the range comes highly recommended.