Welcome to our review of the JLL S300 (Available at Amazon), a slightly more compact version of the S400 we looked at earlier this year. Compact folding treadmills have flooded the market in the last couple of years, so this one has a lot of work to do to stand out from the crowd.
Join us as we go over everything you need to know about the 300 model treadmill, including both the good and the bad.
---
What is the JLL S300 Folding Treadmill?
The JLL S300 Folding Treadmill is a treadmill with a foldable structure for in-home running, jogging, or walking exercise.
It has multiple incline levels, a 4.5 HP motor, and high-quality parts. You can run up to 16km/h on this machine.
Compact & (slightly) portable
The S300 is designed to  give a full cardiovascular workout without requiring a large permanent space in your home or gym. The foldable structure can be collapsed and it has transport wheels which enable it to be scooted out of the room if you need to stash it away.
All this compact space stuff is great, but it's also been the downfall of many of the machines we've looked at. With flimsy build quality and low-power motor being a couple of old faithful's we encounter regularly.
So, does the S300 perform as a runner and not forsake power and stability for a lighter weight design? On the whole, yes, but it's not perfect. Read on to get the full story.
---
Features at a Glance
Getting to know the JLL S300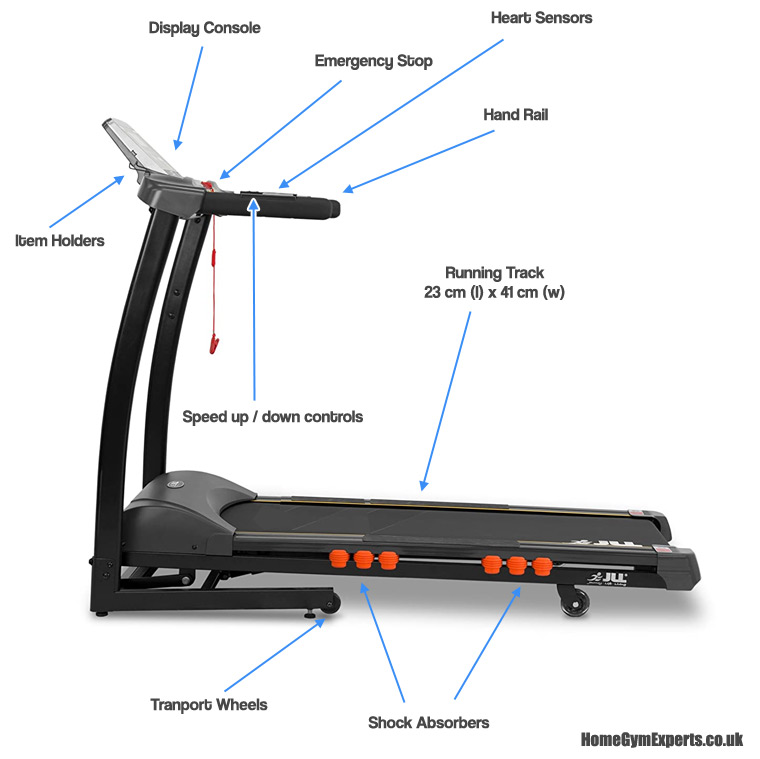 Five-inch LCD screen – shows your heart rate, time, speed, distance, and calories burned (the five most crucial pieces of information to runners).
Fifteen workout programs – three of which can be customizable to your preferred settings for a personalized workout.
Sixteen-point cushion deck – provides shock absorption to keep your legs energized and helps to protect your joints from possible injury.
High-power speakers – Blast your favourite tunes as you run. Compatible with iPod, iPhone, MP3, and USB connections
Twenty levels of incline – provide a constant challenge to all runners, no matter your experience level.
Speed range from 0.3 kmh – 16 kmh – for warm-ups, cool-downs, walks, jogs, or more intense running.
Warranty – There's a good warranty with this machine which includes a two-year warranty on parts and labor. Five-year warranty motor cover. Lifetime guarantee on the frame.
Foot print – When unfolded, the JLL S300 measure 158 cm (l) x 70 cm (w) x 128 cm (h). When folded, it measures 100 cm (l) x 70 cm (w) x 141 cm (h).
The size of the running track is 123 cm (l) and 41 cm (w).
Maximum user weight of 120 kg.
Check Current Amazon UK Price
---
Benefits of Training With the JLL S300 Folding Treadmill
In this section, we will discuss the three main benefits of training with a machine like the JLL S300.
A good machine to lose weight and get in shape
If you're new to treadmills and running and just want a simple way to get in shape, this is a good machine to get started with. It's not bulky and has enough power for new or more experienced runners.
A decent sized, bouncy running area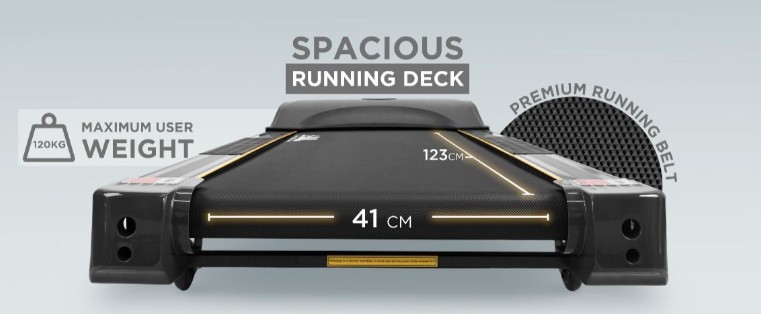 The JLL S300 Folding Treadmill comes standard with a sixteen-point cushion deck to absorb the shock and pressure you exert as you run. During a run, you can damage your joints by shocking them with jolts of force. The cushion deck takes the impact and energy that your body exerts and absorbs it rather than sending it back up your legs that can cause joint damage. 
Keeping the pressure off your joints allows you to feel energized longer and maximize your workout.
Suitable for All Experience Levels
Thanks to the twenty-point incline, you can challenge yourself as you begin to grow into a stronger runner. If you are already an expert runner, you will find the higher incline points challenging. 
The JLL S300 helps all runners grow into better ones!
Motivation Through Entertainment
Running without music is like a cake without icing; still pretty good, but the best part is missing. With the high power speakers and multiple ways to connect your devices (iPod, iPhone, MP3, or USB flash drive) you can run without annoying headphone wires getting in your way. 
---
Who are JLL Fitness?

The S300 machine is made by JLL Fitness. They're a well-know fitness brand who make mid-level fitness gear. We've reviewed a number of their products one Home Gym Experts and been impressed with the overall build-quality and value for money they offer.
This means you're getting
UK based company
Shipped from a UK warehouse
UK customer support
They've currently got an 'Excellent' rating on Trust Pilot, the independent user reviews website.

How do they fair on our customer support tests?
JLL's support has proved both fast and friendly on our covert tests, with replies always within one hour during weekday working hours. A lot of people buy more than one machine from this company as they're reliable and the products are good quality.
---
Who is the JLL S300 Folding Treadmill Aimed at?
The JLL S300 does not target one specific target audience within the running community. Runners of all experience levels will find a challenge while using this machine. 
Beginners will find the lower incline points challenging, yet experienced runners will find the higher incline points exciting. 
This machine is particularly great for people who might have sensitive joints and need extra cushioning and impact protection.
If you're looking for a simple machine to do walking with, this is a great machine. But the running track size and motor speed are equally well suited to people looking to get into some tougher workouts.
---
S300 Review: What We Like About the JLL S300 Folding Treadmill
Overall this is a good quality treadmill. It's not the cheapest, but you can expect a certain level of quality for this. There's some short comings here, but let's start with what this machine gets right:
Good quality
The overall quality of the JLL S300 is top notch. The structure is sturdy and well-built and lives up to its lifetime guarantee. It can maintain its integrity with heavier users or high-powered runs. The JLL S300 won't quit on you if you decide to run for two hours straight.
The belt seems like a decent thickness and quality and despite it's lighter weight than other treadmills, it's robust and sturdy to run on.
Good onboard computer with a large easy-to-read screen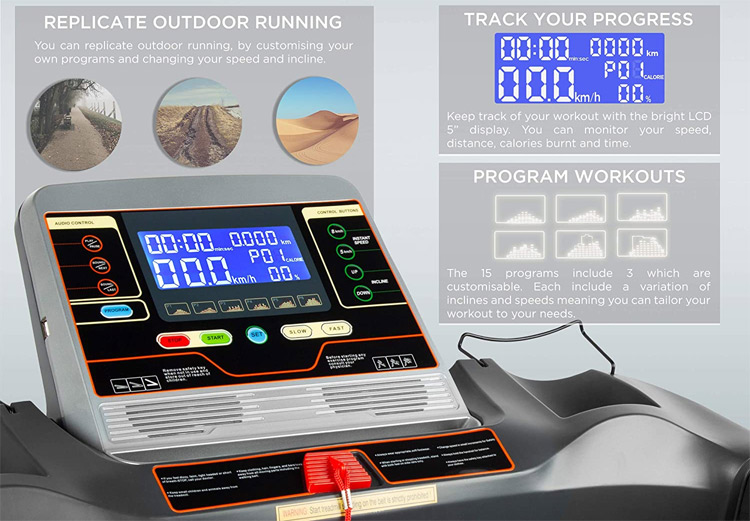 While there's no fancy HD touch screen here, what you get is a very clear and simple way to see your stats -way better than many of the displays we've seen on cheaper machines. The S300 has a bright, backlit display you don't have to squint to read in low light.
The panel itself is blissfully free from the ugly warning messages some machines plaster all over them and there's fairly easy-to-understand buttons running down each side, to quickly change speed and incline, although they could be a little bigger.
The LCD monitor is a good piece of technology that logs your data after your workouts so you can keep track of your progress over time. It also shows your vital data during your workout, such as heart rate, speed, distance, time, and calories burned.
Heart rate is taken with the pulse sensors on the hand rails. While these are never the most accurate, they're at least an idea of where your pulse is. Sadly, there's no receiver here for a compatible chest strap. So if this is a big thing for your workouts, you'll need to look elsewhere.
Folds down… a little
You're not going to be sliding this machine under a bed when not in use, or plonking it behind a door but, like a lot of treadmills in this range, it does fold upwards and can be scooted around fairly easily. (Not like some of the back-busting beasts we've encountered…)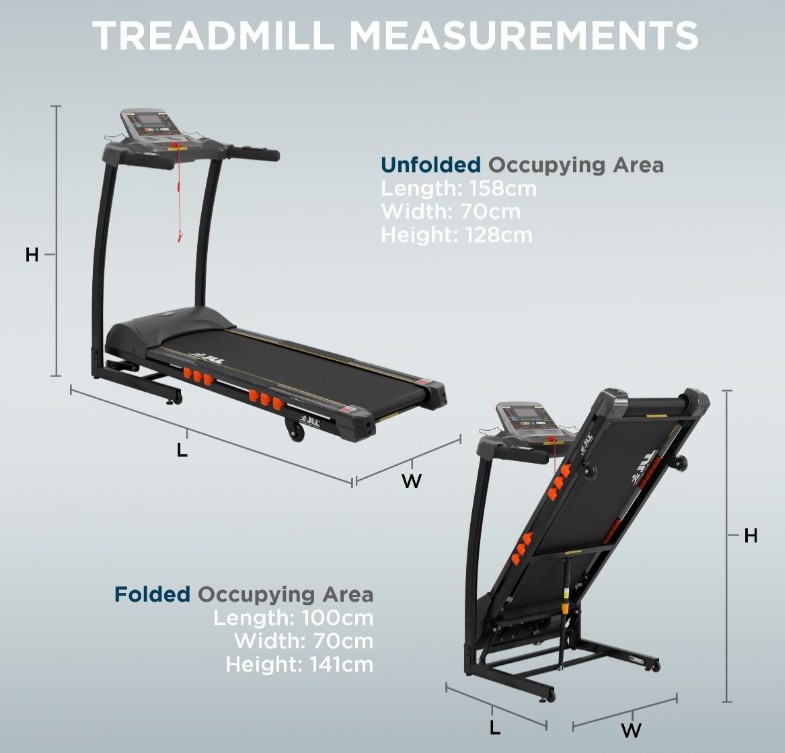 If you are short on space and hunting for a treadmill, then you should be looking at foldable models like the JLL S300. You're at least reclaiming a bit of space here. The slightly reduced deck size also helps keep the overall footprint down, without giving a narrow track or one that's too short.
This treadmill is a good go-to for people who live in smaller homes or apartments, or simply for anyone generally short on space.
Great for People With Mobility Issues
The JLL S300 treadmill is perfect for people who have issues with running on regular treadmills or the ground due to joint problems or aging. Senior users tend to favour this treadmill because it is gentler on their bodies and joints than standard treadmills.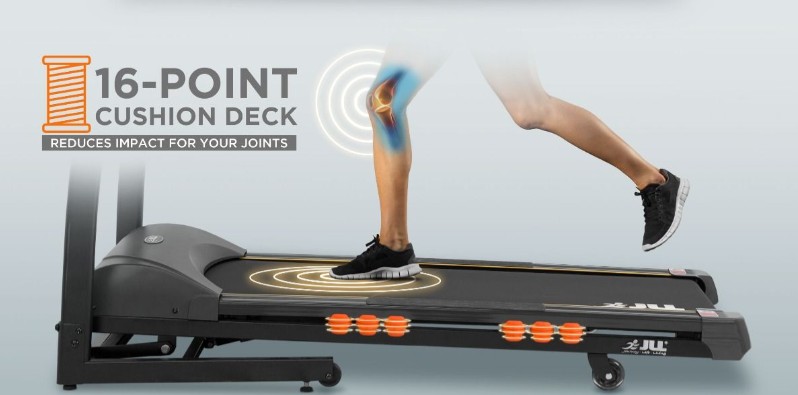 The shock-reduction is thanks to the sixteen-point cushion deck that reduces joint shock by absorbing the impact of each step. 
The Pre-Made Customizable Programs bring much-needed variety
The JLL S300 comes with fifteen programs available to the user. The first three of those fifteen are customizable to the needs of the user. We find this crucial because everyone has a different endurance and want individual challenges, so the wide range of pre-made programs mixed with customizable programs helps suit everyone.
There's the usual array of varying fitness programs here that target things like hill climbing, burning calories in a short time, and general interval training. We're not talking iFit level of depth here, but these programs definitely break up the running monotony and are worth testing out to find ones you like.
Check Current Amazon UK Price
---
What Could Be Better About the JLL S300
No app compatibility
One downside to this machine is that the treadmill can't be hooked up to things like KinoMap where the app can take control over speed and incline. This would have been a really good inclusion that's not unheard of at this price point. This won't be a huge loss to many runners, but it's worth mentioning.
Requires some assembly
While this treadmill isn't hard to put together (see the video later in this review) there is some work to be done here.
The running track is pretty heavy for one person to lift and requires 2 people. Anyone older and purchased this treadmill because of its shock absorption could get hurt trying to put up this treadmill, so please make sure that you are physically capable of setting up this machine before you purchase.
No chest strap receiver
If you're serious about using your heart rate in your workouts, it's better to have a 3rd party chest strap to accurately record and track that stat. Sadly, the S300 hasn't got a receiver that we could find so you'll have to rely on the less-than-perfect built in silver pulse sensors.
---
Conclusion
JLL's S300 offers a good quality treadmill for the price, all the features you'd expect and mixes it altogether in a sturdy, robust frame.
The 300's running deck is spot on, feels nice and bouncy and theres plenty of power here despite the more compact size of this machine.
There's no app connectivity to things like Kinomap but if you're just looking for a reliable, more compact treadmill for your home, JLL's is a good one to go for.
Check Current Amazon UK Price
---
S300 Assembly
What's involved in putting it together?
One of the things a lot of people want to know about this treadmill is how hard is it to put together? JLL's running machine comes flat-packed and does require some assembly. This involves using an allen key to tighten bolts.
Overall, this is not a complex install process and shouldn't take more than 10 – 20 minutes tops.
The bottom base part is the heaviest – get someone to help you lift it out of the box
Take care tightening the screws, make sure they're lined up before you apply any real force.
Be super careful when attaching the console – the wires aren't tough and you can 'chop' them if you don't line up the console.
The treadmill won't start unless the safety key is inserted onto the key symbol.
Get more help setting up the S300 machine here
---
Full specs on the JLL S400
Brand
JLL
Motor
Continuous Power 2.5 HP / Peak Power 4.5 HP
Running track size
Length: 123cm
Width: 41 cm
Top speed
10km / hour
Powered Incline?
Yes
# Incline levels
20
Incline height
19cm - 26cm
# programs
15
Speakers?
Powered bluetooth speakers
Shock absorbtion
16-point cushioning
Noise level
Low
Monitor display
Time
Speed
Distance
Pulse
Calories
Max user weight
120kg
Tablet holder?
No
Dimensions
158 cm (length) x 70 cm
Warranty
2 years parts and labour
5 years motor
Lifetime frame
Pulse rate sensors?
Yes
Fan
No
Folded dimensions
100 cm x 70 cm
---
Resources and further reading