A lot of people have been asking what are the best incline treadmills for home gyms so here's a quick, handy guide to 2023's top running machines that do just that. There are huge benefits to hill running and if you're buying a new machine worth its salt, you'll definitely one that gets this right.
It's becoming far more common to see even budget treadmills coming with powered incline as an option straight out of the box.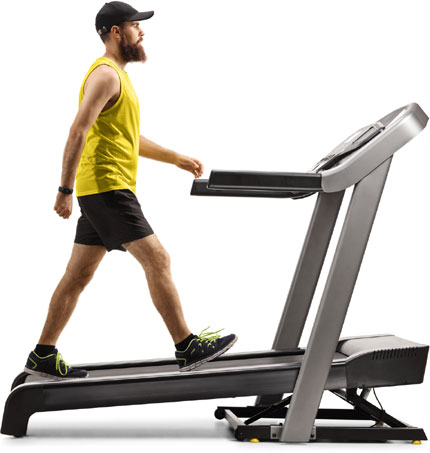 When you look at the benefits, the reasons are obvious. Walking or running on even a very slight incline carries so many health and fitness benefits that, if you have the option to train like this, you probably should.
Pair this with high-quality exercise equipment becoming much more affordable, and the reason why so many treadmills are boasting of their ability to move their running deck upwards as if you're hill training is obvious.
But actually making a decision about which treadmill to buy is surprisingly complicated. There are a huge amount of differences in what should be a relatively simple system. This guide goes deep into what you should be looking for when buying an incline treadmill, as well as some of the best incline treadmills available on the market right now, from budget machines all the way up to the very best of the bunch.
2022's Best Treadmills For Incline Running
Top Pick
Best Treadmill With Incline
Proform's Pro 2000 has a large running surface, -3% to 12% incline and a powerful 3.25CHP motor.
Check Latest Price
The mid-range model in the Proforms flagship Pro series, the Pro 2000 is fully equipped to deal with literally everything you could ever throw at it.
The massive running deck is super comfortable, running on precision machined rollers that cut down on noise and reduce the impact on your joints. Everything is driven by a 3.25CHP motor that pushes it to speeds up to 13.5mph and a 15% incline.
Those are solid numbers, but the decline function, down to -3% is shared by only one other treadmill on this list, the Nordictrack (see below) which is almost 50% more expensive and gives you a whole host of training options.
Every feature is impeccable, from the rock-solid build quality with 135kg (300lb) user weight; the highest on the list, a gorgeous 10 inch HD touchscreen display, all of the cute add ons like heart rate sensors and iFit membership.
It's easy to see why this is at the top of our list. It's a beautiful system, that feels even better to train on, and has everything that anyone looking for an incline treadmill could want.
While other systems might have slightly higher numbers in places, taking the Pro 2000 as a whole the whole package is so well put together and offers so much for the price, that it's incredibly hard to beat.
---
The most expensive treadmill on the list, NordicTrack's X22i justifies that with an absolutely comprehensive features list, ridiculously overbuilt construction, and one of the best interactive fitness apps there is.
For a start, it's powered by a 4CHP motor which lets this run comfortably at 13.5mph, and pushes it up to an absolutely absurd 40% incline, more than double what you'd expect to see on an entry-level machine, to the point where it literally feels like you're climbing a mountain at maximum elevation.
The X22i also has the option for -6% decline, all of which is fully powered, buttery smooth, and can be controlled by the trainers in your iFit workouts.
Because, as a NordicTrack treadmill, of course, this comes with one year's free membership to iFit, and the thousands of exercise classes, live and recorded, that this brings for you and your family.
It's big, it's incredibly powerful, and yes, it's expensive. But if you're looking for the best incline treadmill on the market right now, the X22i is almost certainly it.
---
At HomeGymExperts, we're a big fan of JTX fitness. Everything they make follows the same pattern. They focus on performance while still keeping costs down, by stripping away all of the extraneous gear and leaving just the core features, which are always of great quality.
The Sprint 7 is no exception, with a solid 2.5HP chunk of motor that can drive the running deck to 12mph at a powered incline of 12%. Construction is great across the board, with a 3-year warranty, and a particularly impressive max user weight of 130kg (285lbs.)
But what makes this stand out is how good it feels to train on, with a comfortable running deck that's almost the equal of treadmills double the cost and a whole lot of training options. The integrated fitness programs are surprisingly impressive, with 43 unique, trainer-designed programs that can take you from amateur to ultra-fit, and the 7-inch touchscreen tablet has the option for Kinomap.
We'd recommend the JTX Sprint 7 if you're simply looking for a treadmill that boasts great training. No frills, just solid, effective performance, every time, at a great price.
---
Driven by an absolute animal of a motor, the Kick 5.0 by Bluefin Fitness earns its place here by putting outperformance that's almost the match of treadmills three times the cost and do it easily.
This is made possible by the motor, which sits at a respectable 3.0CHP, but can be pushed to a truly ridiculous 7HP for sprints and heavy inclines. Maximum speed is a very solid 12.5mph, but the incline is a little low at just 15%. However, that's easy enough to train on, and the big, comfortable running deck makes training on this a dream.
Options for smartphone or tablet integration push training options outwards with the ever-present Kinomap, and the 12 programs included are good enough. The treadmill also comes with a quality chest band heart rate sensor, which is much more accurate than hand bar heart monitors.
The Kick 5.0 is a runner's treadmill. Everything about it says one thing, that this is designed for people who already train, already track their numbers, and want a treadmill that's great for that first, with an incline feature built into the bargain.
---
The cheapest model on the list, the JLL S300 is a surprisingly fiery little workhorse, especially considering it currently sits at just over £500, which is very reasonable for a fully powered treadmill that puts out these numbers.
Powered by a surprisingly punchy 4.5HP motor, the decently sized and well-cushioned running deck can drive up to 10mph and 20 degrees, which is easily enough for anyone who's not an Olympic runner, and 15 running programs.
Build quality is excellent, especially for the price, with a maximum user weight of 120kg ( 275lbs) and a 5-year maximum warranty. It is worth noting that this has no built-in screen or options to link to touchscreens (You'll have to step up through the range, and pay more, for that privilege.) However, it can be linked to your phone via USB to stream music.
While it might not offer the same features as the bigger names, you're also paying significantly less, and if you're looking for the best way to buy a good quality incline treadmill for a reasonable price, the JLL S300 is it.
---
What are the advantages of running on an incline?
The science is absolutely clear on this. If you can train using an incline, even a very slight incline that seems like it should be having no effect, you should be. Here's why:
Incline training raises intensity without overtraining
When you're training, for best results you should be looking at pushing your cardiovascular system to anywhere between 60 and 80% of your heart rate maximum. Training on an incline is a great way to do this without having to crank up the speed, which makes it harder to run, is loud, tires you out faster, and leads to long term injuries.
Instead, you can enjoy a long, nice stroll that still brings all the benefits of a good workout, with much less intensity. It's more comfortable and better on your body, without losing out on any of the benefits.
Working different muscles
Having the option to train on an incline lets you work an entirely different set of muscles to running on a flat plane, engaging your calves, hamstrings and glutes far more than walking on a flat surface.
On top of this, the human body isn't actually designed to run on flat surfaces for long periods of time, and doing so leads to a whole bunch of nasty long term issues like shin splints. Even a slight incline of 1-2 degrees can help to mitigate this.
It burns far more calories
Let's face it, most people are training for one of two reasons. One, to get healthier and fitter, or two, to look better.
Both of these goals require you to burn calories to hit your goals. So, if there was a way to burn more calories without more training, you should take it, right? Right.
The good news is, walking or running on an incline is massively more effective than training on a flat surface, burning up to 50% more calories, while expending far less than 50% more effort.
---
What to look for when buying an incline treadmill
So we've learned that incline training is incredibly effective, and buying a treadmill that has the option to incline is the smart play, but how do we know what to buy? Here's what you should be focusing on:
A powerful motor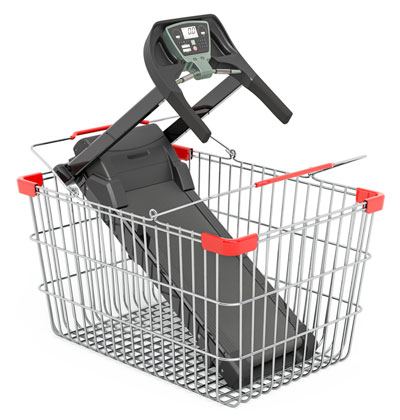 The motor is the heart of a treadmill, and when you're buying a treadmill with the option for a powered incline, a more powerful motor is especially important.
This is because the motor will be driving both the belt and the incline system, so it needs to be powerful. It's so important that the most expensive incline treadmills even have a second, subsidiary motor that does nothing but power the incline.
When looking at how powerful a motor is, expect it to be measured in horsepower (HP) just like a car engine. However, some manufacturers can be dishonest when it comes to how powerful their motors are.
Treadmill motor power is measured in one of two ways. Horsepower (HP) and continuous horsepower (CHP.) When possible, always look for the CHP value of a motor, as this tells you the power that a treadmill can comfortably put out consistently, for hours at a time, rather than in short bursts.
As for how much horsepower to look for? For a treadmill that's going to be used predominantly for walking and jogging, a 2.5CHP motor is generally sufficient for your needs. If you plan on running at higher speeds, and pushing it to the maximum incline possible, look for a motor closer to 4CHP.
Ergonomics and safety
Incline walking or running on a treadmill can be surprisingly difficult, especially at higher levels of both, and that goes double at the end of a workout when you're tired.
With this in mind, make sure that what you're buying has sufficient and strong supports that go far enough around the running belt, make sure that the running belt has enough length and width for comfortable movement, and that there are any comfort and safety features, for example, automatic shut off keys and water bottle holders.
Robust training options
Having the right training options on an incline treadmill means two different things.
One, does it have the capability to monitor your workouts correctly? This means the ability to record all of your metrics, including time trained, at what incline, calories burned, and the option for a heart rate sensor. After all, measuring your workouts is one of the fastest ways to improve the quality of your workouts.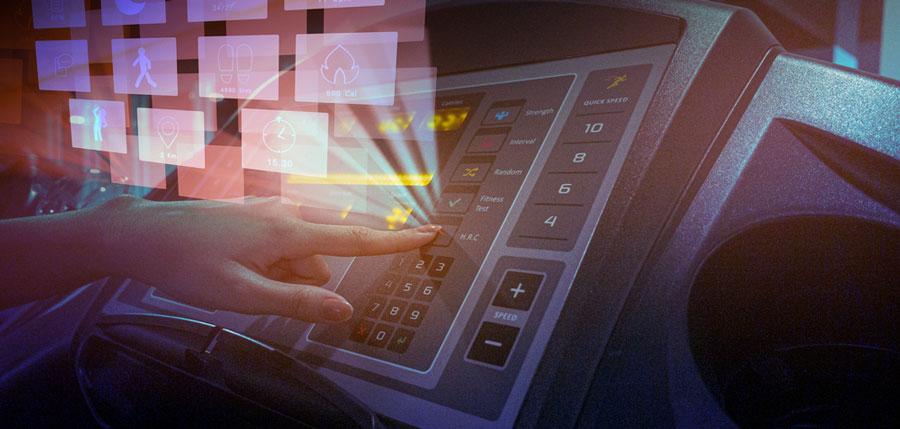 Two, does your chosen treadmill have good options for training programs. Almost all high-end fitness companies have brought out interactive fitness apps in the last couple of years, and there are several good third-party options, (principal among them Kinomap, full review here.)
The benefits of a solid training program can't be overstated. You're going to train harder, with more enthusiasm, and be able to hit your goals far faster and more effectively if you train right. We make sure to point out whether a manufacturer has particularly impressive training options with their gear.
Budget
Unfortunately, we're all constrained by price, otherwise, everyone would have the home gym of their dreams. While high-quality fitness gear is an investment that almost always pays off, if you can get more for less, then you probably should consider doing so.
Our list runs from the most expensive systems on the market to less expensive machines that still stand out due to a combination of smart design ideas and great performance for their cost.
6 quick tips for fun and safe incline running on your new treadmill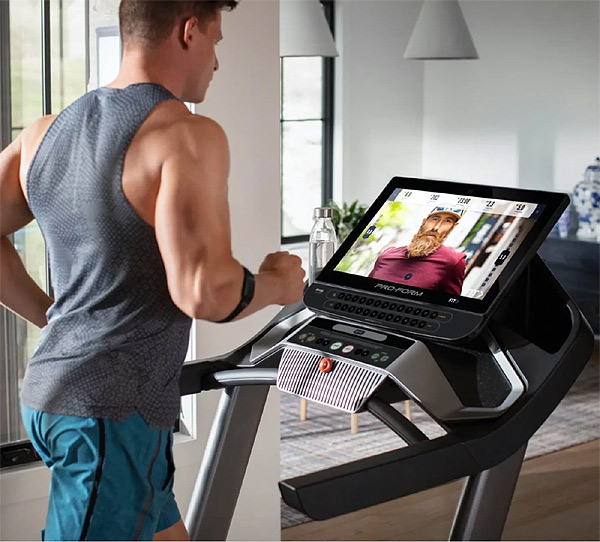 I can still feel my thighs burning from doing some treadmill work last night and the main culprit is definitely that incline setting. Here are 5 things I've learned using incline on my running machines and other people's that I've tried that have made a big difference to my fitness.
Definitely use the safety key – This is especially important if you've not dabbled with the incline setting on our treadmill yet. It can be a bit off-putting when the running track angle ramps up and you feel yourself losing the battle with the hill and 'sliding' backwards. The safety key is your best friend here as it will turn off the power if you end up needing to make a hasty retreat.
Get used to the quick incline settings – Most treadmills will have buttons that allow you to change the incline say 3 degrees with a single touch. If you can, make sure your treadmill has one before you buy it or you'll end up spamming the plus and minus buttons. This gets old fast when you just want to create an incline quickly.
Play around with incline on a lower speed – Take it super-easy if you're not used to hill running. It's so much harder than running on a flat surface on a treadmill. It's also more tricky to stay in one spot as you'll find yourself naturally moving back along the belt. Taking the speed down is a good way to get a feel for this style of running and also build some muscle memory that will keep you in place on your machine.
Try some of those built-in workouts – I'm always amazed how many people jump on a treadmill every day but don't try out some of the workout programs. Most running machines will have a good range of programs and they're not just a gimmick to sound good. They vary both speed and incline and make your body work harder during your run. You can also increase the difficulty as you get better so they'll keep up with you. Go on, try one out today.
Don't run at the same incline or speed for a long period – Studies have shown that the best way to use a treadmill (or do any kind of aerobic training) is to do some kind of interval training. Treadmills usually have good programs built-in but I like to mess around with incline and speed on the fly. A basic way I have found that really helps is to have one-minute hard work followed by one minute easier work and repeat that for your 10, 20 or 30 minutes … or however long you train for. Vary your speed and incline and you'll get more done and be less bored too.
Always have 'some' incline on – If you're doing anything other than a super-lazy cool down at the end of your run (which everyone should do as it's a healthy way to end your workout and slow your racing heart rate down gradually) I'd definitely recommend having at least a 1% incline on there. I've played around with treadmills vs running outside and having at least a 1% on there makes it more 'realistic' and will burn more calories too.