Today I got the chance to check one of the more luxurious ellipticals on the market today and in this Sportstech LCX800 review (available Amazon) you'll get to read what I thought it. So far, Sportstech have brought out some pretty good gym machines so how does the LCX stack up? Let's find out.
This review will cover absolutely everything you need to know about this elliptical machine, as well as the things it does well, and the areas it could improve upon.
What is the Sportstech LCX800?
The flagship model in the SportsTech cross trainer range, the LCX800 is a powerful elliptical machine that's packed full of the latest tech, including live fitness support and powerful magnetic resistance systems.
The core of the system, and what sets it apart from cheaper models, is the flywheel. The LCX80 has a monstrous 24kg flywheel that's almost twice the size of most competing models, even at this price.
On top of this, it's fully supported with all the latest fitness enhancements in tech, like a built-in console, online apps, and Smart TV streaming. All of this put together seems to suggest that the LCX800 is one of the best cross trainers on the market right now for the price.
---
Main Features With This Cross Trainer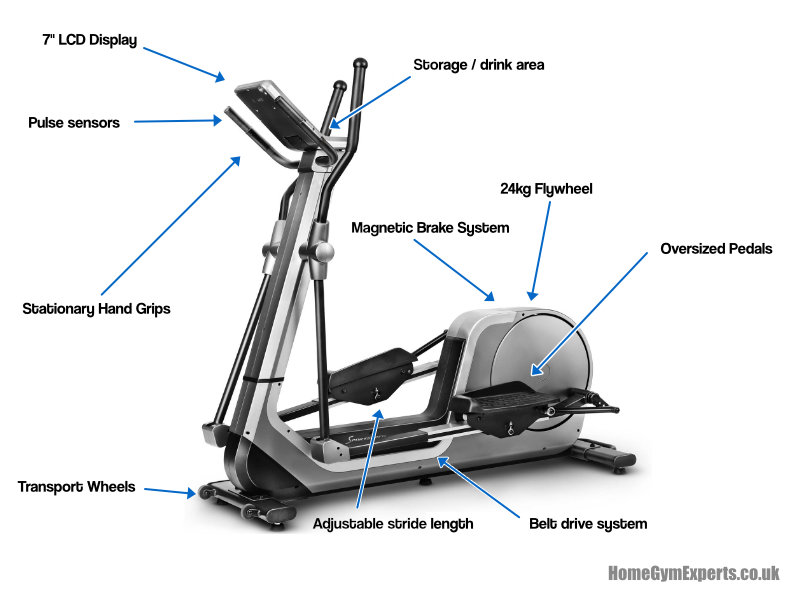 24kg Flywheel
12 built-in fitness programs
The LCX800 has a 7 inch console
Kinomap and FitShow app functionality
Bluetooth linking
USB and headphone jacks
12 preset fitness programs
Adjustable stride length
Anti-slip pedals
Transport wheels
120kg maximum user weight
2 year warranty
Check Current Amazon UK Price
---
What do you get from training on the Sportstech LCX800 Elliptical?
Cross trainers are the generalists of the cardio fitness world. They work up to 85% of your body's muscles, as opposed to treadmills and bikes, that only work your lower half.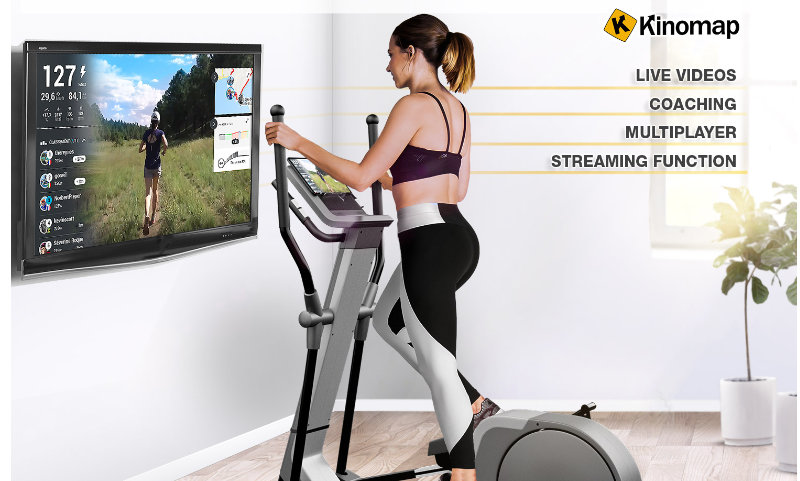 Machines like these are ideal for slow warm-up sessions because the low impact nature of the machine takes most of the strain from your joints. Your feet never leave the pedals, so there's no real transferred impact force like there would be on a treadmill.
On the other hand, set to high resistance, cross trainers are a fantastic whole body workout. Your legs push against the pedals, your arms, shoulders and back are worked by the arm handles, and even your core gets a workout as it has to stabilise you on top of the working machine.
---
Who are Sportstech and are they a good brand of elliptical?

While not as well known as your NordicTracks, Reeboks or Marcys of the fitness world, Berlin-based Sportstech are a big sports brand and seem to have really increased their gym gear over recent years and make a name for themselves.
Sportstech have a wide range of fitness machines, to suit different budgets. And their treadmills, bikes and rowers are good quality, and they seem to be more focused on more futuristic tech like online connectivity, built in.
We've seen products from them such as rowing machines, exercise bikes and of course, treadmills. They tend to review well, have good customer service, and get around 4 – 5 star review, on average, on platforms such as Amazon.
---
Who is this cross trainer best suited for?
The LCX800 might appear to be a serious piece of kit, because it is. But ironically that also makes it absolutely amazing for beginners, too.
That same list of features; the great construction quality, the impressive list of built in technology, the incredibly powerful flywheel, and the list of apps that give you hundreds of program options, will take anyone to the next level, whether they're an experience athlete or an absolute fitness newbie.
---
Using your Sportstech LCX800 trainer with Kinomap & other apps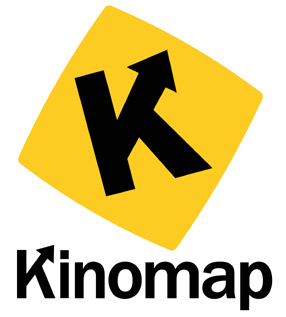 Is the Studio compatible with online racing and apps like Kinomap?
If you've never heard of this before, you use your tablet's or phone's screen along with a running machine (although it also works with things like rowing machines and, more commonly, cycles).
Once connected you do some of these cool things:
Race along famous cycling routes
Compare times and speeds with others
Do LIVE online races and events
Get trained by a proper instructor
Unlike some machines, the Sprint treadmill can be used with Kinomap without the need of a third party gadget to send data to an app. There's also a respectable tablet holder built into the LCX800 that's way better than the bog-standard shelf we've seen other runners opt for. (Or just no tablet holder at all – which is also common!)
Here's a quick video showing some of the things you can get up to:
---
Review: What we like about the Sportstech LCX800 Trainer
Big and powerful flywheel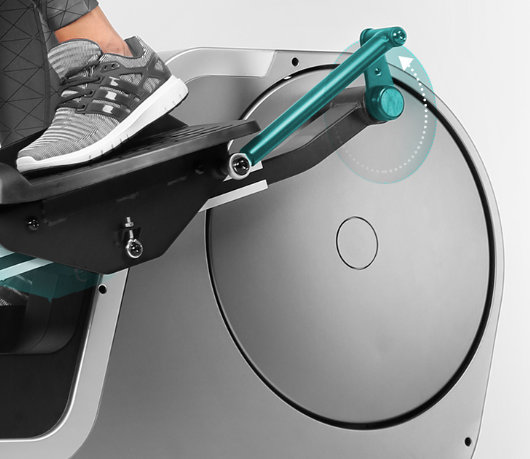 The flywheel on the LCX800 is an absolutely massive 24kg. To put that into perspective, some of our favourite models have a flywheel that's half this weight, or less. Industry standard needs to hover around the 9kg mark.
Here's why that matters. A larger, heavier flywheel puts out more resistance, giving you a better workout with a higher training and resistance ceiling. It literally makes the everything about the entire machine that much more effective, and the benefits can't be overstated.
It's not just the wheel that's high-quality. The power transference system is also excellent, using a grooved belt silent-drive system that delivers consistent power with minimal vibration. It's also, despite the huge weight, incredibly quiet, which you and anyone around you will appreciate when it's time to workout.
Fluid and powerful workouts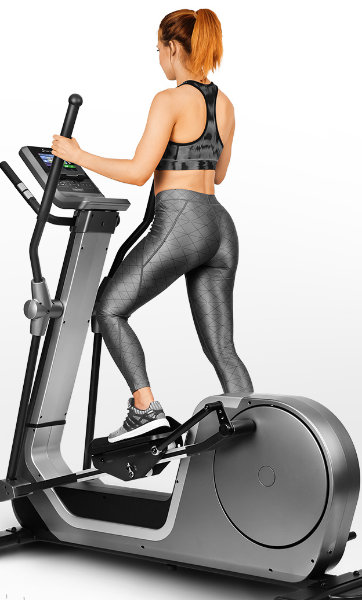 The LCX800 comes with 12 built in workout plans that cover the basics, but it's the extras that make the difference.
One option we love is Heart Rate Controlled (HRC) Workouts, which is generally only found on more expensive models. An HRC workout is based around keeping your heart rate in a certain range, to maximize benefits. You'll need a heart rate chest band, sold separately, but the benefits for cardiovascular fitness and weight loss can't be overstated.
Lastly, like all modern exercise machines, the LCX800 has app-based exercise programs, using two different apps that give you a comprehensive range of benefits.
App functionality
The LCX800 comes with app support for two separate fitness apps, FitShow and Kinomap.
FitShow is an open platform fitness app that's designed to work alongside almost any system, including rowing machines, ellipticals, treadmills, and more. They're partnered with over 100 fitness companies, and let you set up workouts and track your stats across multiple devices, as well as offering Google Street view training plans.
Kinomap is a bespoke training app that lets you run live routes that have been mapped out across thousands of videos, and hundreds of thousands of kilometres of road and trail.
The real life videos can be linked to any Bluetooth tablet, or streamed directly to any Smart TV, and let you run along actual routes while the LCX800 automatically adjusts resistance to match the intensity.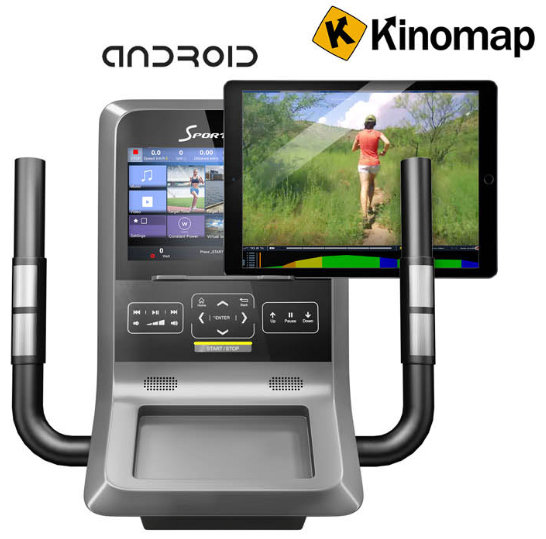 Combined, both apps give you an unheralded amount of fitness options to choose from, making sure you'll never get bored or run out of training plans.
Great construction
Everything about the LCX800 reeks quality. From the overall design, which is sleek, solid and futuristic, the huge flywheel, solid construction, adjustable stride, oversize pedals, everything is impressive and makes using it a joy.
This is backed up by the tech. The control console is incredibly easy to use, well laid out, with a 7 inch screen that's clear and bright, meaning that even if you're using the machine solo and not linked into a tablet or a TV, it's still effortless.
Easy assembly
Larger, more expensive, and more technologically in-depth systems like this tend to be harder to put together, but thankfully the LCX800 really isn't.
Delivery is kerbside only, so make sure you've got the ability to move this inside your home, whether with a cart, or having a friend round, as the system weighs around 80kg boxed.
But once you have the box inside, it comes apart easily, with a comprehensive toolkit and easy to follow videos. Expect assembly to take between one and two hours.
Check Current Amazon UK Price
---
What we don't like about the Sportstech LCX800 Cross Trainer
Size and weight
The downsides of being so well built, with such a large flywheel, is weight and size. This machine is pretty big, and could easily swamp smaller houses. At almost two meters long and 73.5kg in weight, it's a big beast, but it's still relatively easy to move with the built-in wheels.
Our recommendation is to measure up and make sure you've got the required room before you buy.
---
Final thoughts: Is the LCX800 Worth a Buy?
When taken as a whole, the SportsTech LCX800 is one of the best cross trainers on the market right now.
The sheer range of features and quality across the entire system speaks for itself, and no matter what you're buying it for, it's going to deliver.
It's worth pointing out that the current situation in 2023 means that SportsTech systems are selling out incredibly fast. Regular deliveries are coming in, but they sell out fast, so if you want one of these, make sure to pick it up ASAP.
If you're looking for the ultimate training partner, one that will keep you motivated and push you when you need it, the LCX800 is well worth a buy.
Highly Recommended
Check Current Amazon UK Price
---
LCX800 FAQ
Is this a good machine for overall fitness?
Yes. The LCX800 (or any decent cross-trainer) will work all the muscles in your body.
Is the LCX easy to use?
Yes. Cross trainers are one of the best machines to get started with physical fitness. They're far easier than treadmills as you have large foot pedals you simply stand on and begin striding forwards.
Can I move this upstairs?
Yes, but you might need help once it's assembled. The LCX has transport wheels to make it easy to move around the same floor, stairs on the other hand, are another thing. Once assembled, you'll need two people to move the machine up and down stairs.
---
LCX800 Full Specification
Brand
SportsTech
Model number
LCX800
Flywheel weight
24kg
Resistance type:
Magnetic brake system
Adjustable resistance?
Yes, computer controlled
Folding
No
# Training programs
12 presets
Resistance levels
32
# Stride Length Adjustments
3
Bottle holder
Yes
Muscles trained
Arms
Legs
Core
Back
Chest
Drive
Belt drive
App compatible?
Yes
Dimensions
1590 x 660 x 1670mm
Weight
73.5kg
Max user weight
120 KG
Assembly
Self assembly required
Tools included?
Yes
Batteries required?
No
Transport wheels
Yes
Bluetooth
Yes
Manual pulse sensors
Yes
Kinomap compatible?
Yes
Tablet holder included?
Yes
Chest strap compatible?
Yes, bluetooth
---
Resources & Further Reading